The most trusted online resource for OSHA forklift certification and training since 2002
Questions? Call us! (888) 278-8896
Seattle Forklift Certification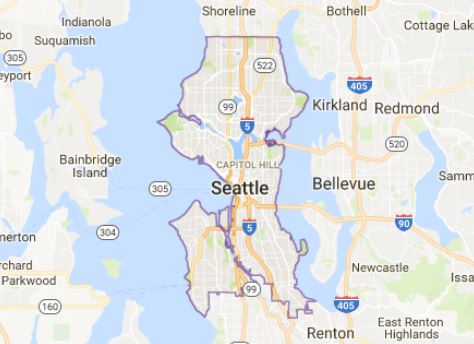 Seattle is the largest city in Washington, and also the biggest metro area in the entire Pacific Northwest. Known for a tech-friendly business culture, Seattle also boasts one of the most extensive and busiest seaports on the U.S. west coast. With plenty of shipyards, docks, warehouses, and other logistical hubs, Seattle is a prime spot for well-paying forklift jobs – especially for those operators who have the latest OSHA forklift training.
With your Seattle forklift certification, you're not only making yourself more attractive to potential employers, but also ensuring safer day-to-day operations for all types of work. From telescoping lifts to regular warehouse lifts, OSHA classifies all forklifts as powered industrial trucks – and these types of vehicles fall under OSHA's safety and training requirements.
For any forklift job in Seattle, getting the best training is important. And Forklift Certification has the tools, resources, and training modules to help you obtain OSHA-compliant forklift certification in Seattle – and beyond!
Advantages of Forklift Training in Seattle
With FLC's training modules, your Seattle forklift certification includes:
• Online convenience – take your training whenever it suits your schedule
• 100% OSHA compliance – FLC doesn't cut corners when it comes to training. Once you've complete our courses, you're fully compliant, no questions asked.
• Templates – operator cards, student handouts and more are included with each training kit.
• Money back guarantee – standard with all of our forklift training modules for your Seattle establishment.
Obtain Your Seattle Forklift Certification – Contact FLC Today!
If you need to get your forklift certification in Seattle, FLC offers three different training packages, each designed for all roles involved with safe forklift operation in the Pacific Northwest and greater Seattle area.
✓ Training Kit – for a well-rounded OSHA safety training for forklift operators in Seattle, nothing beats our Training Kit. From basic operational techniques to advanced OSHA concepts, this is ideal for anyone looking to improve their employment profile. If you're looking for forklift jobs in Seattle, sign up today!
✓ Train a Trainer – this module is perfect for getting the knowledge, skills, and exposure to become your employer's main safety coordinator.
✓ Bundle Package – including both the Training Kit and Train the Trainer Course, the Bundle Package provides comprehensive knowledge and premium value.
Sign up today and get your Seattle forklift training up and running! If you're in the market for forklift jobs in Seattle or would like to get your employees certified, FLC provides comprehensive training, outstanding prices, and superior customer service – once you sign up with FLC, we're with you every step of the way.
Call our office at (888) 278-8896, or visit our contact page for other ways to get in touch. FLC is excited to provide all of your forklift certification needs for Seattle, the state of Washington – and all across the United States!