Boston Forklift Certification, 100% Online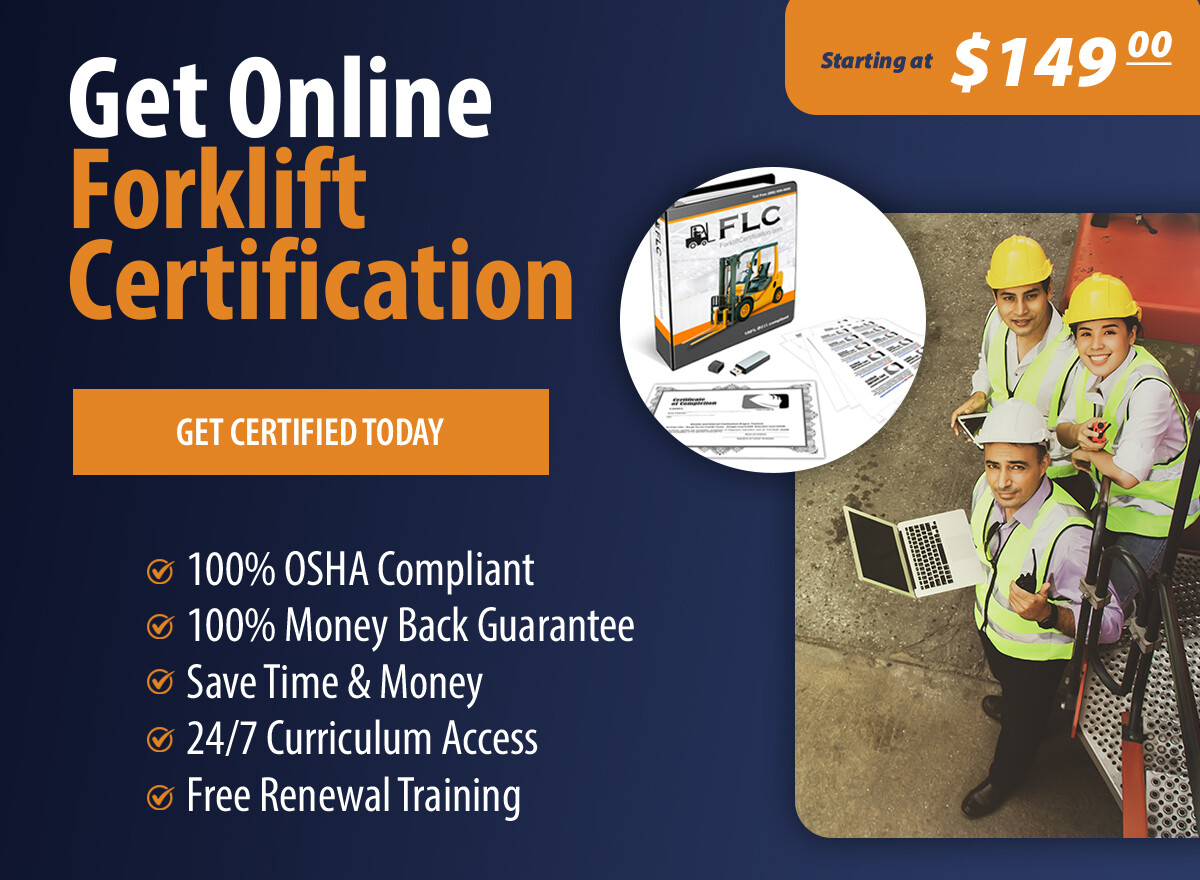 There's never been a more convenient way to earn your forklift certification in Boston. Thanks to ForkliftCertification.com, you can skip the expensive, time-consuming off-site classroom learning and bring training in-house instead. Our online training resources will teach you everything you need to know about forklift operation and get you certified to use forklifts in Massachusetts and throughout the entire United States. If you're serious about investing your organization's safety program, it's a good idea to train an employee to train others. For just $149, selected employees can master the art of teaching forklift fundamentals. Train the Trainer is an excellent way to bring all future training in-house.For $299, we can mail you all training resources you need to teach employees about forklift operation. Training can be completed in about one hour and the resources can be reused time and time again. For the ultimate investment in forklift safety, bundle our two course offerings and save! At $399, this combination is the ultimate value.
How Online Forklift Certification in Boston Works
Boston forklift certification used to require multiple hours of classroom learning at high prices. Now, you can train from the comfort of your living room or the convenience of your office – so long as you have a device connected to the internet, you can learn how to use a forklift. Here's how to get started:
Register Employees:

Employers should only register workers in need of forklift training and certification.

Select Classes:

Choose from our comprehensive forklift training class or our Train the Trainer course.

Complete the Training:

Learners typically work their way through the material in about an hour's time.

Take the Online Skills Test:

Trainees can take the test as many time as necessary to earn a passing score.

Complete a Hands-On Evaluation:

An on-site employee must perform a hands-on evaluation for trainees. Don't have anyone in mind? Our

Train the Trainer course

is the ideal way to designate an employee for all your training needs.

Print Proof of Certification:

Operator cards are immediately available upon completion of these steps. Print them off and keep in employee files.
After completing training and passing the written and hands-on evaluations, your employees will be considered fully trained and certified in the eyes of OSHA.


Why Choose FLC for Boston Forklift Certification
Earning your Boston forklift certification online means avoiding many of the most common workplace accidents. Trained employees are much less likely to be injured on the job, after all. Training also helps keep your organization in compliance with OSHA regulations, helping you avoid expensive penalties and fines. Here are a few more reasons why you should train with us:
24/7 Accessibility:

Train from whenever and wherever is convenient. As long as you have a device connected to the internet, you can learn to operate forklifts.

Quick and Easy:

Most people complete our training in about an hour.

Immediate Proof of Certification:

As soon as training is complete, you can print off certification cards to add to employee files.

Free Renewal Training:

OSHA requires all forklift operators to recertify every three years. FLC members enjoy a lifetime of free renewal training.

A Fantastic Value:

Our resources cost a fraction of what classroom training typically runs.
We offer a 100 percent money-back guarantee for our resources. That means there's no risk in giving our training courses a try!

Frequently Asked Questions About Boston Forklift Certification
Now that you know how to get forklift certified in Boston, you may have a few other questions. Here are the answers to some of our most frequently asked questions:
Do Companies Actually Get Fined by OSHA in Massachusetts?
Yes. OSHA frequently fines Massachusetts companies thousands of dollars for safety violations. A fall hazard at a Boston construction site warranted $60,000 in fines.
Are Forklifts Dangerous?
While proper training can help workers avoid many of the most common forklift hazards, these machines can be incredibly dangerous. Forklift accidents in Boston are more common than many people realize.
Do You Need a License to Operate a Forklift in Boston?
Yes. All forklift operators must be fully trained and certified before they begin work at any job site in the United States.

Get Forklift Certification in Boston Today!
ForkliftCertification.com's online training platform makes it easy and convenient for your workers to complete the first quality, OSHA-compliant training that's needed to work as a forklift operator in Boston. The program can be accessed 24/7 using a smartphone, tablet, laptop or similar digital device anywhere that's convenient and has internet connection. Although there's no time limit, your workers can complete the training and receive their certifications in as little as just one hour. The best part? The entire program will cost you as an employer only $299 to have your entire forklift operator team trained and certified.
Create an account today! Simply click here or call our Boston forklift certification experts at (888) 278-8896. You can also send us a message online via our contact page and become OSHA compliant by having your workers receive their Boston forklift certification as soon as today!