The most trusted online resource for OSHA forklift certification and training since 2002
Questions? Call us! (888) 278-8896
Where Can I Find Forklift Operator Training Near Me?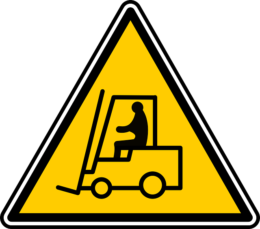 OSHA has requirements in place for forklift operators across the United States. One of OSHA's requirements for operating powered industrial trucks in the workplace: employers must ensure that all their operators have been competently trained to safely and properly operate forklifts. To comply with this requirement, employers must verify that all forklift operators have completed an OSHA-approved training program. 
What Happens If You Ignore OSHA Forklift Certification Requirements?
If you're an employer, it's illegal to allow untrained employees to drive a forklift in the workplace. So if you're asking yourself, "Where can I find forklift certification near me to qualify for a new and better-paying job?," or if you're an employer wanting to know if there's a place for forklift training nearby where my workers can get their certifications, this article is for you. 
The answer to both questions is simple – ForkliftCertification.com! Our user-friendly training modules are perfect for employers that have operator training and compliance gaps in their operations. With FLC's fast, easy, and affordable OSHA-approved forklift operator training courses, we're the best choice for getting your forklift drivers certified in no time at all! 
You just need a reliable internet connection and you're on your way to compliance. FLC has everything you need to raise safety awareness, avoid accidents and become a more productive workplace.
FLC Makes It Easy to Find
Forklift Certification Near Me
You may have asked yourself the following question: "Where do I need to go for forklift certification near me?" Now, we have the answer: FLC! 
We are the leader in OSHA-compliant forklift safety training. In fact, we offer the following forklift safety training options:
Our Employee Training Kit can be yours for just $299. The kit includes everything you need to teach your workers about forklift safety. And, it is designed for employees of all skill and experience levels. 
Ultimately, our kit is perfect for beginners and veteran operators alike. It can help your workers learn about a wide range of forklift safety topics. Upon completion, your forklift operators will have no trouble avoiding lift accidents. They'll also be well-equipped to contribute to a safe work environment now and in the future. 
Our Train a Trainer program is the logical solution for the problem of finding forklift operator training in your city or town. This training provides you with your own in-house safety and training expert! 
Once a worker begins our Train a Trainer program, he or she can gain a wealth of forklift safety knowledge and insights. After this worker completes the program, he or she can share their knowledge and insights with peers. That way, this trainer can teach others about OSHA forklift safety requirements. As a result, the trainer can help quickly and easily build a team of OSHA-approved forklift operators. 
If you want our Employee Training Kit and Train a Trainer program at an affordable price, pick up our Bundle package. When you bundle our Employee Training Kit and Train a Trainer program, you'll save $50 in contrast to purchasing each one individually.  
For $399, our Bundle package offers in-depth forklift safety training materials. Plus, it is backed by the forklift safety experts at FLC!FLC helps any company who has ever wondered, "what's the best place to get forklift certification in my area?" Simply register your company and get started today. With FLC, the path to OSHA compliance is easier and more affordable than you think!

Why Is Forklift Operator Training?
Simply put, forklift operator training is required by OSHA. It's the law. And hiring workers without proper training can result in serious accidents, injuries, and fines that impact your company and employees.  
Your business can't afford the cost of non-compliance. Putting untrained employees at the controls of a warehouse or rough terrain forklift increases the chance of injuries and costly damages to inventory and equipment. Similarly, workers risk their lives and those of their coworkers when they attempt to operate forklifts without the necessary training. 
FLC's training shows how to avoid the most common accidents. It also covers advanced safety topics. As a result, it provides all the resources you need to help your workers comply with OSHA forklift safety requirements and maximize their productivity and efficiency. 
Why Should You Choose FLC for Forklift Operator Training?
ForkliftCertification.com is the fastest and easiest way to satisfy OSHA's forklift operator training requirements. Those are just two of the many advantages of signing up for our courses. Most companies don't have either the extra time or money to spend on expensive forklift certification training. Our affordable, OSHA-compliant courses are the best way to ensure your company is both a safe place to work on a day-to-day basis and also that you're covered in the event of a surprise OSHA audit or inspection.
When asked the question "What's the best forklift training near me?", the right answer is ForkliftCertification.com. FLC's flexible and affordable online training format provides OSHA-compliant forklift training for anyone, any time and any place!
As a business owner, you really can't afford to incur OSHA penalties, hefty fines, and potentially costly litigation. The negative publicity alone from an accident at your workplace that involves an untrained forklift driver is bad enough. Ensure the safety of your employees by signing up today with ForkliftCertification.com and enjoy the benefits of OSHA compliance. 
If you've been wondering "Where is the best place to get a forklift license near me?" the answer is simple – FLC!
What to Expect from FLC's
Forklift Classes Near Me
Forget about looking for forklift class training for yourself or your employees in a traditional brick-and-mortar setting. 
ForkliftCertification.com specializes in providing the most comprehensive, convenient, and affordable OSHA forklift training available anywhere. It takes just a few easy steps and a few minutes of your time for you to access our OSHA-compliant training materials, which are available online around the clock. 
Since there are no time constraints with our training, students can complete it using a smartphone, tablet, or another digital device at any time and from any place where an internet connection is available. After you pass the written exam (our pass rate is flawless) and a hands-on evaluation administered by your company's in-house safety trainer, you can download and print out your temporary forklift operator certification card! That's all there is to it! You or your employees will then be legally allowed to operate forklifts in the workplace. Permanent operator cards will be mailed within seven to ten days. 
There's no need to sacrifice quality, convenience or affordability for your forklift training. Wherever you live or your business is located, FLC's OSHA-approved training is as close as your computer.
Our forklift training program is entirely online, which means you can access all of the training modules needed to complete your forklift education anywhere there's an internet connection. The course is 100% OSHA compliant, so you know you're receiving the very best, most up-to-date information on operating forklifts in the workplace.
Here are more benefits from getting your forklift operator training and certification online through FLC:
Getting your forklift certification online means there's no need to take time away from work and travel to another location to complete your training – no fighting traffic, driving in bad weather or going hours out of your way.
Wherever you choose to live and work, your OSHA-approved training and certification from FLC go with you. Employers throughout the United States recognize our training courses and honor the certifications issued by FLC.
Our online training is affordable. You'll save hundreds of overpaying for live classroom training.
Take the course working at your own pace – there are no time limitations for completing the training.
Enjoy FREE lifetime refresher training for the renewals OSHA requires every 3 years.
FLC's prices are ultra-affordable for both employers and employees! There's no financial excuse to put off you or your workers becoming OSHA compliant today!
Where Can I Find
OSHA
Forklift Certification Near Me
?
That's simple – anywhere there's a reliable internet connection, FLC forklift operator certification training is near at hand. Our Employee Training Kit, Train A Trainer program, and Bundle package offer the best value for OSHA-compliant forklift training. So, stop wondering, "Where can I get forklift training and certification near me?" 
With FLC, we have all of your training and certification needs covered. From operating used forklifts to the latest OSHA safety guidelines, we have everything you need and much more. Just register your company and get your forklift operators trained and certified today!
Forklift Certification Training
FAQs
1. How long does OSHA forklift certification last? 
Forklift certification is good for three years. After that, you'll have to get renewal training – which is included with your FLC purchase! 
2. How much does it cost to earn forklift certification?
The prices vary based on the training program your workers use. We are transparent about our prices and list them on our website. Regardless of which training program you select, FLC offers exceptional value in terms of helping your workers become OSHA-approved forklift operators. 
3. Can I complete forklift training/certification online, or does it have to be in person? 
With FLC, forklift certification is completed online. You'll still have to perform an on-site evaluation for employees, and forms can be printed and used right away! 
4. Is forklift training hard? 
Our training has a 100% pass rate, thanks to a learn-at-your-own pace format and advanced learning techniques. Some employees will pick up the material easier than others. But, with a little determination and hard work, anyone can become OSHA-compliant!

What Forklift Operator Jobs Are Available
Across the United States
?
ForkliftCertification.com training is available anywhere there's a reliable internet connection.  You'll have access to the most complete, comprehensive OSHA compliant forklift operator training you'll find anywhere.
FLC realizes there are unique opportunities for forklift drivers in certain cities and metropolitan areas. Our online knowledgebase for forklift drivers includes information for the city-specific pages below. Browse through them for information on job opportunities, local economic indicators, types of employers and the area's cost of living,
Reap the Benefits of Best-in-Class Forklift Certification Training Anywhere in the United States
Don't wait to sign your workers up for FLC's forklift safety certification training. Our offerings ensure your workers can become OSHA-approved forklift operators in as little as one hour. They also can help you avoid OSHA penalties, increase workplace productivity, improve on-the-job safety, and more. 
We are happy to help you get your workers enrolled in any of our training programs. To learn more or to sign up your workers for forklift certification training today, please contact us online or call us at (888) 278-8896. 
Thanks for visiting, and remember – whenever you wonder "where can I find training for forklift certification near me?, you're already there when you choose Forklift Certification.com!