The most trusted online resource for OSHA forklift certification and training since 2002
Questions? Call us! (888) 278-8896
FLC Is Your Source for Forklift Certification in Chicago
What Is the Best Provider of Forklift Certification in Chicago? ForkliftCertification.com, Of Course!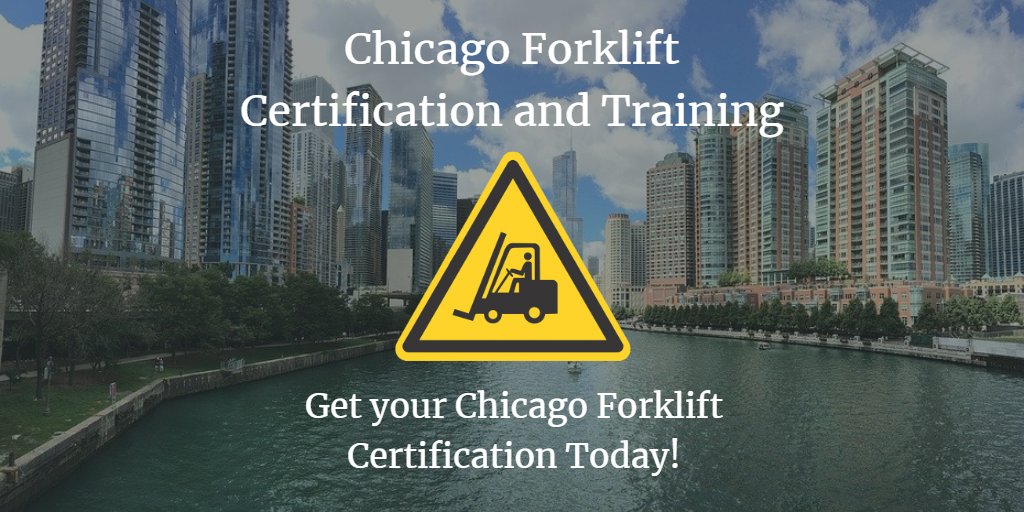 As one of the largest cities in the U.S., Chicago is an efficient economic powerhouse for an extensive diversity of industries. Home to more than 400 major corporation headquarters in manufacturing, technology, logistics, construction and many other industries, Chicago offers a broad range of employers seeking OSHA-approved forklift operators. 
All Windy City employers are responsible for Chicago forklift certification. ForkliftCertification.com offers the forklift certification in Chicago training packages you need to become OSHA-compliant. With our Chicago forklift certification, you'll enjoy the following benefits:
Cost-effective training.

Forget ultra-expensive training and instruction from other so-called experts. Our staff has been there, done that, when it comes to

forklift certification in Chicago

. 

Lifetime support.

From OSHA

forklift training in Chicago

updates to refresher training, we have you covered! 

Unbeatable convenience.

With online accessibility and take-anytime convenience, we provide the most flexible, training-friendly courses you'll find anywhere! 
Sign up today with ForkliftCertification.com for your Chicago forklift certification, so you can help your workers become OSHA-approved forklift operators right away. 
What Makes FLC's Forklift Training in the Chicago Area Unique?
It's hard to ignore the benefits that come with FLC's forklift certification in Chicago. And it's impossible to ignore the severe consequences that come with not getting your Chicago forklift training classes. Add it all up, and FLC is your best option for getting Chicago forklift certification quickly and affordably.  So what's next? If you need forklift certification in Chicago, start your training with FLC today! 
Our Chicago forklift certification programs include: 
1. Train a Trainer 
Available for $149, our Train a Trainer course empowers workers to become OSHA-approved forklift safety trainers. Our forklift train the trainer Chicago course can deliver immense value for your business and its employees. For instance, one of your employees can enroll in our Train a Trainer course and complete it at their own pace. Next, the employee can serve as an in-house forklift safety training. That way, this worker can teach their peers about forklift safety and help them avoid lift accidents, injuries, and fatalities. 
2. Employee Training Kit 
For the low price of $299, you can use our Employee Training Kit to teach your entire workforce about OSHA forklift safety mandates. The kit encompasses a wide range of educational materials, enabling workers to gain comprehensive forklift safety insights. Plus, after a worker completes their forklift certification training, he or she can immediately download and print out their temporary certification card.
3. Bundle Package 
If you cannot decide between our Train a Trainer course and Employee Training Kit, why not enjoy the best of both? Thanks to our Bundle Package, you can do just that. Our Bundle Package includes all Train a Trainer and Employee Training Kit materials. It is also available for $399 — a discount of $50 versus purchasing our Train a Trainer course and Employee Training Kit individually. 
4. Online Certification
Online certification is available via CertifyMe.net, our sister site. Here, you can pay $59.95 for online training that allows your workers to become OSHA-approved forklift operators in about one hour. 
Each training session covers all the critical OSHA safety standards, so you'll be prepared for whatever comes your way. And best of all, our forklift training classes in Chicago are good for any of your facilities across the United States! Therefore, if you have other operations in Illinois or elsewhere, you can train all of your drivers with ForkliftCertification.com! Our forklift certification in Chicago is the ultimate portable package for OSHA compliance!

Forklift Training in Chicago: Do Your Employees Really Need It?
Chicago forklift training teaches the safety guidelines and regulations required by employers to ensure the safe and effective operation of a forklift while meeting specific guidelines enforced by state and local agencies. With forklift training, you'll meet OSHA standards through online training that's compliant to forklift operational guidelines. 
Without Chicago forklift certification, your company is subject to heavy fines and penalties for non-compliance. Thanks to our customized forklift training in Chicago, anyone can receive professional, OSHA-approved instruction. Alsol, our FLC training makes your company OSHA-compliant in Chicago and throughout Illinois!
Forklift Certification in Chicago: Is It a Requirement for Your Business and Its Employees?
Getting OSHA certification to operate a forklift is mandatory for any employees who use a lift as part of their everyday work. The certification is also mandatory for forklift operators across all industries. 
Active warehouses, factories, and other industrial facilities depend on forklift operators to deliver and distribute various items to maintain the function and performance of the facility. Employers seek those with Chicago forklift training and certifications to safely perform these tasks. Your workers can protect themselves, whether they are operating a forklift or working near one, and protect those around them by enrolling in forklift training in Chicago.

Move Forward with Forklift Certification from FLC
Your Chicago business can take the next step forward by signing your workers up for forklift certification training from FLC. With our support, your workers can become OSHA-approved forklift operators the same day they begin their training. Then, these workers can serve as OSHA-compliant forklift drivers who can help your company thrive. They can even help your business avoid OSHA violations that otherwise damage your brand reputation, profits, and ability to attract and retain top talent. 
Receiving your forklift certification in Chicago is simple and affordable when choosing ForkliftCertification.com. We offer comprehensive online training that's OSHA-compliant to obtain a forklift certification. Contact ForkliftCertification.com online or call us at (888) 278-8896 to get started today!