Get Your Forklift Certification in Chicago Today
FLC makes earning your forklift certification in Chicago affordable, convenient and easy!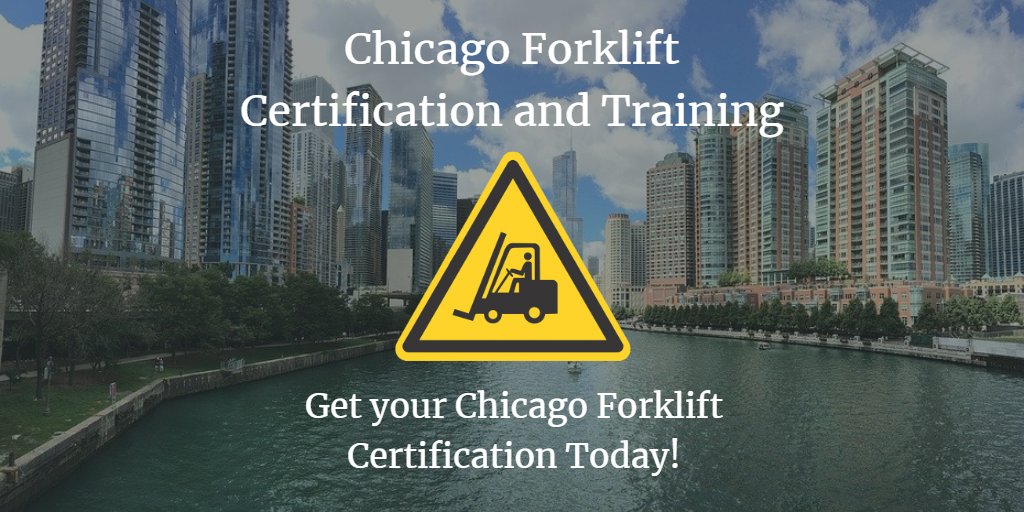 As one of the largest cities in the U.S., Chicago is an efficient economic powerhouse for an extensive diversity of industries. Home to more than 400 major corporation headquarters in manufacturing, technology, logistics, construction and many other industries, Chicago offers a broad range of employers seeking OSHA-approved forklift operators.
All Windy City employers are responsible for Chicago forklift certification. ForkliftCertification.com offers the forklift certification in Chicago training packages you need to become OSHA-compliant. With our Chicago forklift certification, you'll enjoy the following benefits:

Cost-effective training.

Forget ultra-expensive training and instruction from other so-called experts. Our staff has been there, done that, when it comes to

forklift certification in Chicago

.

Lifetime support.

From OSHA

forklift training in Chicago

updates to refresher training, we have you covered!

Unbeatable convenience.

With online accessibility and take-anytime convenience, we provide the most flexible, training-friendly courses you'll find anywhere!
Sign up today with ForkliftCertification.com for your forklift training in Chicago, so you can help your workers become OSHA-approved forklift operators right away.
Options for Forklift Certification in Chicago
It's hard to ignore the benefits that come with FLC's forklift certification in Chicago. And it's impossible to ignore the severe consequences that come with not getting your forklift training in Chicago, IL. Add it all up, and FLC is your best option for getting certified quickly and affordably. So what's next? Start your training with FLC today!
Our Chicago forklift certification programs include:
1. Train a Trainer
Available for $149, our Train a Trainer course empowers workers to become OSHA-approved forklift safety trainers. Our forklift classes in Chicago course can deliver immense value for your business and its employees. For instance, one of your employees can enroll in our Train a Trainer course and complete it at their own pace. Next, the employee can serve as an in-house forklift safety training. That way, this worker can teach their peers about forklift safety and help them avoid lift accidents, injuries, and fatalities.
2. Employee Training Kit
For the low price of $299, you can use our Employee Training Kit to teach your entire workforce about OSHA forklift safety mandates. The kit encompasses a wide range of educational materials, enabling workers to gain comprehensive forklift safety insights. Plus, after a worker completes their forklift certification training, he or she can immediately download and print out their temporary certification card.
3. Bundle Package
If you cannot decide between our Train a Trainer course and Employee Training Kit, why not enjoy the best of both? Thanks to our Bundle Package, you can do just that. Our Bundle Package includes all Train a Trainer and Employee Training Kit materials. It is also available for $399 — a discount of $50 versus purchasing our Train a Trainer course and Employee Training Kit individually.
4. Online Certification
Online certification is available via CertifyMe.net, our sister site. Here, you can pay $59.95 for online training that allows your workers to become OSHA-approved forklift operators in about one hour.
Each training session covers all the critical OSHA safety standards, so you'll be prepared for whatever comes your way. And best of all, our forklift classes in Chicago are good for any of your facilities across the United States! Therefore, if you have other operations in Illinois or elsewhere, you can train all of your drivers with ForkliftCertification.com! Our forklift certification in Chicago is the ultimate portable package for OSHA compliance!

Forklift Training in Chicago, IL: Do Employees Need it?
Chicago forklift training teaches the safety guidelines and regulations required by employers to ensure the safe and effective operation of a forklift while meeting specific guidelines enforced by state and local agencies. With forklift training, you'll meet OSHA standards through online training that's compliant to forklift operational guidelines.
Without Chicago forklift certification, your company is subject to heavy fines and penalties for non-compliance. Thanks to our customized forklift training in Chicago, anyone can receive professional, OSHA-approved instruction. Also, our FLC training makes your company OSHA-compliant in Chicago and throughout Illinois!
What are OSHA's Requirements for Forklift Certification in Chicago?
The Occupational Health and Safety Administration has outlined strict standards for forklift certification in Chicago. If you're eager to keep your workplace safe and accident-free, you'll want to follow all of OSHA's requirements. Failure to do so could result in injuries, fatalities, and equipment damage. Even if your team manages to avoid accidents, OSHA may penalize your organization if forklift operators are not properly trained and certified.
As you design your company's safety program, consider the following OSHA forklift certification standards:
Employers are required to train forklift operators before they begin work.

Forklift training in Chicago

can be completed in person or virtually.

Only qualified trainers are allowed to guide workers through forklift training.

Forklift certification in Chicago

should cover forklift operation, types of forklift used on the job, how to perform inspections, how to alert employers about necessary repairs, and how to avoid accidents and hazards in the workplace.

Training courses must include truck-related and workplace-related topics.

The course should also include formal written instruction, practical training, and an evaluations to qualify workers and make sure they're able to safely operate powered industrial trucks.
It can be challenging to navigate the ever-changing nature of OSHA regulations. If you're not sure about the best way to get your workers forklift certification in Chicago, FLC can help.

The Best Forklift Certification and Training in Chicago
If your organization employs workers who use lifts on the job, turn to the best forklift certification and training in Chicago. FLC offers convenient, affordable training opportunities for companies across industries. Fail to provide the required training and your company may up the odds of a workplace accident. Injuries, fatalities, and OSHA penalties may be on the line.
FLC's forklift certification in Chicago is incredibly cost-effective. Given our 100 percent pass rate, this is one investment you'll want to make in your employees. Secure online access makes it easy to learn on the go. Since our training is constantly updated to reflect changing OSHA guidelines, you'll always be in the know about the latest requirements.
Still have questions about forklift training in Chicago, IL? Our team is happy to help address them and guide you through our OSHA-compliant packages. Call us at 888-278-8896 or reach out online today.