The most trusted online resource for OSHA forklift certification and training since 2002
Questions? Call us! (888) 278-8896
Chicago Forklift Certification
GET THE BEST OSHA COMPLIANT FORKLIFT CERTIFICATION IN CHICAGO – SIGN UP WITH FORKLIFTCERTIFICATION.COM!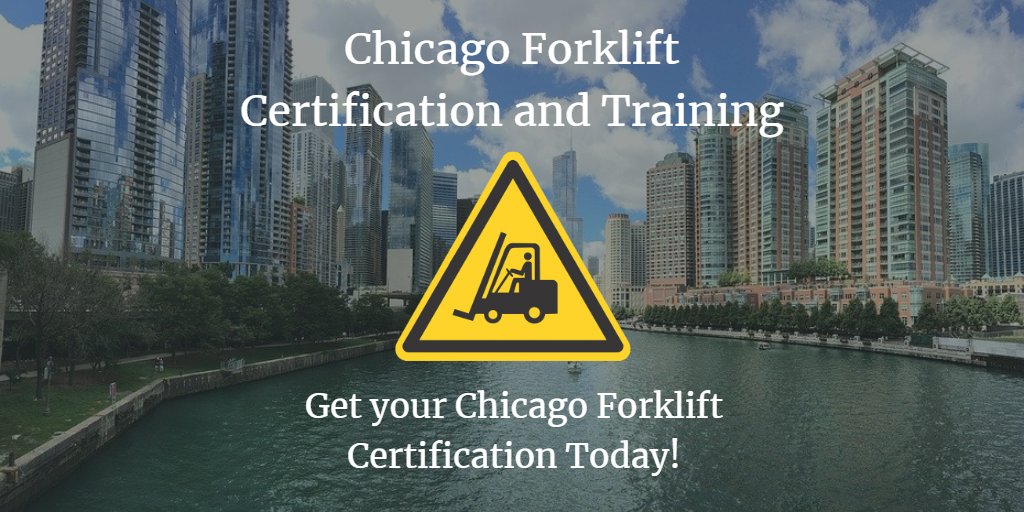 As one of the largest cities in the U.S., Chicago is an efficient economic powerhouse for an extensive diversity of industries. Home to more than 400 major corporation headquarters in manufacturing, technology, logistics, construction and many other industries, Chicago offers a broad range of employers seeking certified forklift operators.
All Chicago employers are responsible for Chicago forklift certification. ForkliftCertification.com offers the training packages you need to become OSHA compliant. With our Chicago forklift certification, you'll enjoy the following benefits:
✓ Cost-effective training. Forget ultra-expensive training and instruction from other so-called experts. Our staff has been there, done that when it comes to forklift certification in Chicago.
✓ Lifetime support. From OSHA training updates to refresher training, we have you covered!
✓ Unbeatable convenience. With online accessibility and take-anytime convenience, we provide the most flexible, training-friendly courses you'll find anywhere!
Sign up today with ForkliftCertification.com for your Chicago forklift certification and experience the difference with ForkliftCertification.com!

THE IMPORTANCE OF FORKLIFT CERTIFICATION IN CHICAGO
Chicago forklift training teaches the safety guidelines and regulations required by employers to ensure the safe and effective operation of a forklift while meeting specific guidelines enforced by state and local agencies. With forklift training, you'll meet OSHA standards through comprehensive online training that's compliant to forklift operational guidelines.
And without Chicago forklift certification, your company is subject to heavy fines and penalties for non-compliance.
Thanks to our customized forklift training in Chicago, anyone can receive professional, OSHA-approved instruction. And best of all, our FLC training makes your company OSHA compliant in Chicago and throughout Cook County!
WHY DO I NEED A FORKLIFT CERTIFICATION IN CHICAGO?
Active warehouses and factories depend on forklift operators to deliver and distribute various items to maintain the function and performance of the facility. Employers seek those with Chicago forklift training and certifications to safely perform these tasks.
Protect your own safety, whether you are operating the forklift or working near one, and protect those around you with comprehensive forklift training in Chicago.
GET YOUR FORKLIFT CERTIFICATION IN CHICAGO AT FORKLIFTCERTIFICATION.COM
To protect your company from accidents and injuries, our forklift certification in Chicago is all online and can be accessed by any device with the internet. Once complete, your forklift drivers will be compliant with OSHA training standards and will learn the following categories of forklifts:
Warehouse Forklifts, Classes 1, 4, 5
✓ Class 1: Electric Motor Rider Trucks
Sit down rider electric, stand up rider counterbalanced electric.
✓ Class 4: Internal Combustion Engine Trucks, Cushion Tires
Sit down rider fork gas or LPG, fork, counterbalanced.
✓ Class 5: Internal Combustion Engine Trucks, Pneumatic Tires
Sit down rider gas or LPG, fork, counterbalanced.
Pallet Jacks and Order Pickers, Classes 2, 3
✓ Class 2: Electric Motor Narrow Aisle Trucks
High-lift straddle, order picker, reach type outrigger, side loaders, turret trucks, swing mast and convertible turret/stock pickers, low lift pallet and platforms.
✓ Class 3: Electric Motor Hand or Hand/Rider Trucks
Low lift platform, low lift walkie pallet, reach type outrigger, high lift straddle, high lift counterbalanced, low lift walkie/ricer pallet.
Rough Terrain Forklifts, Class 7
✓ Class 7: Electric and Internal Combustion Engine Tractors
Sit down rider class 7, straight mast forklift, extended reach, telescopic, extended boom, and straight mast rough terrain forklifts.
For only a total of $299, your company will have complete access to all of our forklift training in Chicago, or you can pay just $59.95 for each module by itself. In our forklift certification in Chicago programs, you will learn how to drive a forklift, assess the workplace, inspect physical conditions, maneuver ramps and grades, avoid accidents, and find forklift jobs in Chicago.
THE NEXT STEP: SIGN UP WITH FLC TODAY FOR CHICAGO FORKLIFT CERTIFICATION!
It's hard to ignore the benefits that come with FLC's forklift certification in Chicago. And it's impossible to ignore the severe consequences that come with not getting your Chicago forklift training classes. Add it all up, and FLC is your best option for getting  Chicago forklift certification quickly and affordably.
So what's next? If you need forklift certification in Chicago, start your training with FLC today! Our Chicago forklift certification programs include:
✓ Train a Trainer
✓ Training Kit
✓ Bundle Package
Each training session covers all the critical OSHA safety standards, so you'll be prepared for whatever comes your way. And best of all, our forklift training classes in Chicago is good for any of your facilities across the United States! If you have other operations in Illinois or elsewhere, you can train all of your drivers with ForkliftCertification.com! Our forklift certification in Chicago is the ultimate portable package for comprehensive OSHA compliance!
HOW TO RECEIVE A CHICAGO FORKLIFT CERTIFICATION
Receiving your forklift certification in Chicago is simple and affordable when choosing ForkliftCertification.com. We offer comprehensive online training that's OSHA compliant to obtain a forklift certification. Contact ForkliftCertification.com to get started today!

Learn More With This Blog:
Attorneys Recommend Chicago Forklift Certification
Forklifts are used all over Chicago every day for numerous projects. Although, they don't come without their share of accidents. Forklifts can be dangerous pieces of equipment if placed in the hands of an untrained operator. That's why Chicago forklift certification is so critical for safety. Forklift certification in Chicago is the best way to reduce the number of fatal injuries that occur every year. To complete your forklift certification in Chicago and do your part to save lives on work sites, read more about ForkliftCertification.com and their courses here.