The most trusted online resource for OSHA forklift certification and training since 2002
Questions? Call us! (888) 278-8896
How to Operate a Forklift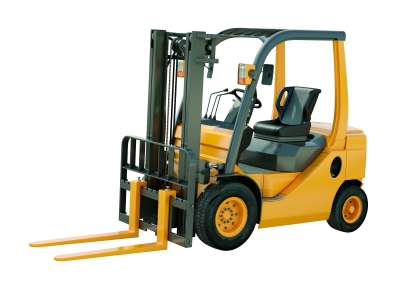 Skilled forklift operators are in high demand in virtually every city across the country. If you're looking for consistent work and competitive wages, you'd do well to learn how to operate a forklift.
In this article, we'll cover the steps involved in learning how to operate a forklift safely and properly. We'll also explain why you need certified forklift training to become a forklift operator armed with credentials that will impress prospective employers and make you stand out from other applicants.
STEPS TO OPERATING A FORKLIFT SAFELY
Knowing how to operate a forklift consists of three main components. First, operators must ensure their equipment is indeed safe to drive. Next, operators must understand how to operate a forklift safely. Finally, forklift drivers must know how to properly handle loading, moving and unloading cargo. FLC's forklift operator certification training programs cover each of these in detail.
Starting with Safety
Begin by making sure you're wearing the right clothing, including a hard hat, gloves, hard-soled shoes, and a visibility vest. Then do an inspection of the lift you plan to operate. These inspections aren't just recommended – they're actually required by law. Maintenance is also an important component of safe forklift operation. Operators need to inspect forklifts daily at the beginning of each shift and before every use. This is to ensure there are no hazards or equipment problems that could cause an accident. FLC's forklift operator training covers the importance of a good forklift maintenance and repair program in detail.
It's never safe to operate a forklift with defects such as missing or damaged parts, low fluid levels or underinflated tires. Additional items to look for and inspect before each operation include:
Leaks, cracks, or other visible defects
Condition of the fork
Check the brakes
Making sure all required safety devices are on board, as well as a copy of the operator's manual
Verifying all controls are working properly, including instruments, warning signals, and lights
Traveling and Maneuvering
Follow these procedures to drive a forklift safely:
Always brake and stop slowly
Only drive at a speed that will allow you to stop easily
Always keep a clear view of your surroundings
Leave plenty of room for pedestrians
Load Handling

The Basics of Forklift Operation
After donning the right safety gear and performing the necessary inspections, it's time to climb into the forklift and buckle your seat belt. Turn the key to start the lift. Make sure the lever is in the center position so it's in neutral. Then, using the control levers, lift the forks up two to four inches off the ground so you're not dragging them as you drive. 
Press on the accelerator to drive, just as you would in a car. Use the shifter to change directions as you get moving. Push forward to drive forward and backward to reverse. When stopped, put the shifter back into neutral. Of course, you'll want to consult the forklift's manual for guidance on your specific make and model of forklift. There isn't a one size fits all approach to learning how to operate a forklift. 
Mastering Lift Techniques
Forklifts are designed for picking up, stacking, moving and unstacking loads and pallets, which makes it essential that operators learn how to handle loads correctly and prevent forklift tip-overs. To load the forklift, stop your vehicle about one foot from the load. Then press the brake pedal and come to a complete stop. Shift into neutral and turn on the parking brake. Adjust the width of the tines as needed, then raise or lower them to match the height of the pallet openings. 
Make sure your load is stable before attempting to lift it onto your vehicle. The heaviest items should be on the bottom and should be located closer to the front of the forklift cab than other lighter objects. Stack items so they're centered in the pallet. Drive forward until the fork is completely inserted into the pallet. Then lift at least two to four inches off the ground. Tilt the mast back for stability – this will help prevent tip overs. 
When you're ready to unload, place the mast in the vertical position. Raise the load about six inches above the area where you plan to drop it. Drive the load forward until your load is above the place you want to set it down. Then lower the forks until the pallet is set down. Back straight out to remove the load from the tines. 
Mastering these techniques may take some practice, but you'll learn how to operate a forklift in no time. Keep these tips in mind as you learn:
Note the size and shape of the load and the size of the forks
Always load slowly and carefully
Center the load between the forks and never overload the lift
Always make sure the load is stable and balanced
Place the forks as far under the centered load as possible
Tilt the mast back slightly to stabilize the load
Forklift Maintenance
OPERATING DIFFERENT TYPE OF FORKLIFTS
Our certification training covers various types of forklifts, including the following:
Stand-Up Forklifts
Sometimes called "stand-ons", these are used when drivers need to frequently get on and off the lift. Stand-up forklifts are more maneuverable and need less operating space than sit-down forklifts.
Sit Down Forklifts
Sit downs move at faster speeds, and generally have a faster lift and lower speeds, which increases productivity. They're also more comfortable and safer to use on slippery surfaces.
Cherry Pickers
Also called boom lifts, man lifts or order pickers, cherry pickers are hydraulic cranes with railed platforms used to raise and lower workers to stock or retrieve inventory. They're also found on construction sites and in warehouses, where they're used to install and repair overhead lighting and HVAC systems.
Reach Forklifts
These are right-angle stacking trucks used to handle loads in narrow aisles. They're often used to load and retrieve pallets from storage racks. Many of our clients who want to know how to drive a forklift are asking about reach forklifts.
FLC IS YOUR BEST CHOICE FOR OSHA-COMPLIANT FORKLIFT OPERATOR TRAINING!
Do you need OSHA compliance, but you're not sure about regulations? Need assistance in teaching your workers how to drive a forklift? FLC is the only training source you need. Our training classes and other operator certification tools and resources have been custom designed by industry experts to meet and exceed your company's requirements.
According to OSHA guideline 29 CFR 1910.78 (1) (1)  all forklift operators, including full-time, part-time or contract workers learn how to operate a forklift safely by completing forklift operator training. Can you get forklift certified online? The answer is yes! Here's an overview of  FLC's three online forklift operator training programs:
Learning how to operate a forklift has never been more convenient. Our versatile and affordable OSHA-approved training is the most comprehensive class you'll find anywhere. It's jam-packed with useful safety tips and OSHA compliant training content for a well-rounded skill set. In as little as an hour, your workers will learn everything they need to know about safely operating forklifts. The Kit includes everything you'll need to train and certify all your operators for just $299. It's the only training class you'll ever need!
This forklift operator license program will give your company a certified training expert that's always available! Through our Train the Trainer class, one of your employees becomes an in-house OSHA expert! It's ideal for companies that have a forklift training program in place but need a trainer to evaluate and certify their unlicensed forklift drivers. The cost of training a Forklift Safety Expert is only $149.
If you can't decide between our two forklift operator license programs, no worries. The Bundle Package combines both our Train a Trainer and Training Kit classes into a value-added package priced at just $399, which makes them even more affordable! There's no other OSHA training resource around that offers such a terrific value!
ForkliftCertification.com provides everything you need to know to become a certified forklift driver.
HOW TO DRIVE A FORKLIFT: WHO CAN OPERATE A FORKLIFT AND WHY FORKLIFT OPERATOR CERTIFICATION IS REQUIRED
To help prevent workplace accidents and injuries, OSHA regulations state that only properly trained and certified workers can operate forklifts. When you're looking for a training course, be sure it covers each of the following topics:
✓ Basic forklift operating and maneuvering techniques
✓ Warehouse-specific operating systems
✓ Instruction that gives operators a good understanding of how forklifts work
✓ Operating forklifts under various workplace conditions
So how do you get certified to operate a forklift? OSHA-compliant forklift operator training can include formal instruction delivered by text, video, or interactive computer learning, so long as it's conducted by a qualified trainer. In addition to a written exam, students must also pass a "hands-on" operating evaluation while being observed by a qualified trainer.
You'll get all of this and more when you choose ForkliftCertification.com for forklift operator license instruction!

THE IMPORTANCE OF FORKLIFT OPERATOR TRAINING
Today's forklifts are much different than those of a few decades ago. This means that operators need even more specialized training to equip them with the knowledge and skills needed to avoid hazards and prevent accidents.
Learning how to operate a forklift safely is key. Awareness and safety training are imperative. As we'll see below, a pre-operation check and other routine inspections are important to reduce accidents and liability. What's more, your employees should always refer to the manufacturer's operating guide for max load capacities, safe speed ranges, and other critical information. Without it, learning how to drive a forklift won't take into account the unique characteristics of the equipment.
Without forklift operator training, your employees aren't able to legally operate any powered industrial truck (forklift). If a worker uses a forklift, gets into an accident, and OSHA investigators discover the employee lacks sufficient training, your company is subject to severe fines and penalties.
Don't take chances with OSHA compliance – sign up with FLC today!