The most trusted online resource for OSHA forklift certification and training since 2002
Questions? Call us! (888) 278-8896
How to Operate a Forklift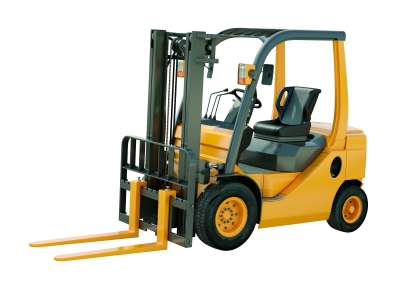 Have you always wondered what it'd be like to drive a forklift? Are you itching to get out of a desk job for a more active career that's always changing? Then taking the steps to learn how to operate a forklift sounds right for you! Forklifts are in high demand in virtually every city across the country, so it's safe to say it won't be hard to find a forklift job you love.
This article lays out the steps for how to operate a forklift properly, and explains why you need certified forklift training to make it a career.
Operate a Forklift with These Steps
Operating a forklift involves three main components that ensure the forklift is safe to drive, and the operator knows how to drive the forklift safely and handle loads properly.
1. Pre-Operation Check-Ups and Inspections
A forklift with any malfunctions, defects, missing or damaged parts, or low fluid levels is never safe to operate. Check the following items before beginning work and make sure you're wearing the appropriate clothing, including a hard hat, gloves, hard soled shoes, and a visibility vest.
Fluid levels
Leaks, cracks, or other visible defects
Tire condition and pressure
Fork condition
Operator's manual
Safety devices
All controls
Brakes
Warnings signals and lights
 2. Traveling and Maneuvering
Follow these steps to drive a forklift safely:
Keep hands clean and shoes grease-free when mounting and dismounting the forklift
Only park and refuel in authorized areas
Always brake and stop slowly
Only drive at a speed that is easy to stop
Slow down for wet floors, at cross aisles, and when turning
Always keep a clear view
Use horn or lights to warn pedestrians when reversing
Leave plenty of room for pedestrians and never assume they see you
 3. Load Handling
Forklifts are designed for picking up, stacking, and unstacking loads and pallets. It's essential to learn how to handle loads correctly to prevent forklift tip-overs.
Note the shape and size of the load, and the size of the forks
Approach loads slowly and carefully
Only lift the load as high as you need to
Always make sure the load is stable and balanced
Center the load and never overload the forklift
Place the forks under the load as far as possible
Center the weight of the load between the forks
Tilt the mast back slightly to stabilize the load
Why You Need Special Forklift Training
Forklift training will go far beyond the basic steps we outlined above in how to operate a forklift. If you want to become a professional forklift operator, you need forklift certification training to be a true expert at driving a forklift, and to be able to recognize and avoid hazards to prevent accidents.
Get Forklift Training Online from ForkliftCertification.com
If you're wanting to learn how to operate a forklift and start a new career, ForkliftCertification.com can provide all the training you need. We teach students how to drive Warehouse Forklifts, Pallet Jacks and Order Pickers, and Rough Terrain Forklifts, all from our online platform. You can access the training modules from any device with an internet connection, 24/7. And in only about one hour you can be holding your operator card and be an expert at operating a forklift, all for one affordable price.
Read more about our OSHA-compliant online Training Kit, and contact us with any questions you may have!
Sources:
https://www.osha.gov/SLTC/etools/pit/operations/servicing.html

https://www.osha.gov/SLTC/etools/pit/operations/maneuvering.html

https://www.osha.gov/SLTC/etools/pit/operations/loadhandling.html