The most trusted online resource for OSHA forklift certification and training since 2002
Questions? Call us! (888) 278-8896
All About Forklift Blind Spots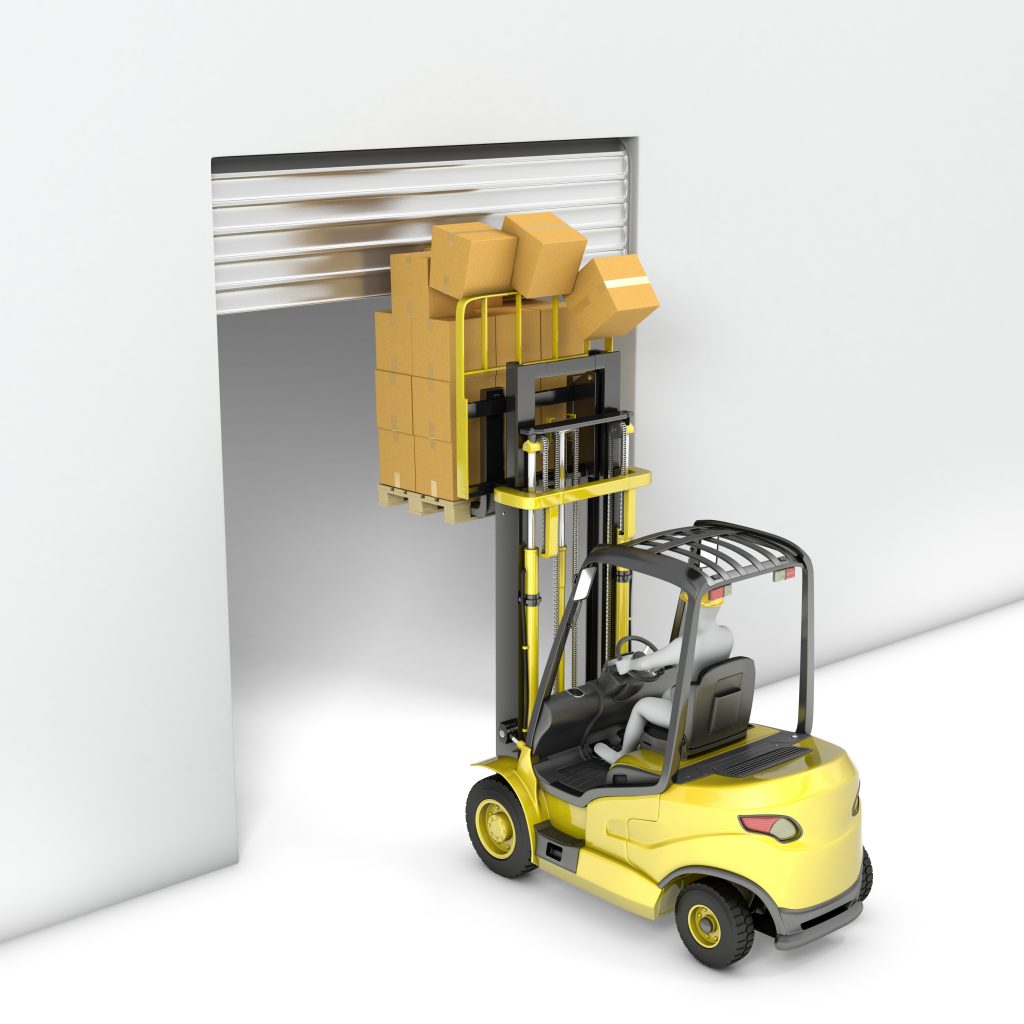 Blind spots are called "blind" for a reason. There's always a spot on a forklift driver's radar that goes undetected, no matter how experienced the driver is. In perfect conditions, an alert driver can usually avoid blind spots, or at least minimize them so they're not a major safety hazard.
But most times, conditions aren't perfect. Sometimes, you're outside and the weather's bad. Other times, a lightbulb goes out in the warehouse, placing just enough shadow on that corner area. Whatever the reason, limited visibility should always be taken into consideration.
Automobiles and blind spots are a bad mix – and they're just as dangerous for forklift drivers. Forklift blind spots are one of the leading causes of forklift accidents. ForkliftCertification.com, the leading online solution for OSHA compliant training, offers a trio of training courses to certify all of your forklift drivers. It's against the law to have anyone operate powered industrial trucks without a forklift license. If you have training gaps or compliance issues, we can help today!
Forklift blind spots are one of those persistent issues that can compromise your workplace safety. The safety experts here at ForkliftCertification.com have three different training courses (the Training Kit, Train a Trainer and Bundle Package) to ensure your company is 100% OSHA compliant. Sign up today and protect your employees and assets!
Plus we've also compiled a few tips and tricks to bolster your blind spot safety. Keep reading to learn more about this important forklift safety topic!
COMMON SENSE SAFETY – HOW TO AVOID FORKLIFT BLIND CORNERS
How can forklift drivers manage blind spots? Much like blind spots for cars on the road, forklift blind spots can be eliminated with a common-sense approach to overall visibility. Warehouses, distribution centers, construction sites, you name it – getting rid of forklift blind spots is one of the most important safety mechanisms for any lift driver.
We've compiled three things you can do right now to ensure better safety within your working environment. Keep in mind, you'll find plenty more with the FLC training kits available.
✓

The Buddy System Works
A blind spot and forklift blind corners can give two eyes trouble, but it doesn't stand a chance against four eyeballs. For optimal blind spot safety, always have a co-worker look out for you. When transporting cargo through a blind spot, use a buddy to alert area pedestrians, block off potential hazards or guide you through a tight spot.
✓

SLOW DOWN
Hold on, this blog is about blind spots, right? Then what does speed have to do with the topic? Actually, a lot more than you think. The faster you're traveling, the better chance you have to travel through blind spots. Reduce the speed of your forklift, and you'll be amazed how those blind spots aren't so "blind." And if you have to stop to make sure there's nothing or nobody in a blind spot, by all means, apply the brakes!
✓

TRY PEDESTRIAN SAFETY LIGHTS
Keeping track of other forklifts for blind spot safety is tough enough; with pedestrians in the mix, hazards increase immediately. Thankfully, there are some nifty safety gadgets to help eliminate (or at least lessen) forklift blind spots. For example, this pedestrian safety light from Uline is a great way to alert pedestrians of approaching forklifts – which helps greatly with forklift blind spots!
✓

INSTALL SAFETY MIRRORS
You've probably seen them on the roads – those bubble-shaped mirrors that give any driver added visibility. As it turns out, they're also a nice addition to dockyards, warehouses, construction sites and other places where industrial equipment operates. If your area has an obvious blind spot, talk to your supervisor about installing an indoor safety mirror.
✓

BEWARE OF DANGEROUS INTERSECTIONS
According to OSHA standard [29 CFR 1910.178(n)(3)], passing other forklifts near intersections increases the chance of accidents and jeopardizes blind spot safety. Intersections include aisle cross-overs in warehouses, transition areas from cargo storage areas to docks, and other high-traffic areas in your workplace. All employers should take care of these intersections, as accidents in these areas are their responsibility!
✓ 

PAY ATTENTION TO SUDDEN CHANGES IN LIGHT CONDITIONS
Blind spot safety generally means looking out for objects that are just out of peripheral vision. However, in the world of forklift blind spots, there's another one to keep on your radar: blind spots created by rapid changes in light conditions. For example, if a forklift driver emerges from a darkened warehouse into blazing sunlight, the blind spot of all forklift blind spots could result. Conversely, going from well-lit conditions into a dark storage room creates a quite literal blind spot. Always pay attention to the current lighting environment, along with any approaching areas where light quality/quantity changes. If your workplace has drastic changes in lighting conditions, it's always a good idea to install signs at the entry and exit areas to warn forklift drivers of forklift blind spots.
FORKLIFT BLIND SPOT SAFETY: FAQs
1. How should a forklift operator drive around a bilnd corner? 
The operator should sound their horn well in advance of the corner, and proceed slowly. Excessive speed and not utilizing safety accessories are a bad mix with blind spots.
2. Where are usually blind spots located?
Each workplace differs in terms of unique hazards, but generally, blind spots typically occur around poorly lit areas, tight corners, and areas with pedestrian walkways. Speaking of pedestrians:
3. What's the best way to avoid pedestrian injuries when it comes to blind spots while using a forklift?
To avoid pedestrian injuries (one of the most common accidents involving forklifts), proper planning is required. The best way to prevent this type of accident starts early, and involves smart traffic routing, barriers and other sensible safety measures.
4. What is the best way to check your blind spots?
How to check your blind spots is one of the most common questions we receive. And honestly, it comes down to paying attention. Accessories like mirrors and warning signs certainly help, but the best way to check your blind spots is to remain alert at all times. 
5. What's the latest technology available to prevent blind spots?
Rear view cameras and monitors have been shown to increase driver awareness and eliminate blind spots, but some operators can become too dependent on relying on technology. While forklift safety technology and accessories continue to improve, the best way to account for blind spots is total alertness behind the wheel!

TAKE CARE OF YOUR SAFETY PROGRAM'S BLIND SPOTS!
Do you know what another great safety tip is for blind spots and other forklift operating hazards? Sign up at ForkliftCertification.com. We have 3 training packages (the Training Kit, Train a Trainer and Bundle Package), all designed for custom application. Each of our modules features OSHA-compliant content, and you'll also enjoy instant access to official credentials.
Give our team a call at (888) 278-8896, or visit the contact page. If you're ready to get compliant today and understand more about forklift blind spots and other safety issues, sign up today! Thanks again for reading the ForkliftCertification.com blog!