Safety Tips for Highway Construction Crews Using Forklifts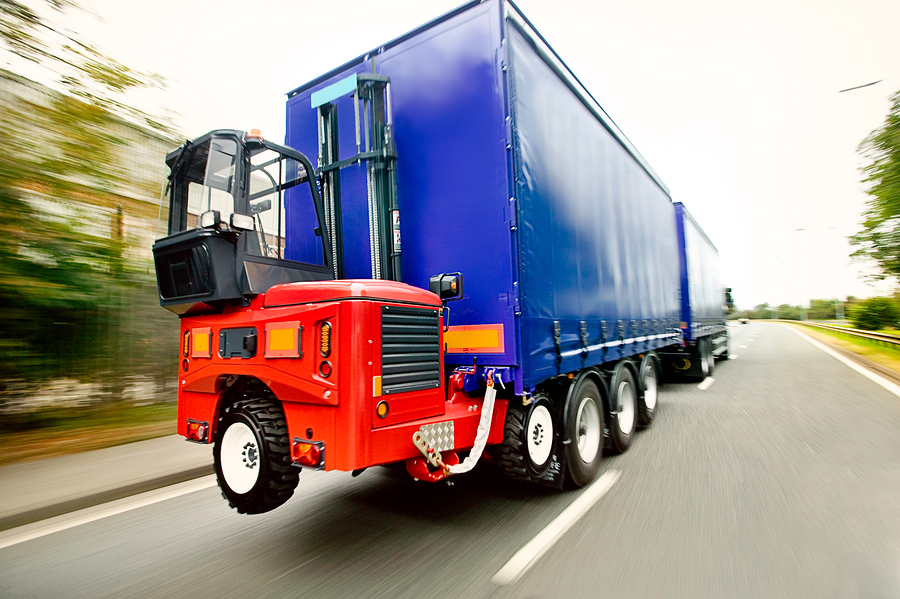 Forklifts are mostly thought of as indoor machines. With so many forklifts in warehouses, factories and other large industrial settings, people sometimes forget that forklifts are also used outside. And what's one area where lifts are used all the time in the great outdoors? Highways, bridges and roads.
What Are the Top Forklift Accidents?
Forklift accidents happen everyday on worksites that cause serious injuries and fatalities. As a construction worker who operates forklifts on and near busy highways, the hazards increase because you're working in close proximity to fast-moving vehicles and drivers who may be distracted.
The most common forklift accidents that occur are tip-overs, forklifts striking workers, forklifts crushing victims, falling from forklifts, and machines and objects coming into contact with forklift operators. These accidents can cause serious injuries and death for workers, but they're also preventable. Forklift certification training can equip you with the information and tools you need to safely operate forklifts, and recognize and avoid hazards.
How Can Accidents Be Prevented Involving Highway Construction Forklifts?
Accessing work zones on busy highways as a forklift operator can be dangerous and comes with some serious risk involved. As a highway construction employee, you have to take into account busy cars, distracted drivers, uneven terrain, large materials, and other hazards. However, it is completely possible to avoid danger and get your work done safely without putting anyone's life at risk.
Better Roads recently posted an interesting article on highway construction crew safety tips. These 5 things can help prevent forklift accidents on highway and road work crews.
Here they are:
1.      Mark areas for foot traffic and forklift traffic. Many accidents and injuries happen when a worker is in the wrong place, or when a forklift goes into an unrestricted area with regular crew. Make sure these places are clearly identified.
2. Set up proper traffic zones. To avoid vehicles on a busy highway, construction workers need to set up traffic and work zones properly using cones, barriers, and other tools to put enough space between workers and road users.
3. Use outdoor tires. Forklifts used on highway and road projects should use tires that prevent punctures. Nails, screws, wood and other debris can cause tire blowouts, which in turn could make a forklift skid or overturn.
4. Identify gradient changes. The ground surface at a road work site can quickly change from gravel to concrete. Sudden shifts in gradient are a major cause of forklift accidents. Let your workers know when the surface changes – this will help with speed, braking and other safety factors. This is perhaps the most important thing to do.
5. Make sure your crew has heavy-duty forklifts. The typical indoor lift isn't designed for outdoor work (such as highway roads & bridges). Things like maximum load, horsepower and braking speed are crucial for outdoor forklifts. Go with a heavy-duty outdoor lift for these type of projects.
 How Can Forklift Certification Help Prevent Accidents?
There are many ways to prevent accidents on work sites, but the best way is to first ensure all operators have their forklift certification. Forklift training teaches workers how to operate both indoor and outdoor forklifts, how to perform inspections and environmental assessments, and how to avoid hazards that can cause accidents. It also teaches how to create safe work zones and pedestrian zones to prevent injuries, fatalities, and equipment damage.
Choose FLC to be a Safer Forklift Operator
Forkliftcertification.com can help keep forklift drivers safe in warehouses, dockyards and yes, even out on the highways, roads & bridges. Our affordable training programs cost much less than other companies and can accommodate busy work schedules easily. Once you've completed a forklift training course, the credentials are immediately available. There is no waiting period; just print the certificates for the employee file and that's it!
We offer three different course options to get your workplace trained and certified as quickly as possible, in addition to a couple great ways to save money in your business.
Forklift Training Kit. The Forklift Training Kit covers three types of forklifts to meet the demands of each part of your material-handling needs. The types of forklifts we teach are Warehouse Forklifts, Pallet Jacks & Order Pickers, and Rough Terrain Forklifts. Employees will be certified to operate each of these classes of forklifts.
Train the Trainer. Paying for third-party forklift training programs and instructors can get expensive, real quick. So can traveling to an offsite facility for training, and covering workers' compensation and travel costs. Save money and create a more efficient workplace by training one of your own experienced operators to lead the forklift training. The Train the Trainer course teaches the fundamentals of how to administer all the important forklift training information to new employees to get them certified and compliant.
The Bundle Package. If you'd like to purchase both the Training Kit and the Train the Trainer course, save with our discounted Bundle Package. This is the best way to create a safe, efficient, and productive work environment, all with a single payment for programs that will never expire.
For more information on any of our 3 programs please visit our contact page to request a quote or ask a question. Or, just pick up the phone and call (888) 278-8896.
Many highway construction crews have used our training programs to create safer, more productive work sites – we'd love to help you out as well. Thanks for reading our blog.