The most trusted online resource for OSHA forklift certification and training since 2002
Questions? Call us! (888) 278-8896
OSHA Forklift Training
We've taken the guess work out of understanding OSHA requirements.
As a result of the number of preventable forklift-related accidents in the workplace, OSHA has created a number of forklift certification requirements that can be found on their website under the standard for Powered Industrial Trucks.
THE BASICS OF OSHA FORKLIFT TRAINING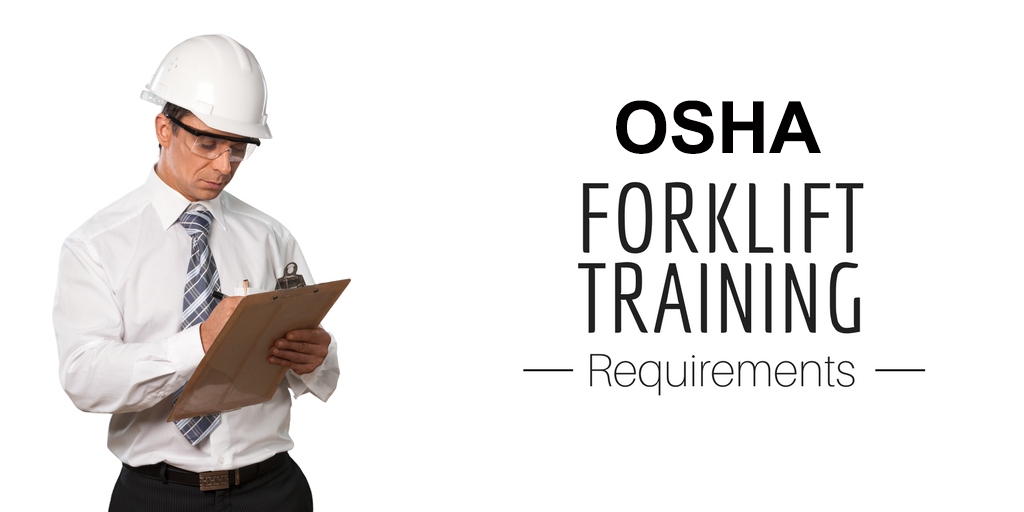 According to OSHA forklift license requirements, it is the responsibility of the employer to make sure that any employee, temporary or permanent, who operates a forklift as part of their job, receives OSHA forklift training. Forklift training should consist of:
• Formal instruction in OSHA forklift certification requirements. The employer can create their own forklift training and be compliant with OSHA requirements by providing workers with informational charts, diagrams, slides, video tapes, films, audio tapes, and even just a teacher speaking to a class.
• Practical training consisting of demos by the instructor and exercises practiced by the student. In addition to being compliant with OSHA forklift certification requirements, training needs to be specific to the workplace and to the type of equipment that they will be expected to use in the workplace.
• Evaluation of the trainee's performance in the workplace.
OSHA's Forklift Certification Requirements
Forklift license requirements are broken up into 5 main sections on the OSHA website, and cover each of the following points:
Operator Training
Safe Operation
Training Program Implementation
Training Program Content
Refresher Training
1. Operator Training
It is the employer's responsibility to make sure that each forklift operator understands how to drive a forklift safely, which is demonstrated through training and OSHA-approved testing.
Before a worker is allowed to operate a forklift, except during training, the employer should make sure that they have completed the proper training.
2. Safe Operation/Performance Requirements
Employers are able to create their own OSHA forklift certification program based on the unique qualities of their workplace and the types of forklifts used.
3. Forklift Training Program Implementation
Under OSHA forklift certification requirements, trainees may operate a powered industrial truck only:
Under direct supervision of a person who has the knowledge, training, and experience to train operators and evaluate their understanding only in an environment that does not put others in danger.
Training shall consist of a combination of: Formal instruction (e.g., lecture, discussion, interactive computer learning, written material), Practical training (demonstrations and exercises performed by the trainee) and an Evaluation of the operator's performance in the workplace
Read more on trainer qualifications for osha forklift training >
4. Forklift Training Program Content
Operators shall receive initial training in the following topics, with the exception to the topics that a forklift employer can prove are not relevant to their workplace, in order to fulfill forklift license requirements:
Truck-related topics:
Operating instructions, warnings and precautions
Differences from automobile
Controls and instrumentation
Engine or motor operation
Steering and maneuvering
Visibility
Fork and attachment adaptation, operation, use
Vehicle capacity and stability
Vehicle inspection and maintenance that the operator will be required to perform
Refueling/Charging/ Recharging batteries
Operating limitations
Other instructions, etc
Workplace-related topics:
Surface conditions
Composition and stability of loads
Load manipulation, stacking, unstacking
Pedestrian traffic
Narrow aisles and restricted areas
Operating in hazardous (classified) locations
Operating on ramps and sloped surfaces
Potentially hazardous environmental conditions
Operating in closed environments or other areas where poor ventilation or maintenance
could cause carbon monoxide or diesel exhaust build-up
Initial forklift training must include the OSHA forklift certification requirements.
5. Refresher Forklift Training and Evaluation
Refresher training, including an evaluation of the quality of that training, is required to ensure that the employee is able to operate forklifts safely.
Refresher training is required during:
Unsafe operation
Accident or near-miss occurs
An evaluation of the operator's skills indicates a need for it
When different types of equipment are introduced
The workplace condition changes
An evaluation of each powered industrial truck operator's performance must be conducted:
 After initial training,
After refresher training, and
At least once every three years
Bonus: What dishonest trainers don't want you to know about 3 year re-certification >> GO!
Also learn more about forklift license requirements for renewals.
Avoiding Duplicate Forklift Training
If a forklift operator has been trained in a specific operating topic that is relevant to the workplace and type of equipment, and they have successfully proven their understanding of the topic, then further training is not required.
For 12 years our online forklift certification organization CertifyMe.net has offered free 3-year renewals for this reason.
It is also the reason we offer a forklift training kit for in-house training with all the curriculum's, forklift certificates, and operator cards on a reusable and customizable template.
We even put the entire kit contents on a flash drive for your convenience.
Why is OSHA Forklift Certification Important?
Forklift certification is important for two main reasons:
Prevent accidents and save lives
Avoid costly fines and legalities
The Occupational Safety and Health Administration (OSHA) estimates that forklift accidents claim 85 lives in the United States each year. In addition, OSHA reports that, each year, forklifts account for approximately 100,000 industrial injuries, of which one-third are serious. To put these figures into perspective, more than one in ten forklifts in the United States each year will become involved in an accident. Studies show that a large proportion of accidents may be prevented by proper training. With this in mind, in 1999, OSHA published a set of regulations specifying how OSHA forklift training should be carried out.
Apart from helping to prevent accidents that can lead to injuries and fatalities, forklift certification protects employers from being hit with costly fines. According to OSHA, the penalty for serious and other non-serious violations starts at $12, 675. Willful or repeated violations, such as willfully allowing an untrained and uncertified worker to operate forklifts, cost a devastating $126, 749. As an employee, if you want to be considered for the best forklift jobs, you need a forklift certification because any employer serious about their business won't be willing to take the risk of being slammed with these fines. And as an employer, it's imperative to the future of your company for you to follow all forklift certification requirements and only allow trained employees to drive forklifts.
What Does All This Mean for Employees?
If you want to be best prepared to protect your life on the job and avoid accidents, then you need to complete a quality forklift certification, one that covers all of OSHA's forklift license requirements. You will learn exactly how to operate a forklift safely, perform inspections, and recognize and avoid hazards. As a result, you'll be more productive at work, and your employer, or future employer, will greatly value your presence in the workplace. In fact, you can't qualify for a great forklift job without forklift training.
How Can I Complete My Forklift Certification?
All you have to do to complete your OSHA-approved forklift training and fulfill all forklift certification requirements is to create an account on ForkliftCertification.com. It only takes a few minutes, and 5 easy steps:
Sign Up
Register Your Company and Employees
Complete the Self-Paced Modules
Complete the Practical Assessment with a Trainer
Print Your Certificate
Fulfill OSHA Forklift Certification Requirements with ForkliftCertification.com
The forklift certification program at ForkliftCertification.com is 100% OSHA-compliant and includes all of the required information, including these two main categories:
• OSHA forklift certification requirements concerning the type of equipment to be used – Topics to be covered include the differences between a powered industrial truck and an automobile; the capacity and stability of the vehicle, how to refuel the vehicle or charge and recharge batteries, depending on how the forklift is powered; operating the engine or motor and maneuvering the vehicle around the workplace; maintenance and inspection responsibilities of the operator, location and operation of instrumentation and controls; operation and limitation of the fork and/or any attachments used and any other operating precautions or instructions contained in the operator's manual specific to the forklift truck or trucks being used.
• OSHA forklift training concerning the working environment – OSHA forklift certification requirements concerning the workplace environment include topics like the characteristics of the floor or ground that the vehicle will be used on; the composition and stability of the types of loads that will be transported; manipulation, stacking and unstacking of loads; the nature of expected pedestrian traffic; the layout and width of aisles; conditions of ramps and any other sloped surfaces that will affect the safe operation of the vehicle; any other unique or hazardous features of the working environment. Forklift training OSHA style involves taking into account operation in environments where ventilation may be restricted or inadequate vehicle maintenance may lead to the build-up of toxic gases like diesel exhaust or carbon monoxide.
The Online Forklift License Program
We at FLC have created our program with the following points in mind to protect your life on the job and ensure you're compliant with all forklift license requirements:
• Safe operation of the trucks being used in the workplace
• Workplace hazards related to the use of the vehicle
• General requirements of the OSHA standard
You won't have to worry about missing an OSHA update or regulation; we've designed our programs to always be up-to-date on all OSHA forklift training requirements.
Contact us today for more information on how we can make your OSHA forklift certification our problem, not yours.
Get Started NOW! Select an option below.
 AVOID INJURIES WITH OSHA FORKLIFT TRAINING AND THESE 7 PREVENTATIVE STEPS
Aside from making sure your employees receive OSHA-approved forklift training, you can help prevent injuries and fatalities on your worksite by requiring your employees receive up-to-date equipment training, and to take the time to complete a few daily maintenance checks on the forklifts. Prevention is the best way to improve safety, increase employee productivity, and lower costs. Read more here to learn the different maintenance checks you can complete yourself, and the type of forklift certification you should look into for your workers.