What are OSHA Forklift Requirements?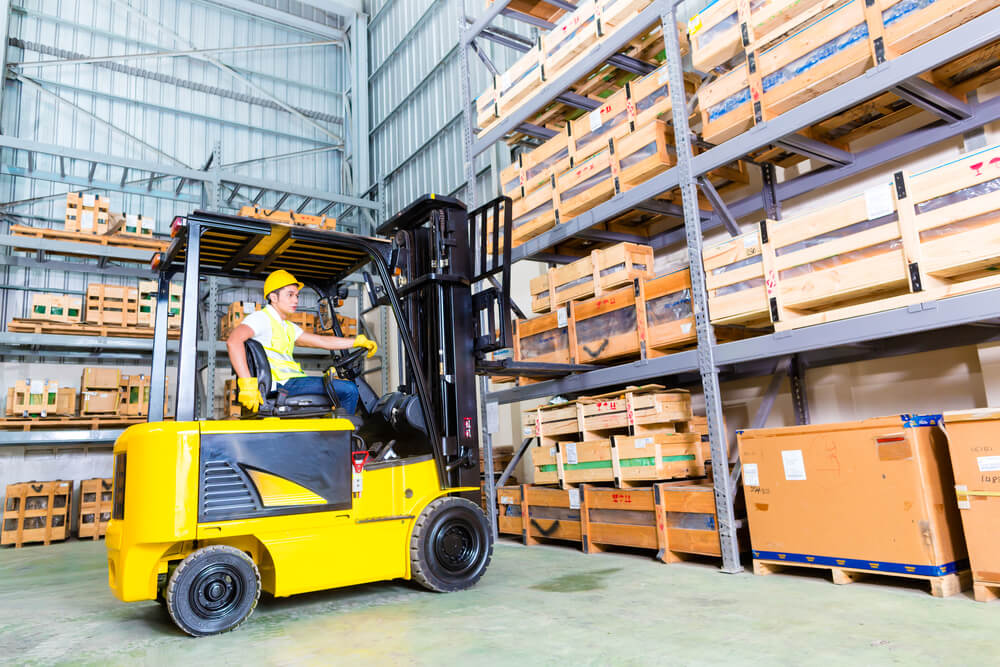 It might seem like common sense for a new equipment operator to receive proper training before starting work. Too often, though, workplaces let their employees get behind the controls untrained. Operator error is the number one cause of forklift-related injuries and fatalities in the U.S. Lack of training is the main culprit.
As a result of the number of preventable forklift-related accidents in the workplace, OSHA has created a number of forklift certification requirements that can be found on their website under the standard for powered industrial trucks. By following OSHA forklift requirements, you and your colleagues can help avoid many of the most common workplace injuries and accidents.
What Are OSHA Forklift Requirements?
Visit OSHA's website and you'll find OSHA forklift regulations spelled out in detail. There are guidelines for training, performance requirements, training program implementation, training materials, and refresher training. Allow us to explain a little about each of these requirements:

Operator Training
It is the employer's responsibility to make sure that each forklift operator understands how to drive a forklift safely, which is demonstrated through training and OSHA-approved testing. Forklift OSHA regulations state that before an employee can operate a forklift, they must complete the proper training.
Performance Requirements for Safe Operation
Employers are able to create their own OSHA forklift certification program based on the unique qualities of their workplace and the types of forklifts used. Of course, designing your own safety program is easier said than done. Many employers opt to work with FLC to train workers in accordance with OSHA forklift regulations.
Training Program Implementation
Under OSHA forklift certification requirements, trainees may operate a powered industrial truck only under direct supervision of a person who has the knowledge, training, and experience to train operators. This individual has a clear understanding of OSHA forklift safety regulations and ensures they are followed. In addition, they evaluate trainees' understanding of forklift safety topics and monitors their ability to use a lift in a safe environment.
Forklift certification requirements include a combination of:
Formal instruction (e.g., lecture, discussion, interactive computer learning, written material);

Practical training (demonstrations and exercises performed by the trainee); and

Evaluation of the operator's performance in the workplace.
Certified forklift operators can teach others how to safely use a lift. In fact, ForkliftCertification.com offers a Train a Trainer program that allows operators to become forklift safety teachers. These operators can then share forklift safety insights with peers and help them earn their OSHA forklift certification.
Training Program Content
Trainees will receive guidance on the following topics:
Truck-Related Topics
Operating instructions, warnings, and precautions

Differences from automobile

Controls and instrumentation

Engine or motor operation

Steering and maneuvering

Visibility

Fork and attachment adaptation, operation, use

Vehicle capacity and stability

Vehicle inspection and maintenance that the operator will be required to perform

Refueling/charging/recharging batteries

Operating limitations

Other instructions, etc.
Workplace-Related Topics
Surface conditions

Composition and stability of loads

Load manipulation, stacking, unstacking

Pedestrian traffic

Narrow aisles and restricted areas

Operating in hazardous (classified) locations

Operating on ramps and sloped surfaces

Potentially hazardous environmental conditions

Operating in closed environments or other areas where poor ventilation or maintenance

Could cause carbon monoxide or diesel exhaust build-up
Initial forklift training must account for all OSHA forklift certification requirements.
Refresher Training
Refresher training, including an evaluation of the quality of that training, is required with OSHA forklift certification to ensure that employees are able to operate forklifts safely with the most up-to-date information.
Refresher training is required if any of the following incidents occur:
Unsafe operation

Accident or near-miss

An evaluation of the operator's skills indicates a need for it

Different types of equipment are introduced

Workplace conditions change
Forklift operators are subject to an evaluation:
After initial training;

After refresher training; and

At least once every three years
Forklift OSHA requirements are comprehensive. OSHA-approved forklift safety training makes it easy to learn about these requirements and stay up to date on them.
Why Is OSHA Forklift Certification Important?
OSHA forklift certification is important for the following reasons to prevent accidents and save lives and avoid costly fines and violations.
Forklift accidents claim an average of 85 lives in the United States each year. OSHA also reports that, each year, forklifts account for approximately 100,000 industrial injuries, of which one-third are serious. 
Apart from helping to prevent accidents that can lead to injuries and fatalities, forklift certification protects employers from being hit with costly fines. As an employee, if you want to be considered for the best forklift jobs, you need a forklift certification because any employer serious about their business won't be willing to risk being slammed with fines as a result of not complying with forklift training requirements. The future of your company may rest on your ability to properly train and certify your employees.
Meet OSHA Forklift Regulations with FLC
If you're concerned about meeting OSHA forklift requirements, allow ForkliftCertification.com to be your guide. We've created a program designed to keep your busy lifestyle in mind. Our comprehensive, convenient online training allows you to master the safe operation of forklifts in the workplace. You'll learn about the hazards associated with these vehicles and how to avoid them. You'll also become familiar with the OSHA forklift safety guidelines recommended for all work environments across the country. There's no need to worry about missing an important update to the regulations, either. We've designed our programs to be updated with all the latest OSHA training requirements. 
Our course offerings include:
Train a Trainer
This helpful course allows you to train in-house employees to oversee the training of other workers. By bringing future trainings in-house, you'll save your organization valuable time and money.
Forklift Training
Our comprehensive forklift training courses cover warehouse forklifts in classes one, four a five. We also offer training on pallet jacks and order pickers in classes two and three. There are training options for rough terrain forklifts, too. 
Bundle Package
If you're eager to purchase both the Train a Trainer course and the Training and Certification kit, you can save money by bundling. This is the most cost-efficient way for employers to train their entire team. This OSHA-approved forklift training can help your colleagues prevent accidents and injuries. You'll increase productivity, improve safety, and lower costs in one fell swoop.
Don't let OSHA forklift requirements stop your business from thriving. Bring your organization into compliance today with help from FLC! Contact our team of experts with any questions you might have, or click here to sign up now.

OSHA Forklift Requirements should always be respected and known
Failing to understand or follow the rules and regulations of OSHA can be costly. The organization frequently penalizes companies that neglect their training and recertification obligations. Don't let forklift certification expiration lead to expensive fines or workplace accidents. Get certified with FLC to be covered in every way.
Our convenient online classes are available 24/7, allowing employees to train on their own time and at their own pace. By signing up with FLC now, you'll take the first step towards OSHA compliance. If you still have questions about the forklift certification process, our team of experts is happy to answer questions and shed light on your options. Click here or dial (888) 278-8896 to get in touch.