The most trusted online resource for OSHA forklift certification and training since 2002
Questions? Call us! (888) 278-8896
10 Forklift Operator Training Requirements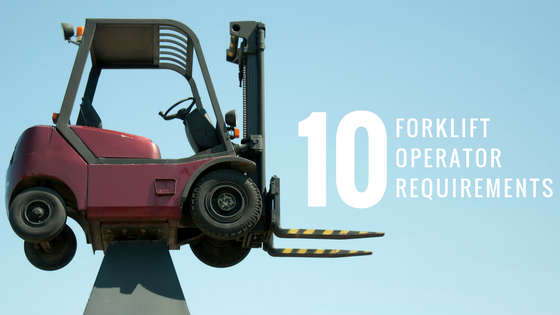 OSHA requires that all workers who wish to operate forklifts in any industry, including general, maritime, and construction, must be trained to do so and evaluated to confirm their competency. OSHA's requirements for training are set in place to protect employees and the worksite, and help reduce the number of injuries and fatalities that occur every year. According to OSHA, 4,379 workers were filled at work in 2015, with 21.4% being in the construction industry. OSHA has found that the "fatal four" were primary causes of these construction deaths, being falls, struck by an object, electrocution, and caught-in/between. Forklifts are responsible for a portion of these deaths every year, and it is by following the ten operator training requirements that you can help make your workplace safer and free of accidents. 
Safe Operation
1.      The employer must ensure that each forklift operator is competent and able to operate a forklift safely demonstrated through the successful completion of training and evaluation.
2.      Trainees can only operate forklifts under the direct supervision of employees who have received training and experience to train operators and evaluate their skills.
3.      Trainees can only operate a forklift in a way and place that does not put other employees at risk.
4.      Training must consist of formal instruction (lecture, discussion, interactive computer learning, video, and written material), practical training as demonstrated by the trainee and led by the trainer, and an evaluation of the trainee's performance.
5.      Only those who are trained and experienced can train and evaluate trainees.
The Training Content
6.     Workers training to operate powered industrial trucks must be trained in forklift-related topics and workplace-related topics, unless the employer can prove that all of or some of the information is not relevant to the safe operation of forklifts in their workplace.
Truck-related topics: Operating instructions, warnings, and precautions for the types of forklifts the new operator will use at work; the differences between a forklift and an automobile; the forklift controls and instrumentation and their locations and functions; engine or motor operation; steering and maneuvering; visibility and how its related to loading hazards; the forks and attachments; the truck capacity; the truck stability; how to perform the lift inspection and maintenance; how to refuel or recharge batteries; limitations of operating, and any other operator instructions and warnings.
Workplace-related topics: Surface conditions where the forklift will be used; the composition of loads and load stability; load handling, stacking and unstacking; watching for pedestrian traffic in the area where forklifts are used; maneuvering through narrow aisles and other restrictive areas; hazardous locations where the forklift will be used; maneuvering on ramps and other sloped surfaces; driving in closed areas and other locations where proper ventilation may not exist that can cause a buildup of carbon monoxide, and dealing with other potentially hazardous conditions and materials.
Refresher Training
7.      Forklift refresher training must be provided to the operator to ensure he or she has up-to-date information and knowledge to operate the lift safely.
8.      Refresher training must be provided at least every three years, or in these cases: The operator has driven the forklift in an unsafe way; the operator has been involved in an accident or almost-accident; the operator fails to pass an evaluation in safe operating, or the conditions of the workplace change and training is needed to operate the powered industrial truck safely.
Avoiding Duplicate Training
9.      An operator does not have to complete training in a topic that he or she has already completed and passed evaluation for the type of truck that is appropriate to the operator's workplace and duties.
Providing Certification
10.  An operator who trains and passes evaluation must receive a forklift certification that includes the operator's name, the date the training took place, the date the evaluation took place, and the identity of the operator performing the training or evaluation.
Where to Complete Forklift Training
Forkliftcertification.com is the number one online provider of forklift training and certifications. Their interactive program covers all the written materials and audio and video instruction to fulfill OSHA's requirements, and only takes about one hour to complete. The course also comes with a checklist that forklift trainers can use to evaluate and pass new operators during the practical assessment. The online forklift certification course teaches workers how to operate the forklift, how to inspect the equipment, how to perform basic maintenance, how to assess the surrounding environment for hazards, and how to avoid accidents, like tip-overs, struck by, and caught-in/between.
For $299, your workers can receive the training information for the various types of forklifts, including:
Warehouse Forklifts, Classes 1, 4, 5
Pallet Jacks and Order Pickers, Classes 2, 3
Rough Terrain Forklifts, Class 7
OSHA's forklift training requirements are applicable for each class of forklift, and no matter which you use in your workplace, you will need to train your workers with an OSHA-compliant training like ForkliftCertification.com to satisfy industry regulations, avoid fines, and keep your workplace safe.