The most trusted online resource for OSHA forklift certification and training since 2002
Questions? Call us! (888) 278-8896
FAQ – How to Certify Forklift Operators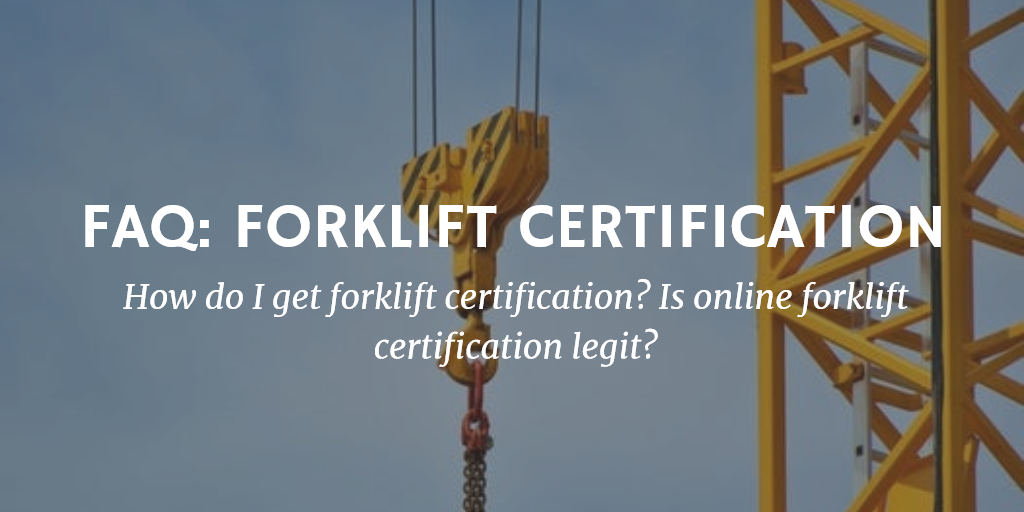 In 1999 after a series of deadly accidents, OSHA-a division of the Department of Labor, put in place laws requiring certification of training for anyone operating powered industrial trucks to prevent more accidents and fatalities.
A summary requirements are as follows:
1. Forklift operators must be at least 18 years old
2. They must complete a training and certification course.
3. Mandatory topics must be covered.
4. An evaluation of the training and the operators understanding of the material.
5. A hands-on evaluation must be performed by a designated evaluator.
6. Training must be equipment specific.
7. Training must be site specific.
8. OSHA can and will levy fines of up to $7,000 for every operator that is not trained and certified under the guidelines.
Further, businesses can face denial of liability insurance coverage, and industrial comp claims if there are injuries or deaths from a forklift accident. Employers are required by law to provide training to forklift operators can do so in a variety of ways:
1. They can hire a 3rd party safety consultant to conduct on-site training.
2. Employees can be sent off-site.
3. In-house training and certification can be developed.
4. Online train the trainer certification is now available and accepted by OSHA.
Many companies find that hiring an expensive consultant to do on-site or off-site training to be expensive and disruptive to operations. In addition, if an owner or manager is willing to take the training first to decide if it is a fit for their company, they can't be sure that the training is right for their business or employees.
ForkliftCertification.com provides OSHA compliant training for small, medium and large companies throughout the United States. All of our training courses are available online, and we provide the tools, resources and knowledge to take control of your compliance gaps. Before signing up, most people have questions, including:
• Is online forklift certification legit?
• How long does forklift certification last?
• Where can I get forklift certification? (Hint: it's much closer – and more affordable – than you think.)
• I'm not sure how to get forklift certification. Where do I turn?
• And many more
WHAT IS FORKLIFT CERTIFICATION? FORKLIFTCERTIFICATION.COM TRAINING FAQS & MORE INFORMATION
So what exactly is forklift certification from FLC? Is forklift certification required? What else should I consider before signing up for online forklift training? We're asked a ton of questions about
So what exactly is forklift certification from ForkliftCertification.com? Is forklift certification required? What else should I consider before signing up for online forklift training? We're asked a ton of questions about OSHA forklift training, and here are the most common:
Q: What is forklift certification?
A: Simply put, it's a training record that shows a driver or operator has successfully completed an OSHA-approved training program. ForkliftCertification.com offers three main forklift certification programs:
Q: Is online forklift certification legit?
A: All of our training certification programs from ForkliftCertification.com include up-to-date training info, and are highly recommended for any company or individual driver looking to achieve compliance.
Q: Where can I get forklift certification?
A: The answer is simple: at ForkliftCertification.com! Our three different training packages are ideal for beginners, veteran forklift drivers, and everyone in between. For more information, check out our helpful article on this subject!
Q: How long does forklift certification last?
A: Forklift certification lasts for three years. ForkliftCertification.com offers easy renewal training. Whenever you need renewal training, we're here to assist with any questions you have!
Q: How do I renew my forklift certification?
A: Once your training has expired, you can complete the online training on our website, or access the hands-on evaluation to complete your training. It's that simple! Our easy renewal training is just one reason why we're a trusted provider of OSHA compliant forklift training.
Q: Is forklift certification required?
A: According to OSHA standard 29 CFR 1910.178, is it mandatory that anyone operating a forklift in the United States is required to have certification training. This is one of OSHA's most well-known rules and regulations, which falls under their Powered Industrial Truck training requirements. If you or your company are involved in an accident and no training records are provided, OSHA will hand down hefty fines and penalties. Keep in mind, employers are responsible for providing OSHA compliant training for all employees that operate a forklift!
Q: Is forklift certification worth it?
A: We'll answer this question in two parts. ForkliftCertification.com forklift training is worth it from a safety standpoint; we think avoiding accidents and injuries is worth it – and we think you'll agree. But our training is also worth it financially, too. Employers want to hire the most qualified forklift drivers. With OUR OSHA approved training, you have a better chance at landing a well-paying forklift job.
Forklift Certification Train The Trainer
Because of the simple access and low cost, many employers are now choosing online train the trainer certification and training.  Online training provides all the benefits of on-site training as well as the opportunity for managers to view the topics required by OSHA and content to ensure it is right for their company.
And to prevent these kinds of forklift accidents from happening. To learn more about our forklift certification programs, give us a call today at (888) 278-8896. If you're ready to get started, sign up today! Thanks for visiting ForkliftCertification.com!