Learn the Top 5 Ways to Prevent Pedestrian Forklift Accidents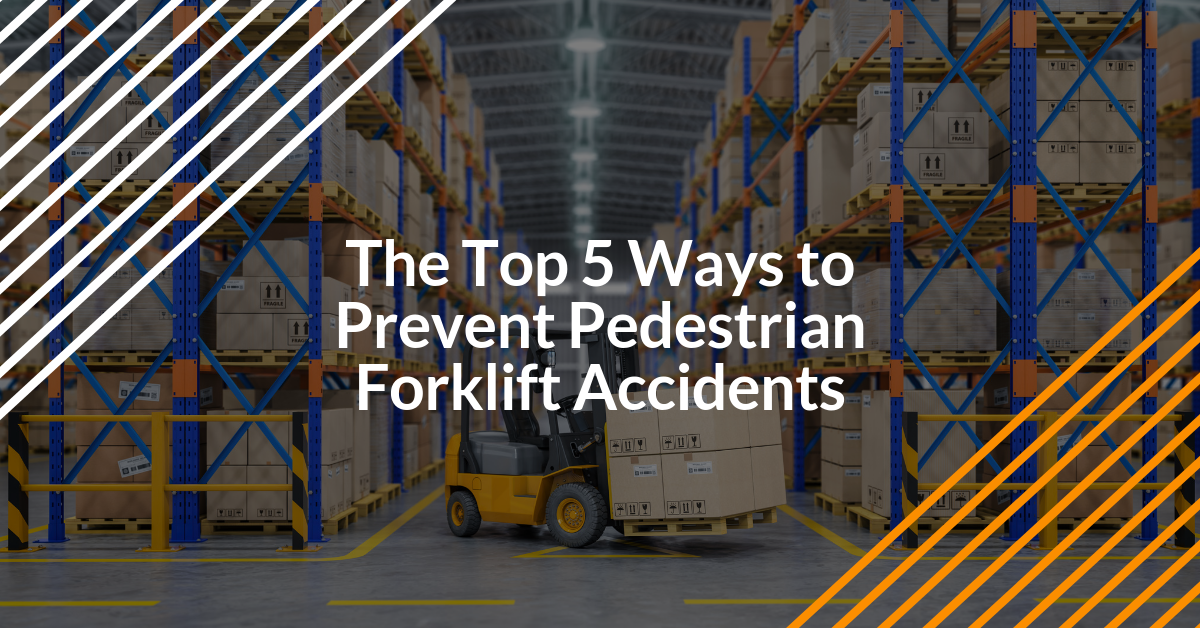 A lot can go wrong in a workplace where forklifts are always on the go. Powered industrial trucks are dangerous when operators or pedestrians are  distracted. With gaps in training and other issues, there are a large number of forklift pedestrian accidents in the U.S. every year.
In forklift pedestrian accidents, the worker always loses. If the pedestrian is lucky, any injuries are minor. If not, the accident can cause serious injury or even death. The National Institute for Occupational Safety and Health offers some grim statistics. Nearly 20% of forklift accidents involve a pedestrian. Thirty-six percent of forklift-related deaths are workers on foot.
If you operate a forklift, you no doubt had to undergo training before you could get behind the wheel. As part of that training, you learned what to do to maintain your safety.  But it's not just your own safety you need to watch for. You also need to account for the safety of all other workers in your area. As the driver, it is your responsibility to avoid them.
How to Prevent Forklift Accidents
Running into a pedestrian with a truck isn't the only type of forklift mishap. In fact, four out of five forklift accidents don't involve pedestrians. In most cases, it's the driver or another worker on the truck who gets injured or killed. Other common forklift accidents include:
– Forklift overturns.  These are the #1 cause of fatalities involving lift trucks. They can be caused by many factors. These include unsafe turning, driving too fast, and driving with an elevated load. Overturn accidents can be reduced with a forklift stability system. It uses 3,000 readings per second to detect unsafe operation of the truck. When it detects instability, it stabilizes the rear axle to reduce the risk of a tip over.
– Knocking a pallet off the rack. This is one of the most common contributors to forklift pedestrian accident statistics. Pallets stacked at height can be tricky to load and unload. The pallets are harder for the operator to see. It's also easier for the pallet to be loaded off balance. These increase the chance of knocking the pallet off the rack. It can then fall and injure the driver or another worker in the area. It can also damage the product and/or racking. Automatic fork levelers can be used to reset empty forks to a level position. This makes it easier to get the forks in and out of a pallet. Mounting a camera on the forklift mast can also reduce pallet accidents. It gives the driver a better view of the pallet while loading and unloading.
– Falls from a forklift.Forklifts are often used to elevate workers to perform a job. This is not a safe practice because forklifts are not designed to lift people. The best way to avoid this type of accident is to use an aerial lift with guardrails to lift workers.
Techniques for preventing these kinds of accidents include:
Thorough maintenance
OSHA compliant training
Good maintenance plan
Read operator manual about max load capacity, load balancing, etc.
Reduce speed around corners and blind spots
How to Avoid Pedestrian and Forklift Accidents
SEPARATE THE PEDESTRIAN AND FORKLIFT TRAFFIC
According to OSHA, there are over 800,000 forklift in use, and around 10% of those powered industrial trucks will be involved in accidents. A big portion of those involve forklift pedestrian accident statistics. Forklift drivers should never assume workers on foot are aware of their every move.  Pedestrians may not be paying attention due to their own distractions. Therefore, it helps to create as much space between forklifts and foot workers as possible. Limiting some aisles as workers-only and others as forklifts-only can also help avoid accidents. Posting warning signs and floor tape to indicate forklift zones will also keep people more alert.
Bottom line: forklift pedestrian accidents are avoidable with smart planning and preparation!
LIMIT USE OF FORKLIFTS NEAR COMMON PEDESTRIAN AREAS
When focused on a load, forklift drivers can easily fail to notice busy worker and common areas. These include time clocks, break rooms, food serving areas, restrooms, and main exits. These areas also tend to have more foot traffic at certain times, like right before and after lunch. To point #1 above, forklift pedestrian accident statistics show that accidents happen near these areas – always separate your pedestrian walking path away from high traffic areas!
CAREFULLY MANEUVER BLIND SPOTS AND CORNERS
Forklift drivers need to use utmost caution near blind corners, doorways, and narrow aisles. It is their job to alert pedestrians to their presence. Operators should use flashing lights, horns, and backup alarms when driving around corners and blind spots. Overhead dome mirrors can improve visibility for all when installed in the right places.
USE BARRIERS TO ISOLATE WORKSTATIONS FROM FORKLIFT AREAS
It wouldn't make sense to install a physical barrier around a corner. But placing them where practical can keep workstations safe from forklifts. This allows pedestrians to do their jobs without fearing for their safety. Many companies want to know how to reduce pedestrian accidents, and barriers a proven, preferred method.
ENSURE THE AREA IS WELL LIT AND FREE OF OBSTACLES
Good lighting helps reduce forklift accidents. Make sure every area travelled by forklifts is well lit. Workers should wear high-visibility clothing that reflects light. Drivers should inspect the work site and remove hazards before starting a job. Striking an object can cause it to collapse and crush a worker on foot. It can also cause the forklift to tip over and fatally injure a pedestrian.
WHAT CAN PEDESTRIANS DO TO PREVENT ACCIDENTS?
Forklift operators aren't the only ones who can prevent pedestrian accidents. Workers on foot should:
Keep a safe distance from forklifts at all times
Let the driver know they are in an area by making eye-contact
Avoid walking near or under raised forks
Most of all, don't overlook the importance of forklift safety training. This includes operators and pedestrians! To prepare all your workers, make sure everyone completes their online forklift training and certification from ForkliftCertification.com. It's quick (about an hour) and you can do it anywhere you have Internet access.

The Bottom Line: Get Your Employees Forklift Certified with FLC
Remember, it's the employer's responsibility to ensure their workers are properly trained and certified. ForkliftCertification.com is the leader in online-based OSHA compliance, and we offer a trio of certification solutions:
Training Kit – want to avoid forklift pedestrian accidents? Sign up for the Training Kit for only

$299

and reduce your chance of becoming part of forklift pedestrian accident statistics!
Train a Trainer – imagine your on-site training expert – well, that's exactly what you'll get with our Train a Trainer Priced at only

$149

, this value-added package is a great tool for learning how to reduce pedestrian accidents and much more!
Bundle Package – sometimes choices are tough…like deciding between our Train a Trainer course and the Training Kit. Why not get both for

$399

and ensure you don't become involved with forklift pedestrian accident statistics? Get the Bundle Package today!
Don't become part of OSHA's forklift pedestrian accident statistics. Train & certify your employees with OSHA compliant certification. Avoid forklift pedestrian accidents in the first place with FLC – sign up today!
Updated March 2021