The most trusted online resource for OSHA forklift certification and training since 2002
Questions? Call us! (888) 278-8896
Forklift Pedestrian Safety – OSHA Requirements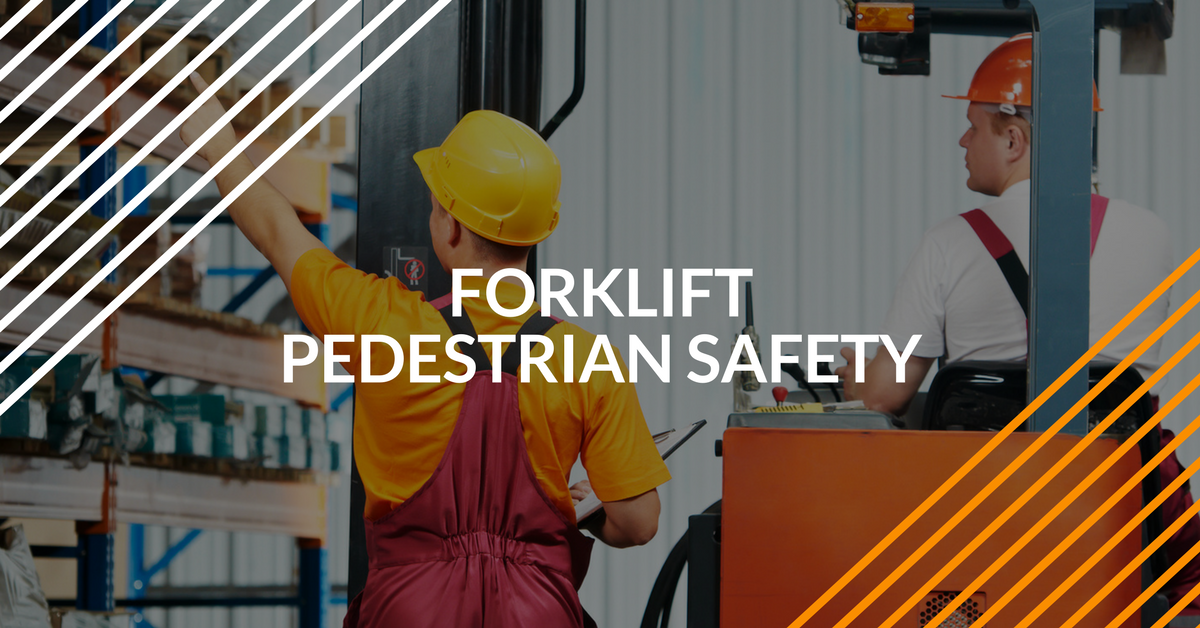 Forklifts are essential tools used in warehouses, dockyards, construction sites and distribution centers around the country. However, they don't come without their share of dangers. They can put pedestrian workers and onlookers at risk when safety protocols are not common knowledge or executed properly.
Forklift traffic safety and forklift pedestrian safety go hand in hand when there are multiple types of workers and moving parts in a workplace. Learn forklift pedestrian safety tips and what you can do to reduce the number of hazards that can put pedestrians and operators at risk.
Since forklift pedestrian safety is one of the most important parts of a well-run warehouse (or shipyard terminal, or other facility that uses forklifts), it helps to have forklift traffic safety for all of your employees. FLC, the leader in online forklift certification and OSHA compliant training, has three different courses to ensure your OSHA pedestrian safety plan is compliant.
Forklift pedestrian safety helps any operator recognize the unique hazards involved with foot traffic in industrial workspaces. Once your employees have completed our training courses, they'll have the necessary skills and knowledge to avoid accidents and promote a safer, more productive environment!
The Basics of Forklift Safety in the Workplace with Pedestrians
One of the most important aspects of forklift safety involves navigating traffic. This is divided into two primary areas:
✓ Regular Forklift Traffic– the systems and standards that define how powered industrial truck traffic is routed through dockyards, warehouses, distribution centers, and other workplaces
✓ Pedestrian Traffic– many job sites require pedestrians to occasionally enter a primarily industrial environment. This is where forklift pedestrian safety comes into play.
Fatalities and injuries can happen with both types of traffic, especially if rules and guidelines aren't in place. OSHA pedestrian safety requirements exist for both operators and pedestrians alike, and are described in more detail below.

Click image to enlarge
Share this Image On Your Site
Who are Pedestrians and Why Are They in the Workplace?
Pedestrians include visitors, office staff, salespeople, and the other members of a company who may come into a warehouse or yard on an occasional or day-to-day basis. While they are not required to be trained to work around forklifts and other equipment, they can and should be taught about the components of forklift pedestrian safety to help protect their lives.
The truth is that many forklifts have limited visibility, especially with the presence of blind spots and corners in a warehouse or yard. And pedestrians don't all understand that you can't always hear nearby forklifts or be able to tell exactly where they are.
Forklift and pedestrian safety education is essential for teaching both operators and pedestrians how to work around each other safely and prevent accidents.
WHY YOUR EMPLOYEES NEED OSHA PEDESTRIAN SAFETY TRAINING
According to The National Institute for Occupational Safety and Health, about 20% of all forklift accidents involve a pedestrian being hit by forklifts in the workplace. Pedestrian safety is definitely not something to overlook, and the most common reasons for accidents involving pedestrians are:
• The pedestrian did not see the forklift
• The pedestrian did not hear the forklift
• The pedestrian came too close to the operating forklift
• A spotter wasn't used to detect pedestrian traffic (this is one of the most common violations of forklift traffic safety)
• OSHA pedestrian safety protocols weren't followed
Awareness and forklift pedestrian safety training can educate pedestrians on how to act when in a workplace where forklifts are operating, and why they need to remain aware and alert of moving forklifts at all times. Forklift operators also need to know how to make pedestrians aware of their presence while working.
OSHA Forklift Pedestrian Safety Standards
OSHA's powered industrial truck safety guidelines for OSHA pedestrian safety around forklifts involve some common sense thinking, basic forklift pedestrian safety tips, and a few advanced concepts. Some of these standards include: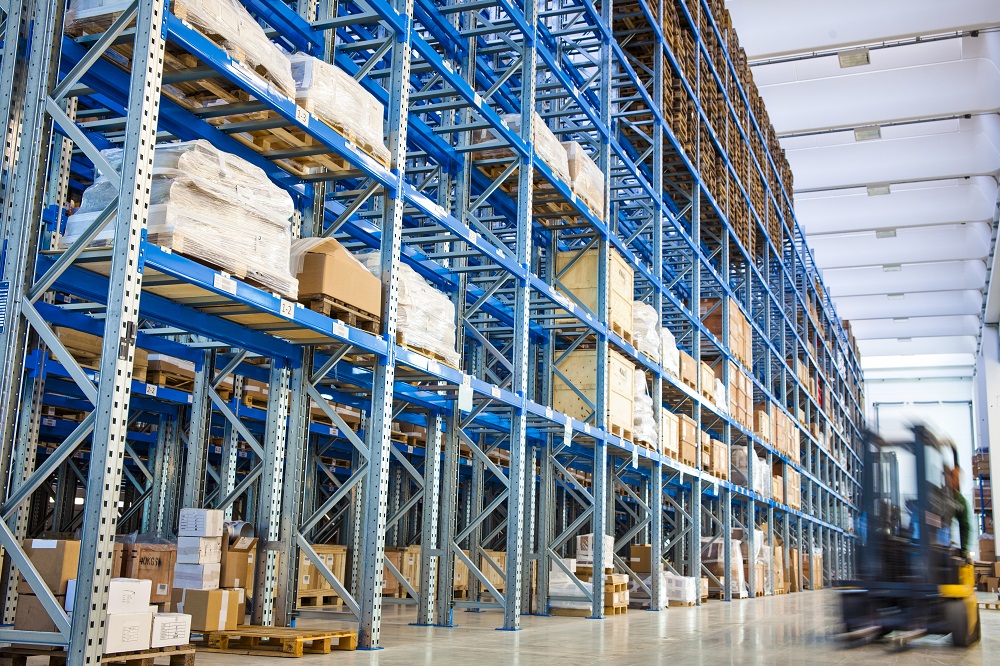 • Always yield the right of way to pedestrians
• Use your horn and safety signals when approaching blind intersections
• Stop and wait for pedestrians to walk by who have walked across your planned route
• Look for situations that require a spotter and use one when necessary
• Warn pedestrians and ask them to move when you aren't sure of a safe clearance
• Effective forklift traffic safety protocol includes proceeding cautiously and slowly through high
traffic areas
• Do not allow anyone to stand or walk near an elevated load
• Ensure workers receive forklift and pedestrian safety training to recognize hazards easily and prevent accidents
OSHA guideline 29 CFR 1910.176 (a) also requires pedestrian pathways and other walking areas to be free from obstructions at all times – particularly those areas near regular forklift activity.
Forklift Pedestrian Safety Rules for Forklift Drivers:
• Slow down, stop and sound the horn when at intersections, corners, and whenever vision is obstructed
• Use warning lights and backup alarms when traveling in reverse
• Do not move the forklift when you don't have a clear view
• Use a spotter for blind spots
• Look in the direction of travel
• Signal to pedestrians to stand clear
• Make eye contact with pedestrians
• Never be distracted by looking at a cell phone or other reading material while operating a forklift
Get trained with the latest OSHA pedestrian safety guidelines today – FLC can help your company here. We'll get your forklift operators OSHA compliant in about an hour, and their credentials are immediately available for printing!
Protocols for Pedestrians in the Workplace:
• Understand that forklifts cannot stop suddenly
• Stay clear of forklifts in operation
• Be aware of wide rear swing radiuses
• Use pedestrian walkways
• Never ride on a forklift, unless the forklift is designed for riders
• Never pass under an elevated load
• Get educated on OSHA pedestrian safety standards
Guide for Forklift Pedestrian Safety and Avoiding Accidents
Here are a few more forklift pedestrian safety tips to help prevent accidents:
• Pedestrians should make themselves visible by wearing visibility vests and avoiding blind spots
• Don't trust your ears to always hear forklifts. Be aware of the forklifts in a workplace and ask employers to install mirrors at blind spots and corners to enhance visibility
Use marked pedestrian lanes whenever available
• Understand that the rear of forklifts can be just as dangerous as the front
• When getting off a forklift during the work day, operators must turn off the forklift before stepping away
• Make sure all forklift operators have adequate forklift and pedestrian safety training, which includes OSHA pedestrian safety regulations
Get Training in OSHA Pedestrian Forklift Safety from FLC
Get up to speed on forklift pedestrian safety requirements with our OSHA forklift training courses. Designed by our knowledgeable team of OSHA experts, every FLC training module gives you a thorough review of all facets of safe powered industrial truck operation, including forklift pedestrian safety.
What you will learn in addition to forklift pedestrian safety tips:
• How to operate a forklift safely
• How to perform daily equipment inspections
• How to maneuver ramps, slopes, blind spots and corners
• How to navigate various work environments, including narrow aisles and busy workplaces with pedestrians
• How to recognize and avoid hazards
• How to prevent accidents
And the great part is, it only takes a few easy steps to get this training and receive your license:
1. Create an account under your employer's registered company
2. Log into your operator account
3. Work through the self-paced training modules
4. Pass the quizzes and test
5. Print your operator certification card
That's it! You'll be well equipped with the information you need to not only operate forklifts safely, but also work around other on-foot workers safely with our forklift pedestrian safety training.
If you have any questions about forklift traffic safety or would like to get started today, give our office a call at (888) 278-8896. With three training packages to suit your OSHA training needs (Train a Trainer, Training Kit and our popular Bundle Package), FLC has the forklift and pedestrian safety training you need to meet and exceed all forklift pedestrian safety requirements according to OSHA pedestrian safety regulations.
If you have any questions about OSHA pedestrian safety and how it relates to your safety program, or if you need help training your employees, FLC is here for you! Thanks for visiting FLC – we look forward to helping with your OSHA forklift training today!