The most trusted online resource for OSHA forklift certification and training since 2002
Questions? Call us! (888) 278-8896
OSHA Regulations For Forklift Pedestrian Safety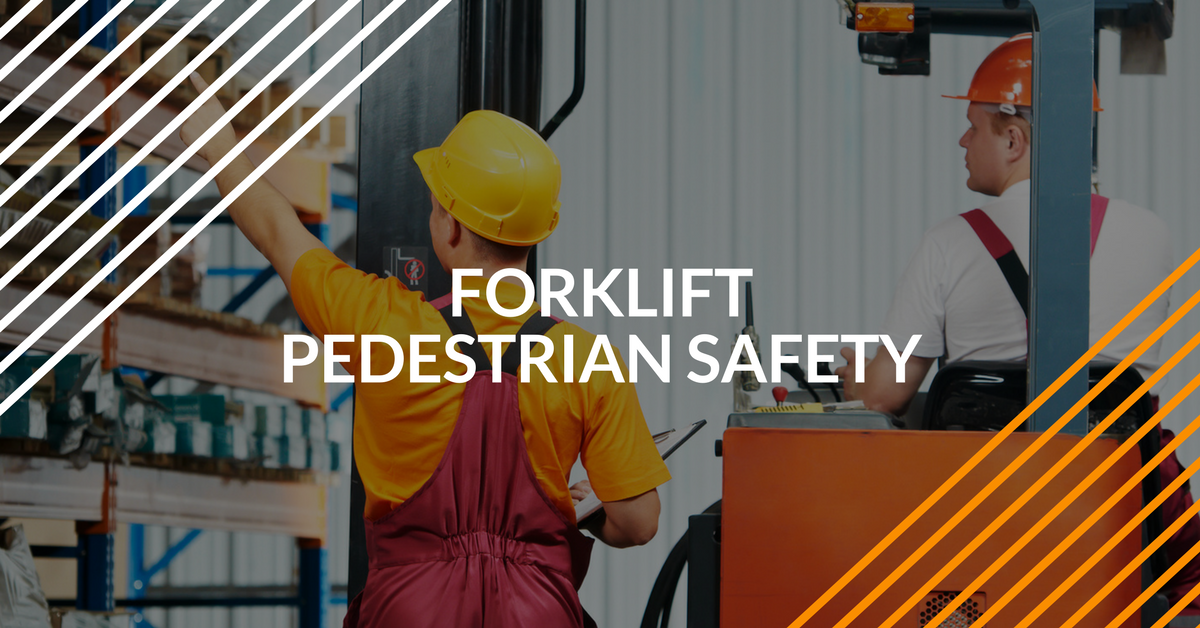 Forklifts are essential tools regularly used in warehouses, dockyards, construction sites and distribution centers throughout the country. Forklifts don't, however, come without their share of dangers. When in the hands of inexperienced or improperly trained drivers, they can endanger pedestrian workers and onlookers by putting them at risk of serious bodily injuries unless safety protocols are strictly followed and properly executed.
When there are multiple workers and pieces of heavy equipment moving about the workplace, forklift traffic, and pedestrian safety are issues that go hand in hand. That's why it's necessary for both employers and their workers to learn about forklift and pedestrian safety and what can be done to avoid the several hazards that put both pedestrians as well as operators at risk. An excellent first step is establishing and delineating clearly visible pedestrian walkways throughout the job site, which is just one of the ways to accomplish this important safety issue.
Since forklift pedestrian safety is one of the most important aspects of a well-run warehouse, shipyard terminal or other workplaces where forklifts are commonly used, arranging forklift and pedestrian safety training as required by OSHA for all of your employees is extremely important. ForkliftCertification.com, a recognized leader in online forklift certification and training since 2002, has three different courses to ensure your company's pedestrian safety plan is OSHA compliant.
Forklift and pedestrian safety education will help your operators recognize the unique hazards associated with foot traffic in industrial workplaces. Once your employees have completed one of the FLC training courses, they'll have the necessary skills and knowledge to avoid accidents and promote a safer, more productive working environment!

THE BASICS OF FORKLIFT PEDESTRIAN SAFETY IN THE WORKPLACE
Among the most important aspects of forklift safety in the workplace are navigating traffic, managing pedestrian walkways and making it perfectly clear to all concerned that pedestrians always have the right of way. Forklift safety measures are divided into two primary categories. Regular Forklift Traffic systems and standards establish how forklift, (or powered industrial trucks as they're sometimes called) traffic is routed through dockyards, warehouses, distribution centers, and similar workplaces. Pedestrian Traffic involves the routing of people on foot who need to occasionally enter a primarily industrial environment, which is where OSHA's forklift pedestrian safety regulations and FLC's training programs come into play.
Fatalities and injuries can happen with both types of traffic, which is especially true if rules and guidelines aren't in place and strictly enforced. This is especially true when there's a question as to who has the right of way – forklift or pedestrian?  OSHA forklift and pedestrian safety requirements, which are described in more detail below, exist for both operators and pedestrians.

Click image to enlarge
Share this Image On Your Site
WHY ARE THERE PEDESTRIANS PRESENT IN THE WORKPLACE?
When it comes to forklift pedestrian safety, all visitors should be accounted for immediately upon arrival. Pedestrian visitors might include office staff and other employees of a business, salespeople, and others who may come into a warehouse or storage yard on either an occasional or a day-to-day basis. Although nothing requires the visitors to be trained to work around forklifts and other heavy equipment, they should be familiar with forklift and pedestrian safety rules to help protect them from being injured.
Most forklifts have limited visibility, especially since there can be blind spots and corners in a warehouse or construction yard. Adding to the danger, most pedestrians don't realize that it's not always possible to hear nearby forklifts or be able to tell where they are. This is especially true for quiet, battery-powered forklifts, so it's up to the forklift driver and safety supervisors to clearly mark OSHA pedestrian walkways and other areas that are acceptable to navigate. On the part of pedestrians, it's necessary that they stay within the designated walkways.
Forklift and pedestrian safety education is essential for teaching both equipment operators and visiting pedestrians on how to safely work around each other to avoid accidents and prevent injuries.
WHY YOUR EMPLOYEES NEED OSHA PEDESTRIAN SAFETY TRAINING
According to The National Institute for Occupational Safety and Health, approximately 20% of all forklift accidents in the workplace involve someone on foot being hit by a forklift. Forklift and pedestrian safety is definitely not something that can be overlooked. The most common reasons for accidents involving pedestrians being struck by forklifts are due to carelessness and a lack of training on the part of one or both parties. With FLC's OSHA compliant training packages, your employees will have the safety knowledge and skills needed to avoid accidents and injuries.
Forklift and pedestrian safety training can educate and make pedestrians aware of how to act when in a workplace where forklifts are operating, and why they need to be aware and on alert for moving forklifts at all times. Operators also need to know how to make pedestrians aware of their presence while working, as well as who has the right of way – forklift or pedestrian? The correct answer is that pedestrians always have the right of way, regardless of the situation.
OSHA's FORKLIFT PEDESTRIAN SAFETY STANDARDS
OSHA guideline  29 CFR 1910.176 (a) requires pedestrian pathways and other walking areas to be clearly marked and free from obstructions at all times, which is particularly important in those areas near regular forklift activity.
OSHA's powered industrial truck safety guidelines for pedestrian safety around forklifts include some common sense thinking. Basic forklift pedestrian safety suggestions and a few advanced concepts are also involved. Some of the OSHA safety standards for forklift operators include:
✓ Drivers always yielding the right of way to pedestrians
✓ Using the horn and safety signals when approaching blind intersections
✓ Stopping and waiting for pedestrians who are crossing the operator's planned route
✓ Being on alert for situations that require a spotter and using a spotter whenever necessary
✓ Warning pedestrians and asking them to move whenever there's some question as to what is a safe distance
✓ Proceeding cautiously and slowly through areas with a high pedestrian traffic volume
✓ Prohibit anyone from standing or walking near an elevated load
✓ Ensure all workers receive forklift and pedestrian safety training enabling them to easily recognize hazards
✓ Slow down, stop and sound the horn when at intersections, blind corners, entering or exiting buildings and whenever the operator's field of view is obstructed
✓ Using warning lights and backup alarms when the lift is traveling in reverse
✓ Not moving the forklift until there's a clear view
✓ Using a spotter at blind intersections
✓ Always looking in the direction of travel
✓ Signaling pedestrians to stand clear
✓ Making direct eye contact with pedestrian traffic
✓ Never be distracted by using a cell phone or reading when operating a forklift
It's important to have each of your operators trained to be familiar with the latest OSHA pedestrian safety guidelines, which is where FLC can help. We can have your forklift operators trained and OSHA compliant in about an hour, including immediately downloading and printing their operator credentials!
Safety Protocols for Pedestrians in the Workplace Include:
✓ Understanding that forklifts can't stop suddenly
✓ Staying well clear of forklifts in operation
✓ Being aware that forklifts have wide rear swing radiuses
✓ Always using designated pedestrian walkways
✓ Never being onboard a forklift unless it's designed to carry riders
✓ Never walking or standing beneath an elevated load
✓ Becoming familiar with all OSHA pedestrian safety standards
DEPEND UPON FLC  FOR OSHA-COMPLIANT PEDESTRIAN FORKLIFT SAFETY TRAINING
Get your operators up to speed on forklift pedestrian safety regulations with our OSHA-compliant forklift training courses. Designed by our knowledgeable team of OSHA experts, each of FLC's training modules gives students a thorough review of all facets of safely operating powered industrial truck operation, including forklift pedestrian safety considerations.
In addition to pedestrian safety considerations, your forklift operators will learn how to:
✓ Safely operate a forklift
✓ Perform daily equipment inspections and routine maintenance
✓ Maneuver ramps, slopes, blind spots and corners
✓ Navigate various work environments, including narrow aisles and workplaces busy with pedestrians traffic
✓ Recognize and avoid potential hazards
✓ Prevent workplace accidents
The best part? It takes just a few simple steps for your employees to get this fast, easy and affordable training and operator certifications. Here's how to have them certified in as little as an hour:
✓ Create an account under your company name and register your forklift operators
✓ Have each operator log into the account
✓ Your operators will then work through the self-paced training modules
✓ Next, they take the quizzes and tests (our pass rate is 100%!) and undergo a "hands-on" operator evaluation
✓ Finally, download and print the forklift operator certification cards

That's all there is to it! Your forklift operators will be well equipped with the all training and information they need to not only properly operate forklifts, how to safely operate the equipment when working around pedestrians and much more!.
We offer three training programs designed specifically to comply with OSHA's training requirements, which are our Train The Trainer, Training Kit and our popular Bundle Package. FLC has the needed forklift and pedestrian safety training you need that meet or exceed OSHA's forklift and pedestrian safety requirements.
If you still have questions about forklift traffic safety or OSHA-compliant forklift training, call us at (888) 278-8896. Enroll your operators today for a safer workplace – you'll be glad you did!