Fines, Penalties and More: The True Cost of Workplace Safety Violations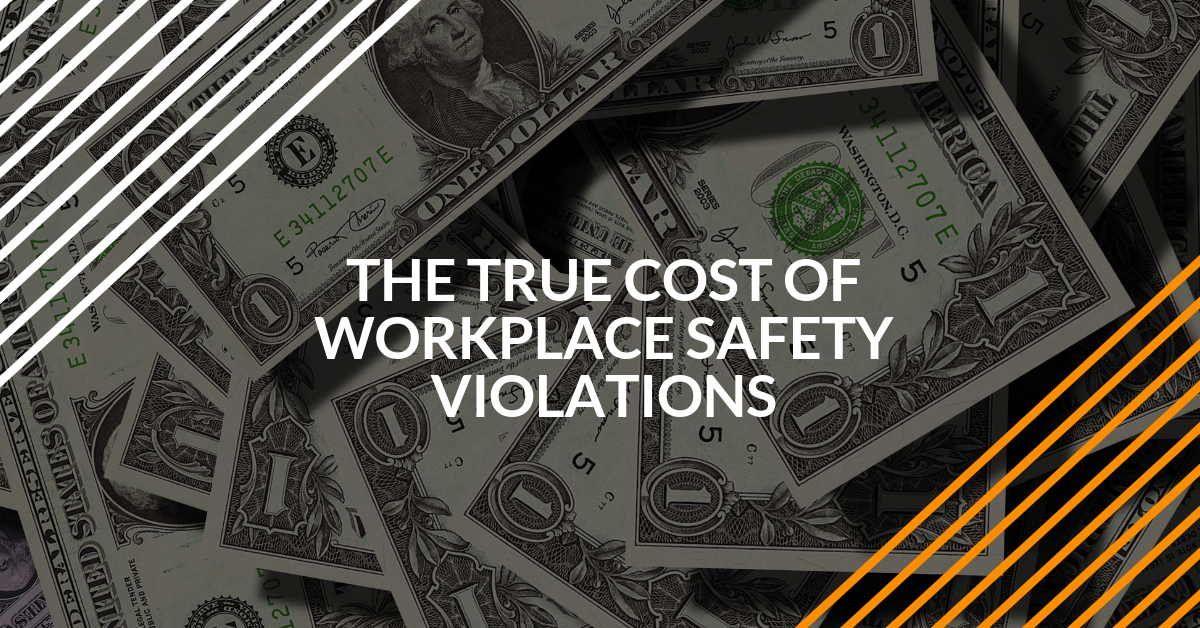 No business wants to get hit with OSHA fines because they violated workplace safety laws. But that's exactly what can happen when you commit workplace safety violations. The fine for a single violation can exceed $10,000. Fines for repeated violations can top $100,000. That's more than enough to make any forklift driver or HR manager take notice. Yet, when it comes to the true cost of OSHA fines, that's just the start.
Business and Workplace Safety
Ask any company that uses aerial lifts or forklifts. They will tell you that safety is their #1 priority. But when it comes to getting the job done every day, workplace safety sometimes gets lost in the shuffle.
When safety suffers, so do workers. Besides minor and major injuries, many workers lose their lives every year. One just has to look at the statistics to see this is true.  Not all deaths are caused by failure to follow business and workplace safety regulations. Employers can do everything right and accidents still happen. But most accidents result from some type of workplace safety violation.
There's an easy way to avoid OSHA penalties and increase business and workplace safety. Get your workforce forklift trained and certified at ForkliftCertification.com. Our OSHA-compliant training helps prevent accidents on the job.
Workplace Safety Violations: The Price of Penalties
Plenty of rumors and gossip surround OSHA penalties. But figuring out the actual cost of workplace safety violations is easy. OSHA's website has a detailed table that lists the fines. Let's take a look at these costs.
OSHA conducts regular reviews of their fines and penalties. Prior to 2015, the dollar amounts of the fines didn't increase every year. That changed when Congress passed the Federal Civil Penalties Inflation Adjustment Improvements Act of 2015. Based on this Act, OSHA last increased its fines in January of 2019. They are now required to make yearly adjustments (based on inflation) no later than January 15 of each year.
Here is the 2019 cost breakdown for OSHA fines:
– Serious violations: $13,260 per violation
– Failure to Abate: $13,260 per day beyond the abatement date
– Willful or Repeated violations: $132,598 per violation
A single violation may not seem like much to large companies. But that's a lot of money to a small business. Repeated violations or failure to abate could result in huge fines to any business.
The Full Extent of Workplace Safety Penalties
In most cases, the cost of workplace safety violations extends far beyond just the OSHA fine. Other costs include legal fees, lost productivity, and increased healthcare premiums. Then there are the costs of bad publicity that can damage the company's image. It can be hard to put a dollar figure on these costs. Yet, many employers spend thousands of dollars on PR firms that try to repair the damage to their image.
For the "true" cost of OSHA fines, here's an example any company could face due to a forklift injury:
– Company cited for serious violation after OSHA audit: $12,934
– Lawyer fees to argue audit results: $4,000
– Lost productivity due to audit-related activity: $20,000
– Public relations effort to counter bad press: $3,500
– Medical care costs for injured worker: $15,000
– Company cited again for repeated violations: $129,336
– Decrease in orders due to bad PR: $100,000+
– Total cost of OSHA audit, fines, and related activity: $184,770
Keep in mind, this is only the monetary fines resulting from the OSHA audit. In many cases, even more costs can follow. These include ongoing legal fees from lawsuits, efforts to improve safety and training, and more. A fatality may also make it hard to hire new workers. Cleary, the impact of OSHA fines goes far beyond what most employers expect.
Dealing With OSHA Penalties at the State Level
OSHA fines are set at the federal level. But some states have their own OSHA programs. Their goal is to provide an extra measure of business and workplace safety for workers.
State OSHA departments have their own audit procedures. They can also investigate workplace accidents faster than at the federal level. Yet, there is some confusion about state OSHA fines. According to OSHA, "State plans must be at least as effective as OSHA in protecting workers and in preventing work-related injuries, illnesses and deaths."
When OSHA adjusts its fines, state OSHA programs have six months to match or exceed the federal benchmark. To learn more about state OSHA programs, visit the OSHA State Plans page. It offers useful info on audits, contact numbers, local jurisdictions, and much more.
Get Trained on OSHA Workplace Safety Laws
OSHA mandates that all workers be trained and certified on forklifts. To get certified, workers must know the workplace safety laws. They must also learn how to safely operate a forklift.
Our safety courses can be taken anywhere you have Internet access. They only require about an hour to complete. Workers can print their certifications as soon as they complete the course. The courses include free renewal courses every three years, as mandated by OSHA.
So why risk injury to your workers and crippling fines from OSHA? Sign up today for fast, affordable forklift training from ForkliftCertification.com.
Updated June 2019