The most trusted online resource for OSHA forklift certification and training since 2002
Questions? Call us! (888) 278-8896
How To Become A Forklift Trainer In As Little As An Hour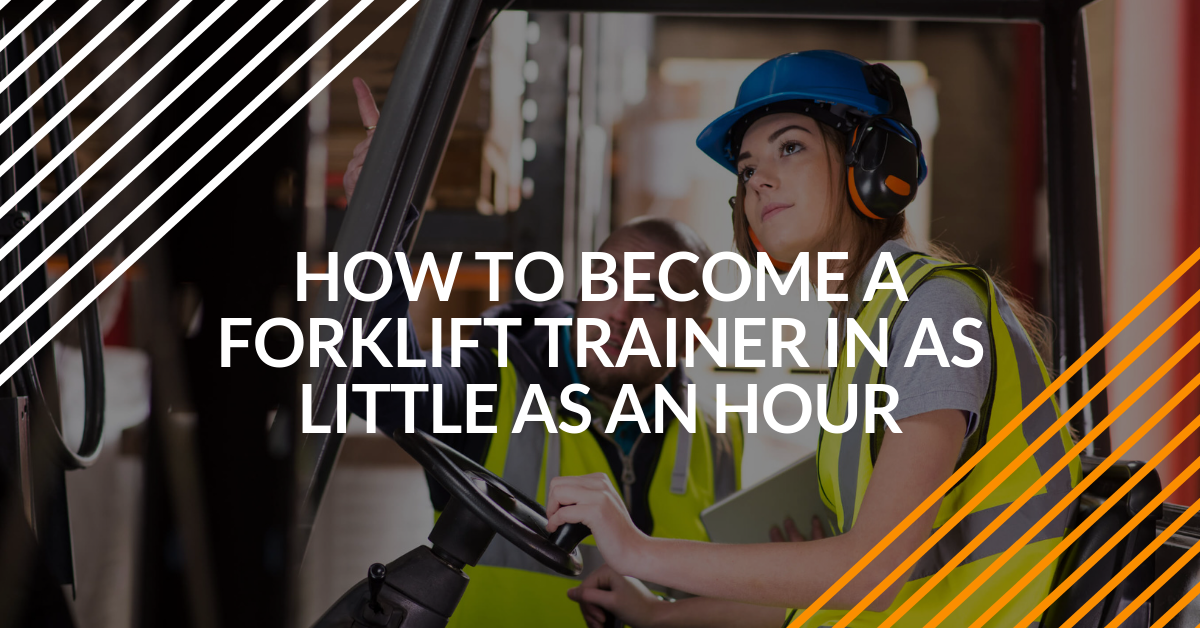 As a certified forklift operator, there are various career paths you can take in addition to operating forklifts on a regular basis. You can also specialize in maintaining and repairing forklifts or learn how to become a forklift trainer who trains and certifies new workers on how to operate forklifts.

If your business uses forklifts, you need forklift training and certification. It's required by OSHA. It creates a safer work site. It helps reduce forklift accidents and injuries. And it helps you avoid costly fines and medical costs resulting from accidents caused by untrained workers. However, it does take time and money to train and certify forklift workers. That's why forklift trainer certification is such a good idea.
Most companies use one of two ways to train and certify their forklift workers. They send their workers to off-site training. This is the costlier method due to travel, transportation, meals, etc. Or they use online forklift training from companies like ForkliftCertification.com (FLC). This approach is faster and more cost-effective. It also allows workers to take the training when it is most convenient for them.
There's another way to conduct forklift training that has long-term benefits. This involves becoming a forklift trainer. Or, if you're an employer, training one or more workers to become OSHA certified forklift trainers.
If you own a fleet of forklifts, or other business where forklifts are needed, it helps to certify one of your workers for forklift safety training right at your workplace. Onsite training will save time and money. It also avoids the need to send new workers to an offsite training facility and lose a day or more of productivity.
Why You Should Get Forklift Trainer Certification
As an employer, you may think you don't have the time to train forklift trainers. But it's easier than you think. And it offers many benefits. When you have an OSHA certified forklift trainer on staff you can:
Train new employees as soon as they are hired
Retrain forklift workers when their 3-year certification expires
Avoid the costs of off-site training
Help workers advance in their careers
Save time and money on all forklift training
Forklift training covers many areas. For example, how to drive a forklift, how to safely lift, lower, and transport heavy loads, how to avoid job site hazards and how to maneuver in tight spaces. Forklift training also covers how to conduct safety checks before starting work each day. This includes checking fluid levels, belts and hoses, and other parts of the truck to ensure it is safe to operate.
Imagine the cost savings and convenience of having someone on staff to teach these skills at any time!
Do Forklift Trainers Need To Be Certified?
Unlike forklift workers, forklift trainers do not need to be certified by OSHA. Instead, OSHA leaves it up to the employer to determine whether a forklift trainer is qualified to teach others. Even so, if you plan to have a forklift trainer on staff, putting them through a training and certification program like those offered by FLC is a smart move.
Operating a forklift is no simple task. It is also a risky job. A forklift is bulky and heavy. It can easily tip over in certain situations. It only takes one mistake to cause an accident that can lead to serious injury or death. In order to teach forklift skills to others, trainers must have thorough knowledge of OSHA safety guidelines. This can be easily acquired through FLC's online train the trainer classes.
These days, workers and employers usually ask two questions about forklift training. The first is, "Do forklift trainers need to be certified?" The second is, "How do I become a forklift trainer?" With FLC, the leader in online forklift safety training, it's easier and much more affordable than you think. Our Train a Trainer course is only $149. It's the ideal safety training module for anyone who wants to earn a forklift trainer certification.
You may not be sure how to become a OSHA certified forklift trainer. You may need specialized training. Or you may need an in-house forklift training resource to handle your company's compliance needs. ForkliftCertification.com has everything you need to accomplish your goals – and save money in the process!
Are you an employer looking to improve workplace safety and efficiency? Are you a worker who wants to advance your career as a forklift operator? Either way, it only takes three steps with ForkliftCertification.com to become a certified forklift trainer.
Choose a ForkliftCertification.com Forklift Instructor Training Course
An experienced forklift worker may be able to safely handle forklifts. But that doesn't mean they're qualified to teach others how to do it. The key to becoming a certified forklift trainer is that "extra-level" knowledge and instruction you can only get from a trusted training source like ForkliftCertification.com.
Training from ForkliftCertification.com on how to become a certified forklift trainer is fast, convenient and priced at only $149. The forklift instructor training is 100% OSHA compliant. It also gives students the quality of training looked for by employers.
When you sign up for our training, you'll get lifetime support from our expert team of OSHA safety insiders. Sign up today and learn how to become an OSHA-certified forklift trainer!
Enroll In The Program and Learn How To Become a Certified Forklift Trainer
Our online forklift certification trainer program takes only about an hour from start to finish. To begin the training, create an account. It only takes a few minutes. Our forklift instructor training course can be taken anytime and anywhere you have an Internet connection. There's no time limit for the training. Employers and workers can take it at their convenience.
Improve your job site safety – learn how to become a forklift certification trainer today!
Receive Your Certification In As Little As An Hour
ForkliftCertification.com forklift training makes it easy to receive your certification. As soon as you complete the course, you can download and print the card proving your certification. No waiting for it to arrive in the mail. No waiting until you can start working on a forklift. No need for employers to hire temporary certified forklift workers.
How Long is a Forklift Trainer Certification Good For?
OSHA guidelines require all forklift workers to get certified every three years. This involves taking refresher training to keep workers up to date on any changes in OSHA guidelines for forklift safety. Workers may need to get retrained sooner than three years under certain conditions. This can occur when a forklift worker is:
Observed operating the vehicle in an unsafe manner
Involved in an accident
Receives an evaluation that outlines unsafe forklift usage
Assigned to operate a different type of forklift
OSHA doesn't certify forklift trainers, so they are not required to get retrained every three years. However, it's still a good idea for many reasons. OSHA may issue new safety regulations. Forklift features and capabilities change quickly. Trainers who don't train on a frequent basis may need a refresher recourse.
There's no need to worry about how long forklift trainer certification is good for. But when safety is the #1 goal, as it is with forklifts, it's never a bad idea to take a refresher course.
Learn How To Become A Forklift Trainer with ForkliftCertification.com!
The three steps outlined above are all it takes to become a forklift certification trainer. With this online training, workers can advance their standings at their current job. They can also qualify for a new position elsewhere. Plus, the one-time tuition payment of $149 includes free lifetime re-certification training every three years.
Need more information? Contact us online, or call us at 888-278-8896 today to get started. You or your workers can learn how to become a forklift trainer in just one hour.
If you're ready to take the next step and learn how to become a certified forklift trainer, FLC has all the training tools and knowledge you need. Just bring a desire to learn, and you're on the way to becoming a forklift training expert. Register with FLC and get started today!