The most trusted online resource for OSHA forklift certification and training since 2002
Questions? Call us! (888) 278-8896
How to Become a Forklift Trainer for Your Business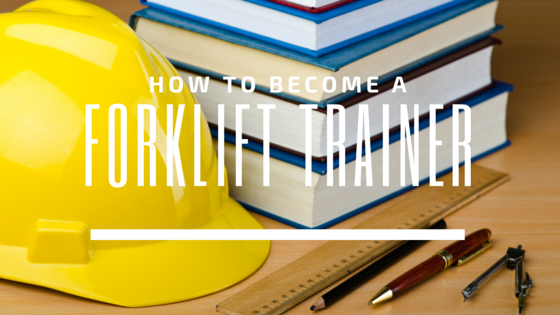 As a certified forklift operator, there are a few career opportunities you can take advantage of. You can work primarily with operating forklifts, specialize as a forklift mechanic, or become a forklift trainer to educate amateur operators. If you are the owner of an equipment fleet or construction company, you may find it appealing to train one of your own experienced operators to train your new workers on your worksite. On-site training saves you time and money from having to send your novice employees to an outside facility, and suffering from a day's loss in production.
If you're an employer looking to improve the efficiency on your work-site, or you're an employee interested in expanding your career, follow these steps to find the forklift trainer training you need: 
1.    Find a Forklift Trainer Certification Course.
An experienced forklift operator may be competent at operating the equipment, but that doesn't necessarily mean they are able to teach their skills to others. That is why employees who wish to become forklift trainers need to undergo trainer certification. Trainers-to-be will learn how to explain forklift operating techniques in an effective way and will be able to assess the skills of new operators.
There are many forklift trainer certification programs out there, and they aren't all made the same. The program with ForkliftCertification.com is fast, convenient, and affordable, priced at a reasonable $149. They are also 100% OSHA compliant, giving students the quality and comprehensive training they need and which employers look for.
2.    Sign up for the Program.
The ForkliftCertification.com course is online and takes only about one hour to complete. All you have to do is take a few minutes to create an account, and start and finish your training in half the time it takes to watch a movie. It's that easy! You can complete the online course wherever you have an internet connection. That may mean while relaxing in bed at home, during an extended lunch hour at work, or at a coffee shop over the weekend.
3.    Become Certified to Train Workers in One Hour.
If you complete your training while on a lunch break, you won't have to wait until the next day to begin your new position. As soon as you finish the forklift trainer program, you will be able to instantly print your certification and can present it to your employer to begin training other employees. Quick and easy certification is a win-win for both you and your boss. You don't have to wait for days or weeks to begin your new career, and your employer can immediately save money on travel expenses and training with an onsite trainer.
All it takes is three easy steps to become a certified forklift trainer. You can advance your career in your current job, or find a better position elsewhere with your specialized training. So what are you waiting for? Sign up with ForkliftCertification.com today and be ready to train forklift operators in one hour!