The most trusted online resource for OSHA forklift certification and training since 2002
Questions? Call us! (888) 278-8896
Beware of These Forklift Laws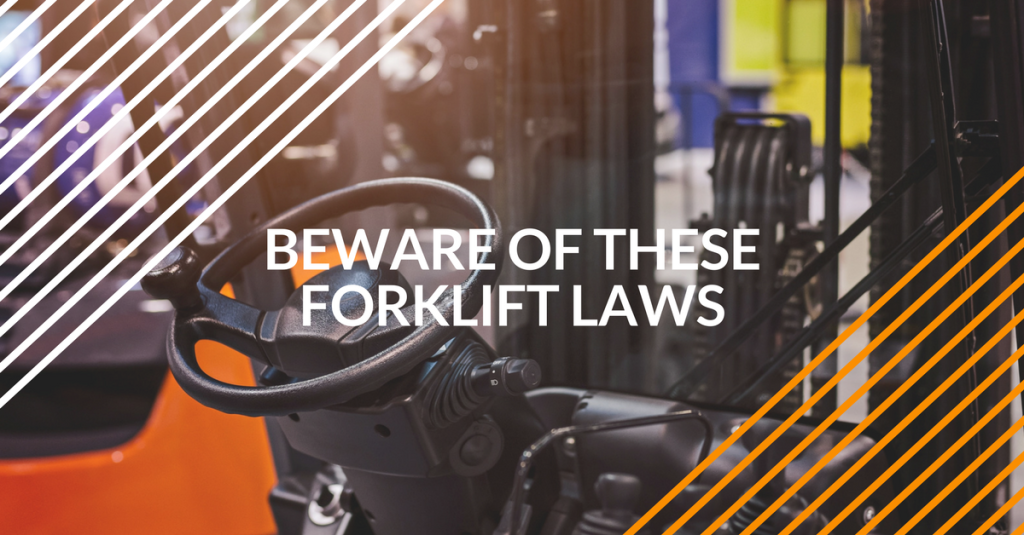 The U.S. Occupational Safety & Health Administration (OSHA) establishes safety guidelines for all industrial, construction, warehousing and distribution activity, which includes all forklifts.
Keeping on top of the latest OSHA safety standards can be a tough chore for job site supervisors and forklift fleet managers. Pending legislation, regional safety considerations, climate-specific challenges – the world of forklift laws are always changing, and OSHA's standards require constant monitoring to ensure you and your employees are always up-to-date with the latest training.
That's just one reason why Forklift Certification (FLC) is a trusted provider of OSHA compliant training. We know the ins and outs of OSHA legislation; some of our training course authors and content creators are considered some of the most knowledgeable OSHA experts in the forklift training industry.
Which forklift laws should you and your organization be concerned about?
Operator Training – What You Need to Know
The key guideline that sets the standards for forklift operator training is included with OSHA standard 29 CFR 1910.178(l). In this guideline, operator training standards are spelled out. This standard has gone through many changes since its inception, and all forklift fleet managers should be aware of this forklift law.
Another forklift law to keep in mind is OSHA standard 1910.178(l) (3) (ii). In a highly publicized interpretation of this guideline, a 2000 ruling stated, "There is no requirement that the trainer attend a train-the-trainer course. However, you may find it useful to have trainers attend such a course." This forklift law essentially states that courses like FLC's Train a Trainer program are highly beneficial for keeping your organization OSHA compliant. This forklift law doesn't explicitly require a "train a trainer" certification, but OSHA administrators say it with a wink; while it's not an etched-in-stone law, OSHA would still prefer you had this training in place. And if your organization is ever audited or inspected by OSHA, having a "train a trainer" certification decreases the chance of fines, penalties, and costly legal action.
One forklift law that generates confusion is operator training requirements. Regarding forklift driver training, the employer is responsible for all coursework and safety training – not OSHA.
Looking at the big picture, all OSHA forklift regulations are designed with three goals in mind. While individual forklift laws can deal with detailed operational aspects, OSHA forklift laws and regulations are in place to ensure:
Workplace-specific training for all forklift activities.
Formal, supervised instruction for forklift driving, which can be provided by the employer or an outside training resource that is familiar with forklift laws.
Detailed evaluation of a forklift operator's skill and knowledge.
What Happens When Forklift Laws Change?
To keep up with ever-changing forklift laws, you have essentially two options:
Hire a full-time, in-house safety resource to keep track of OSHA development. This option is expensive, timely – and ultimately self-defeating.
Sign up with FLC to ensure your forklift operators have the OSHA compliant training they need. Our modules are super-efficient and very affordable. Plus, your operators can complete their training sessions whenever it's convenient – for employees and employers!
As you can see, it's a no-brainer. ForkliftCertification.com will get your workers OSHA-compliant without all of the hassle and extra expense associated with traditional on-site forklift training. Plus, our knowledgeable staff is always up to speed on the latest OSHA forklift laws, which takes the guesswork and confusion out of your safety training program!
We have a general forklift Training Kit, our popular Train a Trainer program, and also a Bundle Package, each designed to help you leverage the best training possible in the least amount of time!
Thanks for visiting the FLC blog. For more information, please visit our contact page or call our OSHA forklift law experts at (888) 278-8896.