From the Wilderness to Warehouses: The Pallet-Making Process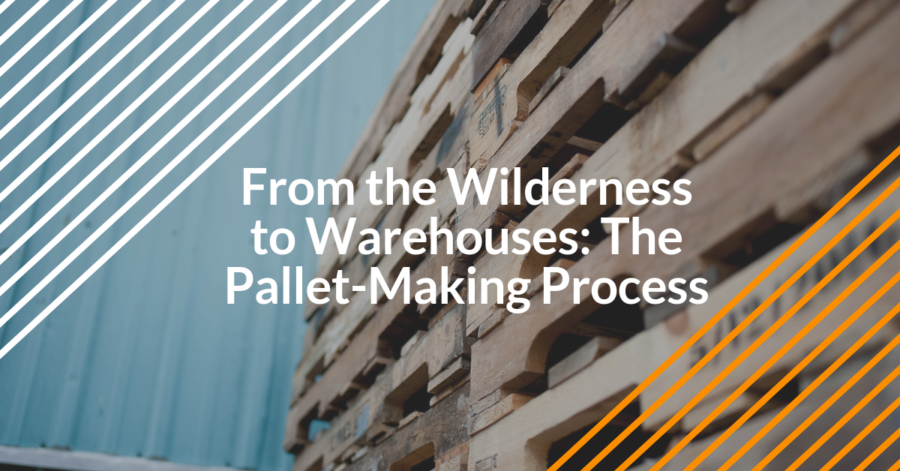 What's the one indispensable element for safe, efficient warehouse operations?
If you answered forklifts, you're (sort of) right.
Here at ForkliftCertification.com, we like to think that forklift drivers are the most important part of the safety & efficiency equation. Without proper training and OSHA compliance in place, it's hard for any warehouse to run smoothly, even if it has the latest technology, best forklifts, and most advanced cargo management structure.
OK, so if forklift drivers and forklifts (and other powered industrial trucks) are #1 and #1A, what is the next-most critical aspect of a well-run warehouse?
Here's one vote for forklift pallets, the unsung hero of warehouse organization and storage.
That's right – think about everything that happens in warehouse or distribution center. Cargo and merchandise is delivered, usually by tractor-trailers. After unloading, the material is moved to various locations within the warehouse. Somewhere down the line, the finished product (or same material, for drop-ship distribution centers) is loaded back onto trucks for delivery to the end consumer.
Product in, product handled / stored / organized, then product out. That's the basic functionality of the typical warehouse. And none of those activities are possible with forklift pallets!
How are these do-it-all, ultra-versatile accessories made? "How are pallets made" is a common question we get, along with what kind of wood are pallets made of and a few others. Here are the answers!
Forest to Finished Product: The Basics of Pallet Production
Just like all finished wood products, pallets start in the forest. What kind of wood are pallets made of? The two most common wood types that comprise forklift pallets are oak and southern yellow pine. A recent research project showed that more than 35% of all forklift pallets are made from these two timbers. Southern yellow pine is prized for its easy availability and relatively low production costs, while oak is preferred for strength, durability, and versatility. Oak is one of the most popular furniture woods, and many leftover furniture oak is immediately turned around and used for pallet production.
Well, that takes care of the "what are pallets made of" question. More crucially, how are pallets made into a reliable, durable finished product?
Once the wood is harvested from the forest, it's transported to sawmills and similar centers for cutting and refined production techniques. When we're asked how are pallets made, this step in the process is probably the most important.
Making pallets "universal" for standard forklift widths requires high speed saw lines, gang saws, high volume loading, precise machinery & calibration, and much more to turn individual pieces of wood into sturdy pallets. Notches are precisely cut, corner binding is put into place, and enough space is allowed for lift forks to properly manipulate forklift pallets.
Once the pallets are constructed, quality control measures ensure each pallet is tough enough to handle a heavy-duty workload.
Forklift pallet production differs from style to style. Getting a forklift pallet from unfinished timber to production-ready accessory depends on which type of pallet is produced. There are three principal categories of pallets:
Standard stringer forklift pallets. This common type of pallet is supported by three 2 x 4s or 3 x 4s.
Block forklift pallets. Instead of long beam support like stringer pallets, block pallets are what their name implies – "blocks" of wood offer support between the pallet bottom and top.
Custom forklift pallets. Crates, custom pallets for specialized lifts and more – the number of custom pallets are hard to estimate, but there's always a need for these one-offs!
How pallets are made differs from manufacturer to manufacturer, but that's the basic procedure. After they've been in use for a while, inevitable wear starts to show. Wood splinters. Heavy loads can warp wood. Weather can deteriorate pallets. Whatever the reason, pallets eventually break down. Once they're deemed no longer safe for forklift use, they're used for any number of purposes:
Firewood
DIY woodworking projects – shelves, storage units, etc.
Crafts
Landscaping mulch
Animal bedding
And much more
Thankfully, pallet recycling efforts are more active than ever. And that's a good thing, considering there are more than 2 billion pallets in service right now in the United States!
For the Best Forklift Training and Certification, Contact Us Today!
How pallets are made is a pretty cool process – probably more interesting than you originally thought! How qualified, compliant forklift drivers are "made" is a straightforward process. Every forklift driver needs to be fully trained and certified by the employer – no questions asked. The U.S. Occupational Safety and Health Administration (OSHA) mandates that all employers are responsible for forklift training.
With ForkliftCertification.com, your company becomes OSHA compliant in no time at all. We offer thorough training, all the hands-on evaluation tools, and responsive support to ensure your forklift drivers are 100% trained and qualified to handle their duties. All of training courses are fully OSHA complaint, user-friendly, affordable, and accessible 24/7.
Choose from our Training Kit, Train a Trainer, or Bundle Package today! We'll help all of your forklift drivers achieve and maintain compliance, from day one through the lifetime of your safety program.
Thanks for stopping by our blog to learn how pallets are made. To learn about critical safety concepts and full OSHA compliance, sign up for our forklift certification and forklift training, or call us today at (888) 278-8896.