The most trusted online resource for OSHA forklift certification and training since 2002
Questions? Call us! (888) 278-8896
Penalty for Driving a Forklift Without a License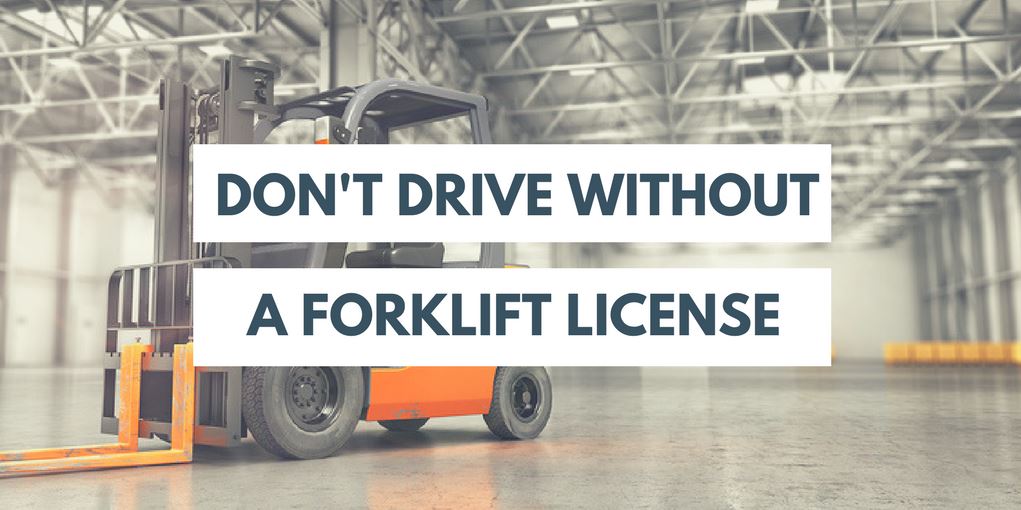 OSHA, the Occupational Safety and Health Administration, takes equipment training very seriously. Although they do not have their own training program for forklifts and other large machines, they do have a set of standards for training and a penalty for driving forklift without license. Over years of carrying out studies and completing investigations, OSHA has found that workers driving a forklift without a license are at a higher risk of causing accidents that can lead to injuries and fatalities.
Risks of Driving a Forklift Without a License
While forklift turn overs and collisions are the top most common accidents involved with forklifts, the primary cause of these accidents is operator error. Workers without a license lack the essential training that teaches them how to operate a forklift properly on construction sites, in warehouses, and on ramps and grades, as well as recognize and avoid hazards. To protect their workplace, employers must ensure workers are certified to avoid them driving a forklift without a license and causing accidents.
OSHA's Requirements and Penalty for Driving Forklift Without License
OSHA requires that all forklift operators must be trained and certified to operate the powered industrial truck. It is required of employers to provide the appropriate training for employees and to provide a safe and hazard-free workplace. According to OSHA, any employer who knowingly or repeatedly violates the forklift training requirements, may be issued a fine of up to $129,336 for each violation, and no less than $12,934 for each violation. Specifically, any person who makes a false statement, representation, or certification claim in any form of document may be issued a fine of up to $12,934 or by imprisonment of no longer than six months, or both. As you can understand, there are serious consequences for not complying with OSHA regulations, including not following the standards for receiving a forklift license to operate forklifts.
Receive Your Forklift License in a Few Easy Steps with ForkliftCertification.com
Rather than risk costly fines and imprisonment, invest in OSHA-compliant forklift license training and improve your workplace. All it takes is a few minutes to create an account, document your operators, and get them ready to receive their forklift license.
Here are the features and benefits of our online OSHA-compliant forklift training:
• Skip the travel to an offsite training facility
• Complete all of your training online, from any device with an internet connection
• Save hundreds of dollars and hours of time compared to expensive third party programs
• Train with our online program and find a great job anywhere in the country
• Finish your training in as little as one hour!
• Receive all the paperwork you need to complete the in-person practical evaluation
• Print your operator card immediately upon completion
• Receive three-year renewals for free, for life!
Operators will receive everything they need to fulfill their duties safely and protect their life on the job. They will understand how to prevent accidents, and will avoid the penalty for driving forklift without license.
What Do We Teach?
 We offer three different forklift certification programs that each help workers avoid the penalty for driving forklift without license. You can choose the program that best suits your position, and skip the rest.
• Warehouse Forklifts, Classes 1, 4, 5
• Pallet Jacks and Order Pickers, Classes 2, 3
• Rough Terrain Forklift, Class 7
In each of our courses, employees learn:
• How to properly operate each of the three main types of forklifts
• How to operate the controls and understand all instrumentation
• How to perform equipment inspections
• How to assess the environment for hazards
• How to prevent accidents
• How to be completely OSHA-compliant
We also offer a Train the Trainer course, which teaches experienced operators how to lead the forklift training for new workers. It provides employers with the opportunity to train their employees in house, and avoid the harsh fines they'd receive if they're with the penalty for driving forklift without license.
Prevent your workers from driving a forklift without a license and avoid the serious penalty for driving a forklift without a license. Don't let your workplace go untrained, with ForkliftCertification.com!