The most trusted online resource for OSHA forklift certification and training since 2002
Questions? Call us! (888) 278-8896
Forklift Operator Licensing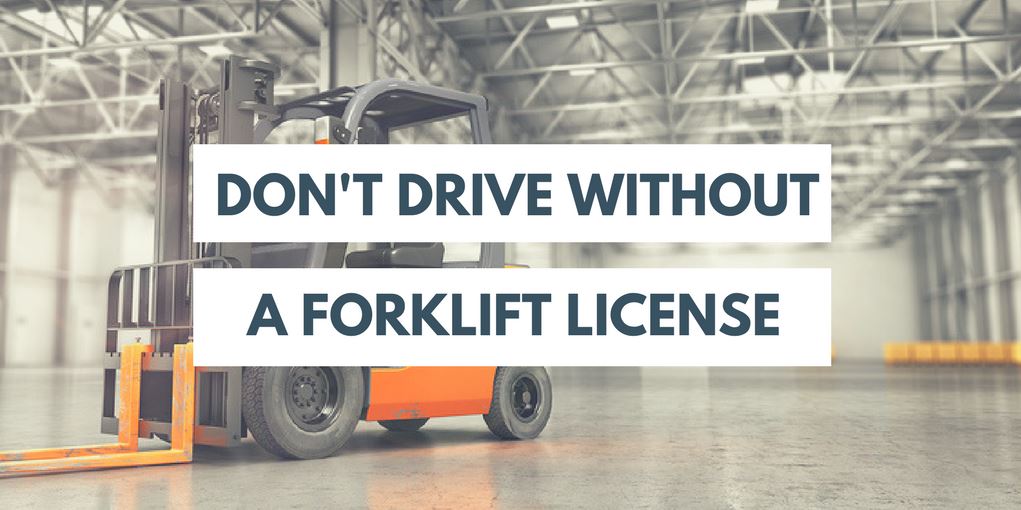 Among the questions we're often asked by both business owners and forklift operators are "Can I operate a forklift without a license?" and "Is a driver's license needed to operate a forklift?" The short answer to both of these questions is "yes," although there's a distinction between an equipment operator's license and a license to drive cars, trucks or busses on public roads, which isn't need to operate lift equipment.
OSHA, which is the Occupational Safety and Health Administration, takes workplace safety very seriously, which includes equipment operator training and licensing. Although OSHA doesn't have its own training programs for operating forklifts and other large pieces of equipment, they've established regulations for training operators, including imposing penalties and fines on employers for having unlicensed forklift drivers.
Various OSHA studies and investigations conducted over the years concluded that unlicensed forklift drivers have a higher incidence of accidents resulting in serious injuries and fatalities than those operators who have been properly trained and certified, and that's where ForkLiftCertification.com can help!. Here's some of what's included in our fast, convenient and affordable operator training:
OSHA compliant, comprehensive forklift equipment operator training
Lifetime customer support
Downloadable operator licenses and certifications
Free lifetime refresher and renewal training
And a lot more

Risks Associated With Driving a Forklift Without a License
The most common types of workplace accidents involving forklifts are turnovers and collisions, which are due primarily to operator error. Here are some of the reasons behind these types of accidents:
Unlicensed forklift operators lack the training needed to properly operate a forkliftunder conditions such as on ramps or slopes, rough or uneven terrain and various other adverse jobsite conditions that require skills only professional training can provide
Without proper training, unlicensed operators aren't capable of recognizing and avoiding potential hazards that could result in accidents causing serious injuries or fatalities
Untrained operators don't understand the importance of properly inspecting and maintaining forklift equipment
Untrained or improperly trained forklift operators lack the knowledge and experience to safely work around overhead obstacles, avoid electrical hazards and operate the equipment when there are pedestrians present
To protect their workers and the working environment, OSHA requires employers to ensure that each of their forklift operators are properly trained and certified before they're allowed to operate the equipment. Allowing them to drive without OSHA-approved training and licensing significantly increases the risk of workplace accidents that result in serious employee injuries or deaths, as well as costly damages to equipment, property and inventory.
OSHA'S PENALTIES FOR ALLOWING UNLICENSED DRIVERS TO OPERATE A FORKLIFT
OSHA requirements make it mandatory for all forklift drivers to be properly trained and certified before they're allowed to operate these and other motor powered industrial vehicles. OSHA regulations also hold employers responsible for providing their employees with a safe and hazard-free workplace, which includes having all their forklift and other heavy equipment operators receive OSHA-approved training and certifications.
As an employer, you need to be aware that fines for unlicensed forklift drivers are substantial. According to OSHA, any employer who knowingly or repeatedly violates the forklift training requirements may be fined $13,260 for each day the violation continues beyond the "cure by" date up to a maximum of $132,598. Furthermore, any person who makes a false statement, representation, or claim of certification in any form may be fined up to $13,260, imprisoned for up to six months or both. Ignoring OSHA regulations, including not complying with their requirement for forklift operators to be properly trained and licensed before they're permitted to operate the equipment can have severe consequences on employers.
So when you're approached by one of your workers and asked "Can I operate a forklift without a license?" you'll have the answer!
FLC's FORKLIFT LICENSE TRAINING COURSES
FLC offers three forklift license training programs. Here's what's covered by each:
Forklift Training & Certification Kit
In as little as an hour, this OSHA-compliant course will teach your drivers everything they need to know about safely operating forklifts in the workplace. FLC's Training and certification kit includes all materials needed to train and certify each of your current and future operators for a one-time payment of just $299.
Train A Trainer Program
FLC's Train A Trainer course was designed for companies that have a forklift operator training program in place, but need an-in-house trainer to train and evaluate their unlicensed drivers, and new workers as they come on board. The cost to become a Certified Forklift Safety Expert is only $149.
Bundle and Save Kit
This money-saving package includes both FLC's Forklift Training & Certification Kit and our Train A Trainer Course for just $399. That's a discount of $50 over purchasing the two courses separately.
Your forklift operators will receive everything they need to know to safely fulfill their duties and protect the lives of their coworkers and themselves while on the job. You, as their employer, will avoid the penalties and fines associated with allowing your workers to drive forklifts without being certified and licensed.
It's Never been EASier FOR OPERATORS TO RECEIVE THEIR FORKLIFT LICENSES!
Make your workplace safer and avoid the risk of costly fines and possible imprisonment by enrolling your operators in our OSHA-compliant forklift license training program. Just follow these five easy steps:
Create an account on FLC's website (it only takes a few minutes)
Register each of your operators
Have your workers log into the company account
Have them work through the training modules by watching the online videos and take the exams. This usually takes about an hour, although there are no time limits, so trainees can work at their own pace. All training materials can be accessed online 24/7 using a smartphone, tablet or other digital device any time that's convenient and anywhere there's an Internet connection
After completing the quizzes, a previously qualified person will observe and assess each student's lift operating capabilities and safety knowledge. (see our Train A Trainer program).
That's all there is to it! After students pass the test and operating assessment, the forklift certification process is complete and they're OSHA compliant. All that's left to do is download and print their temporary forklift operator cards, so there's no need to wait for them to arrive in the mail – your newly certified employees ready to get to work!
Don't put off having your aerial lift operators trained and certified any longer! Enroll them in FLC's forklift licensing program today. Click here to read more about our affordable and convenient OSHA-compliant online forklift operator training and how easy it is for your workers to receive their forklift operators' licenses in about an hour!
FAQS
Here are more questions we're often asked about forklift operator licenses, along with our answers:
Can an operator drive a forklift without a driver's license?
Yes. OSHA doesn't require a standard vehicle driver's license to operate a forklift, even on public roads while driving to and from jobsites! The driver must, however, have already received OSHA compliant forklift operator training and certification from an approved trainer such as ForkliftCertification.com.
Can I operate a forklift without a license?      
OSHA doesn't offer forklift operator training or issue forklift licenses, but rather requires operators to be properly trained and certified in accordance with their regulations by an approved trainer such as ForkLiftCertification.com. When the training has been completed, certifications and operator cards are issued, which serve as the workers' license in the event of an audit or safety violation.
Do you need a license to drive a FLT?
FLT is a term sometimes used when talking about a forklift, so FLT operators are required to have OSHA-compliant operator training and certification in order to legally operate the equipment. See the question and answer immediately for more information on licensing and certification requirements.
Is it hard to get a forklift license?
Not at all when you choose ForkliftCertification.com to train and certify your workers! In as little as an hour, your forklift operators can complete our100 % OSHA-compliant certification training.
Is it possible to fail a forklift certification test?
FLC's pass rate is 100%. Although most trainees pass the class the first time it's taken, if a student fails, the training can be repeated as many times as necessary.
Employers and employees alike will benefit from our 100% OSHA certification training. For more information about FLC's convenient and affordable forklift operator training programs and how your drivers can be certified, call us today at (888) 278-8896 and your entire staff of operators can be certified in as little as one hour. Our OSHA experts and forklift training specialists are here to help you with all your forklift driver training needs!