The most trusted online resource for OSHA forklift certification and training since 2002
Questions? Call us! (888) 278-8896
Stand Up Forklift Training and Certification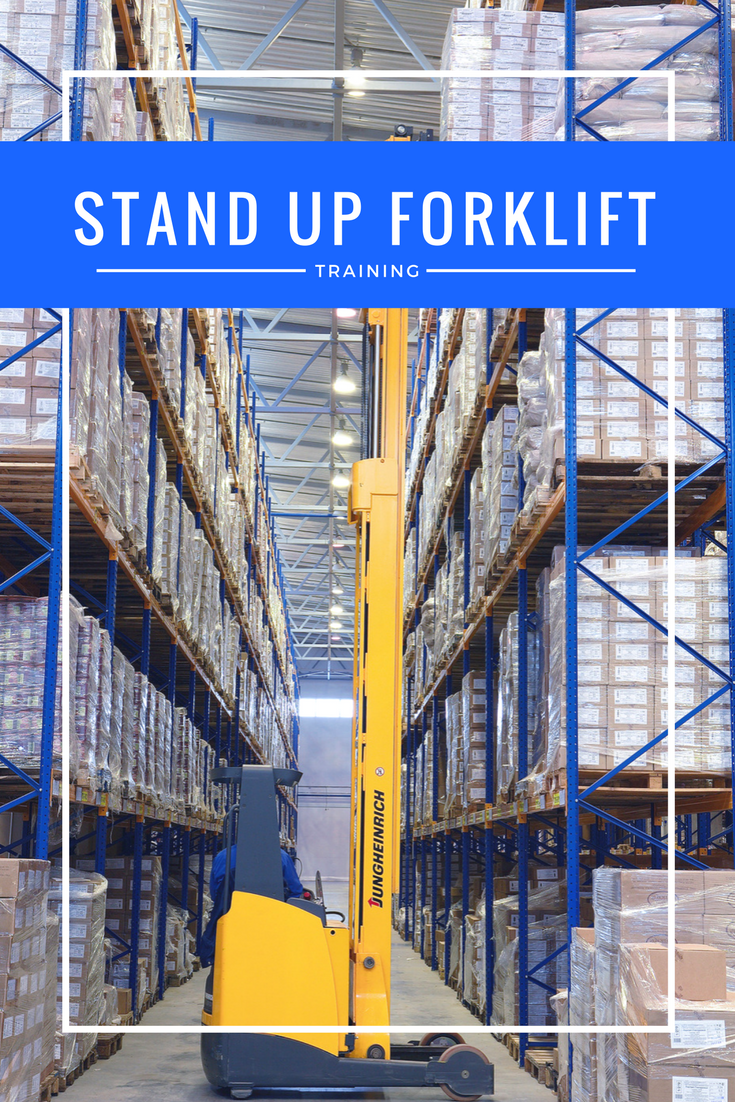 A stand-up forklift is intended for operators who frequently enter or exit the truck. It tends to be easier to maneuver than other types of forklifts. In addition, a stand-up lift usually requires less space to operate than comparable lifts.
If your company uses stand-up forklifts or intends to do so, it should invest in training. By requiring your employees to complete an OSHA-compliant stand-up forklift training program, you can ensure they can safely use a stand-up forklift. Plus, you can minimize the risk of forklift accidents.
What Is a Stand-Up Forklift?
Stand up counterbalanced forklifts are often used on service docks when workers are constantly loading, unloading, and stacking pallets. They're used to make logistical processes faster and more efficient.icient operation, so sign up with FLC today! Don't put off your stand up forklift operator training any longer!

How Does a Stand-Up Forklift Differ from a Sit-Down Forklift?
The main difference between stand-up and sit-down forklifts is all in the name. "Stand-up" refers to the position of the driver; for stand-up lifts, the driver is in a standing position, as opposed to regular sit-down lifts, where the driver sits.
There are other important safety distinctions between the two types of lifts. Employers are responsible for teaching their workers about these distinctions. That way, they can ensure their employees can properly use a stand-up or sit-down forklift.
ForkliftCertification.com offers OSHA-approved stand-up and sit-down forklift certification and training. We provide the stand-up and sit-down forklift certification classes to help your employees drive any lift with confidence. Don't delay – sign up for forklift safety training from FLC today!
Pros and Cons of Standing Forklifts
Stand-up forklifts are great options for businesses that require lifts to quickly move loads in narrow aisles. The lifts do not require operators to set a parking brake, too.
Conversely, stand-up forklifts may be less comfortable to operate than other lifts. Operators will need to learn how to use a joystick to safely use stand-up forklifts as well. They can receive insights into safe use of stand-up lifts as part of an OSHA-approved training program.
Why Should You Choose a Stand-Up Forklift?
Stand-up forklifts are efficient and can save time and increase productivity in comparison to other types of lifts. When your day involves constantly getting in and out of a lift to scan barcodes, deal with shrink wrap, and perform quality control tasks, driving a stand-up forklift means you don't have to repeatedly unbuckle, get out, and re-buckle.
Other reasons to consider stand-up forklifts include:
1. Better Visibility
Stand-up forklifts provide more open fields of view, which gives operators improved visibility when driving both forward and backward. They also reduce the risk of accidents resulting from obscured vision.
2. Seamless Maneuverability
Stand-up forklifts are easier to maneuver through narrow warehouses aisles and swiveling and turning around tight corners. Thanks to stand-up forklift training, you can teach your workers how to safely drive around blind spots and narrow aisles.
3. Improved Operator Awareness
Sitting for hours on end, along with having to repeatedly get up and out of the forklift throughout the day can cause operators to become drowsy and fatigued. Stand-up forklifts help operators feel less tired and remain more alert while on the job.
4. Ergonomic Relief
Stand-up forklifts have controls that are easy to reach and use, padding for foot and back comfort, and an ergonomically designed operator chamber. Each of these unique features can reduce an operator's risk of experiencing back pain and improves forklift handling.
How Much Does a Standing Forklift Cost?
Standing forklifts range in terms of price. You may be able to purchase a used model for around $5,000. Or, new standing lifts are available that can cost up to $35,000.
It often helps to assess used and new standing forklift models closely before you make a lift purchase. Also, you can check out standing lifts from Crown, Baker, Hyster, and other brands.
How to Drive a Stand-Up Forklift
To drive a stand-up forklift, an operator uses their hands and feet. The operator drives the lift much in the same way he or she would operator other types of lifts. However, the operator remains standing while the stand-up lift is in use.
There are many things that an operator can do to safely operate a stand-up lift, including:
Ensure the forks are retracted before starting the lift
Keep the forks pointed upwards
Use the control handle for steering
When moving the lift, tilt the control handle back in the direction in which you need to travel and keep your foot on the power pedal
When driving in reverse, beep the horn to warn other workers and pedestrians and reduce the risk of accidents
When stopping the lift, take your foot off of the accelerate pedal and move the control handle back to its original position
Raise and lower loads carefully
To enjoy the full benefits of stand-up forklifts, it's important that drivers understand how to operate these lifts safely. With proper training, operators can remain safe and productive as they use stand-up forklifts.
Tips for Maneuvering a Standing Forklift
To move a standing forklift forward, tilt the control handle forward. At the same time, press down on the pedal.
Comparatively, to drive a standing lift in reverse, tilt the control handle backward. Press down on the pedal, and an operator can travel in reverse.
And, to use a standing lift to pick up a load from a rack, the control handle can be used to hoist the forks. Move the forklift in front or below the rack where the pallet needs to be placed. Next, extend the forks and ensure they firmly in place inside the pallet. Finally, raise the load off the rack, retract the forks, and reverse the lift.
Standing Forklift FAQs
If you still have questions about standing forklifts, there is no need to stress. Here are answers to common questions about these lifts.
What are common stand-up forklift applications?
 Stand-up forklifts are used in a variety of commercial and industrial settings. Warehouses, construction sites, maintenance facilities, distribution centers and many other job environments require stand-up forklifts to move cargo, material and more. That's why standing forklift certification is so important – without it, your employees aren't able to run this type of powered industrial truck.
Is it difficult to drive a stand-up forklift?
Without standing forklift safety training, yes. With standing forklift certification, not at all!
What's the best way to learn how to use a stand-up forklift and get standing forklift certification?
The best option is with ForkliftCertification.com. Our training courses are designed for 100% OSHA compliance and cover all aspects of standing forklift safety!
Why Should You Choose FLC for Stand-Up Forklift Training?
Now you know some of the benefits of stand-up forklifts, but without a stand-up forklift license, you or your employees won't legally be able to take advantage of these great pieces of equipment. OSHA guideline 29 CFR 1910.78 (1) (1) requires that all forklift operators, including stand-up lift operators, complete an OSHA-approved training program.
With ForkliftCertification.com, you'll receive the best stand-up forklift training available anywhere. There's a lot to like about FLC's stand-up forklift certification training. Here are some of the many reasons to have your operators receive FLC's comprehensive forklift operator training:
Our forklift training can save lives. It's also the law. The majority of job sites accidents involving stand up and other types of forklifts are due to operator error, which is a direct result of lack of proper training.
Our training will help your operators feel comfortable and confident in their ability to operate forklifts.
Proper training helps protect both operators and their coworkers from serious or even fatal workplace accidents and injuries.
Forklift operator training and certification also helps shield employers from expensive OSHA fines and penalties for violations, as well as possible litigation brought on by injured workers or their families.
Having properly trained and certified operators will save costs through reduced workmen's compensation insurance premiums. You'll also save your company money by reducing or eliminating costs to repair damaged equipment, inventory and facilities that result from forklift accidents.
Forklift operators who have been trained to use the equipment correctly will improve overall workplace efficiency, and also increase productivity and worker morale.
How Does FLC's Online Stand-Up Forklift Operator Training Work?
FLC offers three stand-up forklift training programs:
1. Forklift Training & Certification Kit
This versatile and affordable OSHA-approved training is the most comprehensive class you'll find anywhere. In as little as just an hour, your employees will learn all they need about operating stand-up forklifts. For just $299, it's the only class you'll ever need to train and certify your operators.
2. Train the Trainer Program
This forklift operator program will allow your company to have a certified training expert that's always on hand to train your other operators! Through our Train the Trainer class, one of your employees becomes your in-house OSHA expert. It's ideal for companies that have a forklift training program in place, but need a trainer to evaluate and certify their unlicensed forklift drivers. The cost to train your own Forklift Safety Expert is only $149.
3. Bundle Package
Can't decide between our two forklift operator license programs? No worries. Our Bundle Package includes both our Train a Trainer and Training Kit classes in a value-added package priced at just $399, which makes the training even more affordable! There's no other OSHA training resource around that offers such a terrific value!
The bottom line: ForkliftCertification.com provides everything needed for your employees to become OSHA-certified stand-up forklift drivers.
Where Can I Get Stand-Up Forklift Training Certification Near Me?
We make it simple! FLC training programs are fast, easy, and affordable! At FLC, standing forklift certification is always as near as your closest internet connection. To get started today, select the OSHA-compliant course or courses that meet your company's training needs. Next, just follow these five easy steps:
Create an account and register your company (this takes just a couple of minutes)
Register each of your stand-up forklift operators
Instruct them to log in to the account
Have students take the online test. The test can be completed in about an hour, but students can work at their own pace. There are no time restrictions for those who might need more time.
After completing the written portion of the exam, students undergo hands-on, in-person equipment operating evaluation conducted by a qualified trainer. (See our Train the Trainer Program for information on how to get your own certified in-house trainer)
That's all there is to it! Once your operators have passed the written test and the trainer's hands-on evaluation, their forklift certifications and stand-up forklift operator cards can be immediately downloaded and printed – just place them in their HR files and they're legally qualified to operate the equipment. There's no lengthy delay while waiting for the certifications and operator cards to arrive in the mail.
Learn More About Our OSHA-Approved Certification Program for Stand-Up Forklifts
Do you still have questions or need more information before enrolling your stand-up forklift operators in one of our 100% OSHA-compliant training programs? Visit our contact page to request a quote or get more information. You can also call us at (888) 278-8896 to speak with one of our OSHA experts for additional information. We take the hassle and guesswork out of making you and your operators OSHA compliant! ForkliftCertification.com is here to help you and your business with all your standup forklift training and certification needs!