The most trusted online resource for OSHA forklift certification and training since 2002
Questions? Call us! (888) 278-8896
What to Wear While Operating a Forklift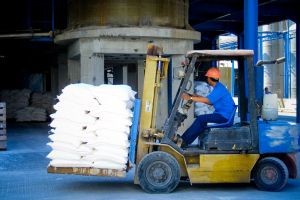 DRESS FOR SUCCESS – AND FOR SAFETY!
The old saying is usually associated with Wall Street people, top executives, and other "white collar" office-type jobs, but wearing the right clothing also applies to warehouse attire. As surprising as it might seem, a warehouse dress code is important, and in many ways, the clothing is more essential than clothing worn in other types of jobs.
Although forklift drivers aren't expected to wear suits or ties to perform their jobs, it's still a good idea to have them dress in proper warehouse work clothes. In fact, wearing safety clothing is essential to succeeding as an equipment operator. Just as the right equipment and tools are needed when it comes to operating forklifts, wearing the right clothing can keep your operators safe and help prevent on the job injuries.

THE WAREHOUSE DRESS CODE – APPROPRIATE ATTIRE FOR FORKLIFT OPERATORs
The ideal warehouse outfit for driving or operating a forklift also applies to truck loaders, warehouse workers, pallet jack operators, dockyard hands and all other types of forklift jobs. Here are some guidelines:
✓ If you're an employer, appoint one of your managers to establish and enforce a warehouse manager dress code that dictates the types of work clothes that can be worn on the job, which might include uniforms and other unique clothing. Uniforms are sometimes supplied by the employer, while at other companies they're the responsibility of the worker.
✓ Be sure the warehouse dress code includes safety clothing. For some jobs in warehouses, dockyards and similar industrial settings, the required work attire includes brightly colored or reflective clothing which alerts other people that heavy-duty machines are in use around them. If your operators are required to wear safety clothes but fail to do so, have them leave their forklift and return properly dressed. This can also include wearing safety goggles.
✓ Be sure the required clothing is loose fitting but not too loose. Forklift drivers need to be comfortable throughout the day, so tight-fitting clothes as opposed to lightweight clothing that's durable yet comfortable aren't necessarily a good
✓ Remember hats and gloves. Beyond pants, shirts, shoes, and jackets, your workers might need gloves or hats while on the job. This is especially important for forklift drivers who work in refrigerated warehouses where temperatures can drop below zero, so be sure they stay warm! Cold is a major distraction that can lead to workplace accidents and
THE RIGHT TYPE OF CLOTHING TO WEAR WHEN OPERATING A FORKLIFT
In addition to the basic warehouse attire for forklift operators, you might be wondering what other types of clothing to require or recommend for your drivers. A complete warehouse outfit combines protective clothing with accessories for the eyes face, feet, hands, and head. Truly protective warehouse work clothes literally cover workers from head to toe!
✓ Eye and Face Protection
Any practical warehouse dress code needs to include adequate eye Safety glasses or face shields should be worn whenever foreign matter could get into workers' eyes, such as when working around concrete or harmful chemicals.
✓ Foot Protection
Construction and warehouse workers should always wear shoes or boots with slip-resistant and puncture-resistant soles. Safety-toed footwear should be worn to prevent toes from being crushed when working with heavy or falling objects. This is especially important for forklift operators who work with heavy loads.
✓ Hand Protection
Operators of forklifts and similar pieces of equipment need gloves that fit snugly to protect their hands but still be flexible enough to properly operate the lift's controls. In addition to providing warmth in cold environments, gloves are also needed to prevent slippery substances such as grease or oil from getting on the controls. Heavy-duty rubber gloves are needed when working with concrete, welding gloves need to be worn when welding and insulated gloves and sleeves must always be worn when workers are exposed to electrical hazards. Each of these situations may be present on a job site or inside a warehouse.
✓ Head Protection
Proper warehouse attire often includes hard hats, which should be worn whenever there's a possibility of being accidentally struck by a falling object. Hard hats should be maintained in good condition and routinely inspected for defects.
PERSONAL PROTECTION EQUIPMENT – warehouse WORK CLOTHES FOR ADDED SAFETY
OSHA regulations require personal protection equipment (PPE), which includes the protection of the eyes, head, and extremities to be maintained in a good and sanitary condition and worn whenever necessary. Employers are required to provide personal protective equipment for their employees, but if workers choose to supply their own PPE, employers are responsible for verifying that the equipment is adequate and properly maintained. PPE for forklift workers isn't necessarily limited to warehouse attire such as hard hats, gloves, and reflective clothing.
Employees are required to receive training that teaches them when PPE and warehouse work clothes need to be worn and the types of PPE that should be used. The training also needs to cover how to properly wear or use PPE, its limitations, and how it should be maintained. Employers must be able to either confirm that employees have the knowledge and skills to use proper PPE or provide them with retraining.
BENEFITS OF WEARING WAREHOUSE WORK ATTIRE
The major causes of forklift-related injuries and fatalities are tip-overs, collisions, being struck by falling objects and being crushed by falling cargo or a tipping forklift. When operated inside warehouses, forklifts often need to navigate tight spaces and narrow aisles, which increases the chances of colliding with obstacles such as doorframes , warehouse shelving, or a pedestrian coworker. These types of risks make it important for both operators and workers on foot to always follow the warehouse manager's dress code. Wearing a hard hat can protect a worker's head if an object accidentally falls from a top shelf or pallet rack or a forklift tip-over. Hard hats are essential for any warehouse dress code.
Reflective clothing worn by forklift operators will alert other forklift operators and pedestrians in the area as to their position. Wearing safety goggles will keep workers' field of vision and line of sight clear when working indoors or outside in a construction zone. Each of these small but essential safety clothing items can help prevent accidents and protect lives. These are good examples of how warehouse work clothes are used to make workplaces safer.
If your warehouse dress code doesn't include reflective clothing, have the warehouse manager dress code revised to require workers to always wear safety gear while on the job. .
MORE ABOUT WAREHOUSE WORK ATTIRE AND HAVING YOUR OPERATORS CERTIFIED
Our Forklift Training & Certification courses cover all types of forklifts, including rough terrain forklifts, pallet jacks, and order pickers. Your operators will learn everything they need to know about safely operating various types of forklifts, performing equipment inspections and assessing the working environment for hazards. They'll also learn about the types of safety clothing and the importance of warehouse attire in preventing accidents and injuries. Once they've completed the training, operator licenses can be downloaded and printed right away!
ForkliftCertification.com  is the Number One source for online forklift training and certification. We offer three different forklift certification programs, which are the Training Kit, Train The Trainer and our Bundle Package:
This is one of our most popular courses that covers everything forklift operators need to know about safely and efficiently operating the equipment. There are no "per employee" charges – certify all your operators for a one-time payment of just $299. The tuition includes free lifetime renewal training and course material updates.
This program is designed to save you time and money by having your forklift operator training take place in house. After one or more of your employees complete the course, you'll have an in-house trainer qualified to certify your business's other operators. Everything you need is included, for only $149.
If you can't decide between the two, consider our Bundle Package, which includes both the Train The Trainer program and FLC's Training Kit for just $399, which is a savings of $50 over purchasing them separately.

OSHA is always looking for workplace safety violations, which include violations involving the use of personal protective equipment and your company's warehouse dress code. Each FLC course is designed by professional forklift drivers to both train your workers to properly operate the equipment and help your business become OSHA compliant.
Still, have questions about our forklift certification training or warehouse work attire? FLC's training experts can be reached by calling us at (888) 278-8896. You can also send an online message through our contact page. When it comes to OSHA compliance, don't take any chances – enforce a warehouse dress code and enroll your workers today!