Colorado Forklift Certification, 100% Online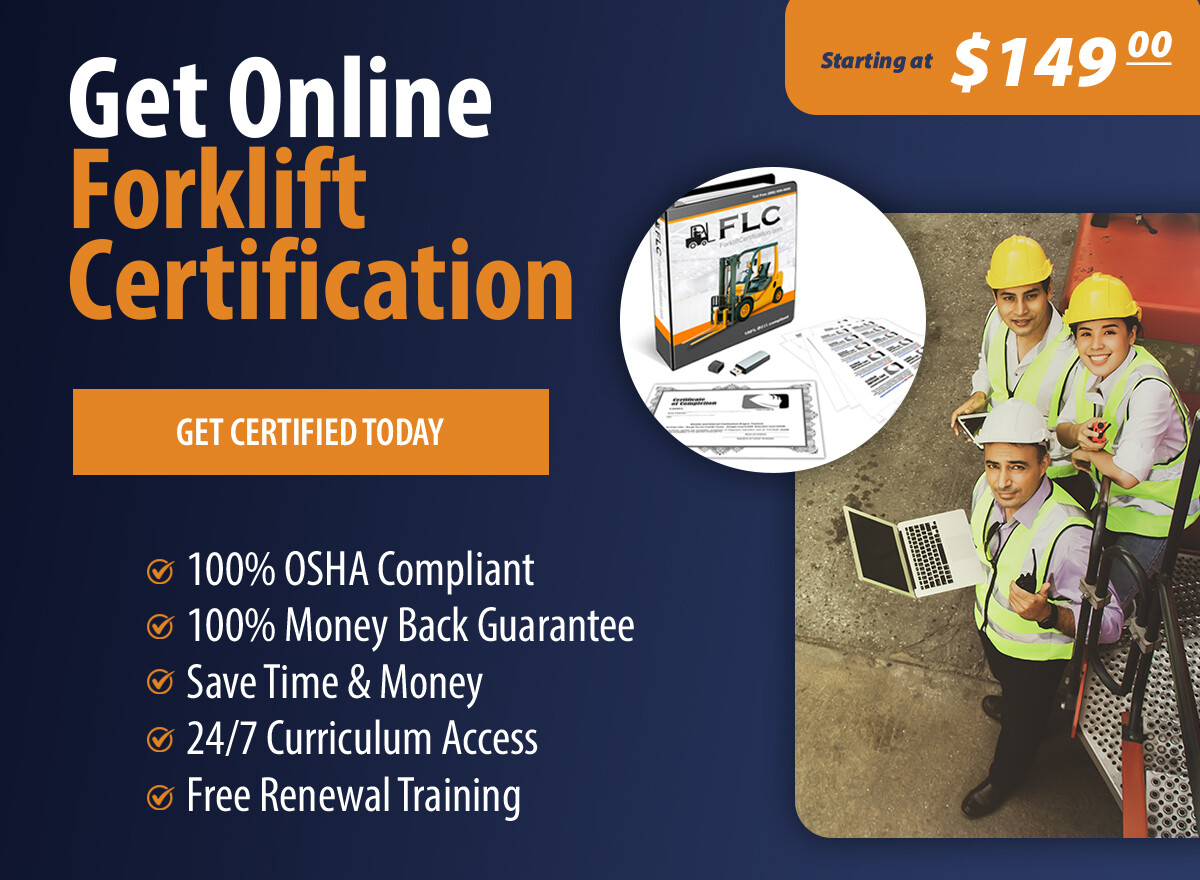 ForkliftCertification.com helps you get your forklift certification in Colorado online, and it's now simpler and cheaper than ever before. Instead of attending classes that take up a lot of time and money, you can now do the training at your place. Our tools teach you how to use a forklift step by step. After getting certified, you can operate forklifts anywhere in Colorado and the rest of the United States. You can choose different training options, like:
Trainer Certification
Do you care about keeping your workplace safe? Pick someone from your team to be in charge of training everyone. This course costs $149 and is the best way to teach a safety manager how to teach others. Train the Trainer is a really smart investment for your business. It will save you money because you can do all the forklift training within your company instead of paying for outside classes.
Employee Training Kit
For $299, you get a training kit for employees with everything you need to teach them the basics of using a forklift. The training usually takes about an hour to finish. You can use the training tools again whenever you have to teach someone new.
Bundle and Save
For most customers, the best deal is to combine our two courses. By paying $399, you're making a wise choice to invest in your organization's safety.
How Online Forklift Certification in Colorado Works
In the past, Colorado forklift certification took a lot of time and money. Going to a separate classroom far away was both slow and costly. But now, with FLC resources, you can learn from wherever you are. As long as you have a device that can connect to the internet, you can learn how to use forklifts. Here's what you should do to begin:
Register Learners: Employers should sign up any workers needing forklift training and certification.
Select Classes: Choose from our forklift training class or our Train the Trainer course.
Finish the Class: Most people complete the class in about an hour.
Pass the Online Exam: Trainees may take the written test as often as necessary to earn a passing score.
Complete a Hands-On Evaluation: Select an on-site employee of your organization to conduct a hands-on evaluation for trainees. If you need someone for the job, our Train the Trainer course is the best way to train an employee to conduct all future training evaluations.
Print Proof of Certification: Certification cards can be printed off after completing the hands-on test. Just print them and keep them with your personnel files.
At this point, trainees are considered to be OSHA certified as long as they complete training and pass the written and hands-on tests.

Why Choose FLC for Colorado Forklift Certification
If you're prepared to create a safe workplace, the top choice is to get Colorado forklift certification online through FLC. Qualified, knowledgeable, and skilled workers are much less likely to have accidents at work. Training and certification also ensure your business follows OSHA rules, preventing you from getting fined. Here are more reasons to train with FLC:
24/7 Training: Trainees can learn from anywhere with an internet connection.
Fast and Easy: Most trainees complete the material in about an hour.
Printable Proof of Certification: Print off certification cards to add to personnel files once training is complete.
Free Lifetime Renewals: OSHA requires all operators to recertify every three years. FLC trainees get access to our training courses for life.
An Undeniable Value: Our forklift certification classes cost just a fraction of what most training courses typically run.
We also offer a 100 percent money-back guarantee for our courses, so there's no risk in trying us!

Frequently Asked Questions About Colorado Forklift Certification
After reviewing our information on how to get forklift certified in Colorado, you might have a few more questions about the training process. Here are the answers to a few of our most frequently asked questions:
Does OSHA Fine Companies in Colorado?
Yes. The Occupational Health and Safety Administration is constantly looking for safety violations and will fine any company they find breaking health and safety laws. A solar provider was fined after they allowed employees to work on an icy roof with no fall protection in Johnstown, Colorado. 
Are Forklifts Dangerous? 
They can be, especially when an untrained operator is behind the wheel. A Greeley forklift accident resulted in the death of a forklift operator.
Do You Need a License to Operate a Forklift in Colorado?
Yes. All forklift operators working in the United States must be fully trained and certified.

Get Started Now for your Colorado Forklift Certification Online!
The sooner you enroll your workers in forklift certification training, the sooner they can become OSHA-compliant. Moreover, your workers can gain insights into common forklift accidents and how to avoid them. They can also discover ways to improve on-the-job safety today, tomorrow, and long into the future. 
Whatever you need for forklift certification and training in Colorado, FLC has everything you need for full OSHA compliance, from HR paperwork to forklift licenses to training materials and much more. Safety is too important to skip – and it's against the law to have anyone operate your lifts without forklift training in Colorado. FLC puts you on the path to compliance immediately!
Thanks for taking the time to visit ForkliftCertification.com. We're here to help you with all your Colorado forklift certification and operator training needs. Still have questions or need more information about FLC's forklift certification training in Colorado ? Contact us online or call us at 888-278-8896.