The most trusted online resource for OSHA forklift certification and training since 2002
Questions? Call us! (888) 278-8896
Choose the Best Forklift Certification in New Jersey
ForkliftCertification.com Offers First-Rate Forklift Classes in New Jersey That Are Accessible 24/7.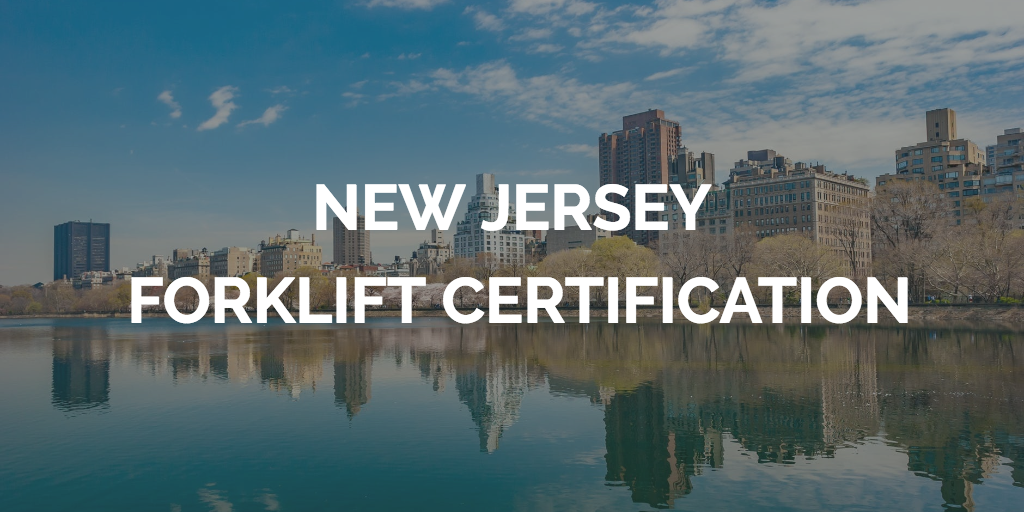 New Jersey's impressive coastline and considerable shipping industry means the need for workers like forklift operators is stronger than ever. If you hire forklift operators in New Jersey, or you're an employer that needs qualified workers for top-notch efficiency and fine protection, you need forklift certification in New Jersey from ForkliftCertification.com (FLC).
Our New Jersey forklift certification features: 
Affordable prices

Lifetime support 

Insider's OSHA knowledge and automatic certification updates 

And much more 
Our training programs (Train a Trainer, Employee Training Kit, and Bundle Package) make forklift certification in New Jersey more convenient, accessible, and easier than ever before. You've probably heard that forklift certification in New Jersey is difficult, expensive, and frustrating. With ForkliftCertification.com, we bring affordable, on-point, 100% OSHA-compliant forklift certification in NJ directly to your employees. And with our complimentary recertification training and other perks, there's simply no better option for your forklift certification in New Jersey.
FLC Forklift Certification in NJ: Course Pricing and Information
If you need forklift certification classes in New Jersey, FLC can help. Here's a look at our course offerings and the prices associated with them. 
Train a Trainer
For only $149, anyone on your staff can become an OSHA-approved forklift certification trainer. Our Train a Trainer program lets you provide a worker with appropriate training, so he or she can teach others about OSHA forklift safety mandates. The program is self-paced and designed for workers of all skill and experience levels. It is also backed by a 100% money-back guarantee. 
Employee Training Kit
Available for $299, our Employee Training Kit lets you educate all of your workers about forklift safety topics. The kit includes learning materials that teach workers how to properly operate and maintain a forklift, identify forklift hazards, avoid forklift accidents, and more. Thanks to this kit, your workers can gain the insights they need to contribute to a safe, productive work environment. Plus, once your workers complete our training program, they can comply with OSHA requirements. And, your company can avoid OSHA forklift safety compliance fines and penalties. 
Forklift Training Kit page for Spanish speakers. Learn more!
Bundle Package
Our Bundle Package includes our Train a Trainer course and Employee Training Kit. As such, the package gives you access to a wealth of forklift safety educational tools and resources. The package is available for $399 — a $50 savings versus purchasing our Train a Trainer course and Employee Training Kit separately. 
Online Certification
Along with the aforementioned offerings, we provide an online forklift certification course via our sister site, CertifyMe.net. This course is available for $59.95. 
Don't wait to sign your workers up for one or more of our programs. Get started today and ensure your company is OSHA-compliant!

Why Do Your Workers Need Forklift Certification in New Jersey?
Forklifts are common pieces of equipment used in warehouses, stores, and outdoors in many different types of settings. However, they can be dangerous and cause serious accidents.
Common accidents involved with forklifts are tip-overs, collisions, workers being crushed against the equipment, and falling objects that have been disturbed or improperly stacked. Fortunately, forklift certification training in New Jersey teaches workers everything they need to know to not only operate forklifts properly but protect their lives on the job. 
Employers are required to provide forklift certification and training in New Jersey for their employees. OSHA mandates that all forklift operators be trained and certified, and employers must prove their training with the proper paperwork. 
ForkliftCertification.com offers fast and easy New Jersey forklift certification and forklift licenses in New Jersey. We ensure that your workers can become OSHA-approved forklift operators in as little as 60 minutes. 
How to Get a Forklift Certification in NJ
If you're unsure of how to get forklift certification in NJ, try not to stress. Because, if you want your workers to earn forklift certification, FLC can provide assistance.  Our training offerings enable your employees to learn how to safely drive a forklift.
It won't take long to sign up your workers for forklift certification training. Once your workers get started with our training, they can earn their certification at their convenience. 
The bottom line: your company needs an OSHA-compliant training course because it's the only one that will ensure your workers learn everything they need to know to operate forklifts safely, and that's exactly what FLC offers. We'll work with you to determine your New Jersey forklift certification requirements to ensure that your business and its workers are OSHA-compliant.
What to Expect When You Partner with FLC for Forklift Certification Training
If you're an employer who needs solid credentials and training for your workforce, you need to know how to get a forklift license in NJ from the best source possible. Look no further than ForkliftCertification.com. 
We've made it easy and affordable to complete OSHA-compliant forklift training, all from the comfort of home on any device with an internet connection. Workers don't have to travel to an offsite facility to learn about forklift certification and training in New Jersey, because ForkliftCertification.com offers the ultimate in online convenience. 

Give Your Workers Up-to-Date Forklift Certification Training 
No other New Jersey forklift certification package offers an equal amount of value and comprehensive instruction! If your company needs a more complete solution to compliance gaps, register for our forklift certification in New Jersey today! 
Take care of your forklift certification in New Jersey today and sign up – it's easy and only takes a minute or two! Thanks for considering ForkliftCertification.com, your #1 option for New Jersey forklift certification! For questions about our forklift certification in New Jersey, please call our OSHA compliance experts at (888) 278-8896. Or, you can contact us online.