New Jersey Forklift Certification, 100% Online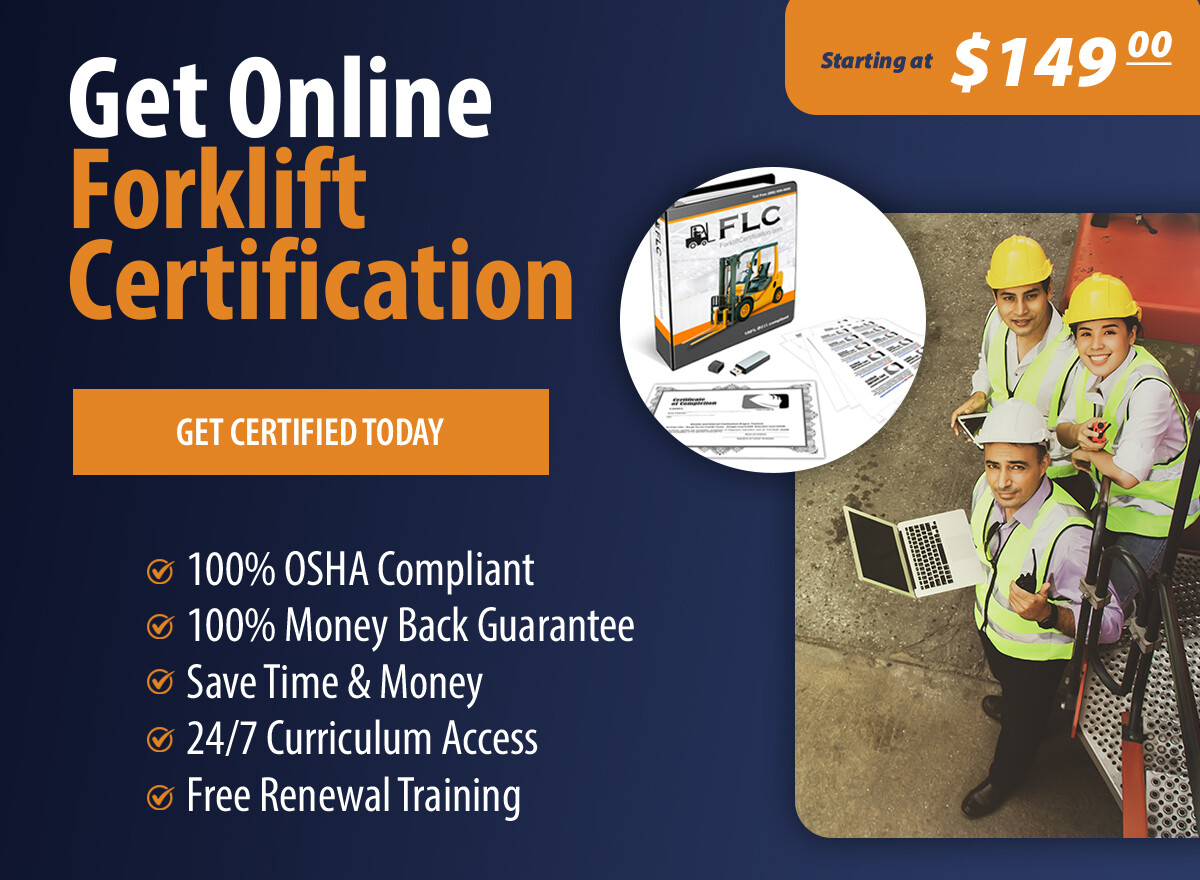 Are you looking to earn your forklift certification in New Jersey without the hassle? ForkliftCertification.com is your answer. Gone are the days of traveling to remote classrooms and enduring long sessions. With FLC, you can master the essentials online in about an hour. Once certified, you're eligible to operate forklifts across the U.S. Plus, we offer a range of training solutions to match any safety requirements your business might have. Explore our offerings:
Trainer Certification
Boost safety standards in your workplace by leveraging FLC's comprehensive forklift training resources. Opt for our Train the Trainer course at $149 and empower yourself to handle all future training in-house. By eliminating external training costs, you'll see savings while fortifying your company's commitment to safety.
Employee Training Kit
For just $299, our comprehensive training kit provides all the essentials to instruct employees on forklift operations. Each session is approximately an hour, and the materials are designed for repeated use.
Bundle and Save
Boost your company's safety measures by opting for both of our courses. For a strategic $399 investment, you're paving the way for enhanced safety, making every penny count.
How Online Forklift Certification in New Jersey Works
In the past, obtaining a forklift certification in New Jersey was both time-consuming and expensive, with workers needing to attend day-long classes elsewhere. Thanks to FLC's online tools, you can now access training whenever and wherever you have an internet connection. Ready to embark on your learning journey? Here's your first step:
Sign Up Employees: Managers should register employees needing forklift training and certification.
Choose Courses: Select from our forklift training or Train the Trainer course.
Finish the Course: Most people complete the class in about an hour.
Pass the Online Exam: Trainees can take the written test as often as necessary to earn a passing score.
Undergo a Hands-On Exam: An on-site employee of your organization must offer a hands-on evaluation for trainees. If you need someone for the job, our Train the Trainer course is the best way to train an employee to oversee all your future hands-on evaluations.
Print Proof of Certification: Certification cards can be printed off after completing the hands-on exam. Just print them and keep them with your HR files.
Employees who complete the training and successfully clear both the written and practical exams are recognized as OSHA-certified.

Why Choose FLC for New Jersey Forklift Certification
Elevate workplace safety and sidestep OSHA sanctions by selecting FLC's New Jersey forklift certification online. Employees equipped with proper training tend to minimize workplace accidents. More importantly, our training aligns with OSHA's stipulations, helping your business avoid costly fines. Here are the reasons to choose FLC for your training needs:
Always Available Training: Train from any location with internet access, any time of the day.
Swift & Straightforward: Most individuals finish the course in about an hour.
Ready-to-Print Certification: Easily print certification cards post-training for HR documentation.
Access for Life: OSHA mandates recertification every three years; you have permanent access to refreshers with FLC.
Outstanding Affordability: Our courses offer top-notch training at a fraction of the usual cost.
If our training doesn't resonate with your expectations, we stand by our full refund guarantee. Choosing FLC is risk-free!

Frequently Asked Questions About New Jersey Forklift Certification
Need help with how to get forklift certified in New Jersey? Let's clear the air with answers to some of the top questions we often receive:
Does OSHA Fine Companies in New Jersey?
Absolutely. The Occupational Health and Safety Administration (OSHA) is steadfast in its mission to hold entities accountable for not maintaining safe work environments. Wether big corporations or individual contractors, OSHA is proactive in administering fines that can run into thousands of dollars.
Are Forklifts Dangerous? 
In the hands of untrained individuals, forklifts can become perilous. Regrettably, fatal forklift mishaps are not rare occurrences in New Jersey.
Do You Need a License to Operate a Forklift in New Jersey?
In the United States, every forklift operator must complete training and secure certification before handling forklifts.

Get Forklift Certified in New Jersey Today!
No other New Jersey forklift certification package offers an equal amount of value and comprehensive instruction! If your company needs a more complete solution to compliance gaps, register for our forklift certification in New Jersey today! 
Take care of your forklift certification in New Jersey today and sign up – it's easy and only takes a minute or two! Thanks for considering ForkliftCertification.com, your #1 option for New Jersey forklift certification! For questions about our forklift training in New Jersey, please call our OSHA compliance experts at (888) 278-8896. Or, you can contact us online.