The most trusted online resource for OSHA forklift certification and training since 2002
Questions? Call us! (888) 278-8896
New Jersey Forklift Certification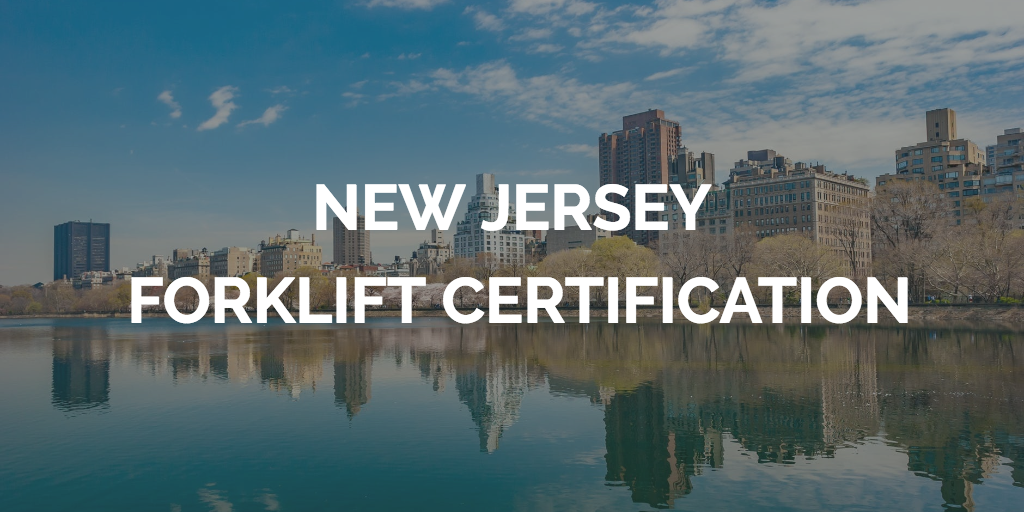 New Jersey's impressive coastline and considerable shipping industry means the the need for workers like forklift operators is stronger than ever. If you're interested in becoming a forklift operator in New Jersey, or you're an employer who needs qualified workers for top notch efficiency and fine protection, you need forklift certification NJ from ForkliftCertification.com.
Keep reading to learn how to get a forklift license in NJ and qualify for the best forklift jobs in New Jersey! FLC, the leader in forklift certification in New Jersey, has everything you need to become – and remain – compliant!
Why Do I Need Forklift Certification NJ?
Forklifts are common pieces of equipment used in warehouses, stores, and outdoors in many different types of settings. However, they can be dangerous and cause serious accidents. Common accidents involved with forklifts are tip overs, collisions, workers being crushed against the equipment, and falling objects that have been disturbed or improperly stacked. Forklift certification in New Jersey teaches workers everything they need to know to not only operate forklifts properly but protect their lives on the job.
Employers also need forklift certification. OSHA requires that all operators be trained and certified, and employers must prove their training with the proper paperwork. ForkliftCertification.com offers fast & easy New Jersey forklift certification and forklift license NJ.

What Types of Industries Hire Forklift Operators in NJ?
New Jersey is known as the crossroads of the east, and is home to bustling manufacturing and distribution centers. Forklifts are most often used in warehouses and retail spaces to act as an integral component of distribution efforts. New Jersey also plays an important role in the biopharmaceuticals industry, manufacturing about one sixth of the country's pharmaceuticals. New Jersey's other top industries are technology and healthcare.
Many employers are involved with entertainment and special events. Forklifts often are used in the creation of stages for shows, setting up lighting, and for handling and transporting heavy entertainment equipment. You can become a part of the New Jersey nightlife scene and work as a forklift operator when you receive your forklift certification NJ and forklift license NJ!
Forklift Jobs in New Jersey

Once you learn how to get a forklift license in NJ, you can qualify for these positions:
• Forklift Operator
• Forklift Mechanic
• Warehouse Worker/Manager
• Dock Worker
• Construction Worker
• Special Events Employee
• And more!
A few of the top employers in New Jersey who hire trained forklift operators include Merck, a pharmaceutical company, Johnson & Johnson, Nestle, and Campbell Soup. There's virtually no shortage of jobs in New Jersey for qualified forklift operators with a forklift certification NJ. With our New Jersey forklift certification packages, you'll get your workforce up to speed with the latest OSHA safety guidelines in no time at all!
The Type of Forklift Certification NJ You Need
You need to know the right type of training program to put you in the best position possible and receive your forklift license NJ. It's very important to look for an OSHA-compliant training course because it's the only one that will ensure you learn everything you need to know to operate forklifts safely, have only the most up-to-date information, and ensure you can protect your employer against fines.
An OSHA-compliant program will contain a few things:
• Formal instruction (video, computer learning, lectures)
• Practical training
• Evaluation (performed in person)
It will also include these topics:
• Truck-related topics (Operation, controls, steering, maneuvering, and navigating ramps and slopes)
• Workplace-related topics (Surface conditions, pedestrians, safety protocols)
Luckily for you, FLC has created programs that cover all of the requirements for forklift training. All you'll need to do is complete the evaluation at your workplace with a qualified trainer, which we also provide training for.

FLC Offers Fast, Affordable, and Convenient Forklift Certification NJ
If you're an individual in New Jersey looking to bring your career to the next level, or an employer who needs solid credentials and training for your work force, you need to know how to get a forklift license in NJ from the best source possible. Look no further than ForkliftCertification.com. We've made it easy and affordable to complete OSHA-compliant forklift training, all from the comfort of home on any device with an internet connection. Workers don't have to travel to an offsite facility to learn how to operate a forklift safely, how to recognize and avoid hazards, and how to prevent accidents. We help workers protect their lives and employers protect their businesses from fines and legalities.
Our training kit offers the following courses:
✓ Warehouse Forklifts, Classes 1, 4, 5
✓ Pallet Jacks and Order Pickers, Classes 2, 3
✓ Rough Terrain Forklifts, Class 7
The Training Kit costs only $299 for all three classes. Each comes with English and Spanish options and free three-year renewals for life, and each qualifies you for your forklift license NJ. This is one of our most popular New Jersey forklift certification packages.
Our Train A Trainer course teaches experienced personnel how to lead the forklift evaluations for new operators in order to qualify them to receive their certification. If your forklift certification in New Jersey aims to create in-house Certified Forklift Safety Experts, this is the course for you!
And our Bundle Package combines both the training kit and Trainer course to save employers more money on getting the training their operators need and keeping it in house to save loads of hassle and dollars. No other New Jersey forklift certification package offers the value and comprehensive instruction!
Look into our training kit today and hold your forklift certification NJ in your hands in only a couple of hours! For questions about our forklift certification in New Jersey, please call our OSHA compliance experts at (888) 278-8896). Thanks for considering FLC your #1 option for New Jersey forklift certification!