The most trusted online resource for OSHA forklift certification and training since 2002
Questions? Call us! (888) 278-8896
TORRANCE FORKLIFT CERTIFICATION TRAINING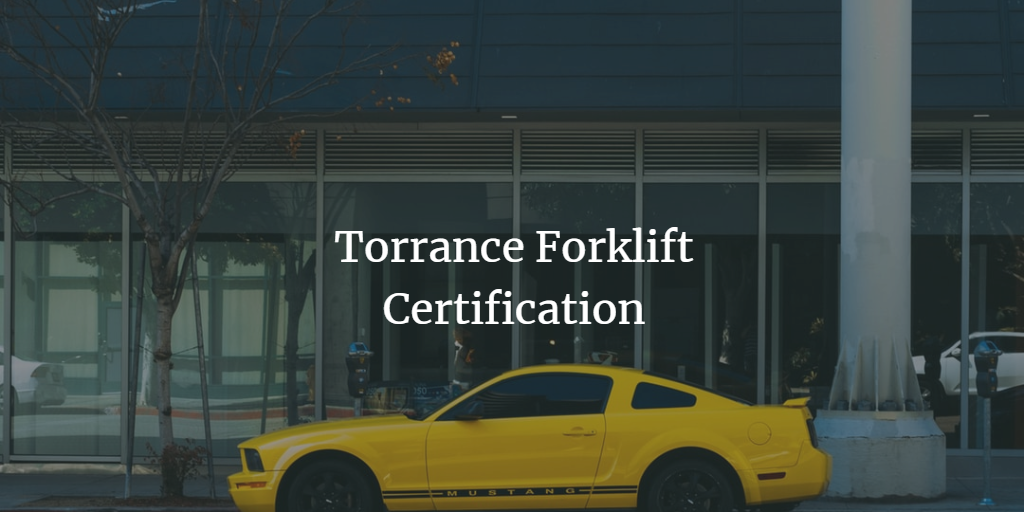 Situated in the South Bay area of Los Angeles, this city of 150,000 people is one of the best-kept secrets in all of Los Angeles County. With its 1.5 miles of sandy beaches, friendly neighborhoods, one of Southern California's lowest crime rates and a robust economy, Torrance one of the West Coast's most sought-after places to live and work.
As with other areas throughout California, businesses in Torrance that hire forklift operators are required by law to have their drivers properly trained and certified before they're allowed to use forklifts in the workplace. This is to help ensure the safety of the operators themselves, as well as that of their coworkers. If you're an employer who needs Torrance Forklift Certification training for your workers, ForkliftCertification.com is here to help!

FLC offers three training course packages, each of which is designed to provide optimal training value and lifetime support. Here are the details:
This is our most popular Torrance forklift certification courses. It's equipment-specific forklift training that covers warehouse forklifts, pallet jacks, order pickers and rough terrain forklifts and a wide range of powered industrial trucks., along with various forklift operating techniques. The cost is just $299, and it will train and certify each of your operators.
This course will certify experienced operators to train your other drivers or new hires as they come on board, which means that for $149, your company will have an in-house forklift training resource available at all times.
Need the best value forklift certification program in Torrance? Can't make up your mind between our Training Kit or our Train a Trainer course? This program combines the two courses in one outstanding collection. It's the best overall value for forklift training around. Get them both for the discounted price of just $399, which is saves your company $50 over purchasing the two programs separately.
Click here to have your employees start their forklift certification Torrance training today!
CHOOSE flc FOR torrance FORKLIFT CERTIFICATION training
When your company enrolls your forklift operators in our online training program, the process is fast, simple and affordable. Our forklift training courses will teach your operators everything they need to know about operating forklifts safely, how to use the instruments and controls, conduct inspections,  and recognizing and avoiding potential hazards. Our Torrance forklift certification will show your workers how to stay safe on the job, while being more efficient and productive
Forklift drivers' certification training can be completed in about an hour. All materials are available online 24/7, and can be easily accessed using a smartphone, tablet or other digital device anywhere there's an internet connection and any time that's convenient. After your drivers complete Torrance forklift certification training, their operator cards can be immediately downloaded and printed. The certifications will remain valid for three years, after which OSHA will require your operators to take refresher training. When you enroll your employees with FLC,  three year renewals are free for life – you'll never need to pay to train them again!
Here are more of the benefits you'll receive when you enroll your operators in FLC's industry-leading online training program:
Your employees won't need for to take time away off of work work to travel to and from an offsite training facility.
Avoid expensive offsite training programs and save money. When you train your drivers through FLC, you'll pay much less for top quality forklift operator training when compared to other providers.
There are no expensive books or training materials to buy – everything you and your operators need is included in the cost of the course!
We'll ensure your operators are totally OSHA-compliant after they complete our online training.
After your operators have passed the exam (our pass rate is 100%) and the hands-on evaluation, their certification cards will be available immediately, making it legal for them to operate your forklift equipment on the job.

SIGN YOUR OPERATORS UP FOR FLC'S FORKLIFT CERTIFICATION TORRANCE TRAINING TODAY!
Don't delay your operators' Torrance forklift certification training any longer! Choose the package that meets your needs, enroll your operators, have them complete the classwork and they can have their forklift operator certifications in about one hour!
If you have any questions about forklift training in Torrance, call us at (888) 278-8896 to speak with one of our OSHA compliance consultants or click here  to get started today. Remember that the law requires your forklift operators to be trained and certified. Get in touch with ForkliftCertification.com today for the best forklift certification Torrance training program available.
Thanks for visiting the FLC website. We look forward to helping you and your operators with  your all Torrance forklift certification training needs!