Los Angeles Forklift Certification, 100% Online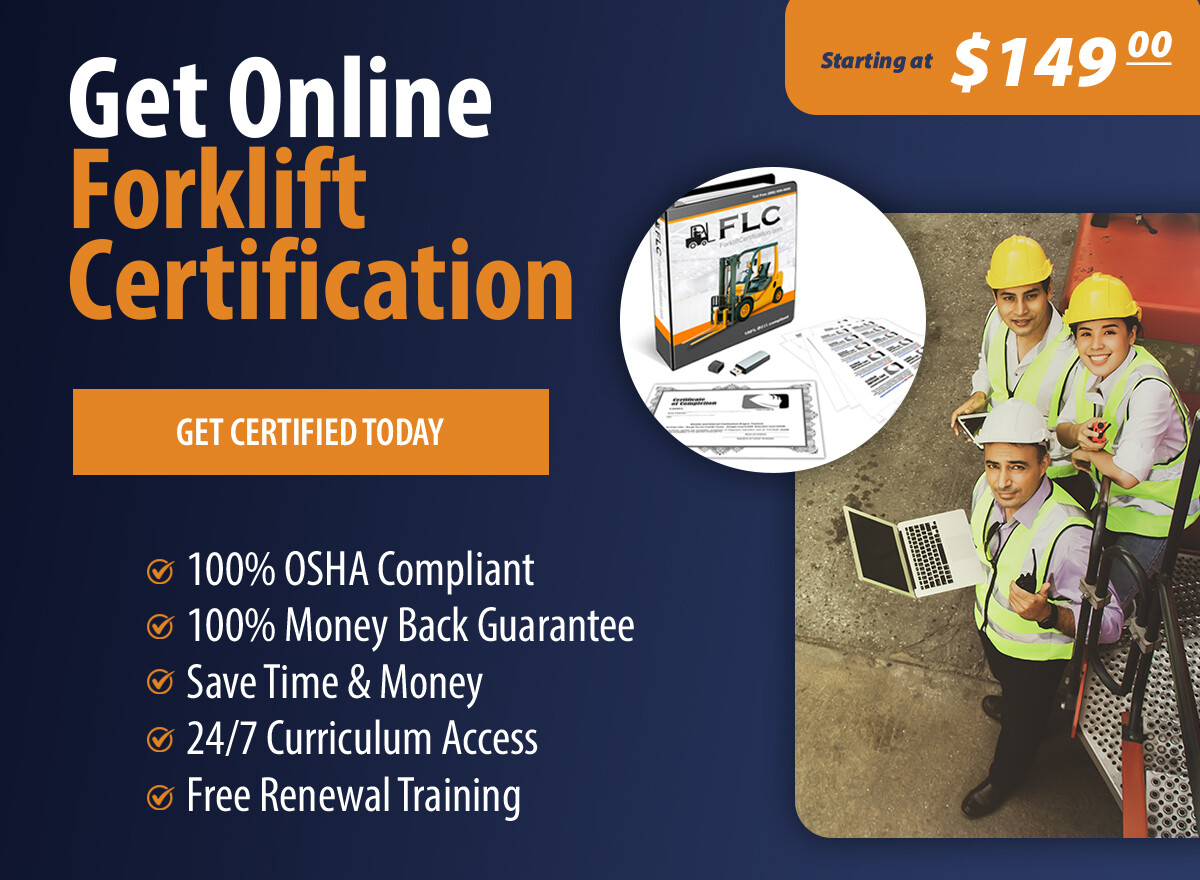 Los Angeles forklift certification from any device with an internet connection. Starting at just $149, our courses offers incredible value. After about an hour's training, you'll be eligible to operate forklifts within Los Angeles and throughout the Golden State, but across the entire nation, too. Our comprehensive online forklift certification courses enable you train from anywhere at any time. Getting certified with us is fast, convenient, and easy!
How Online Forklift Certification in Los Angeles Works
Thanks to Forkliftcertification.com, it's never been easier to certify your employees online. Avoid time-consuming, expensive off-site training programs and set your operators up with an online training course in no time. Here's how:
Sign Up

– Create an account on Forkliftcertification.com in minutes.

Choose Forklift Course

– Select from a range of forklift training courses, depending on which type of lift your organizations relies upon. We cover it all, from rough terrain lifts to pallet jacks. Simply choose the appropriate classes and check out.

Complete Online Training

– Learners may complete training at their own pace from the device of their choice. Once finished, they will need to take and pass an online skills test. There's very little pressure to do well, as they can take the exam as many times as necessary to earn a passing score.

On-Site Evaluation

– Select an on-site employee of yours to conduct a hands-on evaluation. If you don't have someone in mind to offer these evaluations, our

train-the-trainer course

can teach operators how to train and evaluate their colleagues.

Print Your Operator Card

– After completing the final evaluation, operators will be  certified to drive a forklift in Los Angeles and throughout the rest of the country. Employees may print off their operator cards and certificates as evidence of their training.

Why Choose Forkliftcertification.com for Los Angeles Forklift Certification
Each forklift operator in Los Angeles – and the rest of the country – must be properly trained in accordance with OSHA standards. Untrained, uncertified forklift operators may draw the attention of OSHA inspectors, who frequently levy expensive fines for such violations. Don't put your business or the lives of your employees at risk. 
Our comprehensive online course for Los Angeles forklift certification comes with a wide range of benefits, including: 
24/7 Curriculum Access

– This availability enables employees to learn whenever and wherever is most convenient. Courses may be accessed from any device connected to the internet.

Simple and Quick

– Our courses take about an hour to complete, and the evaluation may be taken as many times as necessary to earn a passing score.

Certification Cards

– Once training is complete, employees may print off proof of their training and compliance with OSHA regulations.

Free Renewals –

Forkliftcertification.com offers free lifetime renewal trainings. Since OSHA requires recertification every three years, this is an undeniable benefit to your organization.

A Great Value – Our Train the Trainer courses at $149 and Complete Training Kits starting at $299 are a great deal. You'll also save valuable time and money by not sending forklift operators off-site for training.
Traditional forklift training courses simply can't compare to Forkliftcertification.com! Since our courses come with a 100 percent money-back guarantee, there's no risk!


Frequently Asked Questions About Forklift Certification in Los Angeles
Still unsure about how to get forklift certified in Los Angeles? Let us shed a little more light by answering some of our most frequently asked questions:
Do I Need a Forklift License in Los Angeles
Yes. OSHA requires all forklift operators nationwide be trained and evaluated in accordance with standard 29 CFR 1910.178(I)(1). 
Do I Need Experience to Earn My Forklift Certification in Los Angeles?
No experience is required to complete forklift certification training with Forkliftcertification.com.
Can I Register for Training, Or Does My Employer Need to Sign Me Up?
Employers are legally obligated to offers forklift certification in Los Angeles for the operators. While you're allowed to register and pay the course fees yourself, it may be better to find a forklift job first and have your new employer arrange for certification.
Is Forklift Training Really Necessary?
Absolutely. When untrained, inexperienced operators use forklifts, disaster can strike. Forklifts can be incredibly dangerous. A recent incident in Palo Alto highlights just how quickly an average work day can turn deadly.

Get Forklift Certified in Los Angeles Today!
You might think Los Angeles is all glitter and glamour. Dig a bit deeper, however, and it's not hard to see that Los Angeles is one of the country's most important cargo distribution and manufacturing centers. From Long Beach's deep seaport to hundreds of warehouses throughout Los Angeles County, the City of Angels shines as a true economic powerhouse.
To get started today, choose the package that meets your company's needs, enroll your operators, have them complete the classwork and they can have their Los Angeles forklift certification in less than one afternoon!
For more information, call us at (888) 278-8896 to speak with one of our OSHA compliance consultants or click here to get started today on FLC's forklift certification in Los Angeles. Remember that forklift certification training is more than just something for your drivers to have – it's the law! Get in touch with ForkliftCertification.com today for the best forklift certification in Los Angeles training program available.
Thanks for visiting the ForkliftCertification.com website. We look forward to helping you and your operators with all your forklift certification and training needs!