Get Los Angeles Forklift Certification!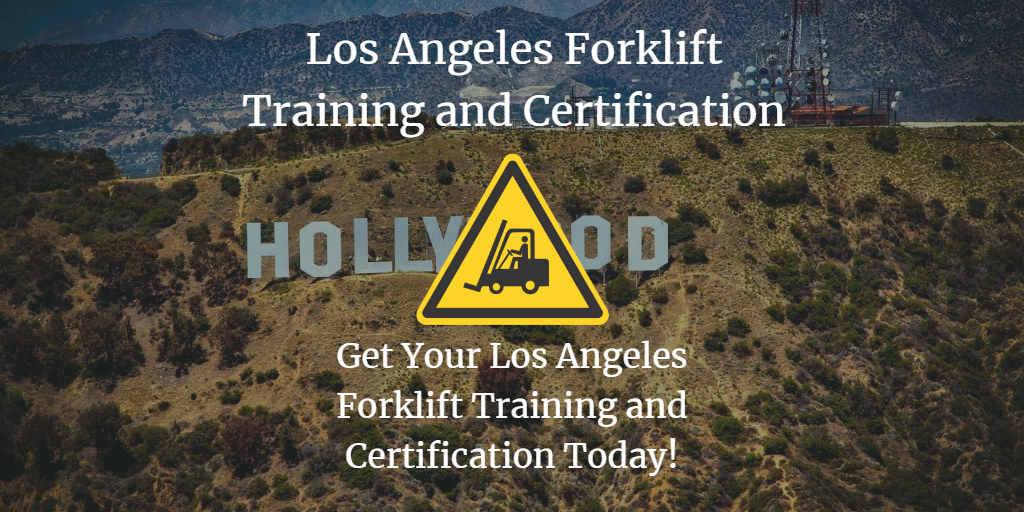 Sign Up for LA Forklift Certification from FLC | OSHA Complaint | Affordable | Free Renewal Training | And Much More
Are you an employer who's wondering where to get the expertise and safety knowledge to satisfy OSHA's forklift certification in Los Angeles requirements? You've come to the right place! You don't need to look any further than ForkliftCertification.com, the preferred choice for forklift certification in Los Angeles. We provide OSHA compliant training courses for your entire workforce that are fast, easy and convenient at great prices that won't break the bank!
Our forklift certification in Los Angeles features:
Outstanding value
Online convenience
Best customer support in the business
Insider's knowledge of how OSHA works – and critical information your lift operators need to know
And much more
COURSE PRICING AND INFORMATION – FORKLIFT CERTIFICATION IN LOS ANGELES
If you need Los Angeles forklift certification, look no further than these courses:
Los Angeles forklift certification course for your own in-house training resource – and it's perfectly prices at just $149!
This versatile Los Angeles forklift certification course is only $299
Many LA companies can't decide between our Train a Trainer course and the Training Kit. No worries…get them both at a special value of only $399.
This certification is conducted with our related training company, CertifyMe.net. $59
Start today and ensure your Los Angeles enterprise is OSHA compliant. Your employees deserve the safest possible working environment – and it's the law!
One of the most common questions we get from LA employers is, where can I get Los Angeles forklift certification near me? Right here at FLC! With three different training packages and special online certification from our sister company CertifyMe.net, we're the only training resource you need!

WHY LOS ANGELES FORKLIFT CERTIFICATION NEAR ME TRAINING IS IMPORTANT
If you're a driver, forklift certification in Los Angeles is the first step toward total OSHA compliance – and a rewarding, well-paying career!
But FLC isn't just about individual workers – we're the go-to forklift certification provider for LA and other towns and cities in SoCal. For Los Angeles area employers, Los Angeles forklift certification training is one of the most important parts of any company's safety program. It's also an OSHA requirement that every forklift driver in the city have proper operator training. Is your business prepared to handle this considerable task on your own? If the answer is no, the Los Angeles forklift certification experts at FLC will do the heavy lifting for you! After your employees complete the training, pass the online exam and a "hands-on" operator evaluation, their operator certifications can be immediately downloaded, printed, and placed in their HR files, which will protect you as an employer in the event of an OSHA audit. This means you're covered from accidents, injuries and more. But with our forklift certification in Los Angeles, your employees are less likely to have an accident!
FLC's training program will teach your employees everything they need to know about forklifts, including standard safety guidelines and regulations, operational issues and various techniques used to safely operate a forklift. Through our online training program, you'll satisfy state and local safe operating guidelines. In addition, our training program goes above and beyond by covering all of the OSHA standards and regulations.
Our OSHA-compliant forklift certification in Los Angeles provides your operators with all of the information they need to keep the workplace safe and protect the lives of your operators and their coworkers.
LOS ANGELES CERTIFICATION TRAINING – ROLES YOUR COMPANY MAY HIRE FOR
Because of the city's sheer size and the amount of thriving industry, Los Angeles forklift jobs are plentiful and available year-round for prospective employees. Some of the most in-demand industries for forklift operators in Los Angeles include materials management, construction and installation, skilled trades, transportation and warehousing, all of which will require employers to provide their employees with Los Angeles certification training. Here are some other examples of positions where Los Angeles forklift workers will need to be properly trained and certified:
Heavy Equipment Operator
Forklift Driver
Forklift Mechanic
Material Handler
Cherry Picker Operator
Forklift Operator
Forklift Mechanic
Safety supervisors and fleet managers will also benefit from FLC's forklift certification for Los Angeles and across Southern California. FLC will help all of your employees achieve OSHA compliance, which means you'll have a safer, more productive workforce,  regardless of where in the Los Angeles area your business is located!
REASONS TO CHOOSE FLC FOR LOS ANGELES FORKLIFT CERTIFICATION
Your forklift drivers can complete their training in about an hour. All training materials are available online around the clock and can be accessed using a smartphone, tablet or other digital device any time that's convenient and anywhere there's an internet connection.
After they complete the Los Angeles forklift certification, their operator cards are ready to be downloaded and printed. They will remain valid throughout the state of California for three years, after which OSHA will require your operators to take renewal training. When you choose FLC, these three year renewals are free for life, which means you'll never need to pay for their training again!
Here are more of the many benefits you'll enjoy when you choose FLC's industry-leading online program to train and certify your forklift operators:
There's no need for your employees to take valuable time away from work to commute to and from an offsite training facility.
All training materials are available online 24/7 and can be accessed using a smartphone, tablet or other digital devices wherever the internet is available.
Avoid expensive offsite training programs and save money. When you train your drivers through FLC, you'll pay much less for top-quality forklift operator training when compared to other providers.
We'll ensure your operators are totally OSHA-compliant after they complete our training. Employees take the tests at their own pace, and if they need to take the test again and again, no problem…the pass rate for our Los Angeles forklift certification is 100%.
Once your operators pass the exam and the hands-on evaluation, their certification cards can be immediately downloaded and printed, making it legal for them to operate forklift equipment at your place of business.
WHERE CAN I GET FORKLIFT CERTIFICATION IN LOS ANGELES NEAR ME? WITH OUR THREE DIFFERENT TRAINING PROGRAMS!
ForkliftCertification.com offers three different products, which are:
○ FLC Training Kit
This kit covers equipment-specific forklift training and is one of our most popular choices for Los Angeles forklift certification training. The program covers all types of forklift equipment, including warehouse forklifts, pallet jacks, order pickers and rough terrain forklifts. A one-time payment of just $299 will train and certify each your operators.
○ Train a Trainer
This course will certify experienced operators to train your other operators or new hires as they come on board for $149, which means you'll have an in-house trainer available at all times
○ Bundle Package
Need the best possible value for forklift certification in Los Angeles? Can't decide between the Training Kit and our Train a Trainer courses? This program combines the two courses into the best overall value for forklift training in Los Angeles. This is the best combo package you'll find anywhere! Get them both for the discounted price of just $399, which is a savings of $50 over purchasing the two courses separately. If you want to optimize the value of Los Angeles forklift certification training, bundle and save with the discounted package deal.

GETTING FORKLFIT CERTIFICATION IN LOS ANGELES
You might think Los Angeles is all glitter and glamour. Dig a bit deeper, however, and it's not hard to see that Los Angeles is one of the country's most important cargo distribution and manufacturing centers. From Long Beach's deep seaport to hundreds of warehouses throughout Los Angeles County, the City of Angels shines as a true economic powerhouse.
To get started today, choose the package that meets your company's needs, enroll your operators, have them complete the classwork and they can have their Los Angeles forklift certification in less than one afternoon!
For more information, call us at (888) 278-8896 to speak with one of our OSHA compliance consultants or click here to get started today on FLC's forklift certification in Los Angeles. Remember that forklift certification training is more than just something for your drivers to have – it's the law! Get in touch with ForkliftCertification.com today for the best forklift certification in Los Angeles training program available.
Thanks for visiting the ForkliftCertification.com website. We look forward to helping you and your operators with all your forklift certification and training needs!