The most trusted online resource for OSHA forklift certification and training since 2002
Questions? Call us! (888) 278-8896
How to Get Forklift Certification in Trenton, NJ?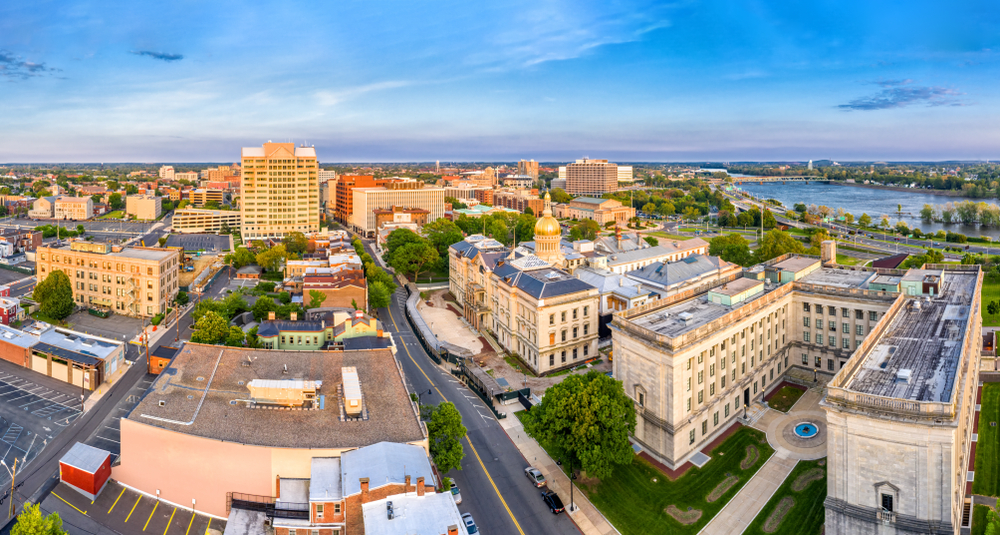 Trenton, New Jersey's capital city, has a history that dates back to at least 1719. It is also a metropolis that looks poised to grow in the years to come.
Manufacturers have played major roles in Trenton's expansion over the years. These businesses and many others in the city often require certified forklift operators as well.
If your Trenton business needs forklift certification for its workers, ForkliftCertification.com can help. FLC is a trusted provider of online forklift certification. We offer the following forklift certification training programs:
Provides a self-paced online certification program that allows workers to train and evaluate forklift operators in house. – $149.
Offers an all-in-one forklift certification training kit backed by a 100% money-back guarantee. – $299.
Combines our Train a Trainer course and Training Kit, so your business can reap the benefits of having a fully certified on-site forklift trainer and a top-notch employee forklift certification training package at your disposal. – $399.
We enable businesses nationwide to provide their workers with comprehensive forklift certification training. Get started with any of our forklift certification programs to ensure your forklift operators comply with OSHA requirements.

What Are OSHA Requirements for Forklift Certification in Trenton, NJ?
All forklift operators must have a valid license. Otherwise, these operators expose themselves and others to myriad dangers.
An unlicensed forklift operator may lack sufficient training. As such, he or she may be prone to mistakes. And, if the operator makes a mistake, he or she can cause an accident. In the worst-case scenario, this accident could result in a workplace injury or death.
Furthermore, a business that lets a forklift operator use a lift without a license is subject to OSHA penalties. If the company ignores OSHA forklift safety requirements, it can receive penalties that cost hundreds of thousands of dollars. In this instance, the company may be subject to criminal penalties as well.
Why Should You Enroll Your Workers in Forklift Training in Trenton, NJ?
Forklift training in Trenton, NJ won't prevent lift accidents. It will, however, ensure your business can comply with OSHA requirements for forklift safety training. Plus, the training ensures your employees can identify and address forklift safety hazards before they lead to accidents.
Ultimately, the long-term benefits of enrolling your workers in a forklift certification program can be significant. Over time, certified forklift operators can contribute to a safe, productive workplace. Meanwhile, your business can avoid OSHA penalties and ensure its forklift operators are well-equipped to perform their best every day. The result: your company and its employees can reap the benefits of forklift certification training.
Forklift Certification Trenton NJ: Why Should You Choose FLC?
FLC has provided best-in-class online forklift certification since 2002. When you enroll your workers in our forklift certification program, you'll receive:
○ Wide Range of Learning Materials: We provide a variety of learning materials to teach your workers about forklift safety.
○ Anywhere, Anytime Access to Forklift Safety Training: Your workers can access our forklift certification program materials on their smartphone, tablet, or computer. As long as an internet connection is available, your workers can retrieve our program materials.
○ OSHA-Compliant Training: Our forklift certification program aligns with the latest OSHA requirements. Once your workers finish our program, they'll immediately become OSHA-compliant forklift operators.
○ Self-Paced Training: Your workers can complete our forklift certification program at their own pace.
○ Free Renewal Training for Life: We offer complimentary renewal training. Therefore, when it's time for your forklift operators to renew their certification, they can do so free of charge.
○ Expert Support: We're here to assist you in any way possible. If you have concerns or questions regarding our forklift certification program, we are happy to respond to them.
FLC is proud to offer an in-depth forklift certification program to Trenton businesses. With our program, your employees can quickly and easily earn their forklift certification.
Sign Your Workers Up for Forklift Training in Trenton, NJ from FLC
ForkliftCertification.com is a leading provider of forklift certification training in the United States. We make it easy for your employees to become OSHA-compliant forklift operators any time they choose. Don't wait to pursue forklift certification from FLC. To learn more about our forklift certification program, please contact us online or call us today at (888) 278-8896.