Trenton Forklift Certification, 100% Online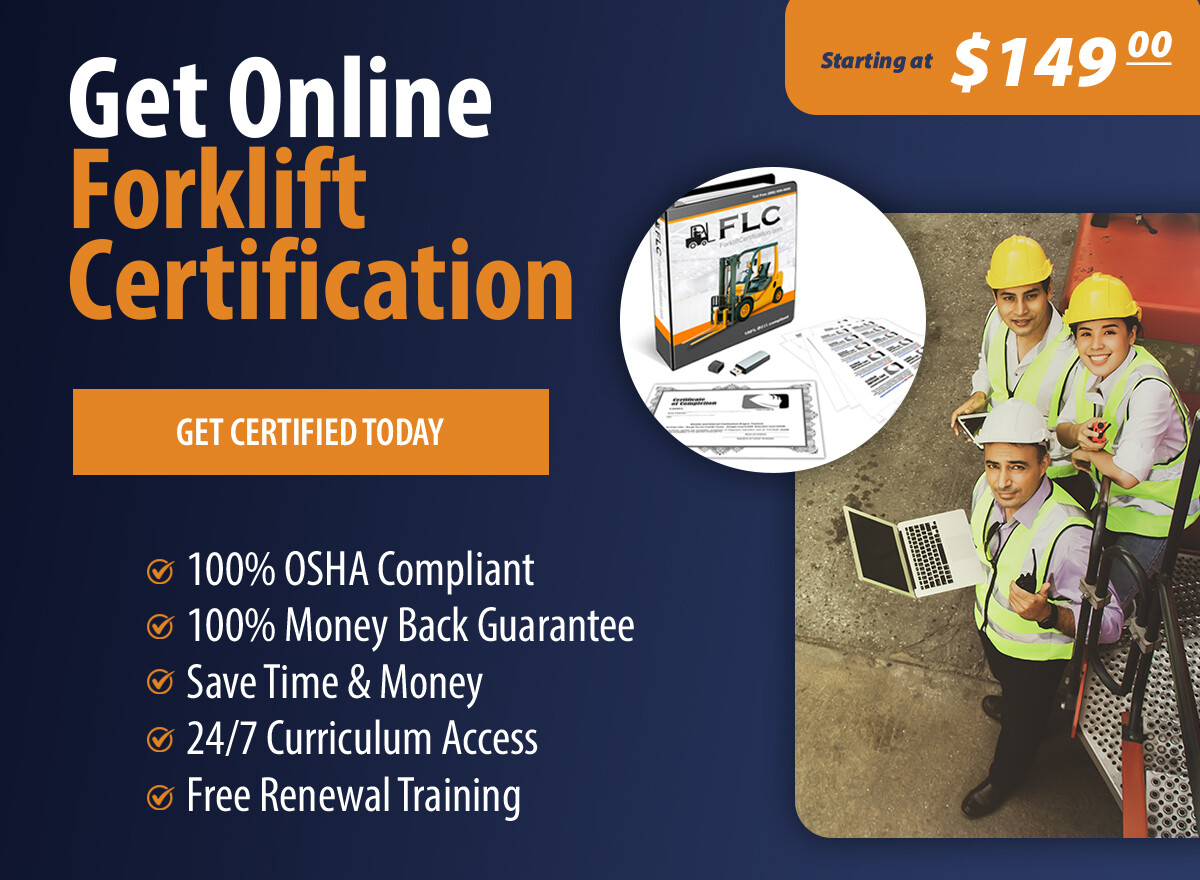 Are you curious about how to earn your forklift certification in Trenton online? ForkliftCertification.com is the answer! We offer convenient, affordable alternatives to traditional training. While the forklift certification process once required travel to an off-site classroom to learn, trainees can now study whenever and wherever is easiest. FLC's online tools make it simple to learn forklift fundamentals in about an hour. Once certified, you'll be legally cleared to operate forklifts throughout New Jersey and the rest of the United States. Training options include:
Trainer Certification
If you're eager to foster a safe workplace, employee forklift training is a must. Our trainer certification course allows you to bring all future training in-house. For $149, you can invest in the overall safety culture of your workplace. Train the Trainer will save you money over time since you can train all employees within your organization for one low price.
Employee Training Kit
At just $299, our employee training kit is an undeniable value. It includes all you need to teach employees the fundamentals of forklift operation. The course usually takes about an hour to finish, and you can use the training tools repeatedly.
Bundle and Save
For the best value, combine our two courses. For $399, you'll make a smart investment in your organization's safety that will pay off for years.
How Online Forklift Certification in Trenton Works
Trenton forklift certification once meant spending much time and money to train workers. They needed to travel to an off-site classroom and spend hours learning the fundamentals. With FLC resources at your disposal, employees can learn whenever and wherever is convenient. Employees can learn how to use forklifts as long as they have a device that can connect to the internet. Here's what you need to do to get started:
Register Employees: Managers should register any workers needing forklift training and certification.
Select Classes: Choose from our forklift training or Train the Trainer course.
Complete the Course: Most people finish the material in about an hour.
Take the Online Test: Workers can take the online test as often as necessary to earn a passing score.
Undergo a Hands-On Evaluation: An on-site employee of your organization must oversee a hands-on evaluation for trainees. If you need someone for the job, our Train the Trainer course is the best way to train someone from your business to conduct all your future hands-on evaluations.
Print Proof of Certification: Certification cards can be printed off after completing the hands-on exam. Just print them and keep them with your HR files.
At this point in the process, employees are considered to be OSHA-certified as long as they complete training and pass the written and hands-on exams.

Why Choose FLC for Trenton Forklift Certification
Suppose you want to sidestep OSHA fines while investing in the overall safety culture of your organization. In that case, pursuing Trenton forklift certification online through FLC is the best option. Experienced and highly trained employees are less likely to be involved in accidents at work. Training and certification also help keep you in compliance with OSHA regulations and prevent expensive fines. Here are more reasons to train with FLC:
24/7 Access: Trainees can learn from anywhere if connected to the internet. 
Fast and Simple: Most people finish the course in about an hour.
Instant Proof of Certification: Print off certification cards to add to HR files after training is complete.
Free Lifetime Renewals: OSHA requires all forklift operators to recertify every three years. FLC trainees get access to our training courses for life.
An Undeniable Value: Our courses cost a mere fraction of what most training courses typically run.
We also offer a 100 percent money-back guarantee for our courses, so there's no risk in trying us!

Frequently Asked Questions About Trenton Forklift Certification
Now that you know how to get forklift certified in Trenton, allow us to address some of our most frequently asked questions:
Does OSHA Fine Companies in New Jersey?
Yes. The Occupational Health and Safety Administration exists to hold negligent employers responsible for workplace injuries and fatalities. A New Jersey contractor was fined $2 million for safety violations. 
Are Forklifts Dangerous? 
While forklifts aren't inherently dangerous, they can lead to injuries when an untrained operator is behind the wheel. A New Jersey operator had his foot amputated after a forklift accident at work.
Do You Need a License to Operate a Forklift in Trenton?
Yes. All forklift operators working in the United States must be fully trained and certified.

Sign Your Workers Up for Forklift Training in Trenton, NJ from FLC
ForkliftCertification.com is a leading provider of forklift certification training in the United States. We make it easy for your employees to become OSHA-compliant forklift operators any time they choose. Don't wait to pursue forklift certification from FLC. To learn more about our forklift certification program, please contact us online or call us today at (888) 278-8896.