Get Miami Forklift Certification with FLC!
Need Forklift Certification in Miami? Register with FLC | Affordable | OSHA Complaint | Free Renewals | And Much More!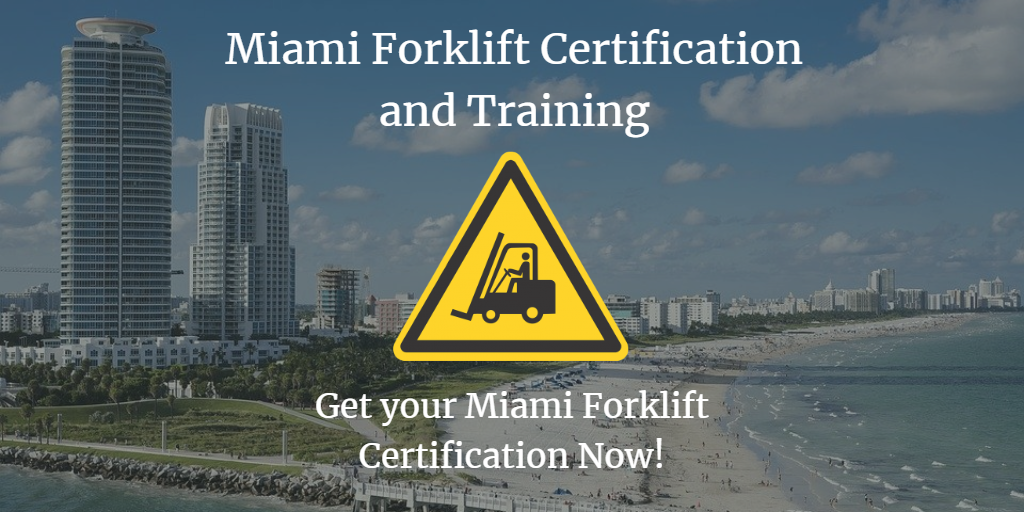 If you hire forklift drivers in Southern Florida, you need to provide Miami forklift certification for your employees. ForkliftCertification.com (FLC) offers a trio of training packages for Miami forklift operators. Each one provides thorough training, exceptional resources, and forklift certification in Miami. Once your training and test is complete, your employees can print their Miami forklift certification right away!
With our forklift certification in Miami, your company enjoys:
✓ Free renewal training
✓ Affordable, on-point training & certification
✓ Complete paperwork and evaluation materials
✓ 100% OSHA compliance
✓ And much more
EMPLOYERS: GET YOUR MIAMI FORKLIFT CERTIFICATION WITH FLC!
For employers, forklift certification in Miami is important. OSHA doesn't allow any powered industrial truck operator to run a forklift without proper training. If your company has a forklift accident, OSHA audits and inspections will follow – and they'll want to see your employee training records. If you can't prove your forklift operators have the right credentials, steep fines will be levied. In some cases, companies are fined more than $100,000 for OSHA safety violations.
That's why FLC's forklift certification in Miami is perfect for both employers and employees. OSHA compliance isn't impossible to obtain – in fact, it's easy with FLC! Get your Miami forklift certification today – you can't afford to be non-compliant!
The2nd largest city in Florida behind Jacksonville, Miami is located on Florida's southeastern tip and is known for its vibrant culture, turquoise waters, and lively entertainment scene. If you're looking to become OSHA complaint and give your forklift operators the credentials and training materials to keep your company and employees safe, you need forklift certification in Miami from ForkliftCertification.com. Sign up today!
COURSE PRICING AND INFORMATION FOR MIAMI FORKLIFT CERTIFICATION
If you need Miami forklift certification for your company, get started with FLC now. Pick any individual course or a combination of training & certification modules:
Train a Trainer
Miami forklift certification option for in-house training experts, This is an affordable value at only $149!
Training Kit
From rookie forklift operators to veteran drivers and everyone in between, the Training Kit is an outstanding option for Miami forklift certification, and it's just $299.
Bundle Package
Get the best value for your Miami forklift certification. This bundle includes our Train a Trainer course and the Training Kit for a special discounted rate of $399. This is a very popular option with Miami companies.
Online Certification
CertifyMe.net, our sister training corporation, offers online forklift certification in Miami for only $59.
Don't delay any longer with your training & certification. Sign up today and ensure your employees are OSHA compliant and properly trained!

FORKLIFT CERTIFICATION IN MIAMI
Forklift training is an educational course that can be taken online or in-person. Prices range depending on the structure of the course and how it is being held (live and in-person or self-paced and online), but the information taught must be the same and include all of OSHA's requirements. Proper training is important for all types of forklift jobs in Miami because it increases a worker's productivity, and reduces the chance of any accidents occurring. That's a key ingredient in workplace safety; well-trained employees are simply better employees.
Forklifts can be dangerous when they are driven by untrained workers, and most accidents are caused by operator error.
WHAT MAKES MIAMI FORKLIFT CERTIFICATION SO IMPORTANT?
Not only will a Miami forklift certification help prevent accidents in the workplace that cause injuries and fatalities, it will also help you to perform as best you can as an operator, and help your employer be successful and remain compliant with OSHA. An employee with forklift training in Miami signifies that they understand proper safety protocols, OSHA regulations, and take their position seriously.
But not just any forklift training course will do. You need to look for OSHA certification for Miami in order to receive all of the information you need to work safely and efficiently. An OSHA-compliant Miami forklift certification course will be the best and most comprehensive for providing the information you need as an operator to protect your life on the job.
HOW CAN I COMPLETE MY FORKLIFT CERTIFICATION IN MIAMI?
If your company needs forklift certification in Miami, you need to look for a forklift training in Miami program that covers all of the important topics described above. It is also important to be compliant with OSHA and look for a program that follows OSHA's regulations.
However, that doesn't mean training has to be expensive, inconvenient, or time-consuming. You can check off all of the requirements for training and follow all OSHA guidelines with an online program. The course from FLC saves you tons of time and money by allowing you to work through the course at your own pace and from any device with an internet connection. You'll have 24/7 access to the online course and will receive a printable OSHA certification in Miami as soon as you're done.

CHOOSE FORKLIFTCERTIFICATION.COM FOR FORKLIFT CERTIFICATION IN MIAMI
ForkliftCertification.com offers workers an efficient, comprehensive, convenient, and affordable option for Miami forklift certification that is also 100% OSHA-compliant. Our Miami forklift training program takes only about one hour to complete, and can be taken online from any device. Your new forklift operators career in can get forklift certification in Miami in just a few steps, and the cost is only $299.
Create an account today and qualify for all of the best forklift jobs in Miami the same afternoon! If you'd like to speak with our OSHA compliance and training consultants, give FLC a call at (888) 278-8896. We'll get you started today with your OSHA Miami forklift certification.
Thanks for visiting FLC – we look forward to helping with your safety, training & forklift certification in Miami!