Get Forklift Certification Online from Ft. Worth, TX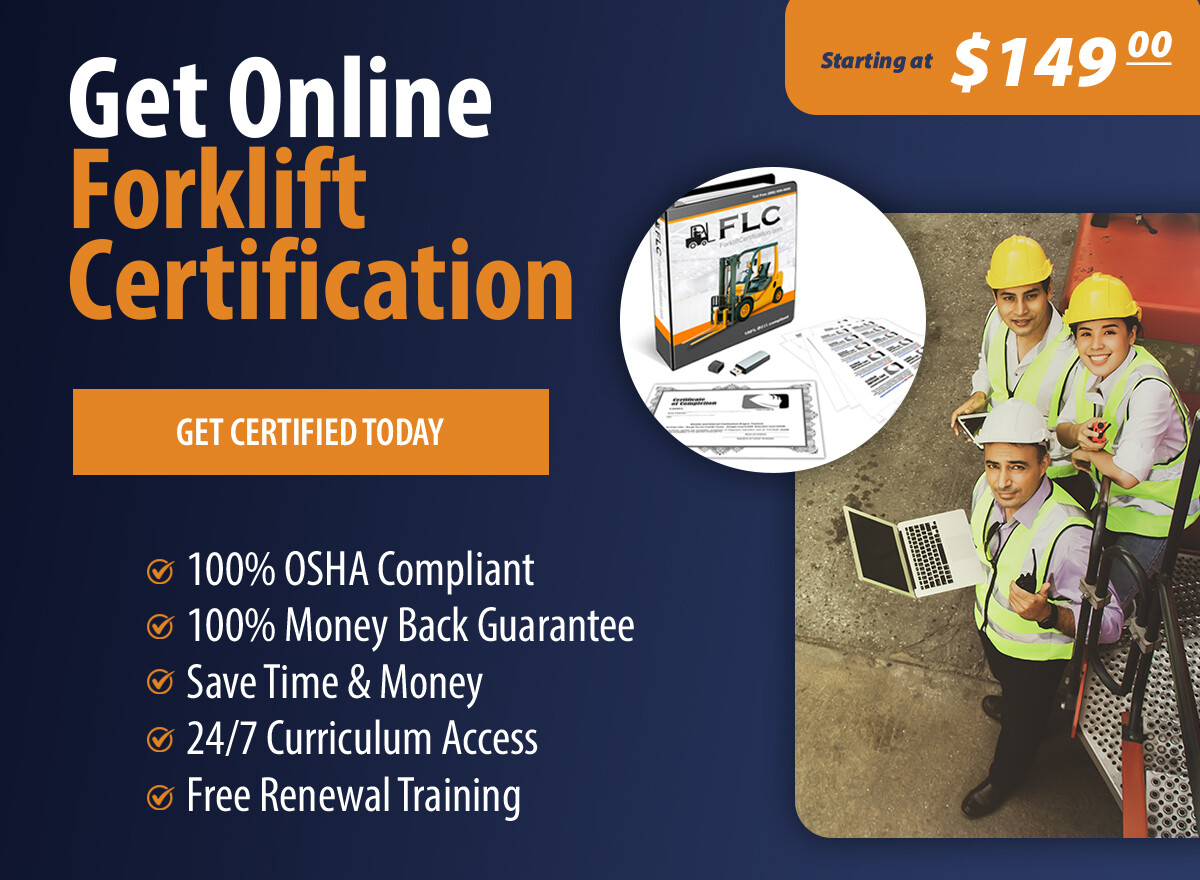 Do you plan on overseeing a job that will require the use of forklifts in Ft. Worth? If so, you need to know the Ft. Worth forklift certification law first. Any employees planning to operate or use this equipment on your job site must first obtain their forklift certification in Ft. Worth to remain legally compliant.
The good news is that certification no longer has to be done in person. If you choose to work with us and buy our employee training kit, you can certify your whole team online and on-site.
Our employee training kit comes at a one-time cost of $299.00. Materials will be mailed to the employer. If you need a certified trainer on your team for on-site evaluations, consider our trainer certification for $149.00. If you want these certification programs, opt-in to our bundle and save package, which will cost $399.00.
How Online Forklift Certification in Ft. Worth Works
One of the best features of our program is that everything can be completed online and on-site. Do you need to know more about how to get forklift certified in Ft. Worth? Here is our step-by-step process:
Sign Up on Our Website: First, sign up using our online platform.
Choose Your Training Course: Choose which courses meet your team's needs and pay for them directly through our site.
Employees Take the Training Courses: Employees can go through the training material at their convenience anywhere with any device connecting to the internet.
Employees Must Pass an Online Quiz: As employees learn about forklift safety, they'll be asked to pass a few online quizzes.
Employees Take an Evaluation On-Site: Finally, the employee will submit to an on-site test to show they can operate a forklift. Get our trainer certification kit to train one of your staff members to become a certified evaluator.
Employees Graduate the Course: The employee will graduate after passing the on-site test. They can instantly print off proof of their certification.
Once your employees have gone through these steps, they'll be considered sufficiently trained per OSHA standards. They'll be certified to operate forklifts throughout the country.

Why Choose ForkLiftCertification.com for Ft. Worth Forklift Certification
When seeking out your Ft. Worth forklift certification online, working with the right company is important. Getting certified is important not only for legal reasons but also for your team's safety. If you don't get properly certified, you could be subject to OSHA fines. What's more, your team members could get hurt in a forklift accident. The good news is that proper training works to prevent both of those scenarios. Here is why you should choose to work with us to certify your team:
24/7 Access to our Training Material: You can access our training materials anywhere at any time
Fast and Easy: Complete our certification program within one hour
Instant Proof of Certification: Get instant proof of training directly from our course materials
Renew for Free: You can renew your certifications for free every three years
Cost-Effective: Our program is cost-effective, especially if you get a forklift trainer on your team. You'll be able to certify an unlimited number of employees.
Finally, you should choose to work with us to obtain your team's certification because we'll offer you the best possible customer service and care. We value our customers and strive to provide the best possible certification courses. If you're not satisfied with our program, we'll offer you your money back.

Frequently Asked Questions
Do you still have more questions about getting forklift certified? For more general questions, refer to our general forklift certification FAQs page, or you can look below for answers to questions more specific to forklift certification in Ft. Worth.
What Types of Forklift Accidents are Most Common in Texas?
The most common type of forklift accident in Texas is a tip-over or rollover. A recent rollover accident was fatal for a 31-year-old employee working at a Texas glassmaking plant. Rollovers and tip-overs are extremely dangerous due to the weight of these machines. Other common types of forklift accidents include:
Getting struck by objects while operating a forklift
Mechanical failure
Emissions poisoning
Colliding with pedestrians
Can a Forklift Overheat in Texas?
Yes! As a Texan, you already know how hot it can get in the summer, but the heat has been even more extreme these past few years. With that in mind, it is important to be aware of all the risks associated with forklifts – including the possibility of your forklift overheating. If a forklift overheats, then it won't operate properly. This can put your whole team at risk, so stay safe by ensuring your equipment doesn't get too hot.
To learn more tips, tricks, and best safety practices when using your forklift, consider checking out the free resources on our educational blog.

Get Forklift Certification in Ft. Worth, TX Today!
ForkliftCertification.com's online training platform makes it easy and convenient for your workers to complete the first quality, OSHA-compliant training that's needed to work as a forklift operator in Ft. Worth, TX. The program can be accessed 24/7 using a smartphone, tablet, laptop or similar digital device anywhere that's convenient and has internet connection. Although there's no time limit, your workers can complete the training and receive their certifications in as little as just one hour. The best part? The entire program will cost you as an employer only $299 to have your entire forklift operator team trained and certified.
Create an account today! Simply click here or call our Ft. Worth, TX forklift certification experts at (888) 278-8896. You can also send us a message online via our contact page and become OSHA compliant by having your workers receive their Ft. Worth, TX forklift certification as soon as today!