Grand Rapids Forklift Certification, 100% Online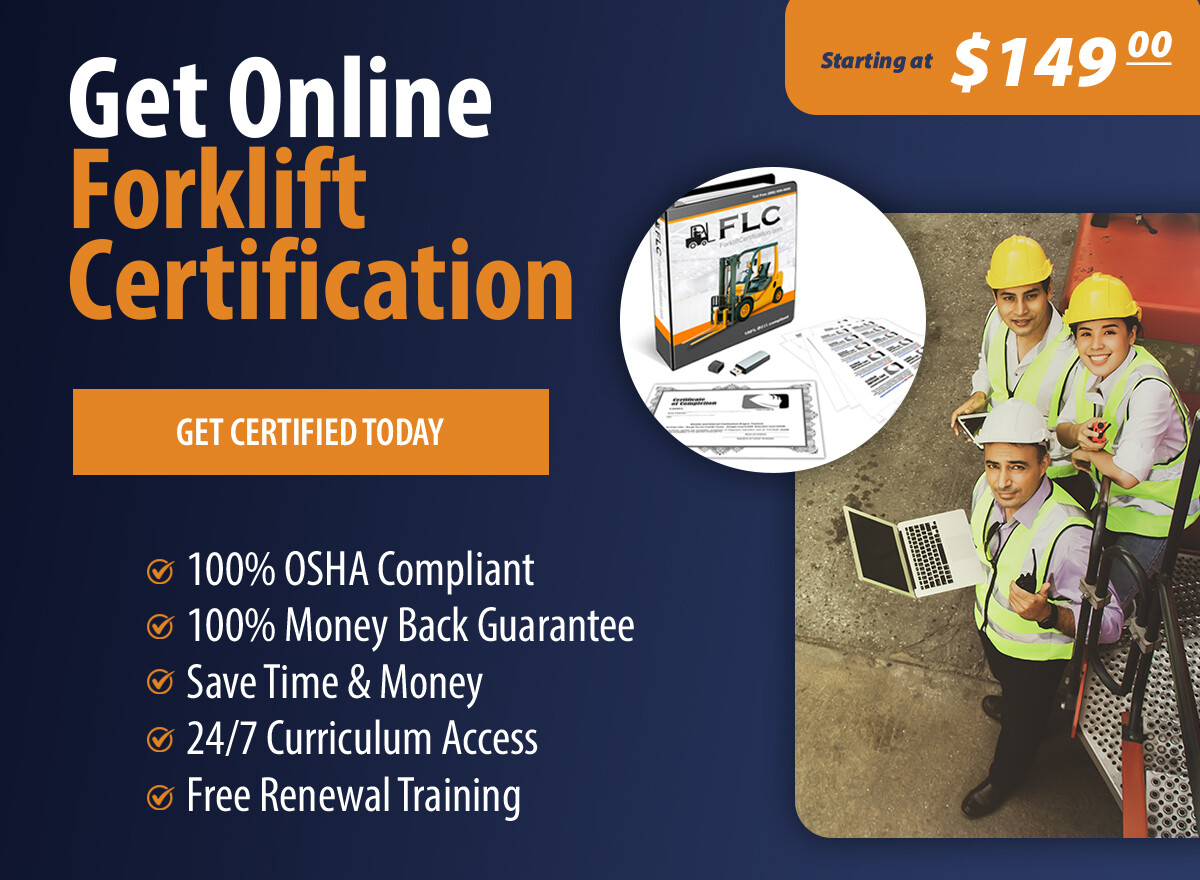 The outlook for the construction industry in Grand Rapids is healthy and strong. There is an extensive range of projects scheduled in the coming years.
Suppose you have an upcoming construction project that requires using a forklift. In that case, it's best to first learn how to get forklift certified in Grand Rapids. OSHA's rules and regulations state that all operators must first obtain their forklift certification in Grand Rapids to remain compliant.
We can help you remain OSHA compliant and get your whole team certified with our proven certification courses. Our employee training kit comes at a one-time cost of $299, and our train-the-trainer course is $149. If you're interested in getting both courses, you can use our bundle and save discount to get both for $399. With both kits, you'll be empowered to fully certify as many employees as you need to online and on-site.
How Online Forklift Certification in Grand Rapids Works
Previously, getting certified meant sending your employees offsite to get their education. For employers, certification meant downtime from work. Now, your team can obtain a Grand Rapids forklift certification online and on-site with our employee training kit and train the trainer bundle. Our streamlined process makes it easy for everyone. Here is how it works:
Employers Sign Up Employees: Ultimately, the employer will officially certify the employee's training, so it makes sense that employers should take the first step in signing up employees.
Buy the Course Your Team Needs: Go through our course selection and pick the programs that fit your team's needs.
Employees Get Educated: Employees can go through the online educational material to learn how to safely and effectively operate a forklift on their own time on any internet-connected device.
Employees Need to Pass an Online Quiz: While going through our course material, there will be times when the employee is prompted to take an online quiz. These quizzes are designed to help reinforce essential topics covered in the material and help employees retain the most important details of their training. Employees must pass these quizzes to move on.
Employees Take an On-Site Evaluation: Once they feel confident with the material, they'll need to show they can operate a forklift in person. Suppose you buy ourtrain-the-trainer course or have a certified trainer already on your team. In that case, you can conduct these on-site evaluations on your job site.
Employees are Considered Certified: After passing the evaluation, employers officially certify the employee.
After going through these steps, you can print off proof of training and your employees' official operator cards.

Why Choose Forkliftcertification.com for Grand Rapids Forklift Certification
We know the initial certification cost can be off-putting, but the costs of not getting certified are way higher. A failure to certify your team could mean significant fines from OSHA, a job shutdown, or even a serious accident with injuries.
Here are a few reasons to work with us:
Easy for Everyone!: Our kit is designed to be as easy and streamlined as possible for employers and employees
Cost-Effective: Pay one price for our kit but use it to certify an unlimited number of employees
Free Renewal: Certifications expire, but you can use our kit to renew certifications without paying anything extra
Proof of Certification: Print off proof of certification directly from our course materials
24/7 Access: Employees can access course material 24/7 on any internet-connected device
If you purchase our kit and are not satisfied, we'll offer you your money back.

Frequently Asked Questions (FAQs)
Do you have more questions? Check out our general FAQs page for more, and get answers to more Grand Rapids-specific questions below.
What Type of Forklift Accident is Most Common in Grand Rapids?
The most common type of forklift accident happens when the forklift overturns and rolls over. This type of accident accounts for about one in four lift truck accidents.
Rollover accidents are also the most dangerous and can be fatal, as was the case for a factory worker who was killed at a Sterling Heights plant recently.

Are You Ready to Obtain Your Grand Rapids Forklift Certification?
Are you interested in getting your whole team forklift certified online and on-site? One of the biggest advantages of having an on-site certified trainer is that you won't have to send your team to another location to certify them fully. If you opt for our bundle to receive a discount, you can purchase our train-the-trainer course and our employee training kit for one low price today.
Learn more about the forklift classes we offer, which include Warehouse Forklifts, Pallet Jacks and Order Pickers, and Rough Terrain Forklifts at ForkliftCertification.com. Please call us at (888) 278-8896 to learn more about our forklift certification in Grand Rapids!
See why Grand Rapids employers rely on ForkliftCertification.com for all their training and compliance needs! Discover why we're the best option for complete Grand Rapids forklift training. Get started today with FLC – OSHA compliance is easier and more affordable than you think. We look forward to hearing from you soon!