The most trusted online resource for OSHA forklift certification and training since 2002
Questions? Call us! (888) 278-8896
Grand Rapids Forklift Certification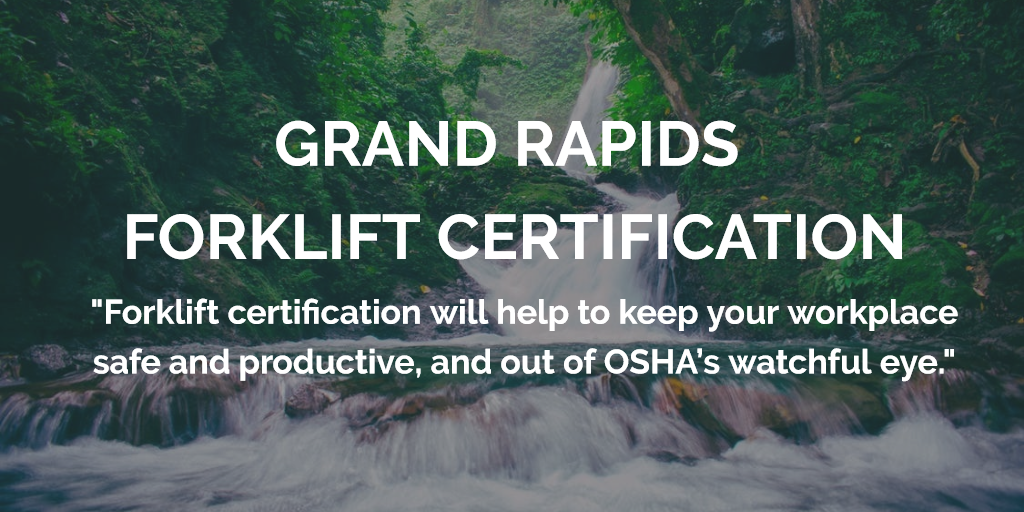 Located about 30 minutes away from Lake Michigan on Michigan's west side, Grand Rapids is a bustling city with a tremendous amount of growth within the past few years. It is now known as a cultural hub, the perfect place to enjoy fine art, an excellent place to enjoy a microbrew, and the home to hundreds of different job opportunities.
If you've been looking for a new and exciting city to make a new start, or you're interested in beginning a new career in Grand Rapids, we suggest you look into being a forklift operator. Forklift drivers are needed all throughout the city to perform many different types of tasks, from construction work to lifting heavy art installations. The best way to boost your career opportunities and chances of getting hired is to receive your Grand Rapids forklift certification.
If you're an employer looking for more qualified operators, forklift training in Grand Rapids Michigan applies to you too!
Why Is It Important to Get a Grand Rapids Forklift Certification?
If you're wondering why being a forklift operator requires specialized training, especially if they are in demand, the answer is because forklifts are not like anything you've ever been trained in. While they may look like a car, they are not classified as automobiles and do not operate like such. Forklifts are responsible for many accidents every year on worksites, and the number one cause is operator error. This means that untrained and uncertified operators were the number one reason why injuries, fatalities, and damages occurred involving forklifts. So how can you prevent accidents while working with forklifts? By first completing forklift training in Grand Rapids Michigan and receiving your certification.
If you're an employer, requiring employees to have their Grand Rapids forklift certification will help to keep your workplace safe and productive, and out of OSHA's watchful eye.
What Does Forklift Training in Grand Rapids Michigan Teach?
When you sign up for a forklift training course, you will learn how to operate a forklift, the different types of forklifts including warehouse forklifts and rough terrain forklifts, how to perform equipment inspections, how to assess the surrounding environment, and how to avoid accidents.
You also need a training that covers OSHA's requirements, which include:
Truck-related and workplace-related topics
Training components that include formal instruction, practical training, and a skills evaluation
Once you receive OSHA-compliant Grand Rapids forklift certification, you will also be able to help your employer avoid OSHA fines and legalities.
Jobs for Those with Grand Rapids Forklift Certification
Once you receive your forklift certification, you'll qualify for these positions: Forklift operator, forklift mechanic, dock worker, warehouse employee, special events worker, brewery worker, museum worker, and more!
Some of the top companies and businesses that hire forklift operators with Grand Rapids forklift certification include:
Manpower Group
Nestle Waters North America
L'Oreal
SalonCentric
UPS
PepsiCo
Boar's Head
Tyson Foods
Frederik Meijer Gardens
The Grand Rapids Public Museum
And the many countless breweries Grand Rapids is famous for!

How to Get Grand Rapids Forklift Certification
All you need to do is get started with ForkliftCertification.com to receive the forklift training in Grand Rapids Michigan that you need. It is 100% OSHA compliant and comprehensive. It also can be completed in only about one hour and from any device with an internet connection.
All it takes is a very easy steps to get started:
Register the employer's company
Create an operator log in account
Work through the modules at your own pace
Pass all quizzes and tests
Print your operator card
That's it!
Learn more about the forklift classes we offer, which include Warehouse Forklifts, Pallet Jacks and Order Pickers, and Rough Terrain Forklifts at ForkliftCertification.com.