Pomona Forklift Certification, 100% Online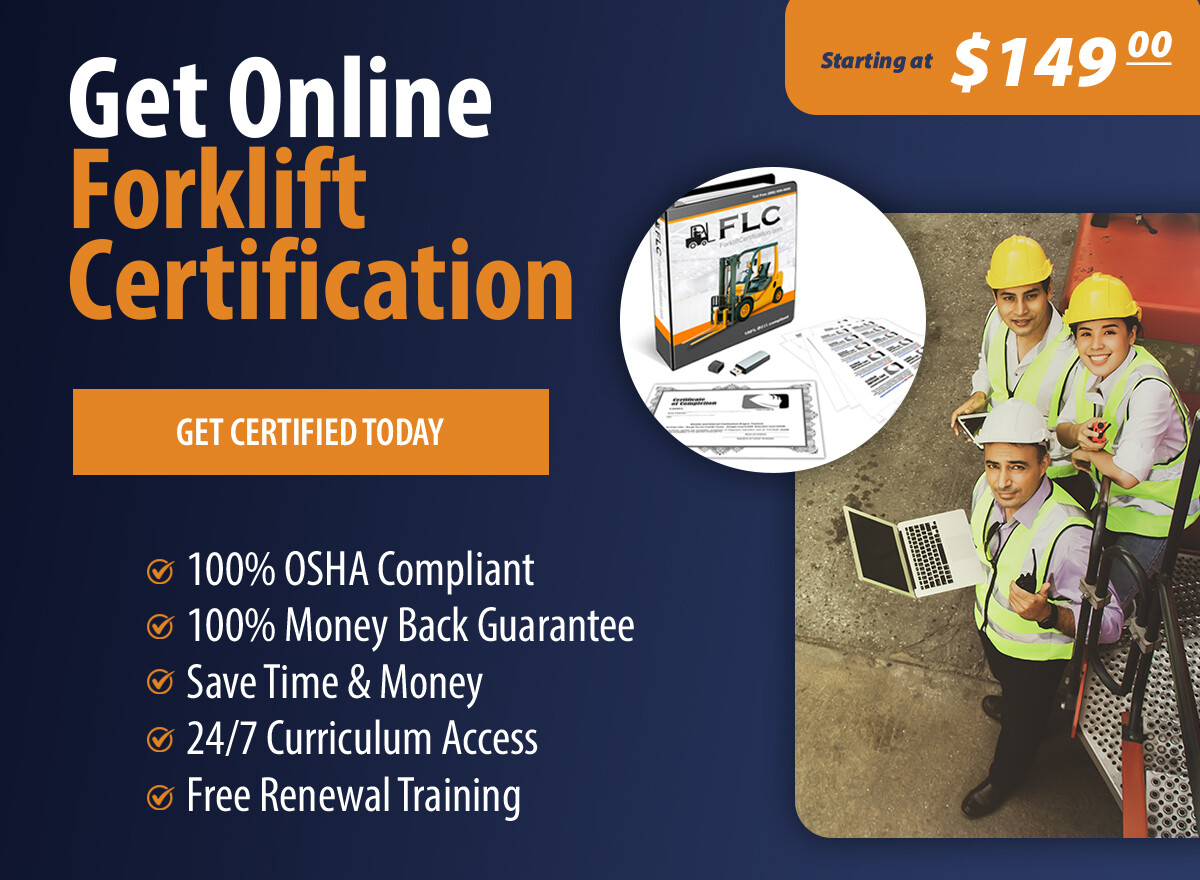 Want to earn your forklift certification in Pomona? Say goodbye to lengthy in-person classes at distant locations! With ForkliftCertification.com, you can now grasp the basics in about an hour from the comfort of your home. And the best part? After earning your certification with FLC, you'll be equipped to operate forklifts nationwide. Catering to diverse safety requisites, we provide various training options tailored to your company's needs. Dive in and explore what we offer:
Trainer Certification
Enhance workplace safety by equipping your employees with comprehensive forklift training through FLC resources. With our Train the Trainer certification course priced at $149, you can become the in-house expert, eliminating the need for external trainers. Over time, this saves money and elevates your company's safety standards.
Employee Training Kit
At $299, our training kit equips you with everything needed to educate employees on forklift operations. Typically, the session spans about an hour, and the materials are reusable for multiple classes.
Bundle and Save
Elevate your company's safety standards by investing in both our courses. At $399, it's a wise expenditure towards safety, ensuring value for every dollar spent.
How Online Forklift Certification in Pomona Works
Previously, earning a forklift certification in Pomona was a lengthy and costly affair, requiring workers to travel and dedicate an entire day to classroom learning. But now, with FLC's digital tools, all you need is an internet-connected device to learn at your convenience from any location. Here's how to get started:
Register Employees: Supervisors should sign up any workers needing forklift training and certification.
Select Classes: Choose from our forklift training course or Train the Trainer course.
Complete the Course: Most people finish the material in about an hour.
Take the Online Test: Employees can take the written exam as often as necessary to earn a passing score.
Complete a Hands-On Exam: An on-site employee of your organization must oversee a hands-on evaluation for trainees. If you need someone for the job, our Train the Trainer course is the best way to train an employee to oversee all your future hands-on evaluations.
Print Proof of Certification: Certification cards can be printed off after completing the hands-on exam. Just print them and keep them with your HR files.
Employees who complete the training and successfully clear both the written and practical exams are recognized as OSHA-certified.

Why Choose FLC for Pomona Forklift Certification
Enhance workplace safety and avoid OSHA fines by opting for Pomona forklift certification online through FLC. Properly trained employees significantly reduce the risk of accidents on the job. Our training aligns with OSHA standards, shielding your business from potential penalties. Discover the benefits of training with FLC:
Training Anytime, Anywhere: Wherever there's an internet connection, your employees can train.
Quick & User-Friendly: The majority finish the course within an hour.
Instant Certification Access: After training, print certification cards for HR records.
Lifetime Course Access: OSHA mandates recertification for operators every three years. With FLC, you have lifelong access to our training modules.
Exceptional Value: Our courses are competitively priced, offering excellent value compared to the typical market rates.
Your satisfaction is paramount. We guarantee a full refund if our training doesn't meet your expectations. Experience our courses with zero risk!

Frequently Asked Questions About Pomona Forklift Certification
Do you need help with how to get forklift certified in Pomona? Here are responses to some of our most commonly posed questions:
Does OSHA Fine Companies in California?
Yes. The primary objective of the Occupational Health and Safety Administration (OSHA) is to ensure companies are accountable for maintaining safe working environments. Whether it's large corporations, contractors, or any entity in between, OSHA is known to impose hefty fines amounting to thousands of dollars.
Are Forklifts Dangerous? 
Forklifts, when handled by untrained individuals, pose significant risks. Tragically, fatal forklift incidents occur with unsettling frequency in California.
Do You Need a License to Operate a Forklift in California?
Before operating forklifts in the United States, all operators must undergo thorough training and obtain certification.

Get Forklift Certification in Pomona Today!
Register your company and operators now. We'll get you started so your employees will have all the training and OSHA compliant instruction to safety operate your equipment. Click here to get started. For any questions about Pomona forklift certification, call our safety consultants directly at (888) 278-8896. Thanks for visiting FLC!