How to Get Forklift Certification in NYC
When It Comes to Forklift Training in NY, ForkliftCertification.com Is Unbeatable!
As one of the largest cities in the world, New York is home to an ever-growing number of prospering industries such as technical and scientific services, retail trade, and food services, along with manufacturing operations. Each of these industries seeks certified forklift drivers to enhance work processes within facilities.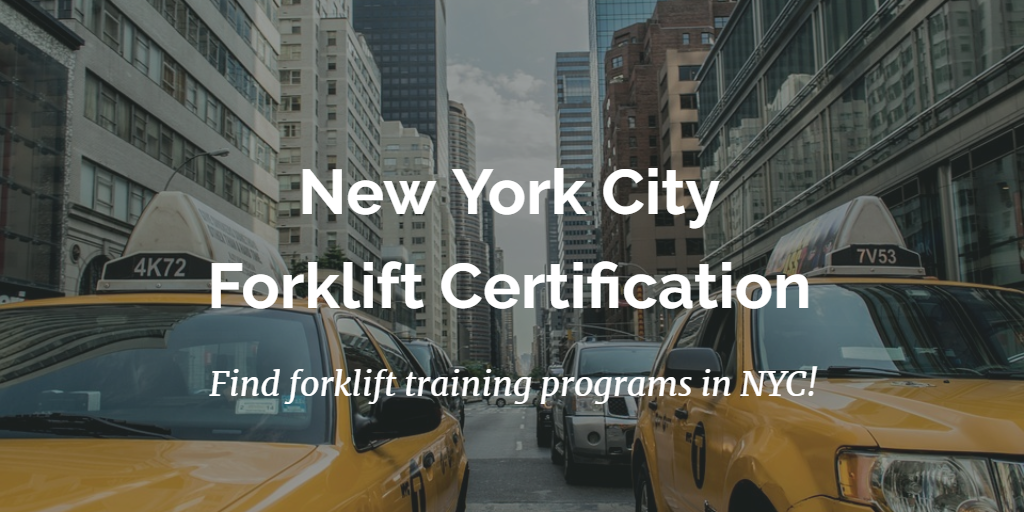 Employers in and around the Big Apple who use forklifts in their businesses need to be aware that OSHA requires all forklift operators in the Greater New York area to be properly trained and certified before they're legally allowed to operate forklift equipment in the workplace. If you hire forklift operators in New York, you need forklift certification in NY from ForkliftCertification.com (FLC).
Our forklift training NYC features: 
Affordable prices

Lifetime renewals 

Insider guidance on OSHA regulations

And much more 
Thanks to our training programs, forklift certification in NY has never been easier. ForkliftCertification.com provides affordable, relevant, 100% OSHA-compliant forklift certification in NY directly to your team. With our complimentary recertification training and other perks, there's simply no better choice for your forklift certification in New York.
FLC Forklift Certification in NY: Course Information and Pricing
FLC is the preferred OSHA training provider for forklift certification in NYC. If you're looking to hire forklift operators or you already have operators but they need OSHA-approved training, we offer three training packages: 
Our Employee Training Kit is one of our most popular New York forklift certification training courses. It covers all types of forklift equipment, and a one-time payment of just $299 will train and certify all your operators. Also available in Spanish, this kit is one of the best values for employers looking to certify their workers. 
Our Train a Trainer class will certify one or more of your experienced drivers to train your other operators or new hires as they come on board for $149, which means you'll have an in-house trainer available at all times. Forklift certification in New York just doesn't get any better than this! 
Can't decide between the Training Kit and our Train a Trainer courses? Get them both with our Bundle Package for the discounted price of just $399, which is a savings of $50 over purchasing the two courses separately. If you want to get the most value out of forklift training in New York, you don't need to look any further than this outstanding combination from ForkliftCertification.com.
We offer online forklift certification in NYC via our sister site, CertifyMe.net. Here, you can enroll your workers in OSHA-approved online forklift certification training for $59.95. 

Why Forklift Certification in NYC is Necessary 
Forklift drivers must have a thorough knowledge of commonly used operating practices and procedures when working in a warehouse or other jobsite. It's an employer's responsibility to ensure that each of its drivers has undergone forklift training in NYC. 
To be safe at work, the training your forklift operators receive must be specific to the particular type of forklift they operate. This is why it's important to enroll them in one of our courses. 
Operator training is an integral part of being a forklift driver because it is the most effective way of preventing workplace accidents. Without proper training, workers are much more likely to be involved in accidents such as tip-overs, collisions, crushings and being hit by falling objects, all of which can result in serious injuries or fatalities. 
Studies show that the most common denominator in forklift accidents is a lack of proper training. Forklift certification in NY not only can save lives, but it also helps protect business owners from OSHA penalties, fines, and potentially costly litigation. 
How to Get Forklift Certification in New York
Earning your forklift certification in NY is easier than you might expect. The process to sign up and begin forklift training in NY is seamless, particularly for companies that work with FLC.  We enable workers to earn a forklift license in as little as one hour. You can enroll your workers in our forklift certification training at any time. And, your workers can use the training to get the most up-to-date information about OSHA forklift safety requirements. 
Once complete, workers will be ready to safely and successfully operate a range of different types of lifts. OSHA has forklift safety requirements in place for a reason: to protect companies and their employees. By ignoring these requirements, a business exposes its workers to forklift accidents, injuries, and fatalities. Plus, companies can face OSHA fines and penalties if they are found to knowingly put forklift operators and others in danger. 
Other benefits of earning your forklift certification in NYC via FLC include:
Convenience
Off-site training courses can be incredibly time-consuming. Workers spend their day commuting to a classroom, missing valuable time away from their job sites. With FLC's forklift certification in New York, employee can learn online or at work. The convenience is undeniable.
Compliance
Fail to get workers properly certified and your organization could face expensive OSHA fines. With FLC, you can ensure your entire team is properly licensed to operate forklifts, ensuring you're in compliance should OSHA come by for an inspection.
Longevity
When you train with FLC for your forklift license in NY, you'll be able to print off proof of your certification instantly. What's more, you'll be able to re-train every three years for free. This helps keep your license up to date and in compliance with OSHA regulations.
Improved Safety
Licensed workers are safe workers. If you're hoping to minimize the risk of workplace accidents and injuries, investing in forklift training in NYC is an excellent idea. Without a thorough understanding of how to safely operate these machines, workers may inevitably find themselves injured on the job.

OSHA-Approved Forklift Certification in New York
Regardless of whether you're an employee or an employer, take the next step now! Enroll in one of ForkliftCertification.com's programs today and get your forklift certification in NYC in as little as an hour! 
If you have any questions about our training classes or if you need help getting started, contact us online or call us at (888) 278-8896 to speak with one of our OSHA forklift training experts. We look forward to an opportunity to assist you or your business with all your forklift training and certification needs.