NYC Forklift Certification, 100% Online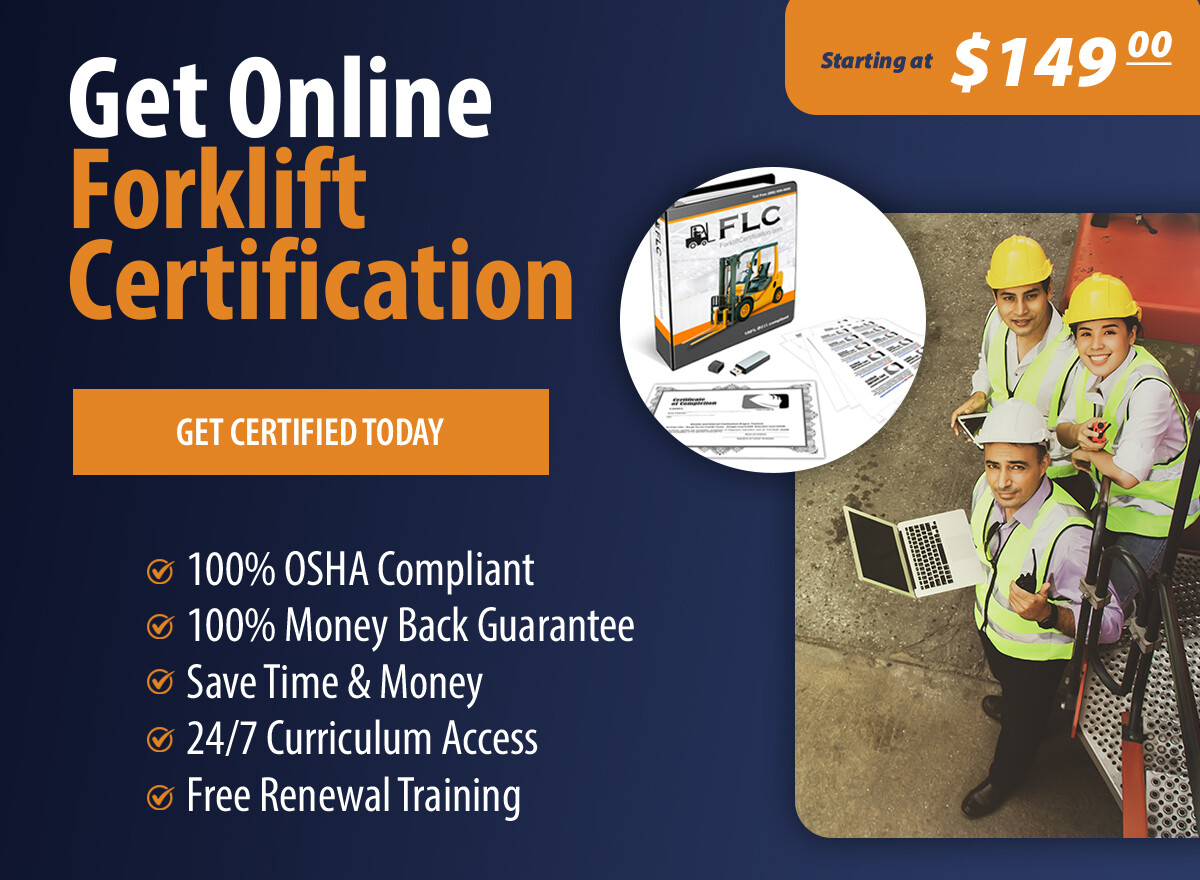 If you have an upcoming job in NYC that requires the use of a forklift, then it's necessary that you start researching how to get forklift certified in NYC. OSHA requires that every forklift operator in NYC first obtain their certification to remain compliant and safe.
The good news is that the certification process is no longer a tedious chore. You can get your NYC forklift certification online. After purchasing and completing our online certification programs, you'll be legally certified to operate a forklift in not only NYC but throughout the entire country.
Even better, we offer employer options with trainer certification courses. These bundles can help employers get their whole team certified online and on-site. To get all of your employees OSHA compliant, you'll only pay a one-time fee of $399.00. We do have other options, too, if you're only interested in either trainer certification or employee training.
How to Get Forklift Certified Online in New York
Online forklift certification in NYC is a straightforward process. In a nutshell, you'll order OSHA compliant training material, review the information, take an on-site exam, and then get your certification. Below, we'll go over in more depth how our process works here at forkliftcertification.com.
Sign Up – Employers can sign their workers up with Forkliftcertification.com by creating an account.
Choose Forklift Course – We offer a variety of forklift certifications depending on the type of forklift your operator will be driving, for example, rough terrain forklifts or pallet jacks (see our offered courses in the image below). Choose the courses needed and check out.
Complete Online Training –  Operators can complete the training in their own time and at their own pace from any device. Upon completion, workers will need to take and pass an online test to demonstrate their skills. There's zero pressure, they can take the test as many times as needed to pass.
On-Site Evaluation – An on-site employee of yours must provide a hands-on evaluation. Don't have an operator trained to give these hands-on evaluations? Check out our train-the-trainer course that teaches operators how to train others and give this evaluation, complete with a checklist.
Print Your Operator Card – Once this final step is complete, your operator will be certified to drive a forklift in New York and throughout the United States! Employees can print their operator card and certificate directly from our program for proof of certification.
After going through these steps, you or your employee will be considered fully OSHA trained. They can now legally operate forklifts on your job site.

Why You Should Choose ForkliftCertification.com for Forklift Certification
It's obvious why you need your employees to follow OSHA standards. If your job site gets inspected and fails, then you could face serious fines and lost productivity on your job site. Even worse, a lack of proper training could lead to a workplace injury. The good news is that forkliftcertification.com's online options are a great choice for certifying your whole team because:
 24/7 access to the curriculum – allows employees to learn at any time or place that's convenient. The courses can also be accessed from any device with an internet connection.
Fast and Easy – The course only takes about an hour to complete, and the test at the end can be taken as many times as an employee needs until they pass.
Certification Cards – Upon completion of the training, employees can print their certification cards that serve as proof of training and OSHA compliance.
Free Renewals – We're the only company who gives free lifetime access to the training course. OSHA requires an evaluation of forklift drivers' performance every three years. If a refresher course is needed, with Forkliftcertification.com there is no need to pay again. Use our course again every three years or whenever you need a refresher.
Affordable – Our Train the Trainer courses at $149 and Complete Training Kits starting at $299 are a great deal. You'll also save valuable time and money by not sending forklift operators off-site for training.
For those reasons and more, you should work with us to help make your job site safe and secure. If you aren't happy with our services, then we will stand by our money back guarantee.

Forklift Certification in NYC: FAQs
Below, we'll go over some of the most commonly asked questions regarding NYC forklift certification.
Are Forklifts Dangerous?
The answer to this question is a resounding 'yes', which makes getting your NYC forklift certification all the more important. Recent statistics indicate that U.S. forklifts have an unbelievable 90% chance of being involved in an accident that causes serious injuries over the course of its lifetime. The good news is that the right training can help prevent these incidents.
Is it Possible to Get Crushed to Death by a Forklift?
Again, the answer to this question is an absolute 'yes'. Tragically, a forklift operator was just recently fatally crushed in Brooklyn in late 2022. According to reports, the operator was injured when something fell on him while he was operating the forklift and loading items into a truck. The good news is that proper and consistent training can help operators avoid these serious types of accidents as much as possible.
Do I Need a Forklift Trainer On Site?
No. It's not a legal requirement, however, it is a good idea. Having a forklift trainer as part of your staff provides many benefits, including allowing you to get your entire team fully certified on-site.

OSHA-compliant Forklift Certification in New York
Regardless of whether you're an employee or an employer, take the next step now! Enroll in one of ForkliftCertification.com's programs today and get your forklift certification in NYC in as little as an hour!
If you have any questions about our training classes or if you need help getting started, contact us online or call us at (888) 278-8896 to speak with one of our OSHA forklift training experts. We look forward to an opportunity to assist you or your business with all your forklift training and certification needs.