The most trusted online resource for OSHA forklift certification and training since 2002
Questions? Call us! (888) 278-8896
Houston Forklift Operator Certification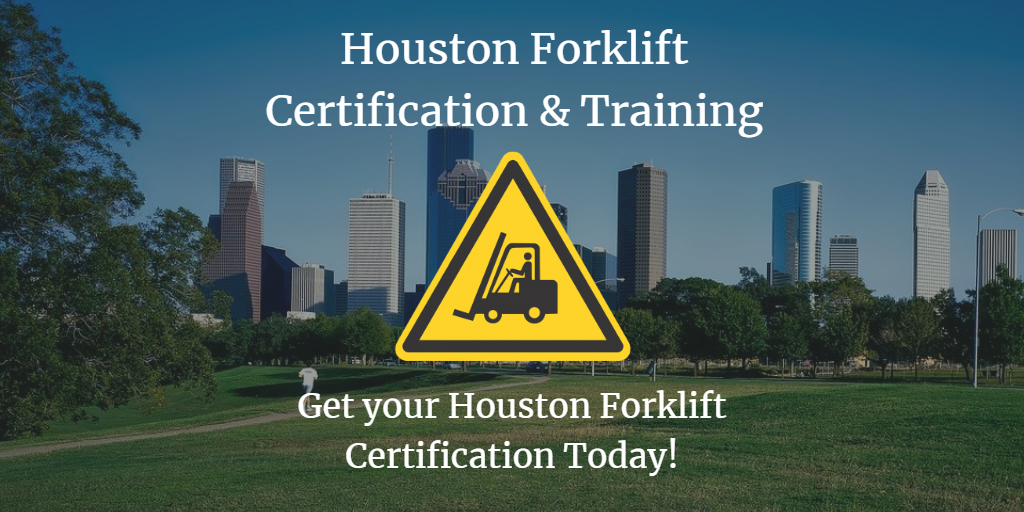 Home to more than 2 million people, Houston is both the most populous city in Texas and also the fourth largest city in the U.S.. Houston's vibrant economy has a diverse industrial base that includes manufacturing, aeronautics, energy,  transportation and more. There's also the Port of Houston, which is the largest seaport in the U.S. These factors combine to  makes Houston a great place for warehousing, manufacturing and shipping operations. There's a high demand for equipment operators in the area, and particularly those with aerial lift certifications.
If you're a Houston area employer that hires forklift operators, you need to be aware OSHA requires them to be properly trained and certified before they're allowed to drive forklifts or operate pallet jack equipment. If you already have unlicensed forklift operators on the payroll, having them receive OSHA-approved forklift certification training is not only a requirement, it's mandated by law.
Forklift training is required to protect workers' lives while on the job, as well as shield businesses from severe OSHA penalties and costly fines. Keep reading to learn more about forklift training in Houston, as well where and how you can get your operators conveniently and affordably certified in as little as one hour.

REASONS TO ENROLL YOUR WORKERS IN FORKLIFT CERTIFICATION HOUSTON TRAINING
Forklift certification is important for employers with businesses in Houston and throughout Harris County. Without a Houston forklift certification issued by an OSHA compliant trainer, individual operators and businesses are subject to severe fines and penalties for allowing powered industrial trucks to be operated by an unlicensed person.
Houston is a bustling city filled with opportunities for workers and employers alike. Employers, however, need to be aware that without exception they're required to provide Houston forklift training for their operators. No other forklift trainer can match ForkliftCertification.com in terms of price, convenience, and comprehensive training content. Here are just some of the reasons to choose FLC to train and certify your forklift workers:
✓ Higher Productivity:
After completing FLC's Houston forklift training, your employees will operate the equipment with more confidence, which means they'll be more productive on the job.
✓ Fewer Accidents:
Increases in experience and productivity along with OSHA-approved training drastically decreases the risk of workplace Trained operators who have received their forklift certifications have a better understanding of forklifts, their operation, and potential hazards in the surrounding environment. Forklift training in Houston will give your operators better control over the machine, which will prevent accidents that might otherwise have occurred without proper operator training.
✓ Reduced Financial Losses: 
With a Houston forklift certification from FLC, your company will not only be OSHA compliant, but there will be fewer forklift accidents that result in costly damages to property and equipment, which translates to better bottom-line results for you. FLC training not only saves lives, we help you save money!
✓ Avoid OSHA Fines: 
As an organization created for workplace safety, OSHA can and will penalize you if your forklift operators haven't been properly trained to operate these potentially dangerous pieces of equipment. As an employer, if your forklift operators aren't properly trained and certified, you run the risk of paying hefty fines, which in some cases, fines can exceed $100,000!
✓ Be Prepared for OSHA Audits:
OSHA, at both federal and state levels can make a surprise visit to your business at any time. If a company is found to be using untrained forklift drivers, big fines and penalties are administered. Our affiliate CertifyMeOnline.net conducted a survey of more than 100 business owners, managers, supervisors and safety personnel to learn about their experiences with OSHA. More than half of the respondents reported having been audited by OSHA, and 18% of them received fines, most of which were more than $100,000! Click here to see the entire study.
Forklift certification is one of the most effective ways for employers to reduce the accidents that occur on work-sites, which can lead to property damage, as well as serious worker injuries and fatalities. You can't afford to be non-compliant – call at (888) 278-8896 FLC and enroll your workers today!

OSHA REQUIREMENTS FOR FORKLIFT CERTIFICATION HOUSTON
OSHA requires forklift certification Houston to include the following items, all of which are covered in ForkliftCertification.com's OSHA compliant training courses:
✓ Formal instruction, which can be in the form of live instructors, video lectures, video demonstrations and online computer learning.
✓ Practical training with equipment operation and safety presentations demonstrated by the instructor and online exercises and quizzes completed by the trainee. Through this feature of our Houston forklift training, students learn to apply classroom content to real world workplace situations.
✓ Operator evaluation led by a qualified instructor tests the trainee's knowledge of forklifts, safety protocols and his or her skills at operating the equipment.
OSHA requires refresher training three years after completing the initial training or from the date of the last recertification. Exceptions are when a worker is observed driving the forklift unsafely, he or she is involved in an accident or near-miss with a forklift, or the type of equipment or condition of the workplace changes, all of which will require recertification sooner than three years. When you choose FLC to certify your Houston forklift operators, refresher training is free for life!
ABOUT FLC's TRAINING PROGRAMS
ForkliftCertification.com has three training programs to certify your forklift operators to receive their certifications in Houston. We can help anyone become compliant in about an hour, and our prices are budget-friendly. Our professional instructors, comprehensive training content, ongoing support, and OSHA knowledge have made us the number one provider of forklift certifications in the Houston area. If your company needs forklift training in Houston, we're here to help.
Here are more highlights of our online forklift operator training courses:
✓ FLC training and certification can be completed in about an hour, although there are no time limitations, so students are free to work at their own pace.
✓ Our training is convenient – all materials are available online 24/7 and can be accessed using a smartphone, tablet or other digital device any time of day and anywhere there's an internet connection.
✓ You'll avoid costly OSHA fines due to noncompliance.
✓ Our program is surprisingly affordable – you'll save both time and money with our online program when compared to the cost of paying a live instructor.
✓ There's no need for employees to take time off work traveling to and from an offsite facility.
✓ If necessary, the classes can be taken as many times as necessary (our pass rate is 100%!).
✓ After completing the training, operator cards and certificates can be immediately downloaded and printed.
FORKLIFTCERTIFICATION.COM COURSE DESCRIPTIONS
Here are FLC's three different forklift training programs and what each of them covers:
✓ Forklift Training & Certification Kit:
This fully OSHA-compliant course will teach your forklift operators what they need to know about safely operating forklifts in and around the workplace in about an hour. The  Training and Certification Kit includes everything needed to train and certify your current and future operators for a one-time fee of just $299. Here are the types of equipment the training covers:
1. Warehouse Forklifts, classes 1, 4 & 5
✓ Class 1: Electric Motor Rider Trucks
✓ Class 4: Internal Combustion Engine Trucks with Cushion Tires,
✓ Class 5: Internal Combustion Engine Trucks with Pneumatic Tires
✓ Costs $49.95
✓ OSHA-compliant
2. Pallet Jacks and Order Pickers, classes 2 & 
3
✓ Class 2: Electric Motor Narrow Aisle Trucks, Class 3: Electric Motor Hand or Hand/Rider Trucks
✓ Costs $49.95
✓ OSHA-compliant
3. Rough Terrain Forklifts, class 7
✓ Class 7: Electric Internal Combustion Engine Trucks
✓ Costs $49.95
✓ OSHA-compliant
✓ Meant to be completed through one of the equipment training classes
✓ Costs $110
All forklift and pallet jack training classes are 100% OSHA compliant, and available in both English and Spanish Versions.
✓ Train A Trainer Program:
Our Train A Trainer course was designed for companies that already have a forklift operator training program in place, but need an in-house trainer that's always available to certify their unlicensed drivers, as well as new workers as they're hired and come on board. The course to become a Certified Forklift Safety Trainer costs only $149.
✓ Bundle and Save Package:
This is a  money-saving package. Our Bundle and Save Package includes both FLC's Forklift Training & Certification Kit and our Train A Trainer Course for just $399, which is a savings of $50 over purchasing the two courses separately.

CHOOSE FLC FOR HOUSTON FORKLIFT TRAINING AND  CERTIFICATION
It doesn't have to be time-consuming and expensive to get the very best OSHA-compliant forklift certification training in Houston. We've designed our forklift training program to be as convenient, fast, and affordable as possible. That doesn't mean, however, that we've sacrificed the quality of our online training classes. Our Houston forklift certification program compiles 100% with OSHA standards, so you can be confident that your operators are up to date and armed with all the latest information to help keep your workplace safe.
If you have questions about Houston forklift certification or to enroll your forklift and pallet jack operators today, call ForkliftCertification.com at (888) 278-8896. Whether you need forklift certification in Houston, Harris County, Texas, or elsewhere in the United States, ForkliftCertification.com is the only training partner you need! We're here to help!
Thanks for visiting our website – we look forward to assisting you with all your Houston forklift operator training needs soon!