Houston Forklift Certification, 100% Online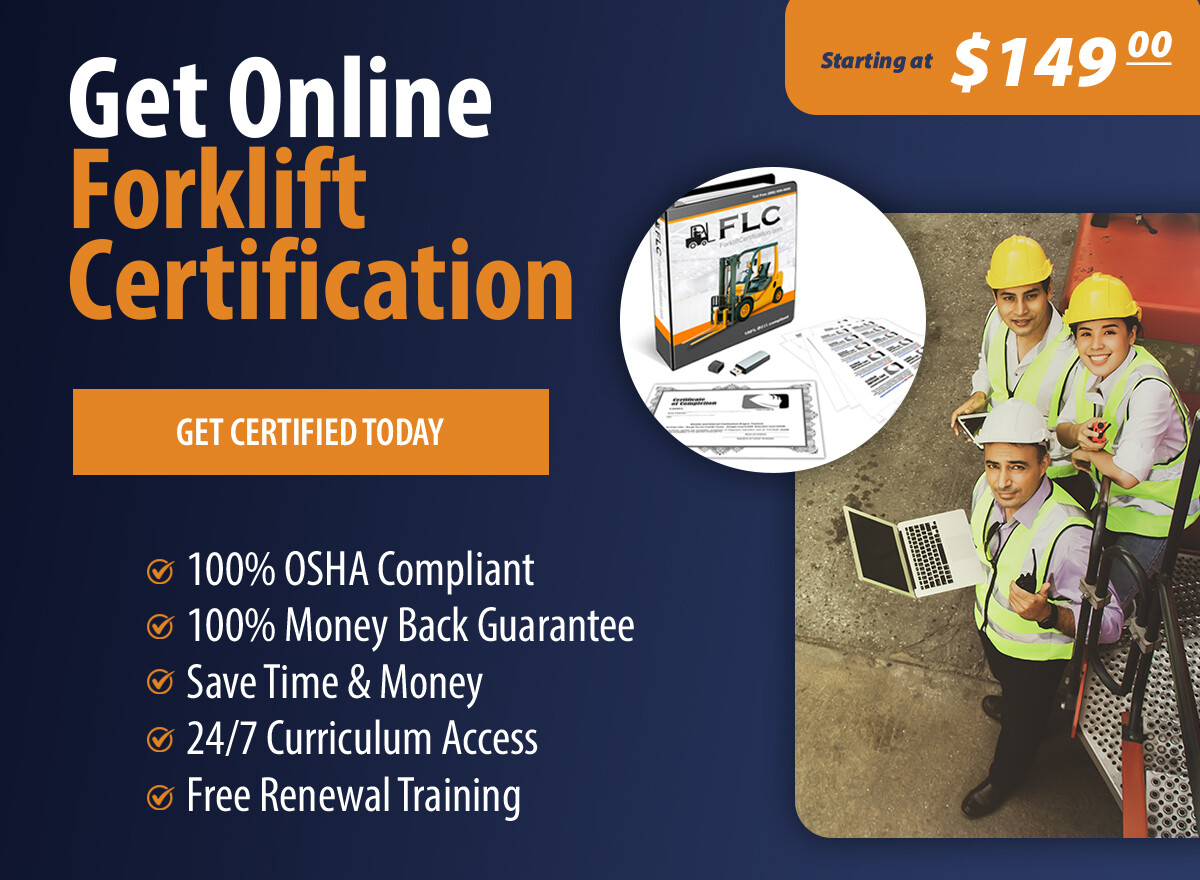 The construction industry is thriving in Houston. Are you planning on leading the charge on an upcoming project? If so, then congratulations! Construction work is very rewarding and profitable, so long as you make sure to always follow your area's rules and regulations.
One important regulation you'll need to follow is making sure that your employees obtain their Houston forklift certification if you plan on having a forklift on your job site. This important rule is enforced by OSHA. The good news, though, is that your whole team can easily obtain their Houston forklift certification online using our platform. Are you still not sure how to get forklift certified in Houston or whether getting certified is right for your team? Learn everything you need to know about our process below.
How Online Forklift Certification in Houston Works
Forklift certification is not only wise but legally necessary if you plan on operating a forklift at any Houston job site. The good news is that you don't have to attend in-person educational courses like you would've had to in the past. Now, you can get all the training materials you need to complete the whole process through our program here at forkliftcertfication.com. Here's how it works:
Sign Up

– Employers can sign their workers up with Forkliftcertification.com by creating an account.

Choose Forklift Course

– We offer a variety of forklift certifications depending on the type of forklift your operator will be driving, for example rough terrain forklifts or pallet jacks (see our offered courses in the image below). Choose the courses needed and check out. 

Complete Online Training

–  Operators can complete the training in their own time and at their own pace from any device. Upon completion, workers will need to take and pass an online test to demonstrate their skills. There's zero pressure, they can take the test as many times as needed to pass. 

On-Site Evaluation

– An on-site employee of yours must provide a hands-on evaluation. Don't have an operator trained to give these hands-on evaluations? Check out our

train-the-trainer course

that teaches operators how to train others and give this evaluation, complete with a checklist.  

Print Your Operator Card

– Once this final step is complete, your operator will be certified to drive a forklift in Houston and throughout the United States! Employees can print their operator card and certificate directly from our program for proof of certification.
After completing these steps, the employee will be considered fully trained per OSHA standards. As an employer, you'll be considered legally compliant with the law and OSHA regulations. As certified operators, your employees will be able to operate forklifts not only in Houston but across the whole country.

Why You Should Choose Forkliftcertification.com for Forklift Certification
Ensuring that your employees are properly certified is more than just a compliance issue. It's also important for safety reasons. Employees who have been forklift certified are less likely to get into forklift accidents, which reduces the risk of jobsite injuries. Once your team is certified, you also won't have to worry about getting fined. Here are a few advantages you'll get to enjoy if you opt to work with us at forkliftcertificaiton.com:
24/7 access to the curriculum

– allows employees to learn at any time or place that's convenient. The courses can also be accessed from any device with an internet connection. 

Fast and Easy

– The course only takes about an hour to complete, and the test at the end can be taken as many times as an employee needs until they pass. 

Certification Cards

– Upon completion of the training, employees can print their certification cards that serve as proof of training and OSHA compliance. 

Free Renewals –

We're the only company who gives free lifetime access to the training course. OSHA requires an evaluation of forklift drivers' performance every three years. If a refresher course is needed, with Forkliftcertification.com there is no need to pay again. Use our course again every three years or whenever you need a refresher. 

Affordable – Our Train the Trainer courses at $149 and Complete Training Kits starting at $299 are a great deal. You'll also save valuable time and money by not sending forklift operators off-site for training.
For all these reasons and more, we advise working with us to get your entire team forklift certified. Even better, if you're not fully satisfied with our program, then we will offer you a 100% money back guarantee.


Forklift Certification in Houston: FAQs
Below, we'll go over some of the most commonly asked questions regarding forklift certification in Houston.
What Are Serious OSHA Violations? How Much Could I Get Fined?
You can get fined every time you violate an OSHA standard. Failing to get your employees forklift certified is an example of an OSHA violation. Failing to provide for your employee's safety is considered a serious OSHA violation. One recent Houston jobsite accused of committing 13 serious violations, two repeat violations, and one other-than-serious violation was charged $117,000 in fines.
Can Forklift Accidents Cause Property Damage?
Yes. Forklift accidents can easily cause property damage. For example, in a recent forklift incident, one forklift got stuck in a powerline. Eventually, the powerline was pulled down along with one power pole and two transformers. The damage ended up knocking out power in the surrounding areas.
Can Forklift Accidents Really Happen?
Yes! In this local news video footage it shows how easily an accident can happen!

Get Forklift Certified Online for Houston Today!
If your organization employs workers who use lifts on the job, turn to the best forklift certification and training in Houston. FLC offers convenient, affordable training opportunities for companies across industries. Fail to provide the required training and your company may up the odds of a workplace accident. Injuries, fatalities, and OSHA penalties may be on the line.
FLC's forklift certification in Houston is incredibly cost-effective. Given our 100 percent pass rate, this is one investment you'll want to make in your employees. Secure online access makes it easy to learn on the go. Since our training is constantly updated to reflect changing OSHA guidelines, you'll always be in the know about the latest requirements.
Still have questions about forklift training in Houston, TX? Our team is happy to help address them and guide you through our OSHA-compliant packages. Call us at 888-278-8896 or reach out online today.