The most trusted online resource for OSHA forklift certification and training since 2002
Questions? Call us! (888) 278-8896
Carson Forklift Certification
Contact FLC for the Best Forklift Certification in Carson, CA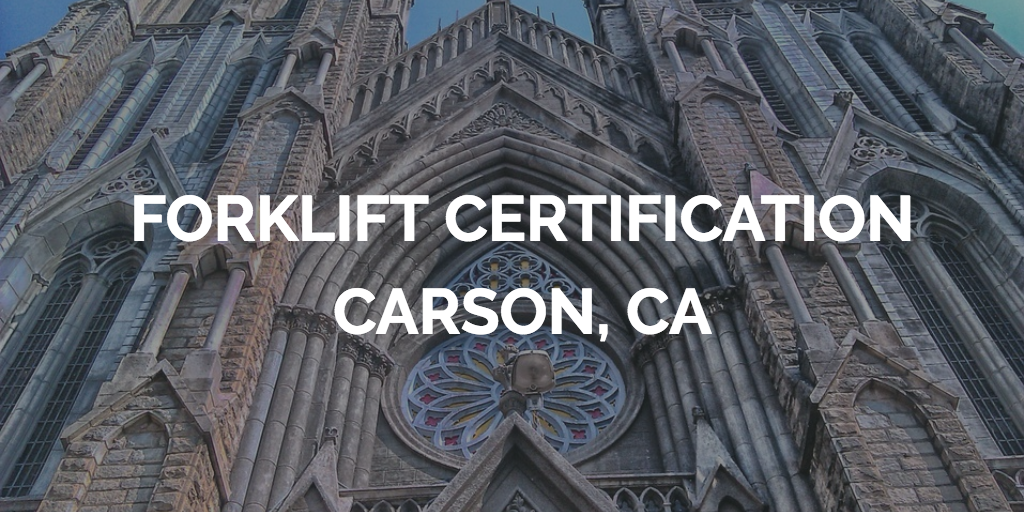 Carson, CA is only about 15 miles from downtown Los Angeles. With nearly 100,000 people and a convenient location in Los Angeles County, Carson is known for its friendly middle-class neighborhoods, sunny climate, and easy access to notable Southern California attractions.
Carson has caught the eye of the International Olympic Committee. For the upcoming 2028 Summer Olympics, Carson will host a number of competitions. But despite the international spotlight shining squarely on the city, Carson maintains a certain small-time charm and livable atmosphere – even though it's located in the most populous county in the entire United States.

Thanks to its strong economy and strategic location, Carson requires plenty of forklift drivers in many different industries. With hundreds of forklift driving positions within the city limits, Carson-area employers are responsible for all forklift training, per OSHA law.
How can your company get forklift certification in Carson for your employees? You could do Carson forklift certifications yourself, but this method is typically expensive and frustrating. Plus, who has the time and resources to handle this considerable requirement?
With ForkliftCertification.com, the leading online forklift training source, forklift certification in Carson is more affordable and accessible than you ever thought possible.
Forklift Jobs in Carson, CA – What you Need to Know
For forklift drivers, Carson deserves strong consideration for its job possibilities. Carson is a short drive to Long Beach, CA, home of the busiest West Coast deep water port. Nearby Los Angeles and other large cities have plenty of jobs for well-qualified forklift drivers.
For employers, OSHA compliance is everything. If you need to get your forklift drivers safety training, FLC offers a complete selection of courses to ensure better workplace safety standards. What's more, you can print your employees' training records right away – no need to wait for their forklift license to arrive in the mail!
Here's the bottom line on the Carson forklift job market: no matter what job you're applying for, it helps to stand out from the rest of the job applicants. With forklift certification from FLC, you'll have the skills, safety-first attitude, and training background to step in on day one and become a productive asset for any type of industry, including:
• Shipyards (nearby Long Beach)
• Distribution centers
• Warehouse storage and cargo management
• Entertainment (Hollywood always requires capable forklift drivers for movie sets and more)
• Manufacturing
• Utilities
• And much more
With so many job applicants in Carson, CA and nearby cities, FLC's training packages can spell the difference between an interview and missing out on a high-paying forklift job. Don't let these jobs slip away – contact FLC today! We're your best option for Carson forklift certification, and we look forward to getting your safety training program started right away!

Contact FLC Today – Sign up for Forklift Certification in Carson, CA
With three training platforms, FLC has the training you need to become OSHA compliant in as little time as possible – with budget-friendly prices you or your safety supervisor will love!
To learn more about our forklift training in Carson, CA, visit our course overview page. Whether it's our Train a Trainer, Training Kit, or Bundle Package, you'll find tons of useful training content – all designed to help you become a safe, more efficient forklift driver. We'll get your Carson forklift certification for the lowest possible price, and highest possible customer satisfaction!
No other OSHA training resource can match FLC for affordable, no-hassle forklift training. To learn more about our forklift certification and training in Carson, CA, give us a call today at (888) 278-8896. You can also visit the FLC contact page for other ways to get in touch.
Regardless of your Carson, CA forklift certification training requirements, FLC can help today – we look forward to hearing from you!