Carson Forklift Certification, 100% Online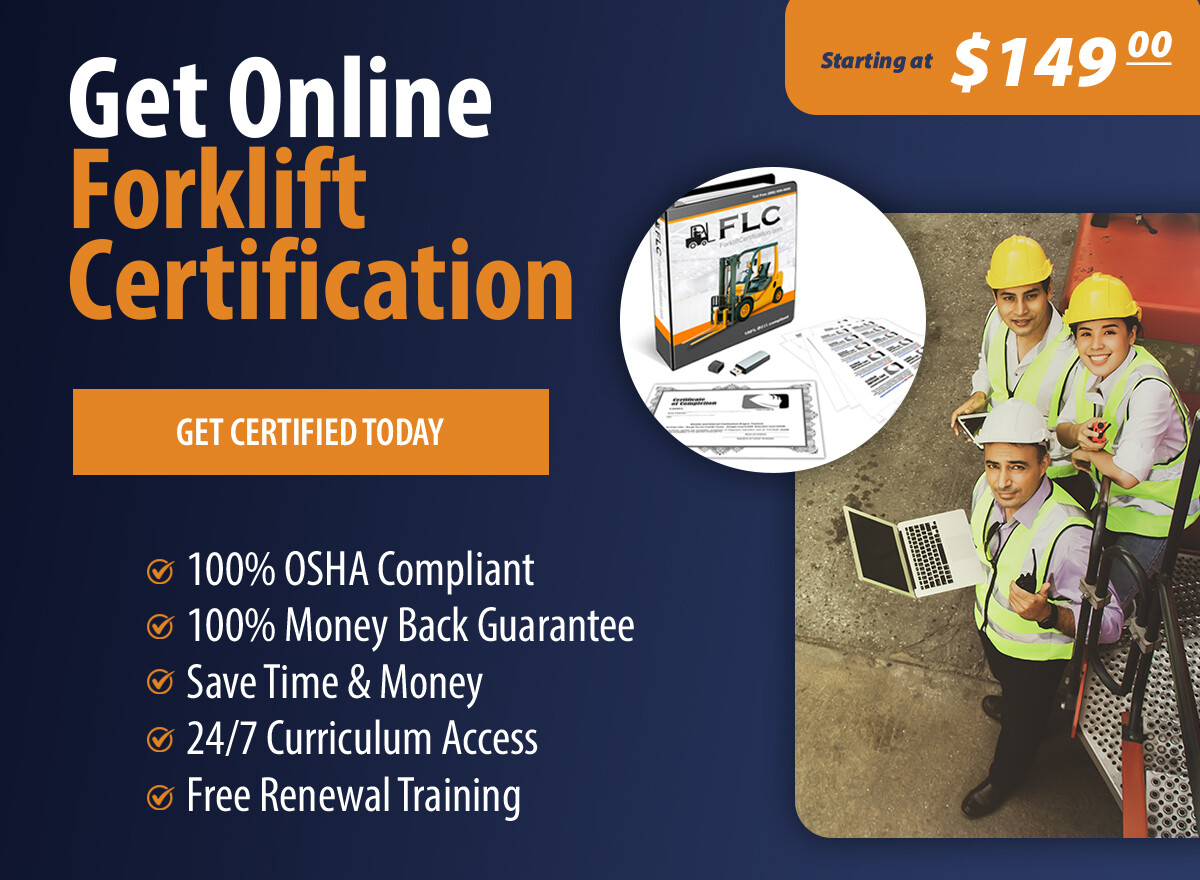 The construction industry is booming in Carson, California, with the construction industry contributing over $129 billion to the state's GDP in 2021. Suppose you hope to add to that statistic with your next construction project. In that case, you might first need to learn more about forklift certification in Carson. Knowing whether you need to obtain it for your next job is important.
Per OSHA standards, any person operating a forklift must first seek a Carson forklift certification.
The good news is that if you're hoping to use a forklift, you can easily and quickly obtain your team's Carson forklift certification online using our training kit. You can get our employee training kit mailed to you for a one-time price of $299. If you need a certified trainer on your team, obtain our Train the Trainer course for $149.00. Our best deal, our bundle and save option, combines these courses for $399.00. To obtain your certification online, the fee is just $59.
How Online Forklift Certification in Carson Works
Knowing that the cost of certification is hefty but worth the investment, you'll likely want to learn more about how to get forklift certified in Carson.. Using our training kits, you won't need your to employees visit an off-site location to submit to training or any evaluations. You can have everything completed online and on-site. Here is how the process would work:
Sign Up on Our Website: First, you'll need to sign up on our website
Choose Your Training Course: Next, review our different course options and select which course(s) will benefit your team the most. You can pay for our kits directly on our site.
Employees Take the Training Courses: Once you've paid for the course, your employees can access our training materials online anywhere with internet access with the online certification course or anywhere they have computer access with the digital version.
Employees Must Pass an Online Quiz: As your employees go through the online training, they'll need to demonstrate their competence with the material by passing a few online quizzes. Employees can take these quizzes as many times as necessary until they pass.
Employees Take an Evaluation On-Site: Online certification is important, but employees must also demonstrate their ability to operate a forklift in person. You can complete this step on-site if you have a certified trainer on your team. If you don't already, consider ourTrain the Trainer kit to certify one of your employees to conduct these on-site evaluations.
Employees Graduate the Course: At this point, employees are considered fully trained to operate a forklift per OSHA standards. They will be considered graduates of the course, which means you can immediately print off their official operator cards and proof of training.

After this process, your job site will be considered OSHA-compliant, and your employees will be regarded as sufficiently trained to operate forklifts nationwide.
Why Choose ForkLiftCertification.com for Carson Forklift Certification
According to OSHA's standards, employees must be certified before operating a forklift. Willingly violating these rules could lead to fines. Even worse, a lack of proper training could result in a workplace accident that leads to injuries. To keep everyone safe, you want to make sure you opt for a certification program that prioritizes the safety of your employees. Here are a few reasons why you should choose to work with us:
24/7 Access to our Training Material: Employees can access training materials anywhere with internet access
Fast and Easy: Complete our training program within an hour
Instant Proof of Certification: Print off instant proof of your certification using our course materials
Renew for Free: Renew your employee's certifications for free every 3 years
Cost-Effective: With our bundle and save option, you can certify an unlimited number of employees
All these advantages make your decision easy. Certifying your team using our training materials is a great choice. If you don't agree after buying our materials, we'll offer you a money-back guarantee.

Frequently Asked Questions
Do you have more questions about the forklift certification process? Check out our general certification FAQS page for more details, or keep reading for answers to questions more specific to forklift certification in Carson.
Can Forklift Certification Safeguard the Community?
Forklift certification is one of the best ways to keep your job sites safe because it helps employees understand how to properly and safely operate forklifts. What you may not know, though, is that forklift certification also helps safeguard the entire community. It's not uncommon for pedestrians, customers, or other individuals to suffer accidents due to unsafe conditions at a nearby worksite.
For instance, in 2023, a California resident was rushed to the hospital after getting hit by a forklift in a commercial parking lot. The incident was deemed a "workplace injury" incident, and OSHA investigated the situation.
Do your part by keeping your team certified and adequately trained.

Get Forklift Certification in Carson Today!
ForkliftCertification.com's online training platform makes it easy and convenient for your workers to complete the first quality, OSHA-compliant training that's needed to work as a forklift operator in Carson. The program can be accessed 24/7 using a smartphone, tablet, laptop, or similar digital device anywhere that's convenient and has an internet connection. Although there's no time limit, your workers can complete the training and receive their certifications in as little as just one hour. The best part? The entire program will cost you as an employer only $299 to have your entire forklift operator team trained and certified.
Create an account today! Simply click here or call our Carson forklift certification experts at (888) 278-8896. You can also send us a message online via our contact page and become OSHA compliant by having your workers receive their Carson forklift certification as soon as today!