The most trusted online resource for OSHA forklift certification and training since 2002
Questions? Call us! (888) 278-8896
Harrisburg Forklift Certification and Training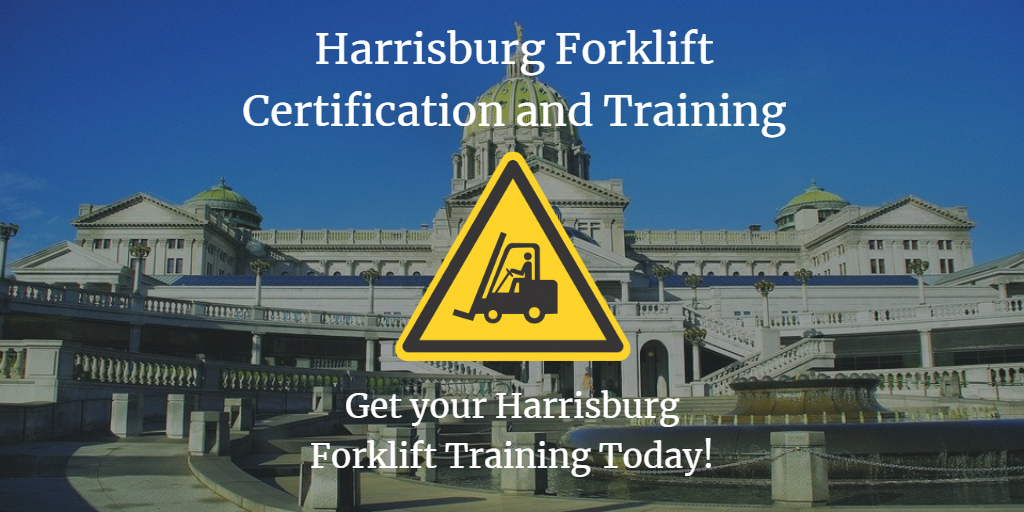 Harrisburg is the capital of Pennsylvania and is the largest metro area in the Central PA region. With convenient access to major roadways (PA Turnpike, I-83, and I-81) and some of the best infrastructure in the entire state, Harrisburg remains one of the best places in Pennsylvania to do business.
Plus, the city's close ties to the state government ensure that many well-paying forklift jobs are always in demand. From distribution centers to warehouses and other workplaces, Harrisburg has a great selection of companies and government facilities for both business owners and individual employees. But before your company moves cargo, manages merchandise or does the thousand other things associated with forklift driving, make sure you have the best training and forklift certification in Harrisburg – ForkliftCertification.com!
If your company needs forklift certification and training in Harrisburg, PA, FLC has all the training packages you need. Our OSHA compliant training courses mean that anyone looking for forklift certification for Harrisburg, PA has access. Whether your company has known OSHA training gaps or you'd like to make your workplace safer, forklift certification in Harrisburg with us is a great place to start. We offer three different training packages for any skill level, along with lifetime retraining. We're the #1 option for Harrisburg forklift certification – sign up with us today and ensure your enterprise is OSHA compliant. Everyone wins with a safer workplace – and what's more, you'll be covered in case of an OSHA audit or investigation.

WHY FORKLIFT CERTIFICATION IN HARRISBURG IS IMPORTANT
Harrisburg-area employers – and all companies in Dauphin County and Central PA in need of forklift drivers – are required to provide training and forklift certification in Harrisburg.
The Harrisburg metro area includes the following industrial facilities that require forklift drivers:
✓ Construction sites
✓ Government facilities
✓ Warehouses
✓ Distribution centers
✓ Maintenance sites
✓ And much more
Without forklift training and Harrisburg forklift certification, your company is in jeopardy, from both safety and legal standpoints – sign up with FLC today and ensure your company is OSHA compliant. We offer the most effective, affordable forklift certification in Harrisburg and throughout Pennsylvania!
GET YOUR FORKLIFT CERTIFICATION FOR HARRISBURG, PA WITH FLC
We have three different training packages that offer complete forklift training in Harrisburg, PA. Here's our current course lineup:
✓ Train a Trainer
This Harrisburg forklift certification course provides in-depth insight and knowledge for anyone looking to become a certified forklift safety expert. Our Train a Trainer is ideal for any Harrisburg company looking to develop an in-house safety resource – and it all starts with this comprehensive forklift certification in Harrisburg!
✓ Training Kit
Need well-rounded Harrisburg forklift certification? Look no further than our popular Training Kit. Great for beginning drivers and veteran lift operators, the Training Kit offers a complete overview of all operational aspects of safe forklift operation. Sign up with this course for 100% Harrisburg forklift certification.
✓ Bundle Package
Includes the previous two training courses for one great price. This is the best value for Harrisburg forklift certification.
Whether you need help with OSHA complaint Harrisburg forklift certification or need to train your entire forklift fleet,  the choice is clear for PA's capital: ForkliftCertification.com. Make a capital investment in yourself – get certified today with FLC and sign up with our Harrisburg forklift certification. Once you have your forklift certification for Harrisburg, PA, you're on your way to landing a great forklift job. Don't delay any longer – call us today at (888) 278-8896 with any questions about our forklift certification in Harrisburg, or get started today!

Thanks for considering ForkliftCertification.com for your Harrisburg forklift certification!