The most trusted online resource for OSHA forklift certification and training since 2002
Questions? Call us! (888) 278-8896
Orlando Forklift Certification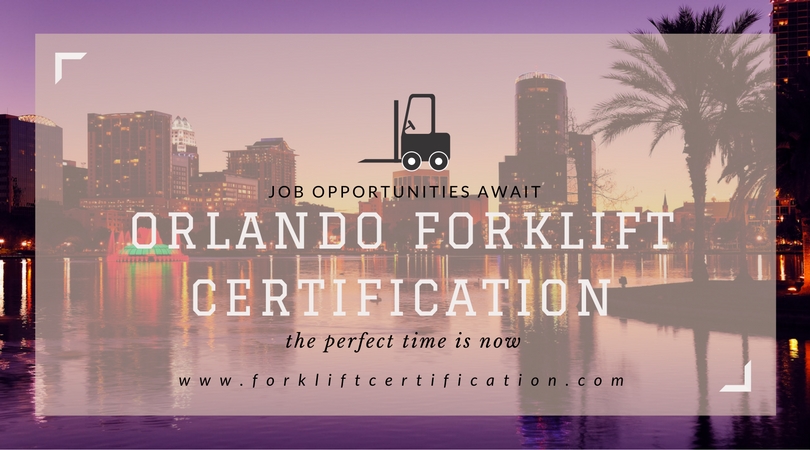 Orlando is a fun place to live, and not just because Disney happens to live there. The amazing weather and diverse culture are reasons why its residents love calling Orlando home, but the growth of jobs and expansion of constructions projects are reasons why people can stay there. Becoming an equipment operator is a great way to find a well-paying job in a short period of time. Forklifts are used in all kinds of construction and warehouse environments and are always in demand. However, in order for you to be in demand, you need to complete Orlando forklift training.
Forklift Certification in Orlando
Orlando Forklift certification is required by employers, whether you're looking at a construction or warehouse position, because training allows for improved productivity. Trained workers are more efficient than untrained employees, make less mistakes, and complete their tasks faster. Training teaches workers everything they need to know to operate a forklift, perform various tasks, inspect and maintain the equipment, and become an expert operator.
Why is Orlando Forklift Certification So Important?
The main reason why certification is so important is because it is crucial for accident prevention. Injuries and fatalities happen all the time with forklifts and they are often caused by untrained workers. Forklift certification in Orlando from a reputable company teaches workers how to recognize and avoid hazards, and protect their life.
Careers That Hire Forklift Operators in Orlando
Those looking for a way to use their forklift certification in Orlando can find positions at many warehouses and construction sites. Disney employs forklift operators to handle a number of tasks, and the Wet 'n Wild park is currently hiring warehouse workers and is looking for forklift certified applicants. Although it isn't a requirement for this particular job, you can imagine how much a forklift certification would set you apart from other the applicants and feature you as the top candidate for the job.
How Can I Get My Orlando Forklift Training?
In order to receive your forklift certification and be qualified for a new career, you need to complete a forklift training program. But you shouldn't just choose any type of program; it should be OSHA compliant, cover operation methods as well as information on hazards, and it should be recognized as a trustworthy and established training provider.
Look No Further Than ForkliftCertification.com
Quality forklift certification doesn't have to be difficult, time consuming, or inconvenient. In fact, with ForkliftCertification.com, it is easy, fast, and convenient! The forklift training in Orlando program is online and can be accessed on any device with an internet connection. The program can also be taken at your own pace, but most students complete it in about an hour from their home or during their lunch break! The training is 100% OSHA compliant and only costs $299 for the whole training package.
Create an account, learn forklift operation, and print your certificate today!