The most trusted online resource for OSHA forklift certification and training since 2002
Questions? Call us! (888) 278-8896
Get Orlando Forklift Certification Today!
100% Complete OSHA Compliant Forklift Certification in Orlando with ForkliftCertification.com | Sign Up Today and Make Your Workplace Safer & More Productive!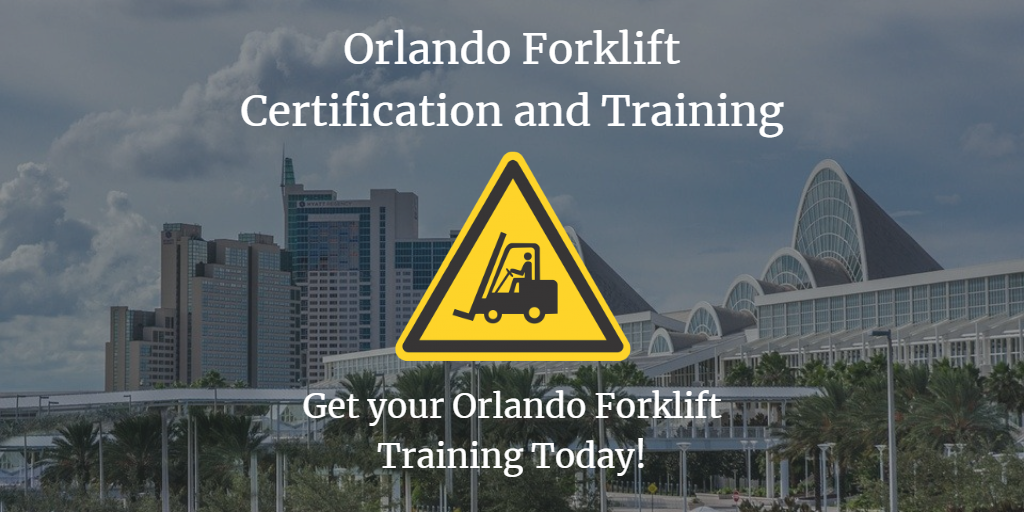 If your company hires forklift operators, they need to be fully trained and OSHA compliant. However, many firms in Orlando need forklift training for their employees. ForkliftCertification.com is the leader in OSHA compliant forklift certification in Orlando, thanks to our affordable, accessible training classes.
For the best forklift training in Orlando, sign up today!
Our forklift certification in Orlando programs offer:
✓ Affordable prices – check out our courses today!
✓ Free renewal training
✓ 100% OSHA compliant Orlando forklift certification
✓ Insider's knowledge of ANSI & OSHA upgrades that impact training
✓ Best customer service you'll find anywhere
✓ And much more
THE IMPORTANCE OF FORKLIFT CERTIFICATION IN ORLANDO
Orlando Forklift certification is required by employers, whether you're looking at a construction or warehouse position, because training allows for improved productivity. Training teaches workers everything they need to know to operate a forklift, perform various tasks, inspect and maintain the equipment, and become an expert operator. Remember, Orlando forklift certification in required by OSHA – it's the law!
With Orlando forklift certification from ForkliftCertification.com, your employees are better prepared to avoid accidents and injuries on the job.
Orlando is known as the entertainment capital of the East Coast, if not the entire United States. The city's considerable infrastructure requires forklift operators of every skill level. Your company is required to provide forklift certification in Orlando. Do you have the resources to handle this? If not, FLC will get you headed in the right direction with OSHA compliant forklift training & certification.
ORLANDO FORKLIFT CERTIFICATION – PRICING & COURSE INFO
Get signed up with FLC today for your forklift certification in Orlando now. Whether you need single courses or the complete catalog, we offer the prices and compliance tools to get the job done!
Training Kit
If you need complete forklift certification in Orlando, try the Training Kit for the low price of $299. This course reviews important safety concepts every forklift driver needs to know!
Train a Trainer
Having your own safety consultant to spearhead training and safety is a big deal. Well, this Orlando forklift certification option is a great way to gain this advantage, and the course only costs $149!
Bundle Package
Can't decide between the Training Kit and Train a Trainer packages? No worries – this Orlando forklift certification bundle has both courses for an exclusive reduced rate of $399.
Online Certification
Our parallel training company, CertifyMe.net, has online forklift certification in Orlando for the low price of $59.
Get started with your Orlando forklift certification. Sign up today and make your workplace safer ASAP with our OSHA compliant forklift certification in Orlando.

WHY YOUR COMPANY NEEDS ORLANDO FORKLIFT CERTIFICATION
The main reason why certification is so important is because it is crucial for accident prevention. Injuries and fatalities happen all the time with forklifts and they are often caused by untrained workers. Forklift certification in Orlando from a reputable company teaches workers how to recognize and avoid hazards, and protect their lives.
Thanks to our complete & comprehensive forklift certification in Orlando, your company will become a safer, more productive workplace. And the training can be completed in no time at all. If you need to get your forklift operators OSHA compliant, sign up for our forklift training in Orlando today!
HOW CAN I GET MY ORLANDO FORKLIFT TRAINING?
In order to receive your forklift certification, you need to complete a forklift training program. But you shouldn't just choose any type of program; it should be OSHA compliant, cover operation methods as well as information on hazards, and it should be recognized as a trustworthy and established training provider. In other words, your need ForkliftCertification.com for your Orlando forklift certification!

LOOK NO FURTHER THAN FORKLIFTCERTIFICATION.COM FOR ORLANDO FORKLIFT CERTIFICATION
All too often,  forklift certification is difficult, time-consuming, and inconvenient. It doesn't have to be that way. In fact, with ForkliftCertification.com, forklift certification in Orlando is easy, fast, and convenient! The forklift training in Orlando program is online and can be accessed on any device with an internet connection. The program can also be taken at your own pace, but most students complete it in about an hour from their home or during their lunch break! The training is 100% OSHA compliant and only costs $299 for the whole training package.
Create an account, learn forklift operation, and print your certificate today! If you have any questions about Orlando forklift certification, drop us a line or call (888) 278-8896. Thanks for considering ForkliftCertification.com for your forklift certification in Orlando!