How to Earn Your Forklift Certification in Orlando
100% Complete OSHA Compliant Forklift Certification in Orlando with ForkliftCertification.com | Sign Up Today and Make Your Workplace Safer & More Productive!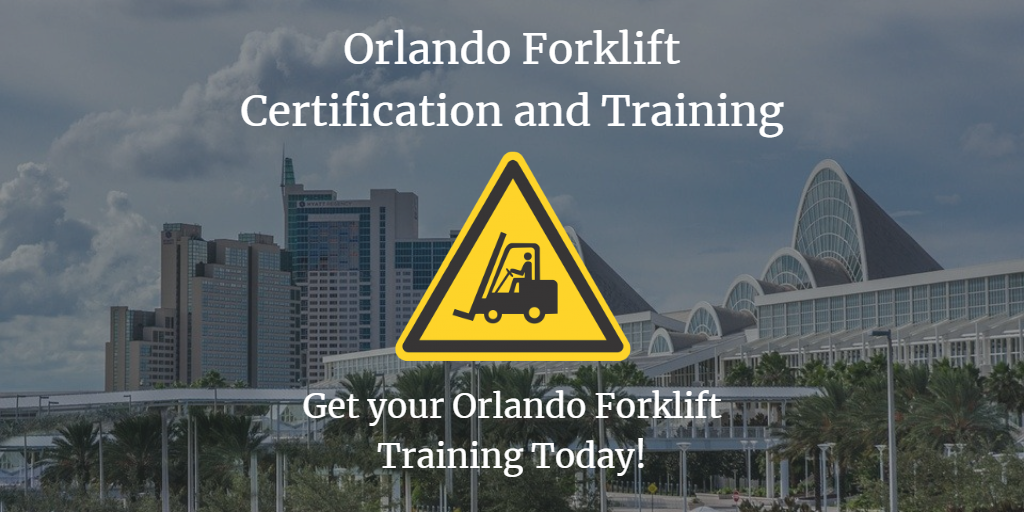 Orlando has become an international tourist destination through the years, thanks to the world-class theme parks located in the city. There's so much more to O-Town, though – the local real estate, aviation, and aerospace industries are booming. It's no surprise that certified forklift operators are more in demand than ever. Whether you're a job-seeker hoping to make yourself more marketable or an employer hoping to train your team to operate lifts safely, ForkliftCertification.com is your destination for forklift certification in Orlando.
Our forklift training in Orlando features:
Affordable prices – check out our courses today!
Free renewal training
100% OSHA compliant Orlando forklift certification
Insider's knowledge of ANSI & OSHA upgrades that impact training
Best customer service you'll find anywhere
And much more
Our training programs make earning your forklift certification in Orlando as convenient and easy as possible. You may have heard that the certification process can be expensive and time-consuimg. With FLC, you can count on accessible, affordable training delivered right to your cell phone or laptop. Since we also offer complimentary recertification training, you can count on FLC for your forklift license needs for years to come.
Forklift Certification in Orlando: Course Options
Orlando Forklift certification is required by employers, whether you're looking at a construction or warehouse position, because training allows for improved productivity. Training teaches workers everything they need to know to operate a forklift, perform various tasks, inspect and maintain the equipment, and become an expert operator. Remember, Orlando forklift certification in required by OSHA – it's the law!
With Orlando forklift certification from ForkliftCertification.com, your employees are better prepared to avoid accidents and injuries on the job.
Orlando is known as the entertainment capital of the East Coast, if not the entire United States. The city's considerable infrastructure requires forklift operators of every skill level. Your company is required to provide forklift certification in Orlando. Do you have the resources to handle this? If not, FLC will get you headed in the right direction with OSHA compliant forklift training & certification.
ORLANDO FORKLIFT CERTIFICATION – PRICING & COURSE INFO
Get signed up with FLC today for your forklift certification in Orlando now. Whether you need single courses or the complete catalog, we offer the prices and compliance tools to get the job done!
Our Employee Training Kit is the fastest way to earn your forklift certification in Orlando. Get your entire team up to speed on OSHA forklift safety best practices. The kit features everything you need to help workers learn how to operate forklifts as safely and efficiently as possible. At just $299, this kit is an excellent investment.
Teach any worker on staff to become an OSHA-approved forklift certification trainer. This course is aligned with OSHA forklift safety requirements and comes with free renewal certifications. Available for just $149, this resource is a must for bringing forklift training in Orlando in-house.
Hoping to save some cash? Take advantage of our affordable Bundle Package, available for just $399. You'll get everything you need for forklift certification in Orlando, FL at one low price. You'll save $50 over buying the Train a Trainer course and the Training Kit separately.
Our parallel training company, CertifyMe.net, has online forklift certification in Orlando for the low price of $59.
Get started with your Orlando forklift certification. Sign up today and make your workplace safer ASAP with our OSHA compliant forklift certification in Orlando.

Is Forklift Training in Orlando Really Necessary?
Forklift certification in Orlando, FL is legally required by the Occupational Healthy and Safety Administration. That's because trained workers are far less likely to be involved in workplace accidents than their untrained counterparts. Whether you're working a construction site or in a warehouse, training can help improve productivity while helping employees understand how best to avoid on the job hazards.
As the entertainment capital of the East Coast, Orlando features unique infrastructure challenges. Forklift operators are always in demand in this town. Of course, employers who fail to provide forklift training in Orlando, FL may face fines and penalties from OSHA. Why run the risk when our training offerings are so affordable and convenient?
How to Get the Best Forklift Certification and Training in Orlando
In order to receive your forklift certification, you need to complete a forklift training program. But you shouldn't just choose any type of program; it should be OSHA compliant, cover operation methods as well as information on hazards, and it should be recognized as a trustworthy and established training provider. In other words, your need ForkliftCertification.com for your forklift certification in Orlando!
Signing up for training doesn't take long. Once employees are ready to get started, they can learn at their convenience. The bottom line: your organization needs an OSHA-compliant training course, as it's the only way to ensure that workers learn all they need to operate forklifts safely. FLC can work with you to determine your organization's unique requirements and ensure that you won't be fined by OSHA.
FLC: Your Source for Forklift Training in Orlando, FL
All too often, forklift certification is difficult, time-consuming, and inconvenient. It doesn't have to be that way. In fact, with ForkliftCertification.com, forklift certification in Orlando is easy, fast, and convenient! The forklift training in Orlando program is online and can be accessed on any device with an internet connection. The program can also be taken at your own pace, but most students complete it in about an hour from their home or during their lunch break! The training is 100% OSHA compliant and only costs $299 for the whole training package.
Create an account, learn forklift operation, and print your certificate today! If you have any questions about forklift certification in Orlando, drop us a line or call (888) 278-8896.