California Forklift Certification, 100% Online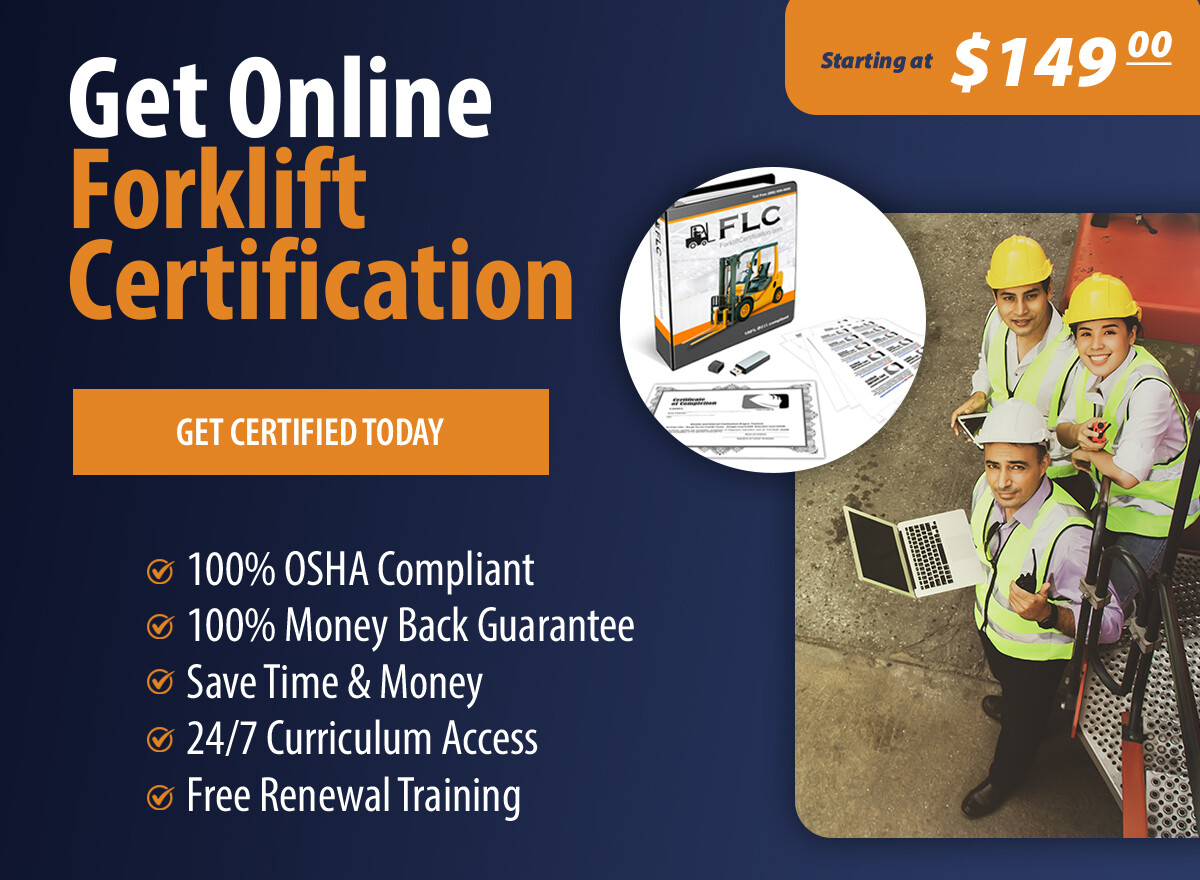 Earning your forklift certification in California is more convenient than ever, thanks to ForkliftCertification.com. Instead of spending hours in expensive classroom training, you can learn from anywhere with an internet connection. FLC features a convenient way to bring all future trainings in-house – at a fraction of what most forklift certification courses typically cost. Use our tools to learn the fundamentals of forklift operation. Once certified, you'll be ready to operate forklifts throughout California and the rest of the United States. Training options include:
Trainer Certification
If you're eager to build up your organization's safety program, you'll want to appoint an employee to train new hires. This $149 class is the best way to teach that person how to oversee forklift training. Train the Trainer is a great investment in your overall safety goals, and it'll save you cash by bringing all future training in-house.
Employee Training Kit
For $299, our employee training kit is an undeniable value. It includes all the training resources you'll need to teach workers about forklift fundamentals. The course is usually completed in about an hour, and training tools can be reused whenever you need to train someone new.
Bundle and Save
The best choice for most organizations is to bundle our two course offerings. For $399, you make a wise investment in the safety of your business.
How Online Forklift Certification in California Works
California forklift certification can now be pursued from any device with an internet connection. Here's what you need to know to get started:
Register Employees: Managers should register any operators in need of forklift training.
Choose Courses: Select from our forklift training class or the Train the Trainer course.
Complete the Class: Employees typically complete the course in about an hour.
Take the Online Exam: Employees may take the exam as often as they need to earn a passing score.
Oversee a Hands-On Evaluation: Select an on-site employee of your team to oversee the hands-on evaluation for trainees. If you don't have someone in mind, our Train the Trainer course is a great way to train a manager to oversee all your future training evaluations.
Print Proof of Certification: Certification cards may be printed as soon as the hands-on evaluation is done. Print proof of training and keep it with your HR files.
When trainees finish these steps, they will be officially OSHA certified.

Why Choose FLC for California Forklift Certification
California forklift certification online is your best option to create the safest work environment possible. Licensed forklift operators are much less likely to be involved in a workplace incident. Training and certification can also keep you compliant with OSHA regulations, helping you avoid expensive fines. Here are some other perks of training with FLC:
24/7 Availability: Trainees can learn from wherever and whenever is most convenient.
Fast and Easy: Most people finish the course in about an hour.
Printable Certifications: Upon completion of training, you can immediately print off certification cards to add to employee files.
Free License Renewals: OSHA requires all operators to recertify every three years. FLC trainees get lifetime access to our training materials.
A Fantastic Value: Our training classes cost a mere fraction of what most classroom training courses typically run.
Our 100 percent money-back guarantee means no risk in giving our training courses a shot!

Frequently Asked Questions About California Forklift Certification
After reading through our guide on how to get forklift certified in California, you might have more questions about the training process. Here are some answers to a few of our most frequently asked questions:
Are California Companies Really Subject to OSHA Fines?
Yes, and they are levied more often than most people realize. A San Diego company was fined more than $200,000 following a forklift accident at a local port.
Are Forklifts Dangerous?
In untrained hands, forklifts can be extremely dangerous. An incident in Palo Alto demonstrates how much damage these machines can do.
Do You Need a License to Operate a Forklift in California?
Yes. All forklift operators working in the United States must be fully trained and certified before using a forklift on the job.

WHERE CAN I GET FORKLIFT CERTIFICATION IN CALIFORNIA?
Because our forklift training program is online, you can get your California forklift certification from anywhere. Learn more there:
Become a part of the buzz of this vibrant city and open the door to jobs in the music and movie industries by completing your Los Angeles forklift certification in just an hour!
Enjoy San Diego's beautiful weather all year long when you receive your California forklift certification through FLC. It only takes one hour!
Get a good job in the Bay Area and stop just visiting this great city by getting your San Francisco forklift certification in less than one afternoon.
For fast easy and affordable OSHA-approve forklift certification in California, ForkliftCertification.com is the best option! Get started today – you can't afford the costs of non-compliance!