The most trusted online resource for OSHA forklift certification and training since 2002
Questions? Call us! (888) 278-8896
San Francisco Forklift Certification
Whether you own a business or operate forklifts, having your San Francisco forklift certification is one of the most important things you can do. Having your certification can open many doors, get you more opportunities, and will help you to secure better clients and jobs for yourself and your business. At ForkliftCertification.com we will help you get the San Francisco, CA forklift training that you need to succeed in your market and industry.
WHY GET FORKLIFT TRAINING IN SAN FRANCISCO, CA?
There are many reasons why you will want to complete your forklift training in San Francisco. You'll gain many benefits and avoid pitfalls that would otherwise harm you, your business, your customers and clients.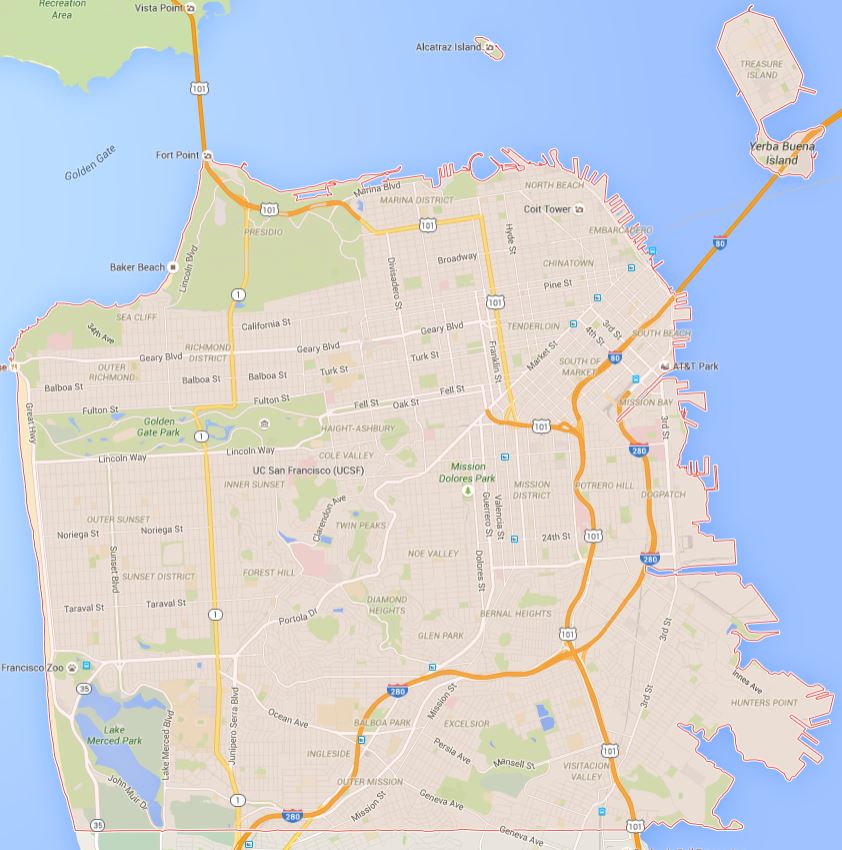 INCREASED PRODUCTIVITY
When workers have their San Francisco forklift certification and professional knowledge about the equipment they are operating, their confidence will increase. As a result, they will be more effective with the operation of forklifts and their overall productivity will increase.
REDUCED ACCIDENTS
Many forklift accidents are a cause of improper training. FLC will teach forklift operators the most important hazards to avoid, as well as safety precautions they should always take.
LOWER FINANCIAL LOSS
Having fully trained and certified forklift operators with San Francisco forklift certification who understand hazards and safety will result in less mistakes. Not only will you see less personnel accidents in the workplace, but you will also see less accidental damage done to machinery, stock, and the building itself, which can be costly. By investing in proper training, you can avoid thousands of dollars in potential loss in the future due to damages from forklift accidents.
AVOID OSHA FINES
OSHA will penalize and fine companies who are not taking proper measures to maintain a safe working environment. For companies using forklifts, they will be looking to see if businesses have the adequate training and certification paperwork. If you are found to not have the proper certifications, you will be at risk of having to pay fines until your staff is fully trained and certified.
Don't have your San Francisco, CA forklift certification? Send us a message or contact us today at (888) 278-8896, and we will assist you with acquiring your forklift training and certification in San Francisco, CA. Forklift Certification will give you all of the tools, training, and paperwork to prove your eligibility to work in your industry and market!
What Are OSHA's Requirements for Forklift Training?
OSHA takes workplace safety very seriously and has created a set of requirements that all employers must follow to avoid fines and legalities. First and foremost, all employers are required to provide a safe workplace for employees that is free of hazards. Second, employers must ensure that employees are capable of operating forklifts safely, following the successful completion of forklift training.
Specifically, here are OSHA's requirements for certifying employees:
Forklift training must involve formal training (written instruction), practice operating a forklift, and a skills evaluation led by an experienced Trainer
Forklift training must cover forklift-related topics, like controls, engine or motor operation, maneuvering and steering, etc., as well as workplace-related topics, like stacking of loads, driving through narrow aisles, and avoiding pedestrians
Stay compliant with San Francisco forklift certification!
GET FORKLIFT CERTIFIED IN SAN FRANCISCO TODAY!
All you have to do to receive your forklift training in San Francisco is fill out an online profile and account which only takes a few minutes; dedicate about 60 minutes of your time; complete our online program; print out your San Francisco forklift certification and take it to your next job interview or to your employer to increase your qualifications and increase your pay rate.
The Most Convenient Online Certification to Advance Your Career
We have designed the most convenient San Francisco forklift training around. Our students do not have to pay for expensive educational supplies, or have to spend hours in a training facility. You can complete your forklift training in San Francisco from the comfort of your home, or even during a lunch hour at work. It only takes a few minutes for employees to create an account and register your company. And it only takes workers about one hour to complete the online training, from any device with internet.
We created our online programs to be equipment specific so you can get exactly the right training for your position.
Inside of our affordable Training Kit, we cover the following types of forklifts:
Warehouse Forklifts, Classes 1, 4, 5
Pallet Jacks and Order Pickers Classes 2, 3
Rough Terrain Forklifts, Class 7
Free lifetime renewals!
If you would like to have your own in-house qualified trainers to lead the forklift training and evaluations for your new employees, you want the Train the Trainer course.
Conveniently, we offer a Bundle Package that combines the Training Kit and Train the Trainer course for a single, discounted price.
We have made forklift training and certification in San Francisco to be easy and affordable so you won't have any reason not to protect yourself and your fellow employees with the right qualifications.
Get started by choosing a package today and receive your certification!