Pasadena TX Forklift Certification, 100% Online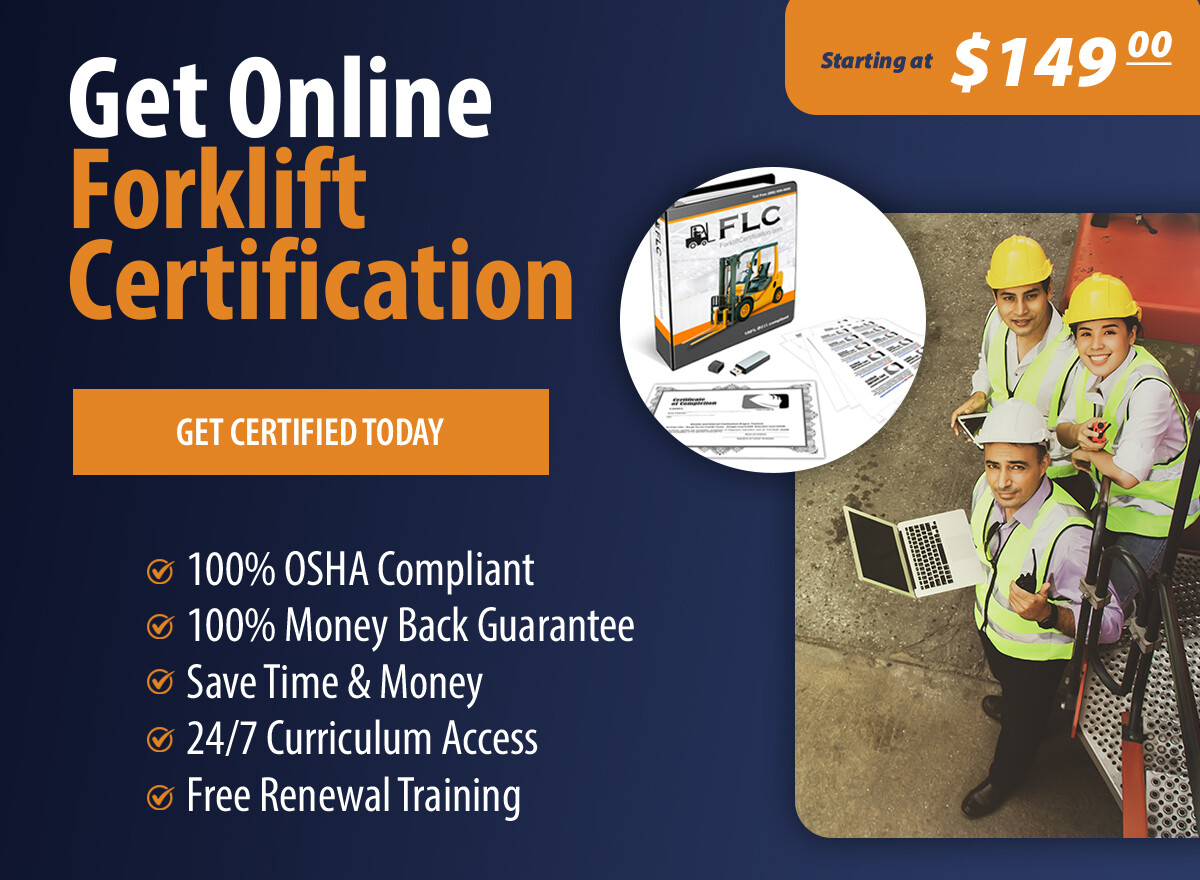 Does your company require Pasadena forklift certification? OSHA requires that every employer in Pasadena and surrounding areas in Texas train all their forklift operators. But how can you handle this critical responsibility, and keep your business running smoothly?
ForkliftCertification.com (FLC) is the only solution you need for quality, compliant, affordable Pasadena forklift certification. We've made it convenient for any operator to get our Pasadena forklift certification online. And best of all, FLC's training is priced for optimal value!
Our classes include the following options:
With our forklift certification in Pasadena, your employees will learn how to avoid accidents and operate your lifts safely. It's a win-win for everyone! 
How to Get Forklift Certified in Pasadena
Follow these easy steps, and you're well on your way to complete compliance with FLC's forklift certification in Pasadena.
Register your company

– Select your login credentials to get started.

Select training you need

– Browse our

course catalog

and select your

Pasadena forklift certification.

Online training & tests

– Employees take the online training at their own pace. Learning is reinforced with tests to ensure safety guidelines are understood.

On-site evaluation

– Before you can issue forklift operator cards, your employees have to show they can safely operate your forklifts. With our

Train the Trainer

program, you can have your own employees manage these evaluations.

Print licenses

– No more waiting around for OSHA to mail your

Pasadena forklift certification

. Simply print out their licenses and file away in your workers' HR files.

Why Choose FLC for Forklift Certification in Pasadena?
It's against the law to have anyone operate a forklift without Pasadena forklift certification. Our courses ensure you're compliant – and covered in case of an OSHA audit or inspection.
Anytime access

– FLC's

forklift certification in Pasadena

can be taken anytime, on anyone's schedule.

Easy & fast

– In about an hour, you can have your employees fully trained & certified! No other training option empowers you like CMO!

3-year renewal training for FREE –

Your

Pasadena forklift certification

expires after 3 years. No worries – with CMO,

renewal certification is free

!

Awesome prices

– Whether you choose one package or the entire bundle, our prices allow your company to get compliance for all forklift operators.

License ready to go

– We have the option to print your forklift operator licenses for your

forklift certification in Pasadena

.
If you're not sure which course to choose, we'll guide you with this helpful questionnaire. 

Frequently Asked Questions for Pasadena Forklift Certification
Here are some answers to questions on how to get forklift certified in Pasadena and more:
Who Needs Forklift Certification in Harris County and Pasadena?
Any employee that operates powered industrial trucks is required to have forklift certification in Pasadena.
Are OSHA Fines Expensive?
Some OSHA violations can top $100,000, if they're deemed "willful or repeated." That's why it's important to have forklift certification in Pasadena; we'll help your company avoid the ultra-costly penalties, even if you're involved in an accident.
Does FLC's Training Cover All My Forklift Operators?
Whether you have a new driver that needs training, or an experienced lift operator that requires forklift certification in Pasadena, FLC's training is the only certification you need!

Get Forklift Certified in Pasadena, TX Today!
Pasadena business operators should not wait to enroll their workers in a forklift certification program. Fortunately, FLC offers best-in-class forklift certification training to businesses across Pasadena. We are proud to serve the Pasadena community and can help your workers become OSHA-approved forklift operators right away.
We are happy to provide additional details about our forklift certification options. To learn more, please contact us online or call us today at (888) 278-8896.