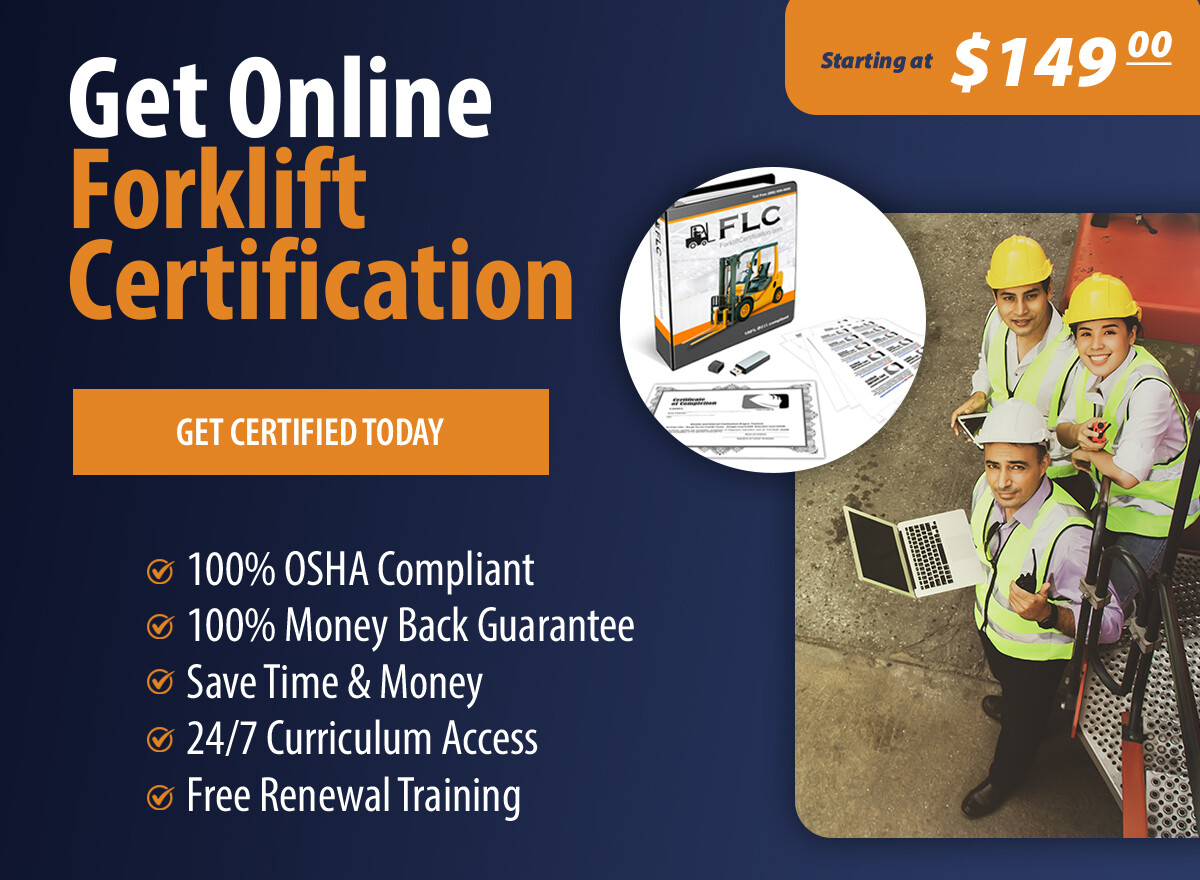 There's never been an easier or more affordable way to earn your forklift certification in Tucson, thanks to ForkliftCertification.com. Why waste precious time and money on expensive, time-consuming classroom training? FLC offers an affordable way to bring all future training in your organization in-house. Our resources allow you to learn the fundamentals of forklift operation; once certified, you'll be ready to operate forklifts throughout Arizona and the rest of the country. Training options include:
Trainer Certification
Eager to invest in your company's safety program? Choose an employee to train the rest of your team. Our $149 course is the ideal way to teach your safety manager how to train their colleagues. Train the Trainer is a fantastic investment into your organization's culture of safety. It'll also save you money in the long run, allowing you to bring all future training in-house.
Employee Training Kit
Our $299 employee training kit features the tools and resources to educate workers about forklift operations. The material is typically completed in about an hour's time. The training tools may be reused any time you need to train someone else.
Bundle and Save
The best option for most customers is to bundle our two course offerings. For just $399, you can make the best investment in your organization's safety.
How Online Forklift Certification in Tucson Works
Tucson forklift certification once meant spending hundreds of dollars and wasting precious time traveling to and from an off-site classroom. FLC resources enable you to train from anywhere. So long as employees have a device connected to the internet, they can learn the fundamentals of forklift operation. Here's what you need to know to get started:
Register Learners: Employers should sign up any operators needing forklift training and certification.
Select Courses: Choose from our forklift training class or our Train the Trainer course.
Complete the Course: Employees typically complete the material in about an hour.
Pass the Online Exam: Trainees can take the test as many times as necessary to earn a passing score.
Complete a Hands-On Evaluation: Choose an on-site employee of your organization to conduct a hands-on evaluation for learners. Don't have someone in mind? Our Train the Trainer course is the best way to train a safety manager to oversee all your future training evaluations.
Print Proof of Training: Certification cards are ready to be printed off after completing the hands-on evaluation. Print them off and keep them with your personnel files.
Employees will be formally OSHA certified when they complete training and pass the written and hands-on evaluations.

Why Choose FLC for Tucson Forklift Certification
If you're eager to cultivate a safe work environment, Tucson forklift certification online is the way to go. Knowledgeable, trained, and experienced workers are far less likely to be involved in a workplace accident. Training and certification also help keep your business compliant with OSHA regulations, helping you sidestep expensive fines. Here are some more reasons to train with FLC:
24/7 Access to Training: Employees can train from wherever and whenever is most convenient.
Quick and Easy: Most trainees finish the material in about an hour.
Printable Proof of Training: Print off certification cards to add to personnel files once training is done.
Free Lifetime Renewals: OSHA requires all forklift operators to recertify every three years. FLC trainees get lifetime access to our training courses.
An Undeniable Value: Our training classes are a fraction of what most classroom training courses typically cost.
We also feature a 100 percent money-back guarantee for our courses. There's no risk in giving our training courses a try!

Frequently Asked Questions About Tucson Forklift Certification
Following our overview of how to get forklift certified in Tucson, you may have more questions about the training process. Here are the answers to a few of our most frequently asked questions:
Does OSHA Really Fine Companies in Arizona?
The Occupational Health and Safety Administration routinely levies fines totaling tens of thousands. An untrained, uncertified forklift operator at a postal service processing center in Tucson attracted the attention of OSHA, leading to $70,000 in fines.
Are Forklifts Dangerous?
They can be – especially in the hands of untrained, uncertified workers. An incident at Davis-Monthan Air Force Base resulted in the death of one person. The forklift operator said he never saw the pedestrians he struck while driving on base.
Do You Need a License to Operate a Forklift in Tucson?
Yes. All forklift operators working in the United States must be fully trained and certified.

Choose FLC for Affordable and Efficient Tucson Forklift Certification
It's a smart Tucson employer that understands the importance of arranging the best forklift operator certification training available for their employees. Fortunately, it's never been faster, easier, or more affordable to have your workers receive their forklift certifications in Tucson than when you choose ForkliftCertification.com to train your entire crew of forklift operators.
There are no time limits for your employees to complete our forklift operator training program. Although the coursework can be completed in as little as an hour, each module is self-paced, and since training materials are available online 24/7, classes can be taken using a digital device anytime and anywhere there's an Internet connection. Even better, there's no waiting. As soon as they complete the training, your employees' Tucson forklift operators' certification cards, can be immediately downloaded, printed and they can get back to work.
Don't put off getting forklift certification in Tucson for your employees any longer – enroll them today! You can make your business OSHA-compliant and your workplace safer by having your workers complete FLC's forklift operator training.