The most trusted online resource for OSHA forklift certification and training since 2002
Questions? Call us! (888) 278-8896
Get Tucson Forklift Certification Today
Rethink Forklift Certification in Tucson with FLC | Online Access | Affordable Prices | Outstanding Customer Support | Sign Up Today!

Like other companies in Arizona, you're probably wondering how to get forklift certification in Tucson for your employees. OSHA requires that all training and certification are the responsibility of employers. Yet not everyone knows the ins and outs of OSHA, ANSI, and other organizations that impact forklift safety.
Well, the solution is here! ForkliftCertification.com is a recognized leader in providing online forklift certification training both in Tucson, as well as other cities throughout Arizona. When you complete your Tucson forklift certification training through FLC, you're officially eligible to operate forklifts and powered industrial trucks anywhere in the state, as well as everywhere else across the U.S.
Our forklift certification in Tucson provides: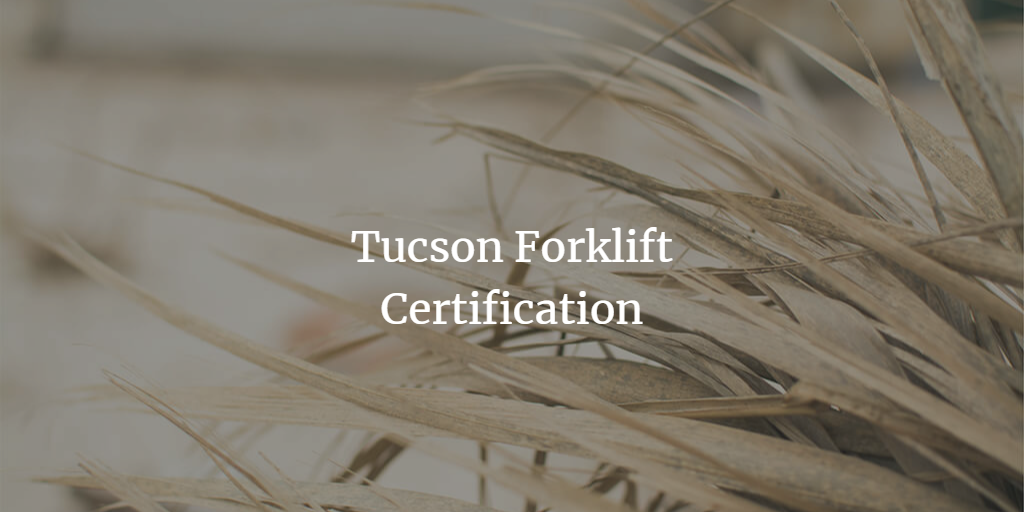 Convenient online access
Great customer support
Affordable prices – check out our courses here
Free renewal training
And much more
Tucson is located in the Sonoran Desert, about an hour north of the Arizona border with Mexico, The city is surrounded by beautiful natural landscapes. Situated in the Tucson Basin and surrounded by mountain ranges on all four sides, this city of more than one-half million permanent residents is the seat of Pima County. It's also home to the University of Arizona Wildcats. Some of the many nearby natural and manmade attractions include Saguaro National Park, the Pima Air and Space Museum, the Old Tucson movie set, which is known for the memorable Western movies filmed there over the years, Mount Lemmon Scenic Byway and Sabino Canyon Recreation Area.
FORKLIFT CERTIFICATION IN TUCSON – COURSES, PRICING & MORE
Go with a leader for forklift certification in Tucson. Our courses are 100% OSHA compliant and offer tremendous value for your safety program. Whether you're involved with construction, distribution, maintenance or other industry, no other company gives you the complete, 100% OSHA compliant forklift certification in Tucson for all your employees – all online, too!
Train the Trainer
With this course, get your internal employees up to speed as certified safety consultants.
This popular forklift certification in Tucson course in only $149.
Employee Training Kit
For comprehensive forklift certification in Tucson, go with our Employee Training Kit.
It covers everything required for safe operation of your powered industrial trucks for just $299.
Bundle Package
Many of our Tucson clients have wide-ranging certification requirements and need both of the above courses.
With our Bundle Package, you get the Train the Trainer and Training Kit for only $349.
Sign up today. Get compliant. Your employees deserve the safest possible working environment. FLC has forklift certification in Tucson for everyone in your company!

REASONS FOR HAVING YOUR EMPLOYEES COMPLETE FORKLIFT CERTIFICATION IN TUCSON
If you're an employer in the Tucson area, you've undoubtedly noticed that the city's booming economy has created a shortage of qualified forklift workers, which has businesses throughout the Greater Tucson area competing for their services. It can be very risky, however, to hire forklift operators who haven't been properly trained and certified. Forklifts in the hands of inexperienced or incompetent operators can be extremely dangerous, which is why businesses should only hire operators who have completed OSHA-approved forklift certification in Tucson training.
OSHA requires employers to ensure each of their forklift drivers are properly trained and certified before they're allowed to operate the equipment. Failure by employers to comply with OSHA's regulations can result in significant penalties and fines. If you're a Tucson business owner, you need to invest in top quality forklift operator training to protect the lives of your employees while they're on the job. In addition to being an OSHA requirement, having your workers complete FLC's Tucson forklift certification training will make your workplace a much safer and more productive working environment. Allowing operators who haven't been properly trained and certified to operate the equipment violates OSHA guidelines, and can result in severe penalties, including hefty fines.
FORKLIFT OPERATOR HIRING IN THE TUCSON AREA – EMPLOYER RESPONSIBILITIES
Job opportunities are plentiful throughout the city for forklift operators who have received forklift certification in Tucson, which is also true in other parts of the state. The types of positions available for people with OSHA-approved forklift operator training include operating and maintaining forklifts, working as a forklift mechanic, working on docks, in warehouses, at special events and as members of maintenance crews.
As an employer, it's your responsibility to provide forklift certification in Tucson. If you're not sure how to implement your safety program, or need help with Tucson forklift certification gaps, sign up with FLC today!
Here are a few of the companies and organizations in and around Tucson that hire operators who have completed forklift certification in Tucson training:
✓ Arizona-Sonora Desert Museum
✓ Air and Space Museum
✓ Pueblo Vida Brewing Company
✓ University of Arizona
✓ A Thru Z Consulting & Distributing Inc.
✓ Carondelet St. Joseph's Hospital
✓ And a lot more
WHAT TYPE OF FORKLIFT CERTIFICATION IN TUCSON  DO MY EMPLOYEES NEED?
Because of the number of choices available, it might be tempting to select the first training program you come across just to get the requirement out of the way. To have your workers properly trained, however, you'll need to choose a fully OSHA-compliant training program that's fast, easy and affordable, and that's exactly what ForkliftCertification.com offers in its online training courses.
As previous forklift industry workers themselves, FLC's instructors understand that proper training provides the best protection against workplace accidents and injuries, as well as incurring OSHA penalties and fines, damages to equipment and inventory and avoiding costly litigation. The same holds true for forklift operators who have changed jobs and need to attract the interest of potential employers to advance their careers.

CHOOSE FLC FOR AFFORDABLE AND EFFICIENT TUCSON FORKLIFT CERTIFICATION
It's a smart Tucson employer who understands the importance of arranging the very best forklift operator certification training available for his or her employees. Fortunately, it's never been faster, easier or more affordable to have your workers receive their forklift certifications Tucson than when you choose ForkliftCertification.com to train your entire crew of forklift operator.
Our online program was designed specifically to teach workers everything they need to know about operating and maintaining forklifts, performing inspections and avoiding workplace accidents. After they complete the online training and they receive their Tucson forklift certifications, you'll rest easier knowing that your forklift operators are properly trained, you're OSHA-compliant and your workplace is safer.
There are no time limits for your employees to complete our forklift operator training program. Although the coursework can be completed in as little as an hour, each module is self-paced, and since training materials are available online 24/7, classes can be taken using a digital device anytime and anywhere there's an Internet connection. Even better, there's no waiting. As soon as they complete the training, your employees' Tucson forklift operators' certification cards, can be immediately downloaded, printed and they can get back to work.
Don't put off getting forklift certification in Tucson for your employees any longer – enroll them today! You can make your business OSHA compliant and your workplace a safer environment by having your workers complete FLC's forklift operator training.
Still have questions or need more information about Tucson Forklift Certification Training? Contact us online or call us at 888-278-8896.