Denver Forklift Certification, 100% Online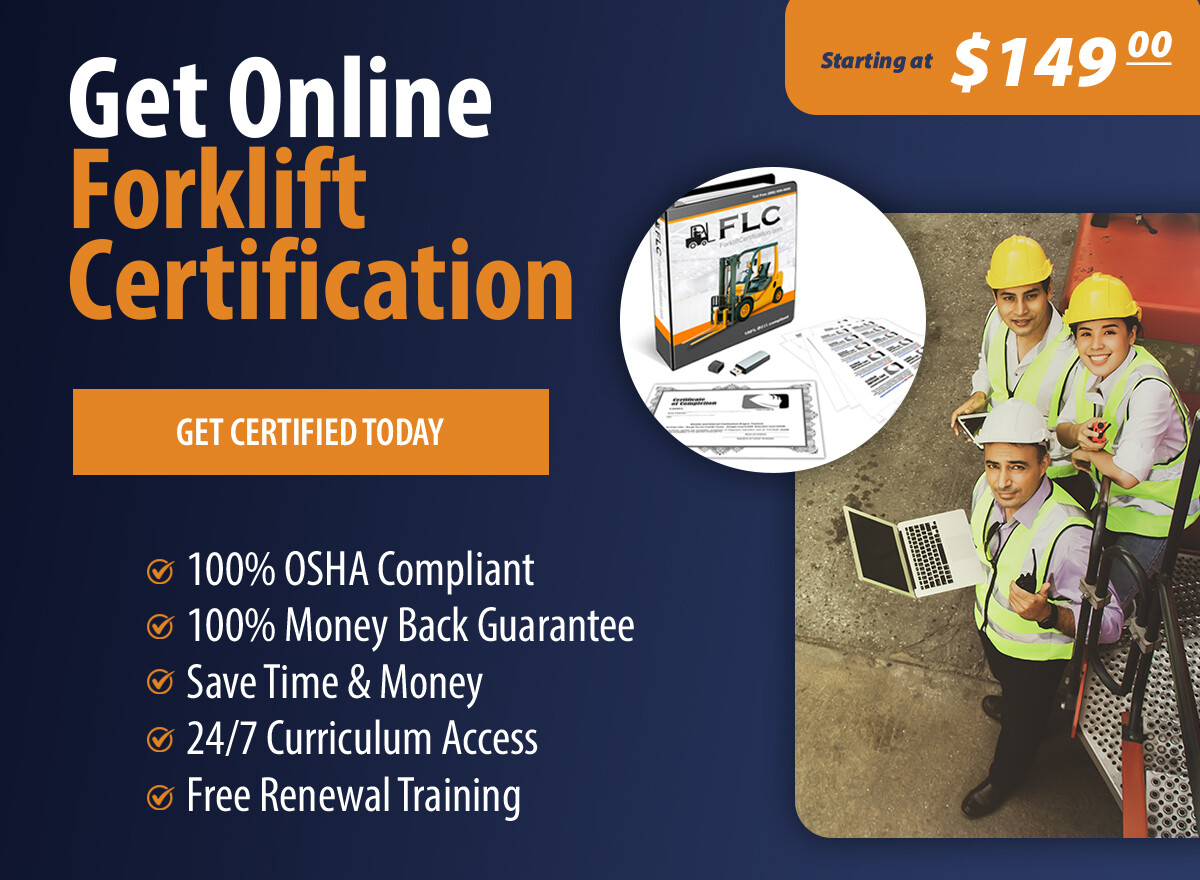 Are you hoping to earn your forklift certification in Denver online? ForkliftCertification.com is the best way – it's convenient, affordable, and easy. While forklift certification once required off-site travel to a classroom where you'd spend hours learning the fundamentals, online tools from FLC make the process quick and simple. Learn all you need to know in about one hour. Once certified, you'll be ready to operate forklifts throughout Colorado and the rest of the United States. Training options include:
Trainer Certification
Creating a safe work environment begins with thorough employee forklift training. You can enroll them in our trainer certification course, which costs only $149. Train the Trainer will allow you to conduct all future forklift training sessions within your organization. Having a trained trainer can save you money in the long term and improve the overall safety culture at your workplace.
Employee Training Kit
Our complete employee training package is a great deal at just $299. It includes all the materials you need to teach your workers the basics of using a forklift. The training session usually lasts about an hour, and you can use the materials as often as needed.
Bundle and Save
If you want to improve your company's safety culture, the best choice is to combine our two courses. It costs $399 and is a smart investment in your organization's safety bringing you great benefits.
How Online Forklift Certification in Denver Works
Earning your Denver forklift certification once meant investing time and money. Employees had to go to a different location and spend the whole day in a classroom to learn the basics. However, with FLC tools, you can learn whenever and wherever you want. If you have a device that can go online, you can learn how to operate forklifts. Here's what you need to do to get started:
Register Employees: Managers should sign up any employees needing forklift training and certification.
Choose Classes: Choose from our forklift training class or our Train the Trainer class.
Complete the Course: Most people finish the content in about an hour.
Take the Online Test: Trainees can take the written exam as often as necessary to earn a passing score.
Undergo a Hands-On Exam: An on-site employee of your organization must conduct a hands-on evaluation for trainees. If you need someone for the job, our Train the Trainer course is the best way to train an employee to oversee all your future hands-on exams.
Print Proof of Certification: Certification cards can be printed off after completing the hands-on exam. Just print them and keep them with your personnel files.
Employees are considered to be OSHA-certified as long as they complete training and pass the written and hands-on exams.

Why Choose FLC for Denver Forklift Certification
Getting Denver forklift certification online through FLC is the best option if you want to invest in workplace safety and avoid OSHA penalties. Trained, educated, and experienced workers are far less likely to be involved in accidents on the job. Training and certification also help your business comply with OSHA rules, preventing you from getting fined. Here are more reasons to train with FLC:
24/7 Availability: Learners can train from anywhere with an internet connection.
Fast and Easy: Most trainees finish the material in about an hour.
Printable Proof of Certification: Print off certification cards to add to personnel files after training.
Free Renewals: OSHA requires all workers to recertify every three years. FLC trainees get access to our training materials for life.
A Fantastic Value: Our certification classes cost a fraction of what most training courses typically run.
We also offer a 100 percent money-back guarantee for our courses, so there's no risk in trying us!

Frequently Asked Questions About Denver Forklift Certification
If you're still confused about how to get forklift certified in Denver, allow us to address a few of our most frequently asked questions:
Does OSHA Fine Companies in Colorado?
Yes. The Occupational Health and Safety Administration was created to hold negligent companies liable for workplace accidents. Three Denver contractors were fined more than $100,000 following the death of an employee.
Are Forklifts Dangerous? 
They can be, especially when an untrained operator is behind the wheel. A Woodland Park forklift accident resulted in the death of one employee.
Do You Need a License to Operate a Forklift in Denver?
Yes. All forklift operators working in the United States must be fully trained and certified.

Get Updated Forklift Training in Denver Today
ForkliftCertification.com offers the complete forklift certification Denver package. No other training package offers such value and comprehensive resources. If your organization needs a complete solution to common compliance gaps, you'll want to register for our forklift training in Denver, CO right away. 
Signing up takes only a moment or two. By registering your account, you'll be on your way to OSHA compliance. Take the first step today and begin your path toward Denver forklift certification. Still have questions about our offerings? Give us a call at (888) 278-8896 or contact us online.