Get Denver Forklift Certification with ForkliftCertification.com
Need Forklift Certification in Denver? Sign Up with ForkliftCertification.com Today!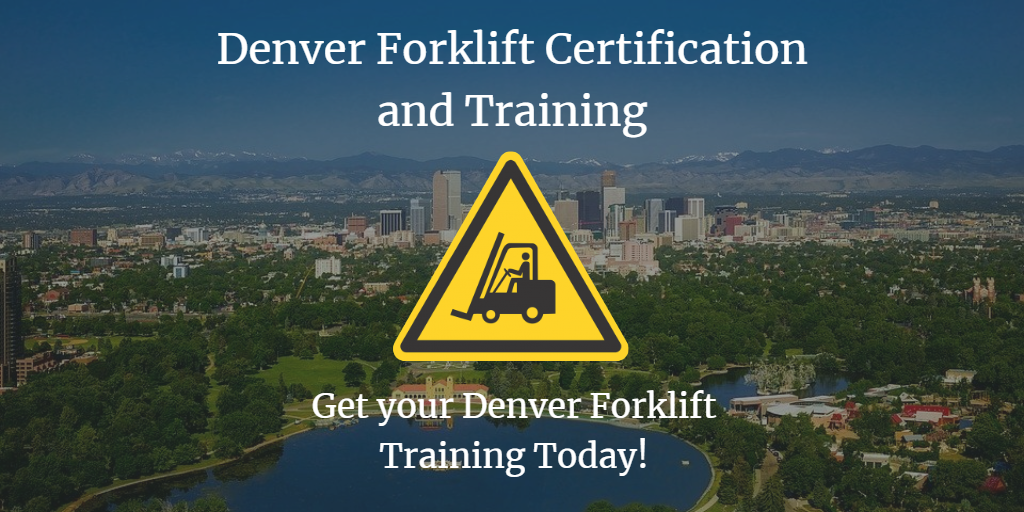 Known as the Mile High City, Denver needs forklift operators with Denver forklift certifications. If you hire forklift drivers in the Mile High City and need forklift certification in Denver, look no further than ForkliftCertifiction.com.
Our OSHA compliant training ensures all of your employees are fully trained to operate your equipment. Sign up today and see how we can help with forklift certification in Denver!
Here are just a few benefits offered by our forklift certification in Denver:
✓ Free renewal training
✓ 100% OSHA compliance
✓ All paperwork and employee HR recordkeeping
✓ Best customer support in the business
✓ Convenient online format
✓ And much more!
Denver is the largest city in the Rocky Mountain region, the Colorado's business-friendly climate has made the Mile High City a preferred destination for companies across the Western U.S. With so much economic activity, your company may eventually need more forklift drivers, and FLC will show you the affordable, easy way to OSHA compliance!
DENVER FORKLIFT CERTIFICATION: COURSE PRICING AND INFORMATION
Look no further than FLC for Denver forklift certification. Check out these popular courses and get signed up today – don't delay with your safety program!
Denver forklift certification course to have your own in-house training expert. Outstanding option at only $149!
Only $299, this course is ideal for your entire forklift fleet. Popular option for Denver forklift certification.
Get both courses listed above (Train a Trainer course and the Training Kit) for a special discounted rate of just $399.
CertifyMe.net, our sister training outfit offers easy online Denver forklift certification for just $59.
Get OSHA compliant today and sign up for your forklift certification in Denver!

IMPORTANCE OF DENVER FORKLIFT CERTIFICATION
Here are a few of the many career advantages you'll enjoy once you receive your Denver forklift certification:
✓ Safe equipment usage.
Without Denver forklift training and certification, powered industrial trucks are dangerous in the hands of an operator who doesn't know the ins and outs of OSHA safety procedures and safety regulations. Our forklift certification in Denver and operator training offers OSHA-approved Denver forklift training that's fast, easy and affordable. Our $299 Training Kit, $149 Program or money-saving Bundle Package that includes both courses for just $299 will give your employees a superior understanding of how to safely operate any forklift. Sign up today and get started with a safer, more productive workplace.
✓ Staying safe on the job is a team effort.
If even just one employee in your Denver-based business lacks proper forklift training, the safety and well-being of the entire workplace is compromised. Each of your operators need forklift certification in Denver, and our training ensures 100% of your forklift drivers are certified and OSHA-compliant in no time at all!
✓ Confidence on the job.
A well-trained forklift driver is a more confident, happier, more alert and safer forklift operator. There is a direct and strong correlation between being prepared and being productive. com is the number one source for training Denver area forklift operators Once your employees receive their FLC forklift training in Denver, everything will begin to fall into place. It all starts with the operator's knowledge of the equipment and understanding of OSHA's safety regulations.
✓ It's the law!
Without our forklift certification in Denver, your employees can't operate powered industrial trucks. Don't take chances with safety, or the law – sign up with FLC today!
BECOME COMPLIANT (AND LEGAL) TODAY WITH FORKLIFT CERTIFICATION IN DENVER
Strict OSHA requirements  make formal training mandatory. Failure to comply with the requirements can result in substantial penalties and fines. As an employer, are you prepared to face OSHA audits and inspections without forklift certification in Denver?
Forklifts in the hands of inexperienced or incompetent operators are extremely dangerous machines. Forklift certification  in Denver is the fastest and most effective way for training forklift operators to recognize and avoid hazards that can cause injuries or deaths. FLC training is also a great way to improve worker morale, workplace efficiency and productivity.

QUALITY FORKLIFT CERTIFICATION IN DENVER – RIGHT HERE AT  FLC
If you're a business owner, you need to invest in top quality forklift operator training in Denver to ensure the safety and protect the lives of your employees while they're on the job. Protect your most valuable assets – your employees – while working with our popular Denver forklift certification courses. FORKLIFTCERTIFICATION.COM PROVIDES THE BEST FORKLIFT TRAINING AVAILABLE
If you're planning to hire forklift operators, sign up for our Denver forklift certification today. If you're a business owner, you understand the importance of enrolling your employees in an OSHA-approved forklift training and certification program. Regardless of whether you're an aspiring forklift operator or an employer, the next step is to arrange for Denver forklift certification training through ForkliftCertification.com. Our online training programs are always up to date on the latest OSHA regulations, and are fast, easy and convenient to complete.
FLC's forklift operator training can be completed in as little as an hour, but since each module is self-paced, there are no time limitations for completing them. All training materials are available online 24/27, which means the classwork can be completed using a digital device anytime and anywhere there's an Internet connection. What's more, there's no waiting. Once you've completed FLC's Denver forklift certification, your Denver forklift certificate can be immediately downloaded, printed and ready to enter employee HR files.
GET STARTED TODAY!
Thanks to FLC, forklift certification in Denver is fast, easy, affordable and always accessible. To obtain your OSHA compliant certification, sign up for FLC training today!
Become OSHA compliant and  ensures your forklift operators have a  safe place to work. Enroll today to get 100% OSHA-approved Denver forklift operator certification for yourself or your employees in as little as one hour!
Still have questions or need more information about our Denver Forklift Certification Training? Get in touch with us online or call us at 888-278-8896.You'll be glad you did!