The most trusted online resource for OSHA forklift certification and training since 2002
Questions? Call us! (888) 278-8896
Denver Forklift Certification
Known as the Mile High City, Denver is a vibrant metropolitan area with a population of just under 3 million people that continues to attract thousands of new residents every year. Located at the base of the Rocky Mountains, the city is a hotspot for innovative thinking, economic growth and a seemingly bottomless pool of job opportunities for skilled workers, including forklift operators with Denver forklift certifications. Situated between the Great Plains to the east and Rocky Mountains to the west, Denver is an ideal blend of urban living with easy access to virtually countless outdoor activities, which makes it a great place to live and work.

Benefits of Denver Forklift Certification
Here are a few of the many career advantages you'll enjoy once you receive your Denver forklift certification:
– Job prospects. If you're interested in applying for a forklift job in Denver, having an OSHA-approved Denver forklift certification will help you to stand out from others applying for the position. Employers in Denver are looking for forklift operators who have their Denver forklift certifications, which show that they clearly understand how to safely operate these potentially dangerous pieces of equipment under various conditions. Nothing says "qualified candidate" quite like an OSHA-approved forklift certification Denver!
– Safe equipment usage. Forklifts are dangerous in the hands of an operator who's unfamiliar with the controls or isn't up to speed on the latest OSHA safety regulations. Forkliftcertification.com, the leader in online forklift operator training and certification, offers OSHA-approved Denver forklift training that's fast, easy and affordable. Our $299 Training Kit, $149 Train a Trainer Program or money-saving Bundle Package that includes both courses for just $299 will give your employees a superior understanding of how to safely operate any forklift.
Staying safe on the job is a team effort. If even just one employee in your Denver-based business lacks proper forklift training, the safety and well-being of the entire workplace is compromised. Each of your operators needs forklift certification Denver training, and training with FLC will have 100% of your forklift drivers certified and OSHA-compliant in no time at all!.
– Portability. OSHA-compliant Denver forklift operator certification is valid throughout the State of Colorado, as well as all across the United States. Once you complete your training and receive your forklift certification from FLC, you'll be able to legally operate a forklift anywhere in the country!
– Confidence on the job. A well-trained forklift driver is a more confident, happier, more alert and safer forklift operator. There is a direct and strong correlation between being prepared and being productive. com is the number one source for training Denver area forklift operators Once your employees receive their FLC forklift training in Denver, everything will begin to fall into place. It all starts with the operator's knowledge of the equipment and understanding of OSHA's safety regulations..
DO I OR MY EMPLOYEES NEED TO  BE CERTIFIED TO OPERATE A FORKLIFT IN DENVER?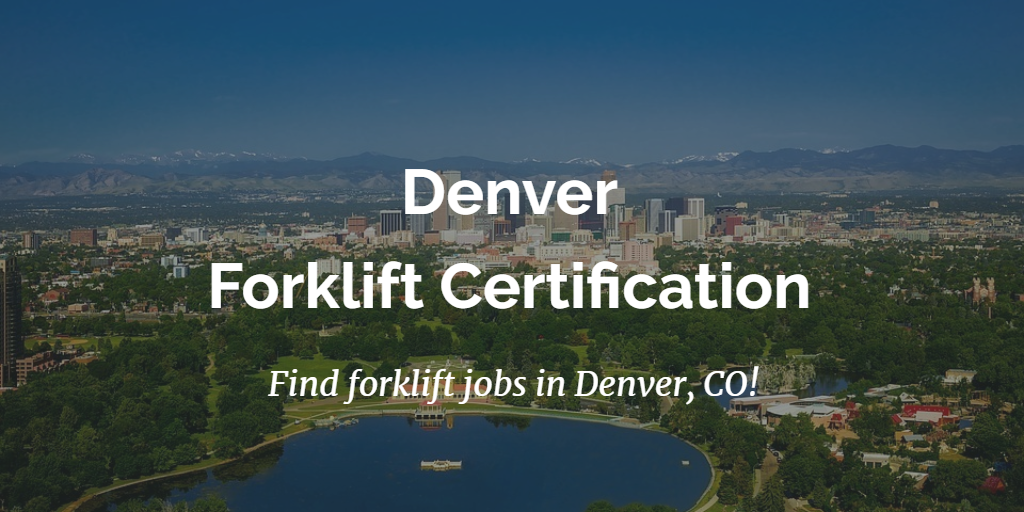 As someone interested in a career as a forklift operator, you're probably curious as to whether a formal Denver forklift certification is really necessary, and the answer is yes. Just because equipment workers, including forklift operators are in high demand in the Denver area doesn't mean that employers are willing to forgo workplace safety. There are also strict OSHA requirements that make formal training mandatory. Failure to comply with the requirements can result in substantial penalties and fines.
Forklifts in the hands of inexperienced or incompetent operators are extremely dangerous machines. Forklift certification training in Denver is the fastest and most effective way for training forklift operators to recognize and avoid hazards that can cause injuries or deaths. FLC training is also a great way to improve worker morale, workplace efficiency and productivity.
Quality Denver Forklift Certification Training Through FLC
If you're a business owner, you need to invest in top quality forklift operator training in Denver to ensure the safety and protect the lives of your employees while they're on the job. If you're an employee, enrolling in FLC's Denver certification training both protects you while working, as well as helps ensure you enjoy a long and financially rewarding career. Once you receive your Denver forklift certification, your services will be in demand by businesses throughout Denver.
Types of Forklift Jobs Available in Denver
Denver's skyrocketing population continues to fuel the boom in construction, manufacturing, distribution, and warehousing activities, which means you shouldn't have a hard time landing a good, well-paying job in Denver. Here are some of the area businesses that hire operators who have Denver forklift certifications:
Navajo Incorporated

Niagara Bottling

Denver Solutions

Pepper Snapple Group

Mountain View Foods

Harvest Meat Company

Green Chef Corporation

FreshPoint

And a lot more!
In addition to forklift operator jobs, you can also apply for positions such as a warehouse operations manager, forklift mechanic or warehouse inventory lead.
Given Denver's strong local economy, there's rarely a shortage of forklift job opportunities, but there is a shortage of qualified job candidates! Employers in the Denver area as elsewhere prefer to hire qualified operators, but they're not always available. That's one of the ways FLC training gives you a big advantage over other job applicants. Once you complete your training and receive your Denver forklift certification, you'll have a much better chance of landing a great job in the Mile High City.
FORKLIFTCERTIFICATION.COM PROVIDES THE BEST FORKLIFT TRAINING AVAILABLE
If you're planning to become a forklift operator, you're probably excited to learn of all of the opportunities available to you when you receive your Denver forklift certification. If you're a business owner, you understand the importance of enrolling your employees in an OSHA-approved forklift training and certification program. Regardless of whether you're an aspiring forklift operator or an employer, the next step is to arrange for Denver forklift certification training through ForkliftCertification.com. Our online training programs are always up to date on the latest OSHA regulations, and are fast, easy and convenient to complete.
FLC's forklift operator training can be completed in as little as an hour, but since each module is self-paced, there are no time limitations for completing them. All training materials are available online 24/27, which means the classwork can be completed using a digital device any time and anywhere there's an Internet connection. What's more, there's no waiting. Once you've completed the training, your Denver forklift certificate can be immediately downloaded, printed and ready to show to prospective employers.

GET STARTED TODAY!
 Thanks to FLC, forklift certification training in Denver is fast, easy, affordable and always accessible. To obtain your OSHA compliant certification, sign up for FLC training today!
If you're planning to work as a forklift operator in Denver, give yourself the best possible chance to get a great forklift operator job. If you're a business owner, having your workers complete forklift operator training will make you OSHA compliant and your workplace a safer environment. Enroll today to get 100% OSHA-approved Denver forklift operator certification for yourself or your employees in as little as one hour!
Still have questions or need more information about our Denver Forklift Certification Training? Get in touch with us online or call us at 888-278-8896.You'll be glad you did!