The most trusted online resource for OSHA forklift certification and training since 2002
Questions? Call us! (888) 278-8896
Denver Forklift Certification
As a lively city with thousands of new residents arriving every year, Denver is a hot spot for innovation, economic growth, and a bottomless pool of job opportunities. If you are looking to make Denver your home, or are interested in starting a new career with financial rewards, then a Denver forklift certification can get you there. Since the continued growth of Denver demands more workers to keep up with the expansion, those with forklift training in Denver are in a good position.
Advantages of Denver Forklift Certification
With your OSHA forklift certification in Denver, you'll enjoy key enhancements in the following areas:
Job prospects. If you're applying for forklift jobs in Denver, OSHA forklift certification enables you to stand out from other job applicants. Denver employers (warehouses, dockyards, distribution centers, retailers, construction firms, etc.) are interested in hiring well-trained forklift drivers. And nothing says "qualified candidate" quite like OSHA forklift certification in Denver!
Safe equipment usage. Forklifts are dangerous – if the operator isn't up to speed with OSHA safety regulations. FLC's training includes everything you need for the best forklift certification in Denver. With our Train a Trainer, Training Kit, and Bundle Package, you'll have a superior understanding of how to safely operate any forklift. Staying safe on the job is a team effort; if one employee lacks forklift training in a Denver-area warehouse or shipping center, everyone's safety is compromised. Your entire workforce needs forklift operator training in Denver, and FLC can ensure 100% of your forklift fleet is OSHA certified!
Portability. With your forklift certification in Denver, you also have OSHA-compliant job skills for all over the state of Colorado – and all across the United States! Once you receive forklift certification from FLC, you'll enjoy nationwide compliance!
Confidence on the job. A well-trained forklift operator is a confident happier forklift operator. There is a strong correlation between being prepared and being productive. Once you have your FLC forklift training in Denver, everything falls into place. It all starts with knowledge – right here at FLC, the #1 source for Denver forklift operator training.
Do I Need Forklift Certification in Denver?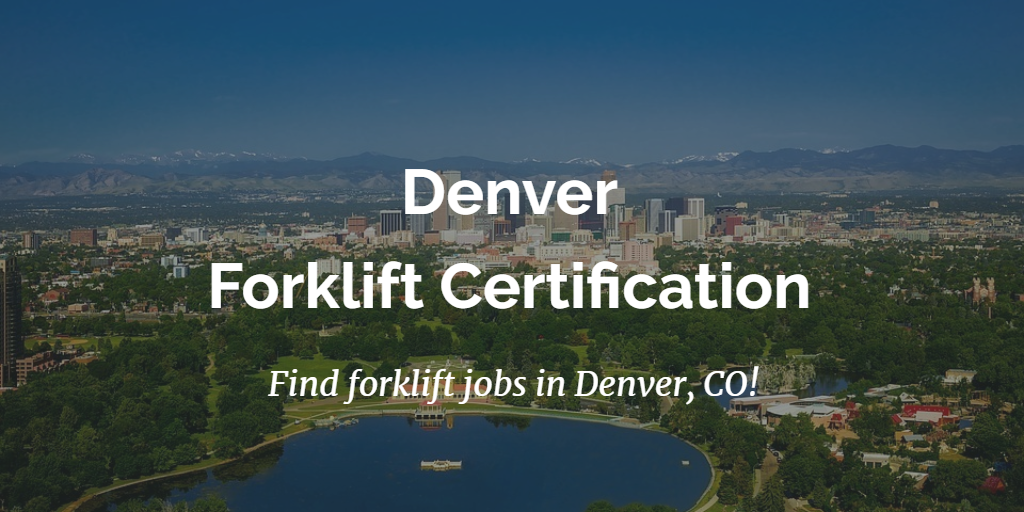 As someone interested in a forklift career, you may be wondering if a formal Denver forklift certification is truly important. The answer is, yes. You see, just because equipment workers are in high demand in Denver, doesn't mean that employers are willing to forgo safety. Forklifts come with their fair share of risks and cause many accidents every year. Forklift training in Denver is the most effective way for operators to avoid hazards and prevent injuries and fatalities. It is also the best way to improve workplace productivity and be a better worker. This means that employers can improve their bottom line, and reward you with advancement opportunities. There are also OSHA requirements to follow, and getting forklift training is one of them.
The High-Quality Denver Forklift Training You Need
If you want to protect your life while on the job and qualify for the best forklift jobs in Denver, then you need to invest in a top quality forklift certification in Denver. Doing so will help ensure that you can enjoy a long and financially rewarding career. Once you receive your Denver forklift certification, you will be in as high demand as your qualifications are in Denver commercial industries.
The Types of Forklift Jobs Available in Denver
With Denver's skyrocketing population, the manufacturing, distribution, and warehousing industries are booming. As a trained forklift operator, you won't have a hard time landing a great position in Denver. A few of the companies you can find work in include Navajo Incorporated, Niagara Bottling, Denver Solutions, Dr. Pepper Snapple Group, Mountain View Foods, Harvest Meat Company, Green Chef Corporation, FreshPoint, and many more. You can apply for forklift operator jobs, or to be a warehouse operations manager, forklift mechanic, and warehouse inventory lead.
Given Denver's strong local economy, there is rarely a shortage of forklift jobs.
But there is a shortage of qualified job candidates! Denver employers prefer qualified operators – but they're not always available. That's why FLC gives you a big advantage over the competition. With your forklift training in Denver, you'll have the best possible chance to land a great job in Colorado's largest city.
Forklift certification in Denver is affordable, easy, and always accessible, thanks to FLC! To obtain your OSHA compliance, sign up with FLC today!
Choose ForkliftCertification.com for the Best Forklift Certification in Denver
By now, you're probably excited with all of the possibilities available to you when you receive your Denver forklift training. What's the next step? To choose ForkliftCertification.com for your OSHA-compliant, comprehensive Denver forklift certification. Our online program is up to date with all OSHA regulations, and is incredibly easy and convenient to complete. Each module is self-paced, but the majority of our students only need one hour! That's right! In only about one hour, from the comfort on your own home, from any device with internet, and for only $299, you can have your industry-leading forklift certification in hand to present to potential employers in your favorite companies.
Don't waste any time! Get your Denver forklift certification today! Give yourself the best possible chance to get forklift jobs in Denver. Our OSHA forklift consultants can answer any questions you have about our courses – just call us at (888) 278-8896, or visit our contact page. Thanks for considering FLC for all of your Denver forklift certification needs!