The most trusted online resource for OSHA forklift certification and training since 2002
Questions? Call us! (888) 278-8896
Get Jacksonville Forklift Certification with FLC Today!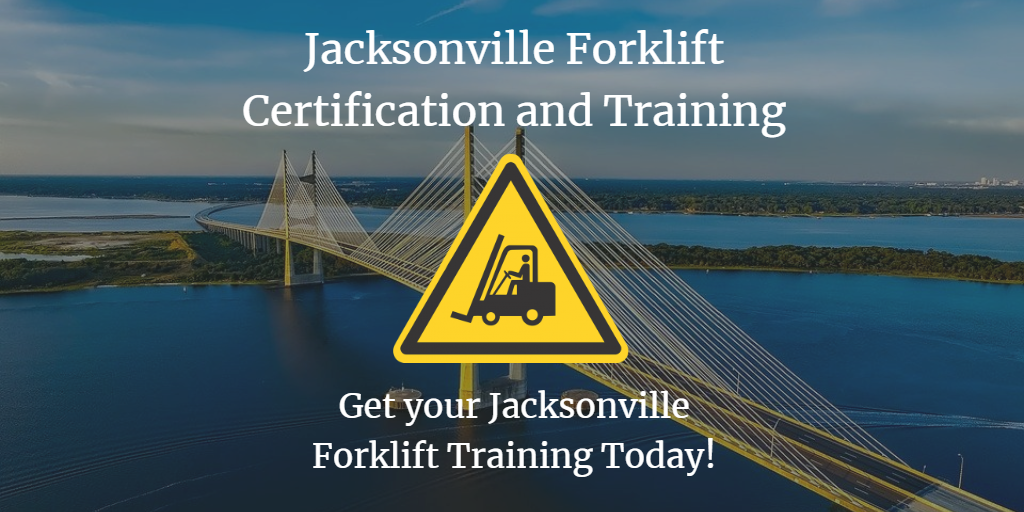 Get OSHA Compliant Today with FLC's Forklift Certification in Jacksonville | It's Required by Law!
Sign up with our forklift certification in Jacksonville, and your company will benefit with:
Great customer service
Up-to-date training that reflects the latest ANSI, OSHA and other regulatory body requirements
100% OSHA compliance
Online access from anywhere, any time
And much more
One of the most populated cities along the eastern seaboard, Jacksonville's strategic location on the Atlantic Ocean makes the city one of the busiest port cities in the Southern United States. With so many docks, shipyards, and distribution facilities centered around Jacksonville's shipping industry, there are plenty of companies that are always looking for properly trained and certified forklift operators.
THE COURSE CATALOG FOR JACKSONVILLE FORKLIFT CERTIFICATION – PRICING AND INFORMATION
Need New Jersey forklift certification? Choose any one or a combination of these courses:
Get your Jacksonville forklift certification for just $299. Ideal for beginners experienced operators and everyone in between!
If you'd like your own training expert, sign up for this course…only $149!
Get the best of both worlds! Includes our Train a Trainer and Training Kit courses for a special package rate of $399. Looking for the best bang for your buck? You'll want the Bundle Package today.
CertifyMe.net, a training company associated with FLC, offers this for just $59.
Don't delay and get started today with your Jacksonville forklift certification. FLC is here to assist with all of your OSHA compliance requirements!

IMPORTANCE OF JACKSONVILLE FORKLIFT CERTIFICATION
Every Florida city needs equipment operators to keep up with the bustling modern world, and to remain safe and efficient. This requires that all operators are properly trained and certified for the safety of all concerned. Companies hire forklift operators to handle the heavy lifting and perform other tasks that were once impossible. These are just a few roles (which you may hire for) that could use forklift certification in Jacksonville:
✓ Warehouses
✓ Malls and retail centers
✓ Shipyards and docks
✓ Manufacturing facilities
✓ Construction sites
✓ Distribution centers
✓ And more
Without forklift certification in Jacksonville, your employees aren't legally able to operate powered industrial trucks. With FLC, you'll be OSHA compliant, and your employees will enjoy a safer workplace!
HOW A FORKLIFT CERTIFICATION IN JACKSONVILLE HELPS BOTH WORKERS AND EMPLOYERS
When your forklift operators complete OSHA-compliant forklift training in Jacksonville, your company, your operators and their fellow co-workers will enjoy a host of benefits that come with forklift certification in Jacksonville. Here are some of them:
✓ A Safer Workplace
Once your employees complete FLC's forklift operator training session, they'll have a better understanding of key OSHA safety concepts, including proper operating speeds, optimal load and cargo-carrying methods, how to avoid blind spots, working around pedestrians and much more. Our OSHA forklift certification for Jacksonville covers everything from basic safety measures to advanced operating concepts. Beginners and experienced forklift drivers alike will benefit from FLC's Jacksonville forklift certification and training courses. If you want your employees to be the safest possible and most productive forklift operators they can be, enroll them in FLC's Jacksonville forklift certification training today.
✓ Reduced Liability
If you're hiring forklift operators for jobs in Jacksonville or anywhere in Florida, there's a huge advantage to hiring workers who have already completed FLC's OSHA-approved forklift operator training. It's been proven that the chances of workplace accidents that result in injuries or death are greatly reduced if equipment operators are properly trained and certified. What's more, in the event of an OSHA audit, you'll be able to prove that your forklift operators have been properly trained. Remember… Jacksonville forklift certification isn't a nice to have – it's the law, and your company could incur huge fines if your forklift operators aren't trained to OSHA compliance standards.
✓ OSHA Compliance
Are you confident your company could pass an OSHA audit? Or that your employees have the best training and Jacksonville forklift certification available? If not, sign up with FLC today! We'll put you on the path to OSHA compliance – it's easier and more affordable than you think.
We offer three different options for certifying forklift operators, which are Train the Trainer, Forklift Training Kit, and Bundle Package. Don't take the risk – ensure every forklift driver is OSHA compliant by enrolling them today!
COMPREHENSIVE FORKLIFT CERTIFICATION IN JACKSONVILLE
As much demand as there is for forklift operators, not just anyone can do the job. Only properly trained and certified workers are hired for these jobs in order to maintain the standards necessary in this line of work. Forklifts are heavy pieces of equipment that can be dangerous with an untrained operator at the controls, which result in many injuries and fatalities every year. The majority of these life-threatening accidents are caused by operator error.
To protect the safety of your employees, you need to enroll them in FLC's Forklift Certification Training.
Employers need forklift certification in Jacksonville, and we're the #1 choice for area companies looking to meet and exceed their OSHA compliance and training needs.
TYPES OF FORKLIFT JOBS IN JACKSONVILLE
There are countless jobs available for forklift operators in and around Jacksonville who have a forklift certification in Jacksonville. Whether you're hiring a forklift operator, service technician warehouse worker, nighttime forklift operator, shipping and receiving clerk, dock worker, warehouse technician, loader, or reach operator, FLC will get your forklift drivers OSHA compliant quickly and affordably with our Jacksonville forklift certification training. With your FLC forklift certification in Jacksonville and elsewhere, you'll be able to qualify for them.
ForkliftCertification.com's is the ultimate in convenience, flexibility, and affordability. Employees take the classes whenever and wherever is convenient. Once they complete the training, their OSHA certifications can be immediately downloaded and printed for your HR files.
Once you sign them up for FLC's. Jacksonville forklift certification training, you have a partner for the long haul! There's no need to worry about having them take time off from work to travel to a costly offsite training facility, and there's no more worrying about not being OSHA compliant. With FLC's Jacksonville forklift certification, you can have it all!

HAVE YOUR FORKLIFT OPERATORS CERTIFIED THROUGH FORKLIFTCERTIFICATION.COM
If you're an employer looking for forklift drivers in the greater Jacksonville area, you'll need to be sure they have received the latest OSHA compliant Jacksonville forklift certification training. You also need to be aware that OSHA requires that forklift operator certification in Jacksonville is the employer's responsibility. Thanks to FLC, you can have the best training available for both your current operators and new hires at affordable prices. It all starts with our Jacksonville forklift certification training.
You don't have to spend a lot of money to get forklift certification in Jacksonville for your employees and comply with OSHA regulations. You can have your employees trained and certified to operate forklifts in Jacksonville in no time at all and at very little expense by arranging for them to complete ForkliftCertification.com's online Jacksonville forklift certification training.
Look no further! If you need to get your employees forklift certification in Jacksonville, we can help. The training program is online and only takes about one hour to complete. The 100% OSHA compliant training program can be accessed on any device wherever there's an internet connection, and our training kit costs just $299.
Create an account and make your workplace OSHA compliant today with Jacksonville forklift certification! Check out our OSHA training courses approved for all forklift jobs in Jacksonville! To speak with our Jacksonville forklift training experts, please call us FLC at (888) 278-8896. Or, sign up today and get started with your Jacksonville forklift certification!