Earn Your OSHA-Compliant Forklift Certification in an Hour or Less!
Jacksonville, Florida is known for its manufacturing, logistics, and distribution industries. Forklift operators play an important role in each of these areas. Jacksonville businesses frequently require OSHA-certified forklift operators who can assist with a wide range of duties and tasks. Trained and educated operators can make all the difference in terms of safety and productivity. 
Unsure of how to get your forklift license in Jacksonville? Allow ForkliftCertification.com to guide you through the process. Our course for forklift certification in Jacksonville, FL gives you everything you need to get in compliance with OSHA regulations.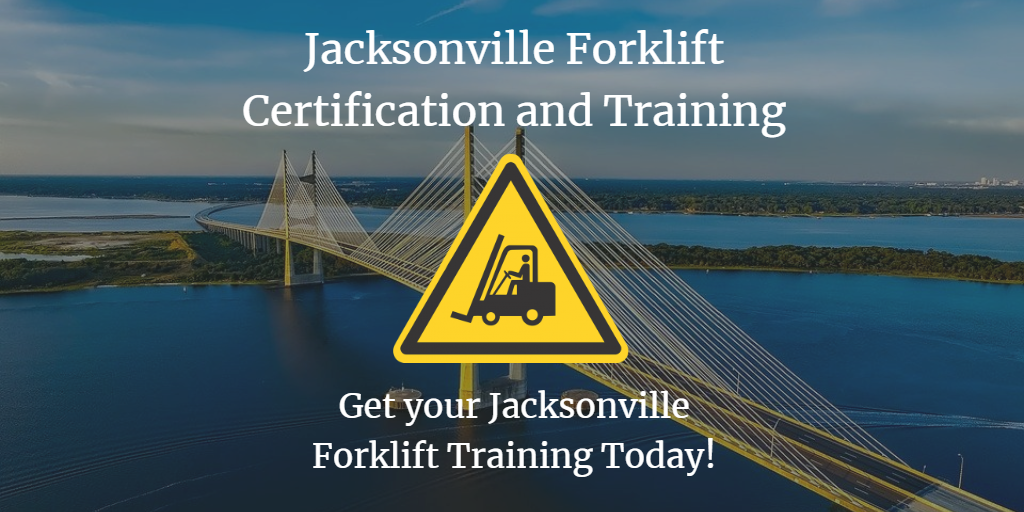 Our Jacksonville, Florida forklift certification courses feature:
✓ Affordability
✓ Convenience
✓ Insider insight into OSHA regulations
✓ And so much more!
Employers are legally required to provide training for their forklift operators. FLC allows you to reap the benefits of the very best forklift training in Jacksonville, FL. Sign up now and alleviate any worries you have about expensive OSHA fines and penalties.
Forklift Certification in Jacksonville, FL: Course Pricing and Details
Need OSHA forklift certification in Jacksonville, FL? Choose from any one or combination of these courses:
Priced at an affordable $149, any one of your employees can learn to become an OSHA-approved forklift certification trainer. FLC's Train a Trainer course allows workers to learn how to teach others about OSHA forklift safety requirements. The course is self-paced and designed for those of all backgrounds and experience levels. It is backed by a 100% money-back guarantee, so there's no risk in giving this course a try!
Another great option is our Employee Training Kit. For just $299, the kit allows you to train your entire team about forklift safety topics. Included in the kit are learning materials necessary to teach employees how to properly operate and maintain forklifts. Learners will also discover how to identify hazards, avoid accidents, and foster a safe work environment. With this kit, your team can gain the experience and insight necessary to work as safely and productively and possible. Best of all, your company can avoid expensive OSHA forklift safety compliance fines and penalties.
Want to take advantage of both of the aforementioned options? The Bundle Package includes access to both the Train a Trainer course and Employee Training Kit. This wealth of information is truly one of the best investments you can make in your organization. Valued at $399, the package offers a $50 savings over purchasing our Train a Trainer course and Employee Training Kit separately. 
Want to certify a single employee in the course of an afternoon? We also offer an online forklift certification course via our sister site, CertifyMe.net. This course is available for $59.95. 
Don't delay in signing your employees up for our programs. Get started today and ensure your company is OSHA-compliant!

Importance of Jacksonville Forklift Certification
Every Florida city needs equipment operators to keep up with the bustling modern world, and to remain safe and efficient. This requires that all operators are properly trained and certified for the safety of all concerned. Companies hire forklift operators to handle the heavy lifting and perform other tasks that were once impossible. These are just a few roles (which you may hire for) that could use forklift certification in Jacksonville:
Warehouses
Malls and retail centers
Shipyards and docks
Manufacturing facilities
Construction sites
Distribution centers
And more
There are countless jobs available for forklift operators in and around Jacksonville who have a forklift certification in Jacksonville. Whether you're hiring a forklift operator, service technician warehouse worker, nighttime forklift operator, shipping and receiving clerk, dock worker, warehouse technician, loader, or reach operator, FLC will get your forklift drivers OSHA compliant quickly and affordably with our forklift training in Jacksonville, FL. 
Without forklift certification in Jacksonville, your employees aren't legally able to operate powered industrial trucks. With FLC, you'll be OSHA compliant, and your employees will enjoy a safer workplace!
HOW A FORKLIFT CERTIFICATION IN JACKSONVILLE HELPS BOTH WORKERS AND EMPLOYERS
When your forklift operators complete OSHA-compliant forklift training in Jacksonville, your company, your operators and their fellow co-workers will enjoy a host of benefits that come with forklift certification in Jacksonville. Here are some of them:
✓ A Safer Workplace
Once your employees complete FLC's forklift operator training session, they'll have a better understanding of key OSHA safety concepts, including proper operating speeds, optimal load and cargo-carrying methods, how to avoid blind spots, working around pedestrians and much more. Our OSHA forklift certification for Jacksonville covers everything from basic safety measures to advanced operating concepts. Beginners and experienced forklift drivers alike will benefit from FLC's Jacksonville forklift certification and training courses. If you want your employees to be the safest possible and most productive forklift operators they can be, enroll them in FLC's Jacksonville forklift certification training today.
✓ Reduced Liability
If you're hiring forklift operators for jobs in Jacksonville or anywhere in Florida, there's a huge advantage to hiring workers who have already completed FLC's OSHA-approved forklift operator training. It's been proven that the chances of workplace accidents that result in injuries or death are greatly reduced if equipment operators are properly trained and certified. What's more, in the event of an OSHA audit, you'll be able to prove that your forklift operators have been properly trained. Remember… Jacksonville forklift certification isn't a nice to have – it's the law, and your company could incur huge fines if your forklift operators aren't trained to OSHA compliance standards.
✓ OSHA Compliance
Are you confident your company could pass an OSHA audit? Or that your employees have the best training and Jacksonville forklift certification available? If not, sign up with FLC today! We'll put you on the path to OSHA compliance – it's easier and more affordable than you think.
We offer three different options for certifying forklift operators, which are Train the Trainer, Forklift Training Kit, and Bundle Package. Don't take the risk – ensure every forklift driver is OSHA compliant by enrolling them today!
Get Your Forklift Operators Certified with FLC
Earning your OSHA forklift certification in Jacksonville, FL has never been more affordable or convenient. If your organization needs a comprehensive solution to compliance gaps, register for our forklift training in Jacksonville, FL today. Signing up only takes a moment or two – it's the first step on the road to OSHA compliance. Have questions about forklift training in Jacksonville, FL? Give us a call at (888) 278-8896 or contact us online.