Forklift Certification And Training Arizona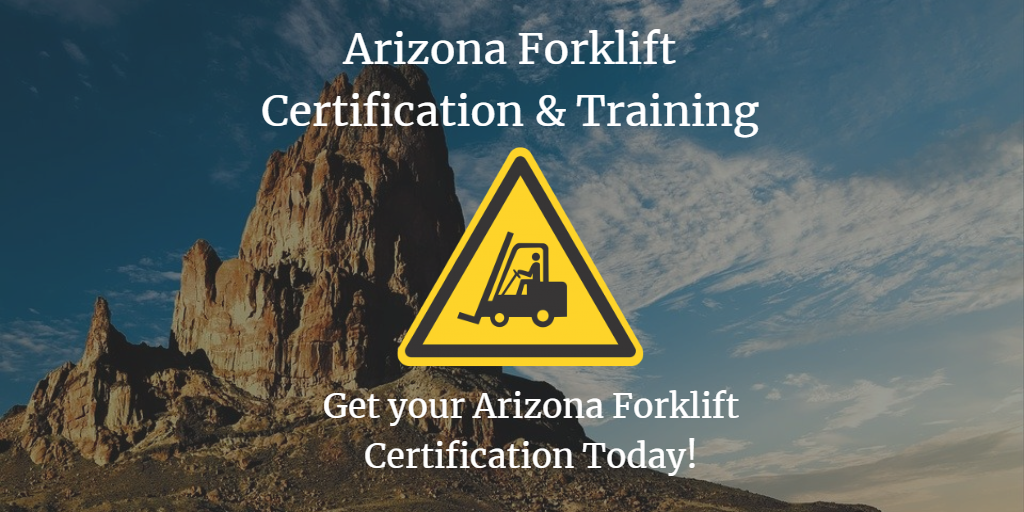 Arizona is a great place for companies that employ forklift drivers. From construction to distribution and more, the Grand Canyon State has plenty of great jobs – but employers only want the best-qualified candidates. That's where FLC comes into play – our forklift certification in Arizona courses give you a solid understanding of OSHA safety guidelines, and also shows your employer you're OSHA compliant. If you need forklift training in Arizona, get started with FLC today!
Our forklift certification in Arizona offerings feature:
✓ Affordable pricing
✓ Free lifetime renewals
✓ Insider OSHA resources and certification updates
✓ And much more!
Our course offerings (Train a Trainer, Employee Training Kit, and Bundle Package) make forklift training in Arizona as accessible, convenient, and easy as it has ever been. While you might have heard rumors that forklift certification in Arizona is challenging, frustrating, and expensive, that couldn't be further from the truth. At ForkliftCertification.com, we offer affordable OSHA-compliant certification for Arizona employees. Since we offer complimentary recertification training, there's truly no better option for forklift training in Arizona.
FLC Forklift Certification in Arizona: Course Information and Pricing
Our training is good all over the Grand Canyon State, and our forklift training in Arizona is also valid across the U.S. Here's a quick rundown of our Arizona forklift certification classes:
At just $149, our Train a Trainer program is one of the best investments you can make in the safety of your organization. Anyone on your team can become an OSHA-approved forklift certification trainer. The program provides an employee with the training necessary to teach others about OSHA forklift safety mandates. The self-paced program is designed for workers of all backgrounds and experience levels. Backed by a 100 percent money-back guarantee, the program is a must for any business with multiple employees to train.
Our Employee Training Kit is a great way to educate employees about forklift safety. For just $299, you'll receive all the learning materials necessary to teach workers how to operate and maintain a forklift. They'll also discover how to identify forklift hazards, avoid accidents, and more. Employees will learn how to contribute to a safe and productive work environment. Best of all, once they complete the program, workers will be in compliance with OSHA requirements. This will allow your company to avoid OSHA forklift safety fines and penalties.
Want access to both the Employee Training Kit and the Train a Trainer course? Our Bundle Package is a great deal. For $399, you'll receive all the forklift safety tools and resources included in both courses.
In addition to the aforementioned course offerings, we also provide an online forklift certification class on our sister site, CertifyMe.net. Available for $59.95, the class is a great investment into worker safety.
Don't delay in signing your workers up for our programs. Start today and ensure your company is OSHA-compliant!

Why Do Workers Need Forklift Certification in Arizona?
Forklifts are frequently used in stores, construction sites, and warehouses. They're essential to productivity, but can be dangerous when not used properly. Accidents including tip-overs and collisions can lead to employee injuries and even fatalities. Forklift certification in Arizona teaches employees all they need to know to prevent such accidents.
OSHA mandates that operators be trained and certified before they begin using forklifts on the job. Employers must provide this training and the proper certification paperwork proving their training occurred. ForkliftCertification.com provides fast, convenient forklift training in Arizona. In as little as 60 minutes, your workers can become OSHA-approved lift operators.
Invest in Updated Forklift Training in Arizona
ForkliftCertification.com offers the complete forklift certification AZ package. No other training package offers such value and comprehensive resources. If your organization needs a more complete solution to common compliance gaps, you'll want to register for our forklift training in Arizona right away.
Signing up takes only a moment or two. By registering your account, you'll be on your way to OSHA compliance. Take the first step today and begin your path towards Arizona forklift certification. Still have questions about our offerings? Give us a call at (888) 278-8896 or contact us online.
Enjoy the sun, nature, and countless options for fun, entertainment, and great food in Phoenix when you receive your Phoenix forklift certification in one hour! When it comes to forklift certification in Arizona, Phoenix certification is one of the most popular metro areas for this compliance training.
There's no need to travel in the heat to get your Tucson forklift certification. Get trained from the comfort of your own home with our online program.