Arizona Forklift Certification, 100% Online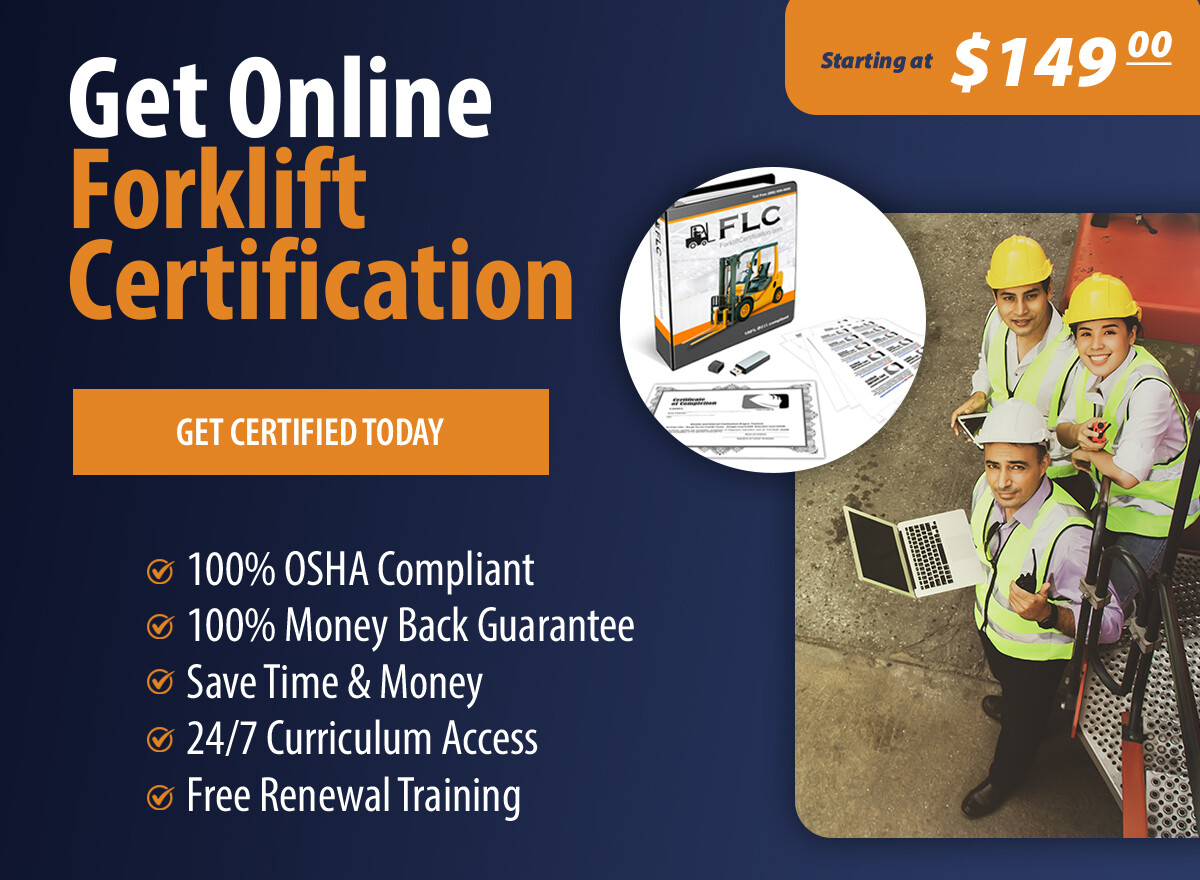 If you plan on operating a forklift for your next construction job or project, then you must first investigate whether you need to get certified. According to OSHA, it's legally necessary to obtain the proper training and forklift certification in Arizona if you plan on using any type of forklift.
In the past, obtaining an education meant going off-site, but now, you can consider our fully online training kit as an option. Once you go through our training materials, you'll be considered fully certified and legally able to operate a forklift in not only Arizona but across the entire country.
Here at ForkLiftCertification.com, we offer several different courses to choose from. If you're looking to certify only one employee, then you can get our entire kit for a one-time price of $299. If you're interested in certifying an entire team fully on-site, then it might be best to bundle both our train-the-trainer kit and our employee training kit. This bundle costs $399.00.
How Online Forklift Certification in Arizona Works
Before you purchase our kits, though, you might want to learn more about how to get forklift certified in Arizona and what our certification process entails. When you purchase our bundle and save kit, you'll be able to do everything completely online and on-site. Here are the steps you'll take if you choose to work with us:
The Employer Should Sign Up

: If you're an employee, then you should first discuss your certification with your employer. In many cases, the employer is the one who will pay for the certification and training.

Your Employer Should Purchase the Course

: If you're an employer, then your next step will be choosing the course you'd like to purchase and paying for it through our platform. Depending on your needs, you may want to buy only an employee kit or a bundle that will help you certify your whole team.

Employees Take the Training

: Next, your employees will need to review the educational training materials. Employees can go through this information online at their own convenience.

Employees Take an Online Test

: After going through the online course materials, employees will be expected to pass an online test. Employees can take the quiz as many times as necessary until they pass.

Employees Take a Hands-On Evaluation

: After passing the online portion of our program, employees should submit to a hands-on evaluation from a certified trainer. We offer

certified trainer training kits

that can help you perform these evaluations on site. These tests will ensure the employee understands how to operate and work a forklift before they get certified.

Print Your Operator Card

: After passing the on-site evaluation, employees can print off their official certification and operator card.
After this process, you'll be considered sufficiently trained per OSHA standards. You can print off proof of your training directly from our training kit materials. We recommend keeping your official operator card with you when you're operating forklifts on-site. That way, if you do face any unexpected inspections from OSHA, then you'll be able to prove your compliance quickly and easily.

Why Choose us for Arizona Forklift Certification
Due to OSHA's rules and regulations, it's necessary to get certified before you try to operate a forklift. If you don't abide by OSHA's rules, then you could face fines, have your job site shut down, or even experience a workplace injury or death. With that in mind, getting certified is the right and wise choice.
Obtaining an Arizona forklift certification online can be a complex situation if you don't know where to turn, though. Here are just a few of the many reasons why you should opt to work with ForkLiftCertification.com to get your training materials:
Convenient

: 24/7 access to training materials on computer or mobile device

Affordable

: Employers pay one price to certify an unlimited number of team members

Fast and Easy

: Most employees can complete the training in an hour

Free Renewal

: Certifications must be renewed every three years

Instance Access to Proof of Training

: Print off proof of training immediately upon completing our program
On top of all those great perks, we'll also offer you a 100% money back guarantee in the event you aren't satisfied with our training materials.
If you're not sure where to get started or what course(s) to pick, then we can help. Answer a few questions on our interactive quiz, and we'll help you choose the best product for you or your team.


Frequently Asked Questions Arizona Forklift Certification
Do you have more questions about the Arizona forklift certification process? Below, we'll go over some of the most frequently asked questions regarding getting certified in our state.
Do I Need a Forklift Trainer on Staff?
One question employers often ask is – is it necessary to train a trainer so they are fully certified as a part of your team? This isn't a necessary step, but it is a great idea if you want to certify multiple employees. When you have a forklift trainer as a member of your staff, you'll be able to perform on-site evaluations to fully certify your employees. Even better, the forklift trainer can provide invaluable safety tips, knowledge, and safety skills to your entire team throughout the time they work as a part of your staff. Considering these benefits, it might make the most sense to keep a certified forklift trainer on your staff.
How Dangerous are Forklifts in Arizona?
Forklifts are much more dangerous than you might think. In fact, recently an Arizona resident was arrested after attempting to use a forklift as a deadly weapon in an attack. Even when forklifts aren't being used like weapons, they can still cause fatalities, especially when they're being operated by untrained individuals. Forklifts can cause crushing injuries, fractures, broken bones, cuts, TBIs, and more. Luckily, with the right training and mindfulness, the risks of these injuries are greatly reduced.
Why Do Workers Need Forklift Certification in Arizona?
Forklifts are frequently used in stores, construction sites, and warehouses. They're essential to productivity, but can be dangerous when not used properly. Accidents including tip-overs and collisions can lead to employee injuries and even fatalities. Forklift certification in Arizona teaches employees all they need to know to prevent such accidents. 
OSHA mandates that operators be trained and certified before they begin using forklifts on the job. Employers must provide this training and the proper certification paperwork proving their training occurred. ForkliftCertification.com provides fast, convenient forklift training in Arizona. In as little as 60 minutes, your workers can become OSHA-approved lift operators.

Invest in Updated Forklift Training in Arizona
ForkliftCertification.com offers the complete forklift certification AZ package. No other training package offers such value and comprehensive resources. If your organization needs a more complete solution to common compliance gaps, you'll want to register for our forklift training in Arizona right away. 
Signing up takes only a moment or two. By registering your account, you'll be on your way to OSHA compliance. Take the first step today and begin your path towards Arizona forklift certification. Still have questions about our offerings? Give us a call at (888) 278-8896 or contact us online.