Lawrenceville Forklift Certification, 100% Online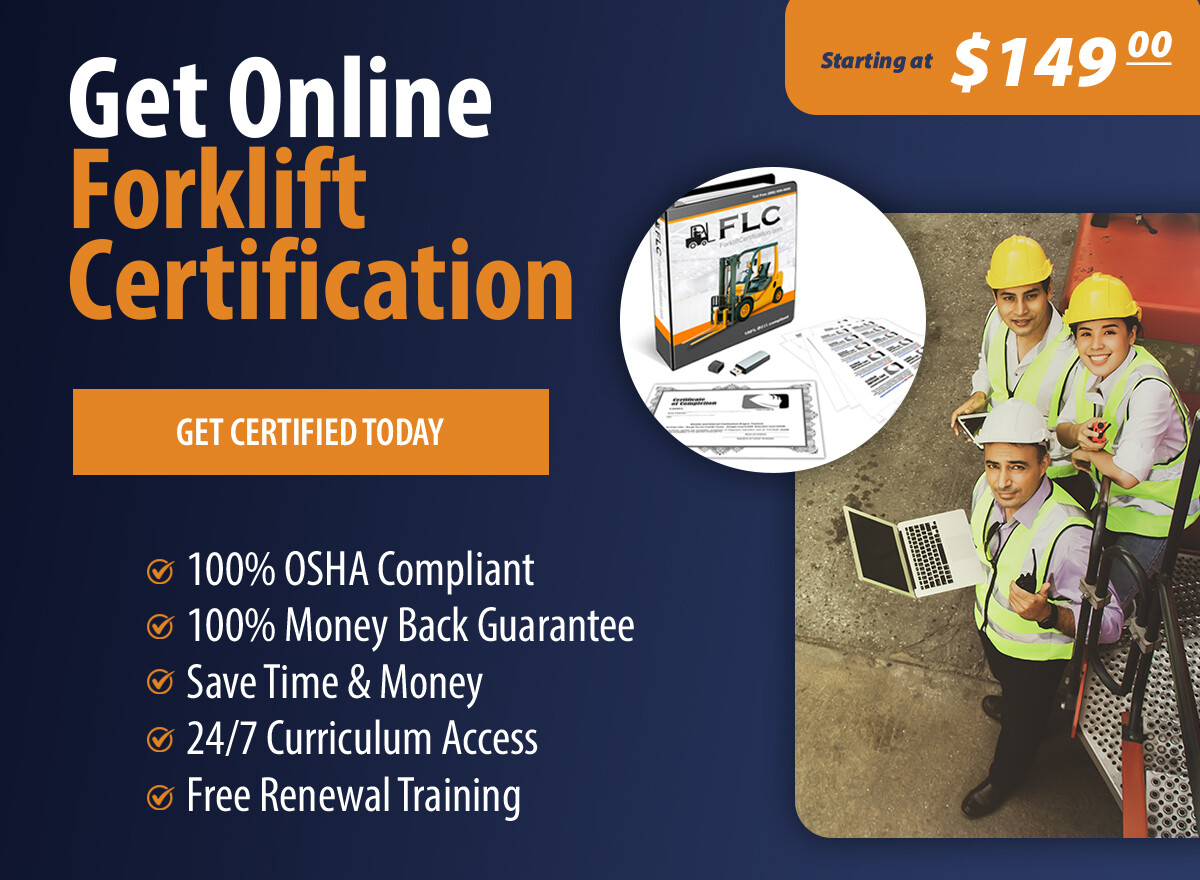 Plenty of major construction projects have been going on in Lawrenceville over the past several years, including the Lawrenceville Arts Center, Southlawn, and the college corridor. Construction is far from over, though, as the city is also planning on building a Hilton Tapestry Hotel.
If you have a big construction job that will require the use of forklifts, you'll need first to learn more about OSHA's rules. In general, you'll need to get a forklift certification in Lawrenceville before operating one. The good news is that we have all the certification courses your team will need to get fully certified and start on your next project.
To obtain your team's Lawrenceville forklift certification online using our kit, you'll need to purchase our employee training course for a one-time cost of $299. You can also use our bundle and save on a discount if you also want to purchase our trainer certification course. Together, the two courses are $399, and they'll empower you to certify your entire team online and on-site.
How Online Forklift Certification in Lawrenceville Works
Before you invest in our kit, you'll likely want to know more about how to get forklift certified in Lawrenceville. Our employee training kit comes with online educational material and physical training materials that we will mail to you.
Our train-the-trainer kit is similar, but it's used to certify one of your employees to evaluate other employees seeking certification. One of the biggest advantages of having an on-site certified trainer is that your team won't have to go elsewhere to get certified. Keeping things in-house gives you more control, helps you avoid lost productivity time, and gives you the security of knowing that the training process is up to par.
Here is how our program works:
Employers Sign Up: Employers need to take the first step in certifying employees by picking a company to work with and getting all the necessary materials.
Select and Pay for Your Class: Select the certification course that best fits your team's needs. You can pay for the course directly on our website. If you purchase physical training kit materials, they will be mailed to you. Otherwise, you'll be able to access all the digital resources immediately.
Employees Educate Themselves: Next, employees will want to go through the educational course material on their own. The online content can be accessed anytime from any internet-connected device.
Employees Submit to an Online Exam: Employees will be prompted to take a few online tests while going through the online material. Passing these tests is mandatory to move on with the process. Still, employees can take them as many times as necessary.
Employees Take an On-Site Evaluation: After completing the training material, employees will take an in-person, on-site evaluation with a certified trainer. You can buy ourtrain-the-trainer kit if you don't have a certified trainer on your team yet.
Employees Obtain Their Official Certification: Finally, employees obtain their official OSHA certification.
Once employees have completed these steps with our employee training kit, they'll be fully trained to operate forklifts per OSHA's standards. You can print off their certification and operator cards for proof of training. It also might be a good idea to keep a copy of their certification records in the event of an OSHA inspection.

Why Choose Forkliftcertification.com for Lawrenceville Forklift Certification
The cost of certification is far less expensive than the cost of not certifying your team. A failure to certify your team could result in a devastating accident with serious injuries. You could be held liable if you didn't certify your team first. On top of that, you'll also get fined by OSHA.
Here are a few reasons why you should work with us for your certification needs:
Easy to Complete: Our kit is easy to complete for both employers and employees
One Price for Unlimited Certifications: You pay once to certify an unlimited number of employees, making our kit cost-effective in the long run
Free Renewal: When certifications expire, renew them for free with our kit
Instant Proof of Training: Get immediate proof of certification from our kit
24/7 Access: Online course material is available 24/7
If you're not happy with our kit, then we'll return your money to you.

Frequently Asked Questions (FAQS)
Do you have more questions about certifying your team? Get answers to more general forklift certification questions on our FAQs page, or read on to learn more about Lawrenceville specifically.
Is Certification Necessary in Lawrenceville?
Absolutely. The risks of not certifying your team are too high. Fatal accidents happen far too often, like a recent forklift fire incident in Lawrenceville. Many of them are avoidable with the right precautions.

Are You Ready to Obtain Your Lawrenceville Forklift Certification?
The most common cause of forklift accidents is not having the proper training. Avoid this situation at your workplace by certifying your team before getting started. Check out our course options now to get started.