Get Detroit Forklift Certification Today
Need Forklift Certification in Detroit? Sign Up with FLC Today! Get OSHA Compliant Forklift Certification in Detroit in Less than One Hour!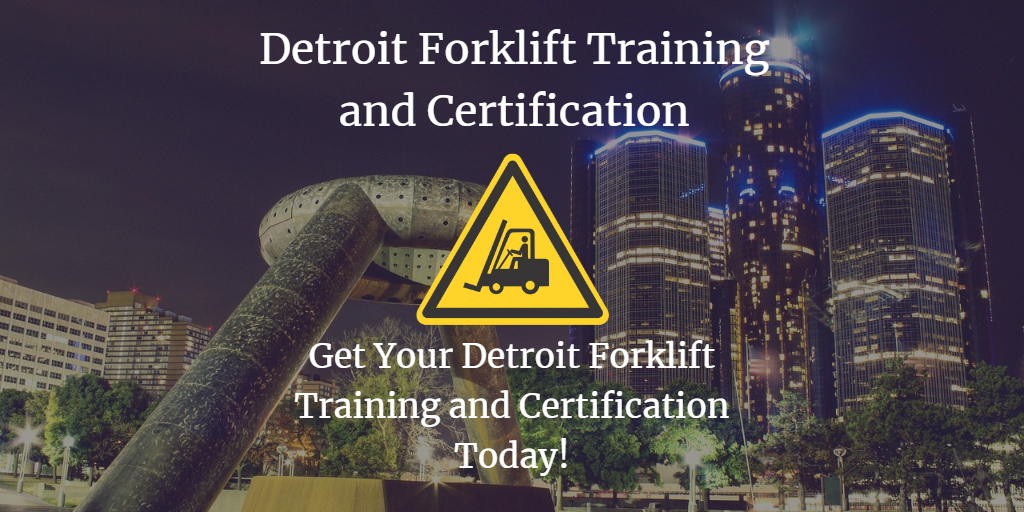 Need to hire forklift operators in Detroit? You've come to the right place! The need for skilled forklift operators to help reinvigorate this soulful city continues to grow. You'll appreciate FLC's fast, easy and affordable training program designed to have their forklift operators and their business comply with OSHA regulations.
Why do Detroit companies trust FLC for their Detroit forklift certification?
✓ Affordable prices
✓ Online, learn at your own pace format
✓ Comprehensive OSHA compliance
✓ All supporting documentation included
✓ Free renewal training
✓ And much more
By far the largest city in Michigan, Detroit continues expanding, modernizing, and improving, and is now once again a fun, hip place to live. In order for Detroit to recapture its former glory and restore its glamorous Motown image, forklift operators and other heavy equipment workers are in high demand. If you want to hire more forklift operators and put Detroit back on the map, consider getting Detroit forklift certification through ForkliftCertification.com's OSHA-approved forklift operator training.
COURSE PRICING FOR DETROIT FORKLIFT CERTIFICATION
If you need Detroit forklift certification, FLC has everything you need for complete OSHA compliance. Check out these courses for your training & certification needs:
This versatile Detroit forklift certification course covers basic safety and advanced concepts as well!
If you've been looking for your own safety resource, this Detroit forklift certification course won't disappoint! Prioritize safety today with our Train a Trainer option!
Our Bundle Package combines exceptional value with comprehensive training & safety knowledge. Includes both Detroit forklift certification courses listed above for a reduced rate.
Additional option with our sister training company CertifyMe.net.
Sign up today and get your forklift certification in Detroit. Your employees' safety is too important to ignore! Plus, you'll protect your company from expensive OSHA fines & penalties!

THE IMPORTANCE OF FORKLIFT CERTIFICATION IN DETROIT – WHY SHOULD I SIGN UP FOR FORKLIFT CERTIFICATION IN DETROIT NEAR ME?
Our training is all about safety. If your employees lack proper training, your company is liable for all sorts of issues in the event of an accident, including:
✓ Property damage
✓ Hospitalization bills
✓ Negative publicity
✓ Heavy fines and penalties from OSHA
✓ Skyrocketing insurance premiums
✓ And more
It is imperative that you protect your employees with training and Detroit forklift certification. Thorough training is the most efficient and effective way to protect the safety of your forklift operators and their coworkers. Our training benefits individual employers all across Michigan – sign up and see why we're the #1 option for forklift certification in Detroit!
WHAT IS INCLUDED IN DETROIT FORKLIFT CERTIFICATION?
Forklift certification in Detroit operator training will make your workers be as efficient and productive on the job as possible. It teaches students everything they need to know to properly and safely operate forklifts, recognize hazards, avoid accidents and inspect and maintain the equipment. When workers are adequately trained and understand how to properly operate a forklift, costly repairs for lifts that have been damaged or worn out due to failure to regularly inspect and maintain the equipment will be prevented. Adequately trained workers are more efficient and save their employers money by decreasing downtime, which increases their bottom line.
WHERE SHOULD I GET DETROIT FORKLIFT CERTIFICATION NEAR ME? SIGN UP WITH FLC TODAY!
There are countless warehouses, manufacturing companies, automobile parts manufacturers, and construction projects that are looking for certified forklift operators.
When your company is done with our forklift certification in Detroit, you can hire the following types of forklift drivers:
✓ Warehouse associate
✓ Forklift operator/mechanic
✓ Order picker
✓ Brewery employee
✓ Special events worker
✓ Automotive plant worker
✓ Construction worker
✓ Lawn/landscaping contract worker
✓ And much more!
HOW CAN EMPLOYERS HAVE THEIR WORKERS QUALIFY TO OPERATE FORKLIFTS IN DETROIT?
When searching for a qualified source for Detroit forklift certification, as an employer, you'll need to look for a program that complies with all OSHA forklift operator requirements, as well as provides all the training tools and information needed to properly and safely operate forklifts. The training also needs to include how to avoid workplace hazards that can lead to accidents resulting in fines and to inspect and maintain equipment to prevent costly repairs and recalls.
HOW TO GO ABOUT GETTING DETROIT FORKLIFT CERTIFICATION NEAR ME
The starting point is to sign up for one of FLC's forklift courses right here. We've made every effort to see that our online forklift certification in Detroit is as simple, easy and convenient as possible. We understand how important proper OSHA-compliant forklift training is to both employers and their employees, which is why we're able to provide you with the path of least resistance for forklift operator certification through our hassle-free online program.
Here's the straightforward five-step-process for signing up and having your operators receive Detroit forklift certifications:
Register your company and your operators on the FLC website
Instruct your workers to log on to the account
Have them work through the training modules
Students then take the quizzes and written final exam working at their own pace (our pass rate is 100 %)
Download and print each employee's temporary operator certification cards
That's all there is to it! Your employees will then be qualified to operate forklifts in workplaces throughout Michigan and of course everywhere in Detroit!
If you're looking for a forklift operator training program that's comprehensive, convenient and affordable, and that also ensures you and your company stay OSHA-compliant, you can depend on forkliftcertification.com. For your Detroit forklift certification. The training is online, and since there are no time limitations, trainees work at their own pace. Many students complete the coursework in as little as one hour. You can access all training materials online 24/7 using a smartphone, tablet or PC at any time of day and anywhere there's an internet connection.

HERE ARE THE TOPICS COVERED IN FLC'S FORKLIFT OPERATOR TRAINING:
✓ Warehouse forklift classes 1, 4 & 5
✓ Pallet jacks and order pickers, classes 2 & 3
✓ Class 7 rough terrain forklifts
FLC offers the following 3 different forklift operator training programs:
The kit includes everything you need to know to become an OSHA compliant and safe forklift operator from instructions on how to handle real-world workplace situations to a detailed review of OSHA safety regulations. The cost is just $299 and covers all your operators.
This training has specialized instruction that's designed to let any experienced forklift driver become a certified forklift safety expert. After one or more of your employees enroll in and complete FLC's train a trainer course, you'll have your own OSHA compliant, in-house safety instructor, to train and certify other workers, including conducting the required operator evaluations for only $149.
Both the train a trainer and forklift operator training kit is included in our bundle package at a discounted price of just $399, which represents a savings of $50 over purchasing the two courses separately. Great option for training forklift drivers and also getting your exclusive, in-house safety training expert! Register your company today and enjoy all the benefits that come with our Detroit forklift certification!
All courses are available in both English and Spanish versions and include free lifetime three-year renewal training that OSHA requires every 3 years, and each will prepare you for your forklift certification Michigan.
Don't put off your forklift certification in Detroit any longer. Just one small delay with OSHA compliance training could potentially put your company out of business, not to mention jeopardize the safety of your entire workforce. FLC is ready to help with your Detroit forklift certification today!
Find out more about ForkliftCertification.com's OSHA-approved Detroit forklift operator certification training by visiting our website. You can also call us at (888) 278-8896 or send us a message online via our contact page.