Detroit Forklift Certification, 100% Online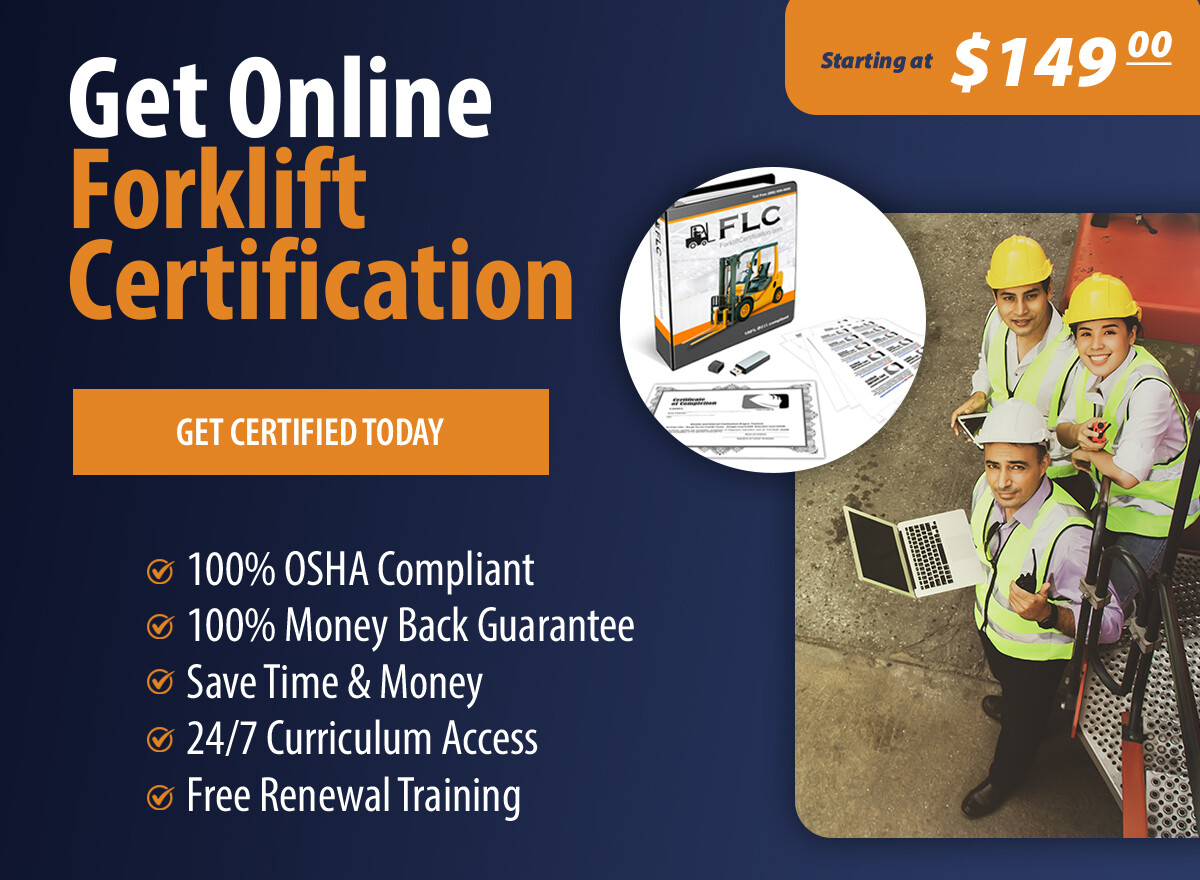 If you hope to pursue forklift certification in Detroit, you've come to the right place. ForkliftCertification.com can help you enhance your skills, secure a new job, and ensure workplace safety. Our courses equip you with the knowledge and practical training you need. Discover the best forklift certification opportunities right here in the Motor City. Join the ranks of certified professionals today and elevate your career! Choose from the following courses:
Trainer Certification
Bringing future forklift certification training in-house can save your business money. Our Train the Trainer course runs a mere $149, making it an excellent investment in your organization's safety culture. Not only will you have a dedicated employee on hand to oversee future forklift training, but you'll also have a safety expert who can advise and guide about how best to use forklifts in the workplace.
Employee Training Kit
At just $299, our employee training kit provides all the tools you'll need to teach employees about forklift operations. Most people complete the material in about an hour, and the resources can be used repeatedly.
Bundle and Save
For the smartest investment, consider purchasing both our courses. At just $399, this bargain is hard to pass up. When you spend wisely on safety training, your investment pays off in spades.

How Online Forklift Certification in Detroit Works
Pursuing Detroit forklift certification once meant traveling off-site to a dedicated training school where you'd spend hours and hundreds of dollars learning the fundamentals. These days, FLC makes it easy to learn wherever and whenever is most convenient. Get started with these simple steps:
Register Trainees: Management should sign up any workers needing forklift training and certification.
Choose Classes: Select from our forklift training or Train the Trainer class.
Finish the Course: Most people finish our courses in about an hour.
Take the Online Exam: Trainees can take the written exam as many times as needed to earn a passing score.
Undergo a Hands-On Exam: An on-site employee of your team must provide a hands-on evaluation for new trainees. If you need someone for the job, our Train the Trainer course is the best way to train an employee to oversee all your future in-house hands-on evaluations.
Print Proof of Certification: Proof of certification may be printed off after completing the hands-on test. Print the certificate and keep it with your HR files.
At this point, trainees are deemed OSHA-certified so long as they finish the training and successfully pass both the written and practical tests.
Why Choose FLC for Detroit Forklift Certification
If you're hoping to make your workplace a safer place to do business – while sidestepping potential OSHA fines – choose Detroit forklift certification online with FLC. When forklift operators are properly trained, they're far less likely to be involved in workplace accidents. Our training courses also help ensure your organization follows key OSHA guidelines, helping you avoid penalties. Here's why you should train with FLC:
24/7 Training: Employees may learn from anywhere and any device with an internet connection.
Fast and Easy: Most people finish the class in about an hour.
Immediate Proof of Certification: Print off certification cards to add to HR files after completing the training.
Free License Renewals: OSHA requires all forklift operators to recertify every three years. FLC trainees get access to our training courses for life.
An Incredible Value: Our certification courses are a fraction of what most training classes typically cost.
If our training doesn't meet your expectations, we'll give you a complete refund for the course. Give us a try without any risk!

Frequently Asked Questions About Detroit Forklift Certification
Still trying to figure out how to get forklift certified in Detroit? Explore answers to a few of our most frequently asked questions:
Does OSHA Fine Companies in Michigan?
Yes. Unsafe workplaces in Michigan are routinely fined tens of thousands of dollars.
Are Forklifts Dangerous? 
In the hands of an untrained operator, forklifts can be very dangerous. A Detroit forklift crash in 2022 left one person dead. 
Do You Need a License to Operate a Forklift in Detroit?
Yes, all forklift operators in the United States must be trained and certified before they begin using these machines.

Get Forklift Certification in Detroit Today!
Both the train a trainer and forklift operator training kit is included in our bundle package at a discounted price of just $399, which represents a savings of $50 over purchasing the two courses separately. Great option for training forklift drivers and also getting your exclusive, in-house safety training expert! Register your company today and enjoy all the benefits that come with our Detroit forklift certification!
All courses are available in both English and Spanish versions and include free lifetime three-year renewal training that OSHA requires every 3 years, and each will prepare you for your forklift certification Michigan.
Don't put off your forklift certification in Detroit any longer. Just one small delay with OSHA compliance training could potentially put your company out of business, not to mention jeopardize the safety of your entire workforce. FLC is ready to help with your Detroit forklift certification today!
Find out more about ForkliftCertification.com's OSHA-approved Detroit forklift operator certification training by visiting our website. You can also call us at (888) 278-8896 or send us a message online via our contact page.