Nevada Forklift Certification, 100% Online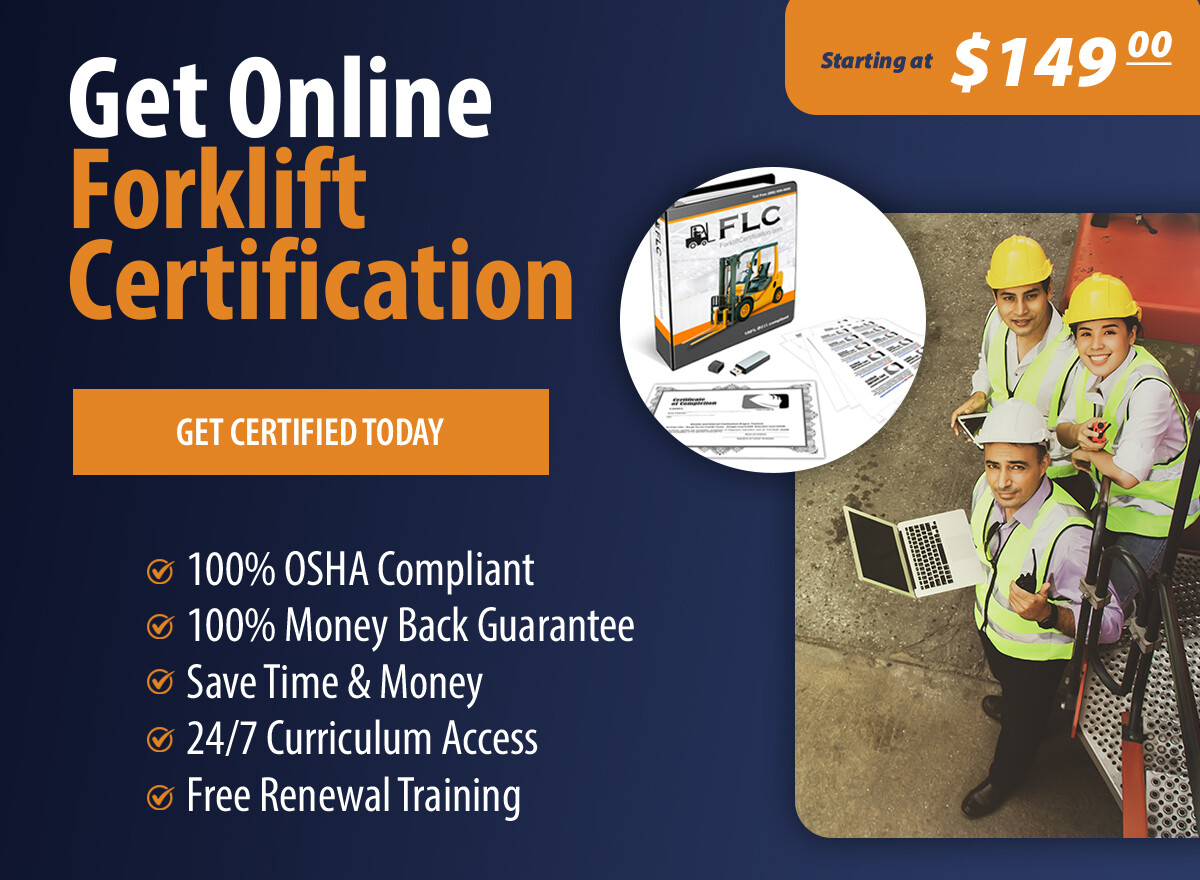 If you hire forklift operators in Nevada, you're required to provide training for anyone that runs your equipment. This OSHA guideline is often misunderstood, but make no mistake…when it comes to forklift certification in Nevada, employers are ultimately responsible for compliance.
So where do employers turn to handle this critical task? ForkliftCertification.com (FLC) is the smart choice for Nevada forklift certification. Our online-based learning platform, combined with on-site testing & evaluation, ensures total OSHA compliance for all your lift operators.
FLC has a complete selection of training courses for your Nevada forklift certification – online!
FLC's forklift certification in Nevada teaches your workers how to identify and avoid hazards, and also keeps your company covered in case of OSHA audits.
How to Get Forklift Certified in Nevada
In just a few simple steps, FLC will get your employees complaint. Here's how:
Register on our site –

Create login credentials for your company and each employee.

Choose your Nevada forklift certification

– Our

course catalog

has all the info you need – just select your courses to get started!

Complete online training

– Super convenient, our

forklift certification in Nevada

can be taken on anyone's schedule – during lunch breaks, after work, whenever it works for them.

Skills evaluation

– Can your workers take what they've learned online and apply these skills behind the wheel? It's time to find out with on-site testing. Remember, our

Train the Trainer

course gives you an employee to run this training – it's ideal for more experienced drivers or anyone that wants to become a safety manager.  

Hand out OSHA approved credentials

– When they're passed, each employee gets their own forklift license. Print out one for them, and one for their HR file – you might need this in case of an

OSHA inspection or audit

.

Benefits of FLC's Forklift Certification in Nevada
OSHA rules require every forklift operator to be fully trained and certified. Aside from achieving compliance, you'll enjoy these advantages with your forklift certification in Nevada:
Convenient access

– There's no set schedule for online testing – complete at your preferred pace.

Compliance in about an hour

– Many employees take about 60 minutes to complete testing – then they're ready for an on-site evaluation.

FREE recertification –

Once certified, your operators' credentials are valid for 3 years. At that time, we'll keep them compliant with

renewal training at no additional cost

.

Affordable prices

– All of our

Nevada forklift certification

courses are priced for optimal value. Safety should be within reach for everyone, including smaller companies without massive spending budgets.
Not sure which courses you need, or how to get forklift certified in Nevada? Just answer these questions and we'll guide you to make the right decision. 
Nevada Forklift Certification FAQs

Check out these common questions we receive on training & certification in Nevada:
Is Your Training Geared Toward Beginners or Experienced Drivers?
Both – thanks to our comprehensive platform, our Nevada forklift certification is perfect for rookies, veteran operators, and everyone else.
Can OSHA Fine My Company for Safety Violations?
You bet – and if you don't have forklift certification in Nevada, OSHA violations can top $100,000 and more! Stay compliant with FLC, and you'll avoid the most costly OSHA fines, even if your company has an accident or injury.
Does Your Training Include All Types of Forklifts?
Yes – from heavy duty lifts to order pickers & pallet jacks, our training spans the entire continuum of powered industrial trucks.

Why Choose Nevada Forklift Certification From FLC?
Our online training course for Nevada forklift certification is a simple, easy, and cost-effective way to assure that you are aware of all the safety guidelines you're expected to know available for individuals or your entire forklift fleet, our forklift certification in Nevada is done at your company's convenience. And since it's a well-regarded, industry-standard course, you can be confident that you're getting exactly what you need.
From Sparks to Spring Valley, from Reno to Las Vegas, FLC is the go-to provider for forklift training in Nevada, whether you're a small startup or a multinational corporation based in Nevada. Whatever your OSHA training requirements are, we have you covered! Click here to get started with your forklift certification in Nevada today. Once your employees are certified, their credentials are valid all across the United States – FLC training is the all-in-one flexible, totally portable training solution for your Nevada enterprise.
If you have any questions about our forklift training classes, or would like to explore different options for getting your forklift training in Nevada, call us directly at (888) 278-8896. Thanks for visiting FLC for the best forklift certification and training in Nevada!