Forklift Certification and Training, Nevada
Receive OSHA Compliant Forklift Certification in Nevada in Under One Hour! | 100% OSHA Compliant | Affordable | Convenient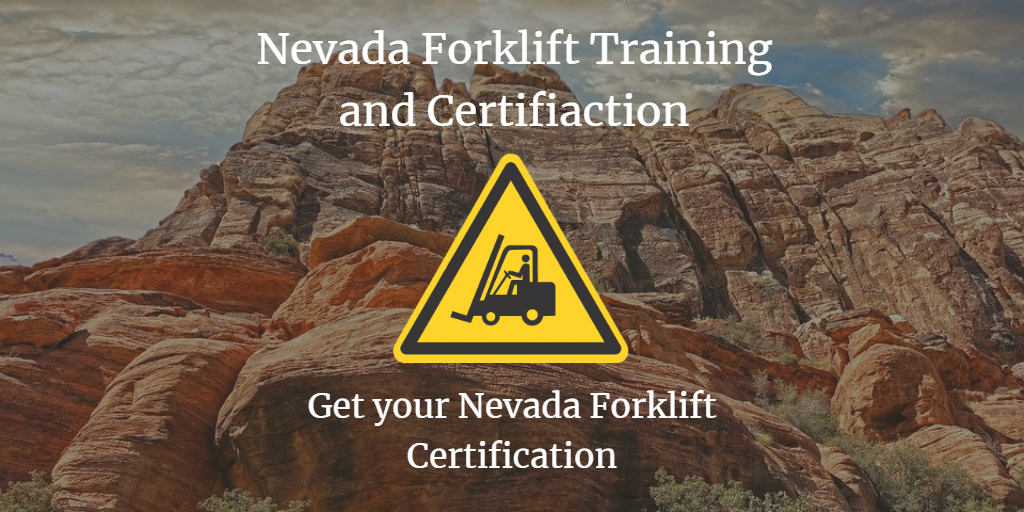 Las Vegas remains the biggest single constant in Nevada's economy. From new casinos to hotel renovations and more, Las Vegas is always looking for qualified forklift drivers. If your company hires forklift drivers in Nevada, ForkliftCertification.com (FLC) has the right training at the right prices. Simply put, we provide the best forklift certification and training in Nevada, for any company and any budget!
Nevada's economy is always changing, but one thing remains the same: the demand for qualified forklift drivers throughout the state. For employers, this means getting Nevada forklift certification for all employees that drive powered industrial trucks.
So how do you get started in this growing construction industry? That's easy: with OSHA-compliant Nevada forklift certification. Register today with FLC and ensure your company meets and exceeds current (and future) OSHA compliance standards. It's the law – and OSHA fines and penalties could put your entire operations in jeopardy. Don't take chances with safety…sign up today with ForkliftCertification.com.
Our forklift certification in Nevada features:
Affordable prices

Online, anytime convenience

Insider's knowledge on OSHA guidelines and regulations

Lifetime support

Free renewal training

100% OSHA compliant

forklift training in Nevada
Courselineup For FORKLIFT CERTIFICATION IN NEVADA
Forklift training in Nevada falls under Occupational Safety and Health Administration (OSHA) guidelines. And OSHA requires that businesses provide site-specific training to their staff, which includes forklift certification in Nevada. So even crews that already know what they're doing need to receive proper training on the job.
FLC offers three different training packages, each perfect for getting your forklift certification in Nevada.
This forklift training in Nevada provides training to turn experienced forklift drivers into Certified Forklift Safety Experts! This is one of our most popular forklift certification courses in Nevada.
From OSHA safety guidelines to real-world situations, nothing prepares quite like the best forklift certification and training in Nevada. If you need your forklift certification in Nevada (both employees and employers), sign up with the Training Kit today! The Training Kit includes operator cards, certificates of completion, hands on evaluation checklists and related guides, how to avoid forklift accidents, specialized instruction for any powered industrial truck, and even a PowerPoint presentation specifically geared toward instructors and safety personnel. The Training Kit is simply the most comprehensive, affordable, OSHA compliant forklift training in Nevada!
Who said you have to pick one or the other? Get the best of both worlds with our premier training kit for forklift certification in Nevada: the Bundle Package!
With no Nevada forklift certification, your company isn't legally permitted to have anyone operate powered industrial trucks. Doing so puts your workers and your company in serious jeopardy. Give your employees the safe working environment they deserve – and the law requires! Give them FLC – the best forklift certification and training in Nevada!

WHERE DOES NEVADA FORKLIFT CERTIFICATION COME IN?
Businesses have to be responsible for the competence of their staff, and this includes forklift certification in Nevada. The Nevada state and federal governments closely supervise the industry to make sure everyone is properly trained – and that starts with Nevada forklift certification.
Employers are responsible for ensuring their forklift drivers have forklift certification in Nevada. This includes knowing all the different requirements that comprise a thorough training program. With FLC, you'll have an affordable, cost-effective solution for getting your employees OSHA compliant Nevada forklift certification in no time at all!
Make sure your company is ready for anything, including an OSHA audit or investigation – sign up with FLC today and get the OSHA compliant training you need!
Why Chooose Nevada FORKLIFT CERTIFICATION From FLC?
Our online training course for Nevada forklift certification is a simple, easy, and cost-effective way to assure that you are aware of all the safety guidelines you're expected to know available for individuals or your entire forklift fleet, our forklift certification in Nevada is done at your company's convenience. And since it's a well-regarded, industry-standard course, you can be confident that you're getting exactly what you need.
From Sparks to Spring Valley, from Reno to Las Vegas, FLC is the go-to provider for forklift training in Nevada, whether you're a small startup or a multinational corporation based in Nevada. Whatever your OSHA training requirements are, we have you covered!
Click here to get started with your forklift certification in Nevada today. Once your employees are certified, their credentials are valid all across the United States – FLC training is the all-in-one flexible, totally portable training solution for your Nevada enterprise.
If you have any questions about our forklift training classes, or would like to explore different options for getting your forklift training in Nevada, call us directly at (888) 278-8896. Thanks for visiting FLC for the best forklift certification and training in Nevada!