The most trusted online resource for OSHA forklift certification and training since 2002
Questions? Call us! (888) 278-8896
Get Nevada Forklift Training and Certification Today with ForkliftCertification.com
Receive OSHA Compliant Forklift Certification in Nevada in Under One Hour!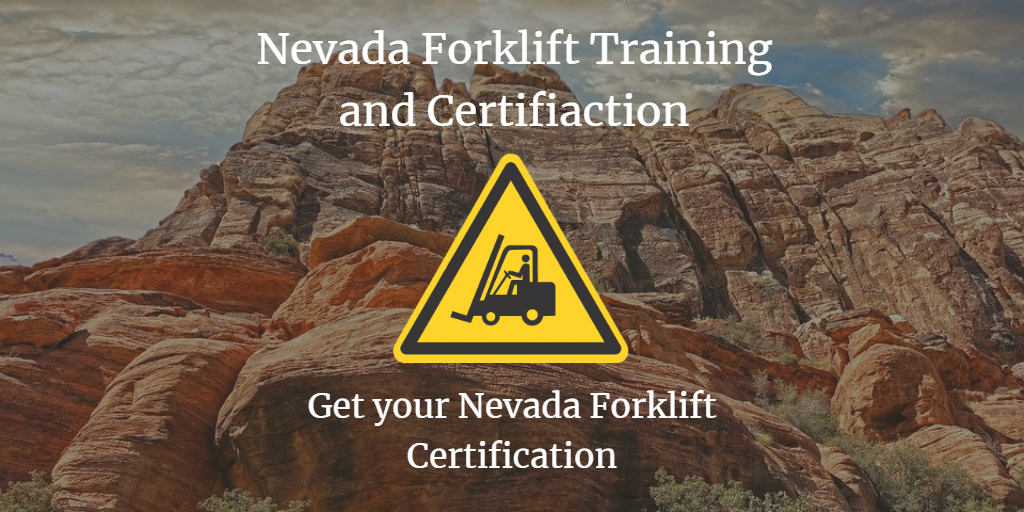 The construction industry in Nevada is on the upswing again – but that's after a punishing couple of years brought on by the financial crisis of 2008. Those are unique circumstances for skilled tradespeople in the Silver State.
Las Vegas remains the biggest single constant in Nevada's economy. From new casinos to hotel renovations and more, Las Vegas is always looking for qualified forklift drivers. Are your current OSHA credentials up to date? If not, FLC has the training you need to get a well-paying job in Nevada.
Nevada's economy is always changing, but one thing remains the same: the demand for qualified forklift drivers throughout the state. For employers, this means getting Nevada forklift certification for all employees that drive powered industrial trucks.
So how do you get started in this growing construction industry? That's easy: with OSHA-compliant Nevada forklift certification. Register today with FLC and ensure your company it compliant. It's the law – and OSHA fines and penalties could put your entire operations in jeopardy. Don't take chances with safety…sign up today with ForkliftCertification.com.

THE NEED FOR NEVADA FORKLIFT CERTIFICATION
Employers will only consider hiring qualified forklift operators, of course – but it doesn't end there. The Occupational Safety and Health Administration (OSHA) requires that businesses provide site-specific training to their staff, which includes forklift certification in Nevada. So even crews that already know what they're doing need to receive proper training on the job.
FLC offers three different training packages, each perfect for getting your forklift certification in Nevada.
This Nevada forklift certification class provides training to turn experienced forklift drivers into Certified Forklift Safety Experts! This is one of our most popular forklift certification courses in Nevada.
From OSHA safety guidelines to real-world situations, nothing prepares quite like this Nevada forklift training course. If you need your forklift certification in Nevada (both employees and employers), sign up with the Training Kit today!
Who said you have to pick one or the other? Get the best both of worlds with our premier training kit for forklift certification in Nevada: the Bundle Package!
WHERE DOES NEVADA FORKLIFT CERTIFICATION COME IN?
Businesses have to be responsible for the competence of their staff. That's true in any industry, but in construction, which makes use of sophisticated and powerful equipment, it's especially so. The government closely oversees the industry to make sure everyone is properly trained – and that starts with Nevada forklift certification.
Employers are responsible for ensuring their forklift drivers have forklift certification in Nevada. With FLC, you'll have an affordable, cost-effective solution for getting all of your employees OSHA compliant in no time at all!
Make sure your company is ready for anything, including an OSHA audit or investigation – sign up with FLC today and get the OSHA compliant training you need!

HOW DO I GET STARTED WITH FORKLIFT CERTIFICATION IN NEVADA?
Our online training course for Nevada forklift certification is a simple, easy, and cost-effective way to assure that you are aware of all the safety guidelines you're expected to know. It can be done personally or for an entire staff, at your own convenience. And since it's a well-regarded, industry-standard course, you can be confident that you're getting exactly what you need.
Click here to get started with your forklift certification in Nevada today. Once you're certified, your credentials are valid all across the United States – your FLC training travels with you. Give yourself the best chance for a great job with our Nevada forklift certification! If you have any questions about our forklift training classes, or would like to explore different options for getting your forklift certification in Nevada, call us directly at (888) 278-8896. Thanks for visiting FLC for your Nevada forklift certification needs!