The most trusted online resource for OSHA forklift certification and training since 2002
Questions? Call us! (888) 278-8896
Everything You Need to Know About Pallet Jacks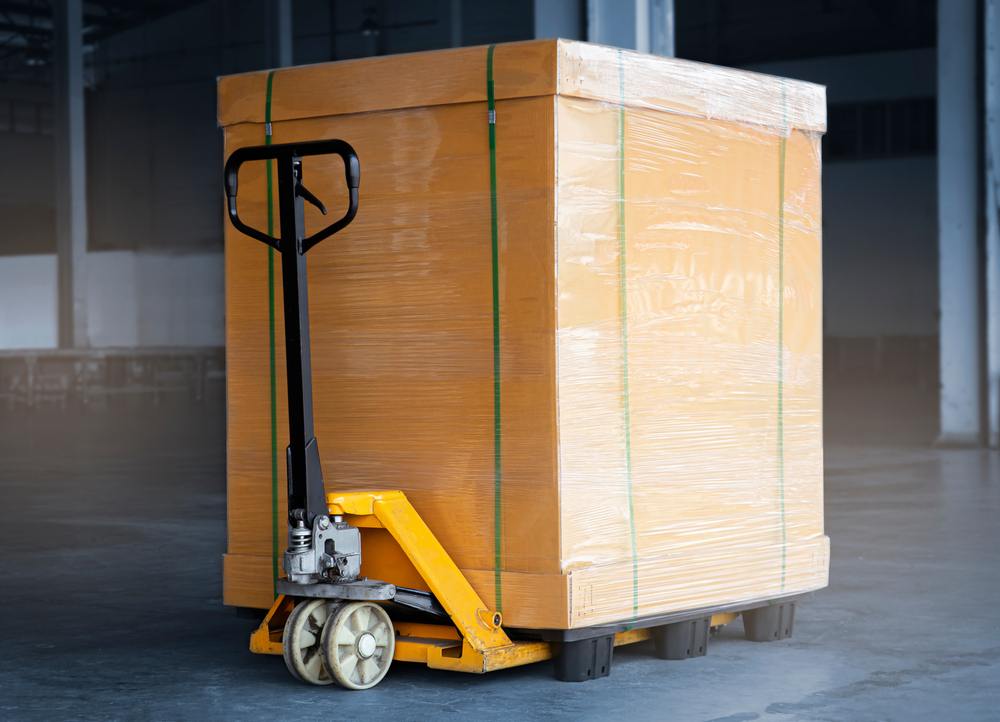 Pallet jacks and electric pallet jacks are used in warehouses, distribution hubs, fulfillment centers and similar workplaces to manage all types of cargo. If your company uses pallet jacks, you must provide proper, OSHA-approved pallet jack certification. And ForkliftCertification.com (FLC) can help your employees learn how to operate a pallet jack. Sign up today!
What is a Pallet Jack?
Similar to a forklift, a pallet jack moves pallets. Unlike a forklift, pallet jacks only lift pallets and cargo a few inches off the floor. Pallet jacks are available in 3 major configurations:
✓ Non-motorized – pushed and pulled by operator, includes a hydraulic pump to lift forks
✓ Motorized – driven by operator, pallet forks are in front or behind driver.
✓ Electric – this pallet jack runs on a battery.
Another type (though much less common) of pallet jack is the rough terrain pallet jack, used by construction crews and similar groups for uneven terrain. Some rough terrain pallet jacks can lift over 7,000 pounds!
Most pallet jacks are either batter powered or hand-operated. If you've ever been to Walmart, Home Depot or Lowe's (and who hasn't?), you've probably noticed employees using hand-operated pallet jacks to move pallets around.
Because they're typically less expensive than regular forklifts are require less maintenance, pallet jacks are widely used throughout a variety of industries – retail, logistics, transportation and much more. Pallet jacks are classified as Class III: Electric Motor Hand Trucks or Hand/Rider Trucks by OSHA.
How to Operate a Pallet Jack
Pallet jack operation is fairly easy, but certification is required to avoid accident and serious injuries. For hand-operated pallet jacks, the worker stands behind the lift, slides the forks underneath the pallet, and pumps the handle to raise the forks and pallets.
The same principle applies to motorized and electric pallet jacks. Forks inserted into pallet, carefully raised off the floor (splintering can result if not careful), and the load transported to the desired destination.
Everyone in your organization that drives a pallet jack requires OSHA approved pallet jack certification. Without training & certification, your employees are more likely to have accidents. Plus, in the event of an accident or injury, the lack of certification leaves you open to heavy fines and penalties.
Pallet Jack Operator Certification Requirements
As an employer, you need to provide pallet jack certification. With FLC, you have all the tools and resources necessary to handle your certification!
Pallet jacks are governed by OSHA guideline 1910.178, which covers all powered industrial trucks. FLC's training material covers all the critical safety concepts required by OSHA, as our staff has plenty of real-world experience with OSHA regulations.
 Our regular training course (the Training Kit) reviews safe driving practices, stresses common-sense safety and allows each student to compete the classroom portion of training at their own pace. Afterwards, an employer evaluation ensures the worker is able to safely and efficiently operate the pallet jack. We also offer the Train a Trainer course, which helps any worker become a fully qualified trainer.

What if You Don't Have Pallet Jack Certification?
The consequences for skipping pallet jack certification are severe. First and foremost, it endangers your employees. Plus, your company is subject to heavy fines and penalties in the event of an accident.
An OSHA audit will identify training gaps – and as an employer, you're ultimately responsible. Fines can easily exceed $100,000. A survey by our sister company, CertifyMe.net, found that more than half of the companies surveyed had their safety plan inspected by OSHA. Another 85 were fined, with most fines over $100,000!
Don't take chances with your safety program. Sign up with FLC today and give your employees the training they deserve – and the peace of mind you can't put a price tag on! Thanks for considering FLC for your pallet jack certification needs!