The most trusted online resource for OSHA forklift certification and training since 2002
Questions? Call us! (888) 278-8896
When to Use a Forklift Vs. a Pallet Jack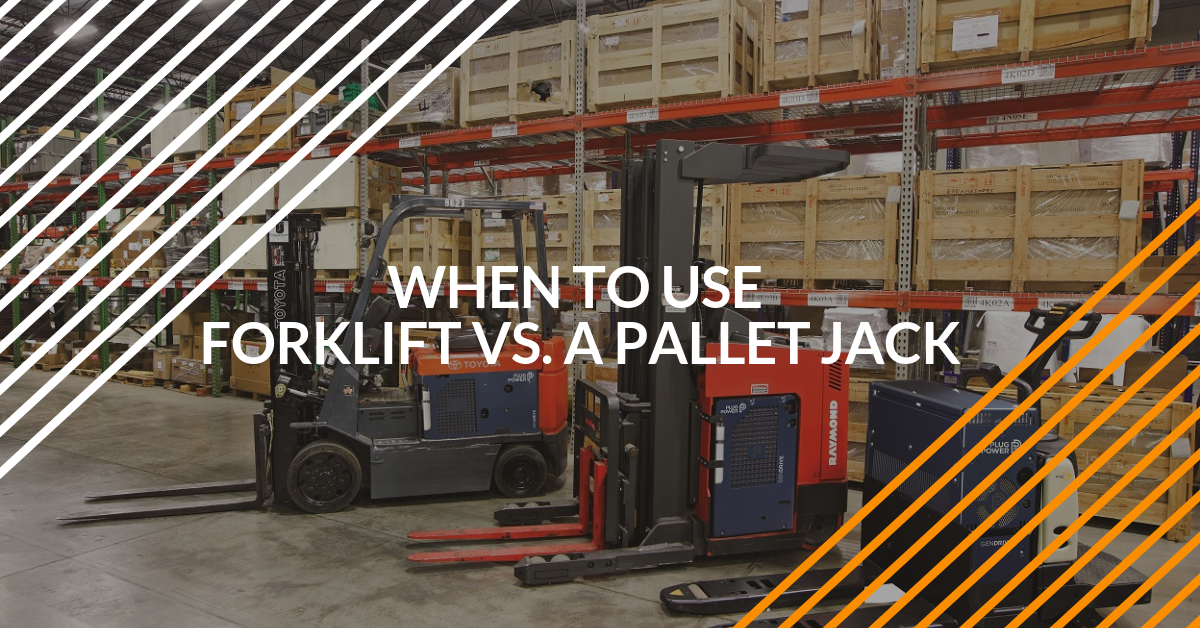 In a warehouse or large retail store, handling materials is a basic part of the job. The same is true for construction sites, distribution centers and other businesses with large inventories. The challenge is moving materials in a way that lowers cost and streamlines your workflow. The two main tools for doing this are forklifts and pallet jacks. For decades, they have been helping workers lift, move, and load products in a safe and efficient manner.
Forklifts and pallet jacks perform many of the same tasks. But they have different features, designs and capabilities. Knowing when and how to use each machine will help your crew get the job done right while keeping workers safe. That's why all who operate a forklift or pallet jack should be trained and certified to OSHA standards.
WHAT IS A FORKLIFT?
Forklifts are larger in scale and have the most lifting, loading, and moving capabilities compared to pallet jacks. They are used for heavy loads and for their reach power to lift goods on high locations. As the workhorse of material handling, forklifts perform a variety of work functions. These include:
Lifting and moving materials, both indoors and outdoors
Loading products onto trucks for transport
Lifting workers for certain types of jobs
Specialty jobs, such as wet or dry sweeping of warehouse and dock floors
Forklifts are much bigger than pallet jacks. This allows them to lift heavier loads and move more materials at one time. Their ability to lift and place goods on high shelves allows for the best use of warehouse space. They are also good at moving heavy pallets through narrow aisles and around tight corners.
Forklifts have three basic power sources: electric, diesel and gas.  Electric forklifts are used indoors to transport goods throughout a warehouse or distribution center. Diesel forklifts are best used outdoors for heavy loads and on rough terrain. Gas powered forklifts can be used indoors and outdoors. They cost less to buy, but fuel and maintenance usually costs more over the long term. Forklifts can have three or four wheels, depending on the type of work that needs to be done.
WHEN TO USE A FORKLIFT
Forklifts are the best choice when lifting large, heavy loads to a high spot. They're also good when lifting loads of different sizes. If you handle materials outdoors, the sturdy wheels and power capabilities of a forklift make it easier and safer on rough terrain. In a large warehouse where heavy products are stored on high racks, a forklift may be the only material handling machine you need.
One advantage of pallet jacks is they don't need to be fueled or re-charged. They can also be stored in smaller spaces. However, they can't handle the bigger and more versatile types of jobs that forklifts can. If you need more power than a simple pallet jack and have the space, forklifts are worth the cost.
WHAT IS A PALLET JACK USED FOR?
Pallet jacks are smaller and simpler material handling machines than forklifts. They are designed and used for moving pallet-sized loads through a warehouse. Pallet jacks have a maximum weight limit of 3,500kg. They can be hand pumped or powered; the main difference is the aid of the powered lift and the cost.
To operate a pallet jack, workers stand on the ground behind the lift or on the rear footings. Workers slide the forks underneath the pallet before lifting. Then they pump the handle to raise the forks off the ground. The final step is to transport the load to the where it needs to go. Forklifts can move and lift loads to high areas. Pallet jacks are designed to raise the forks just above the ground when moving loads.
WHEN TO USE A PALLET JACK
Pallet jacks are used to move heavy loads that can't be lifted and carried by hand. They also work well in a small space or when lifting lightweight materials. Other reasons to use pallet jacks include lifting a load just a bit in order to move it and working indoors on smooth concrete floors. They do not work well when a load needs to be raised onto a shelf, rack, or truck.
Pallet jacks are affordable and require little maintenance. This makes them a great tool for everyday tasks. Their easy maneuverability speeds up daily work practices and improves the efficiency of a warehouse. However, they're not as versatile as forklifts and can only be used for very specific tasks.
THE EASY WAY TO GET FORKLIFT AND PALLET JACK CERTIFICATION
Choosing the right machine for the job can improve productivity and safety in your workplace. It can also help reduce the time needed to complete daily tasks and lower the cost of operations. Whether you use a forklift or a pallet jack, all operators must be trained and certified. Even pallet jacks require training before workers can use them.
Why? Because training teaches the proper operation of forklifts and pallet jacks. It reduces accidents and improves safety on the job.  Training is also needed because OSHA requires it. Accidents or injuries involving workers who aren't certified can result in stiff fines from OSHA.
OSHA-approved training from ForkliftCertification.com teaches workers all they need to know about safe operation of pallet jacks and forklifts. It also teaches them how to:
Conduct inspections
Perform basic maintenance
Recognize and avoid workplace hazards
Prevent injuries and fatalities while working on these machines
Past findings show that the number one cause of most forklift accidents is operator error. Pallet jack and forklift training is the best way to ensure your workers stay safe on the job.
Our online training covers everything that OSHA requires:
Warehouse forklifts, pallet jacks and order pickers
Rough terrain forklift training
Truck-related and workplace-related topics
A variety of training methods
Written guides for leading forklift and pallet jack training and evaluations
All required quizzes and tests
Printable proof of training
English and Spanish options
Free three-year renewals for life!
You get the complete training kit for only $299. Workers receive everything they need to operate forklifts and pallet jacks. And it's all there in one easy to use online platform. Our program is 100% OSHA-compliant. Our online courses take only about one hour to complete. Workers can take them using any device with an internet connection. Plus, they don't have to travel to an offsite location or take time off.
In less than one afternoon, your workplace can be trained and certified to operate forklifts and pallet jacks. So be prepared to prevent accidents with pallet jack forklift training from ForkliftCertification.com. Sign up today!