The most trusted online resource for OSHA forklift certification and training since 2002
Questions? Call us! (888) 278-8896
Get Oregon Forklift Certification with FLC Today!
(Updated July 2020)
Does your company need assistance with training and forklift certification in Oregon? Consider our OSHA approved Oregon forklift certification training and ensure compliance today!
It is important to ensure that all of your operators have their Oregon forklift certification to create a working environment that's a safe place for your workers. When you sign up with FLC for forklift certification in Oregon, you'll enjoy:
Great prices
Total OSHA compliance
Complete resources and tools for employee evaluations
Free renewal training
And much more
Oregon is known for its stunning natural beauty, including majestic mountains, and sandy beaches. Oregon is also home to innovative and growing cities like Portland, Salem, Eugene and Bend. With a population of over 4 million and growing, Oregon made the transition from an economy centered around natural resources to one that's a mix of manufacturing and marketing with a high-tech emphasis. Many major companies call Oregon home, along with medium and small businesses as well.
FORKLIFT CERTIFICATION IN OREGON – PRICING AND COURSE INFORMATION
Need Oregon forklift certification for your lift operators? Try our Training Kit. It's 100% OSHA compliant and covers warehouse forklifts, pallet jacks, order pickers, and rough terrain forklifts. A one-time payment of just $299 can be used to train and certify all your forklift operators, and can be done in just one day!
Many employers need a certified training expert on hand to handle safety, training and Oregon forklift certification issues. Check out our Train the Trainer course and qualify one or more of your experienced operators to lead training for both your current employees and new hires. How does an in-house trainer sound for just $149?
Value-added Bundle Package: If you can't decide between these two great programs for Oregon forklift certification training, choose the FLC Bundle Package. The package comes with both our Training Kit and Train the Trainer courses at a discounted price of just $349.
What's more, you can enhance your forklift certification in Oregon with our online certification with CertifyMe.net, one of our related training and safety companies. Check it out here!
Forklift operator training in Oregon begins by enrolling in ForkliftCertification.com's online forklift operator training classes. Our 100% OSHA compliant training programs give you everything you need to become a better and safer forklift driver in the Beaver State. With our trio of training packages, which are Train a Trainer, the Bundle Package and our Training Kit, FLC's fast, easy and affordable training will help you become OSHA compliant in no time at all. Once you complete your forklift certification in Oregon, you're able to work as a forklift operator for employers throughout the state, as well as anywhere across the United States.

WHY IS OREGON FORKLIFT CERTIFICATION IMPORTANT?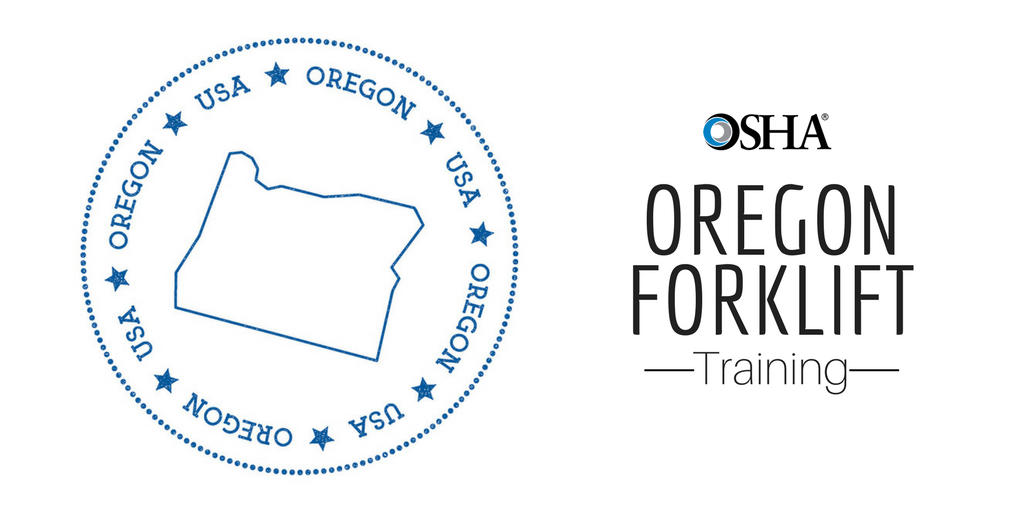 With forklift-related injuries and fatalities happening every day on worksites across the U.S., it's absolutely essential for your safety and success regardless of whether you're an operator or an employer to do everything you can to prevent workplace accidents. Since the majority of accidents involving forklifts are a result of operator error, it's crucial to ensure that your forklift operators are equipped with all the knowledge and tools they need to operate the equipment safely. The best way to accomplish this is to have your forklift drivers complete FLC's Oregon forklift certification training, which will equip them with everything they need to know about operating forklifts.
As an employer, you need workers that are fully qualified to operate forklifts and prevent workplace accidents, as well as workers who are more efficient and productive to help your business expand and grow. We'll help with all of your OSHA-approved forklift operator certification needs, so what are you waiting for –  sign up for our forklift certification in Oregon today!
WHAT ARE OSHA'S REQUIREMENTS FOR FORKLIFT OPERATOR TRAINING?
While forklift operator training is a really smart business move, it's also a serious requirement from OSHA that can't be ignored. OSHA requires all employers to provide a working environment that's safe and free from hazards that could potentially endanger their employees. This includes allowing only qualified operators who have received OSHA-compliant Oregon forklift certification training to operate forklifts in their workplaces.
More specifically, OSHA requirements state that employers must ensure their forklift operators are able to operate forklifts safely after they successfully complete their training and pass a "hands on" evaluation.to demonstrate that they're competent to operate the equipment safely. In addition, employers must also provide formal forklift operating instruction, practical training and a skills evaluation led by a qualified trainer. The qualified trainer can be in house if the employee has successfully completed FLC's Train a Trainer course. Employee training needs to also cover both truck-related and workplace-related topics,
HOW TO GO ABOUT GETTING YOUR FORKLIFT OPERATORS OREGON FORKLIFT CERTIFICATION
As important as Oregon forklift certification is to your business, it should be easy to get it for forklift operator crew. When looking into a training program for your workplace, be sure to select one that's up-to-date on all OSHA's standards and regulations. By doing this, you can be sure your employees will receive the best training based on the very latest OSHA information, which is what you get when you choose FLC to train your employees.
CHOOSE FLC FOR EASY, FAST, AND AFFORDABLE FORKLIFT CERTIFICATION IN OREGON!
ForkliftCertification.com is the fastest, most convenient and most affordable comprehensive forklift operator training program you'll find anywhere. Your employees can complete their forklift certification in Oregon in less than one hour. Once they're done with the written portion of the training, you'll just need to have them undergo an in-person evaluation to confirm that they're capable of competently and safely operating forklift equipment. That's it! All that's left to do is download and print their forklift certification and operator card!
Get started today – don't take chances with your forklift certification in Oregon. Protect your employees and company assets the smart, affordable way with FLC!

FLC TRAINING PROGRAM CHOICES
FLC is already the preferred OSHA training partner for companies all across the Beaver State. Order our forklift certification in Oregon today and we'll help you keep your workplace safe without your having to break the bank!
Thank you for considering FLC for your Oregon forklift certification. We appreciate your business.