The most trusted online resource for OSHA forklift certification and training since 2002
Questions? Call us! (888) 278-8896
Oregon Forklift Certification
Situated on the Pacific Northwest, Oregon is famed for its beautiful forests, mountains, and beaches. On the opposite spectrum, Oregon is also home to innovative and growing cities, like Portland and Seattle. If you've been thinking about making Oregon your home and you need to get into a new job fast, consider becoming a forklift operator. Or, if you're an employer in Oregon who hires forklift operators, ensure everyone has their Oregon forklift certification to create the best environment for everyone involved.
Forklift training in Oregon begins with FLC. Our OSHA compliant training programs give you everything necessary to become a better – and safer – forklift driver in the Beaver State. With a trio of training packages (Train a Trainer, Bundle Package, and Training Kit), FLC will help you become OSHA complaint.
Once you have your forklift certification in Oregon, you're able to work as a forklift operator for any employer, and all across the United States.
Why is Oregon Forklift Certification Important?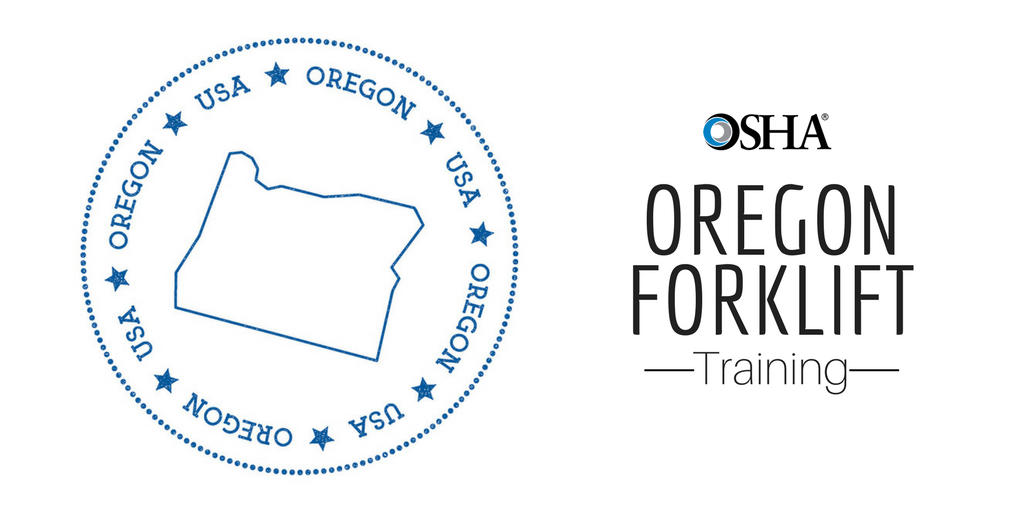 With forklift-related injuries and fatalities happening on work sites across the U.S. everyday, it's essential to your safety as an operator, and your success as an employer, to do what you can to prevent accidents. Since the majority of accidents occur due to operator error, ensuring operators are equipped with the knowledge and tools they need is crucial. Oregon forklift certification training is the best way to educate workers and prepare them to operate forklifts safely. As an employer, you receive workers that are qualified to operate forklifts and prevent accidents, and more productive to help your business boom.
Sign up for forklift training in Oregon today – we'll help with all of your OSHA certification needs!
What Are OSHA's Requirements for Forklift Training?
While forklift training is a smart business move, it's a serious requirement from OSHA. The administration requires that employers provide a safe working environment free of hazards for employees, which includes qualified operators with Oregon forklift certification.
Specifically, according to OSHA, employers must ensure operators are competent to operate forklifts safely, following the successful completion of training and an evaluation.
Employers must also:
Provide formal instruction, practical training, and a skills evaluation led by a qualified Trainer
Train employees only under the direct supervision of an experienced personnel
Training must cover truck-related topics and workplace-related topics
How Can You Get Oregon Forklift Certification?
As important as Oregon forklift certification is for your business, it should be easy to get. When looking for the program for your workplace, look for one that is OSHA-compliant and up-to-date with all standards and regulations. This way, you can be sure your employees will receive only the best and most modern information that is backed by OSHA.
Choose ForkliftCertification.com for Easy, Fast, and Affordable Oregon Forklift Certification
ForkliftCertification.com is the most convenient and affordable comprehensive training program you'll find. Everything is online and can be accessed from any device with an internet connection. Whether at home or at work, your employees can complete their forklift certification in as little as one hour. Once they're done with the written modules, you'll just need to provide them with the in-person evaluation to confirm their capabilities and reward them with their operator card.
Our Training Kit is 100% OSHA-compliant, which covers Warehouse Forklifts, Pallet Jacks & Order Pickers, and Rough Terrain Forklifts.
Our Train the Trainer course qualifies experienced operators to lead training for your new employees.
If you can't decide between these two premier forklift training classes in Oregon, get them both with our popular Bundle Package. It includes our other two forklift certifications in Oregon for one great price!
Don't wait; Get your workplace certified with Oregon forklift certification today! FLC is already the preferred OSHA training partner for companies all across the Beaver State. Get our forklift training in Oregon today – we'll keep your workplace safe, without breaking the bank.
Thanks for considering FLC for your forklift certification in Oregon. We appreciate your business.