Riverside Forklift Certification, 100% Online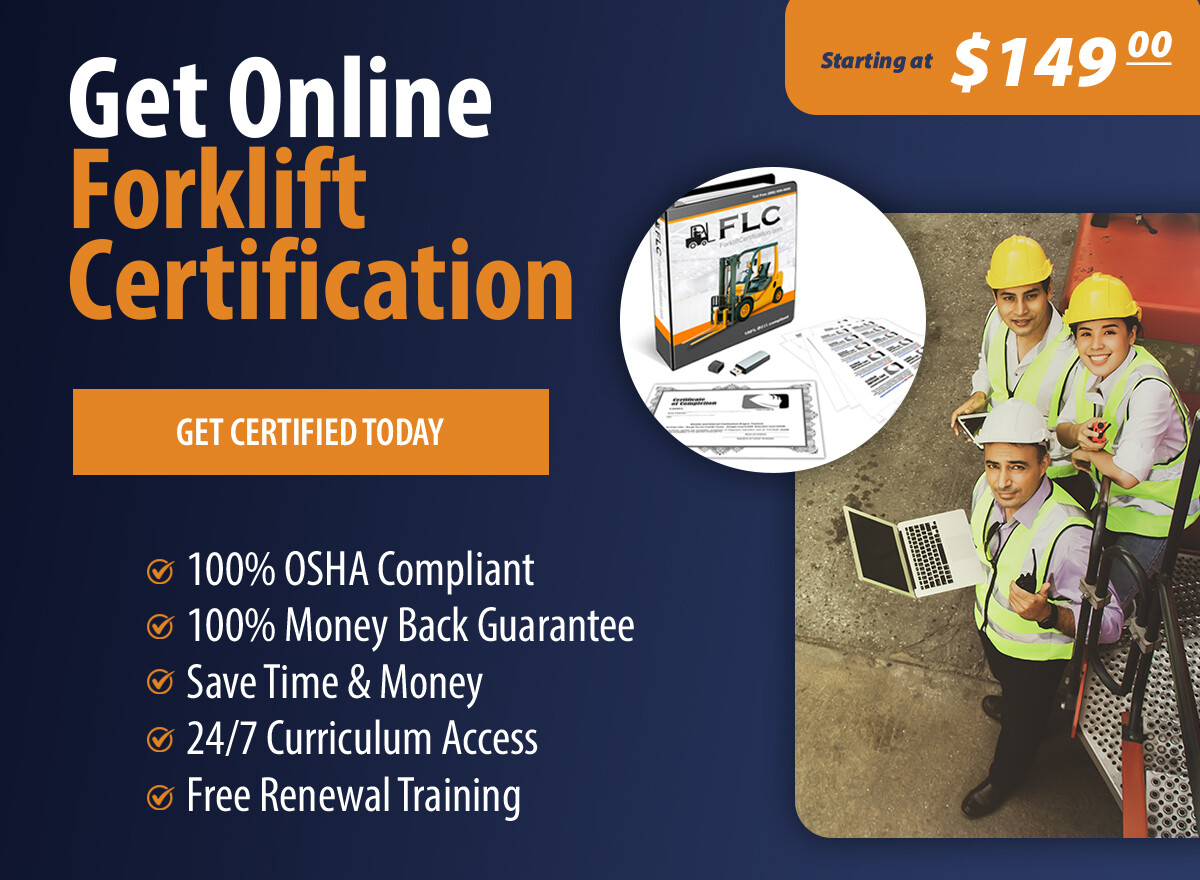 When you have an upcoming job requiring forklifts in Riverside, you have no choice but to refresh yourself on forklift rules and regulations. In general, the employee who plans to use the forklift must seek a full forklift certification in Riverside.
The good news is that you can easily obtain your team's Riverside forklift certification online using our certification courses. Our top-tier employee training kit will be mailed out to you, and you can access our online content immediately. With this kit, you can certify an unlimited number of employees for $299.
We also offer a trainer certification course for $149.00 to help you certify one or more employees to help perform on-site evaluations. Of course, you can opt for our bundle and save option for a one-time price of $399. Want to learn more? Find out how to get forklift certified in Riverside using our tools below.
How Online Forklift Certification in Riverside Works
So, how do you get started on obtaining your employee training kit, and what can you expect along the way? One of the best perks of our program is that you won't have to travel off-site to get your team fully prepared for their forklift job. Here is what you'll do to certify:
Employers Should Take the First Step: Employers need to take the first step in certifying their team by picking a certification company to work with.
Purchase Your Course: If you opt to work with us, your next step will be to pick what course will work best for your team, depending on your needs. Once you purchase our kit, we'll mail it out to you. You can immediately access online materials.
Employees Take Our Online Education Course: Employees can go through the online educational material at their own pace. This process can help employees fully immerse themselves in the material without traveling off-site.
Employees Need to Pass an Online Test: Employees will be expected to pass a few online quizzes throughout the course. The good news is that these quizzes can be taken as often as needed.
Employees Submit to an On-Site Evaluation: After thoroughly exploring the online course material and passing the online quizzes, employees must demonstrate their understanding of the material by passing an on-site evaluation. This evaluation needs to be performed by a certified trainer. If you don't yet have a certified trainer on your team, you can purchase ourtrain the trainer course to certify an on-site employee.
Employees Get Certified: Once your certified trainer deems the employee competent in forklift operation, you can officially certify their training and print off their operator cards.
After this process, your employees will be considered fully forklift-certified per OSHA's standards. The main advantage of having a non-site certified trainer is that no one will have to go off-site to complete their training. Everything can be done in-house, saving your team time, effort, and money.

Why Choose Forkliftcertification.com for Riverside Forklift Certification
Employees need to get certified before using a forklift for several reasons. Most importantly, employees must know how to use these machines since they can be dangerous. Knowledge empowers employees to be safer. What's more, OSHA legally requires employers to train their employees. Here's why you should choose to work with us here at Forkliftcertification.com:
Easy for Everyone!: Employers and employees can take advantage of the simplicity and ease of our program
Cost-Effective: The cost of certification makes sense when you consider that you can certify an unlimited number of employees for one fee
Free Renewal: Forklift certifications do expire, but you can get free unlimited renewals by using our kit
Instant Proof of Training: Employers can print off instant proof of certification once the process is complete
24/7 Access: Employees can access our educational material anytime from any internet-connected device
Even better, our team will offer you a 100% money-back guarantee if you purchase our kit and aren't satisfied with our training materials.

Frequently Asked Questions
Do you have more questions about certifying your team? Check out our general FAQs or read on for a few answers to Riverside-specific questions.
Does Maintenance Matter?
Absolutely. Regular maintenance on your forklifts is imperative and can prevent an accident. If you own the forklifts used in an upcoming job, you'll want to ensure that it's up to par for the job first.
Do Forklift Rules and Regulations Change?
Yes. Rules and regulations surrounding forklifts in California are constantly in flux. Recent legislation proposes to ban all propane and gas forklifts starting in 2026. This proposal hasn't passed yet, but staying up-to-date on recent changes to forklift rules and laws is important. That's why certifications expire, and you'll need to renew your forklift certification every three years.

Are You Ready to Obtain Your Riverside Forklift Certification?
If you need to certify your team quickly and efficiently, then the choice is clear! Work with us, and you'll be not only OSHA compliant but also creating a safer workplace for everyone. If you have any questions about forklift certification in Riverside, contact us online or call FLC's Riverside forklift certification team directly at (888) 278-8896.