The most trusted online resource for OSHA forklift certification and training since 2002
Questions? Call us! (888) 278-8896
Texas Forklift Certification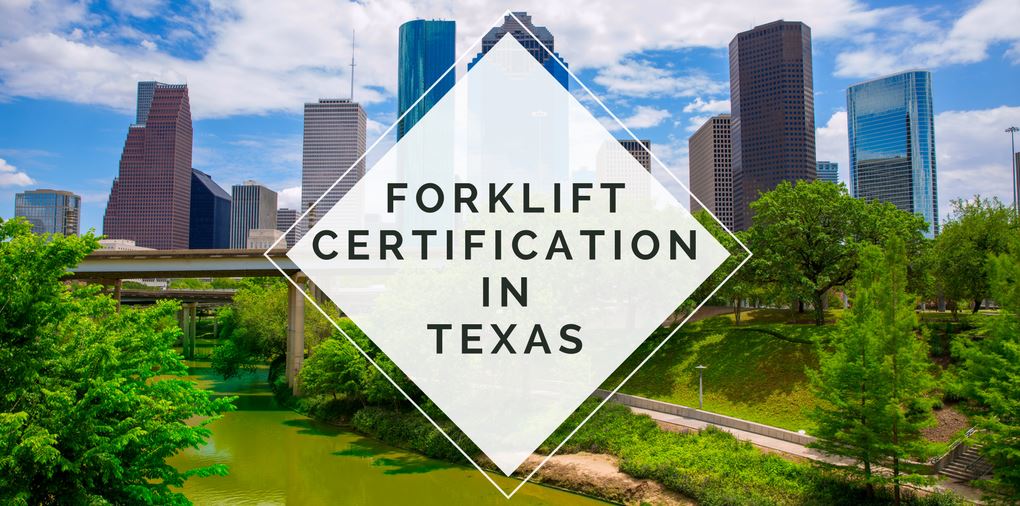 With such popular cities as Austin, Dallas, and San Antonio, Texas is a hot spot for a fun and interesting life. It's no wonder people say "everything's big in Texas" because with such a wide variety of entertainment options, recreational activities, geographical terrain, and job opportunities, you can find just about anything you could ever ask for in this larger than life state. As far as finding a rewarding career with positions available all over the state, there's nothing like getting a Texas forklift certification.
Not sure how to get your forklift license in Texas? No worries – FLC can show you how. Our OSHA forklift training courses give you all information and content you need to pass your Texas forklift certification test with ease.
And once you're compliant, you'll enjoy a better job profile – employers throughout the Lone Star State need qualified, OSHA approved forklift operators. FLC offers the best Texas forklift certification.
Learn more here about why a forklift career is a great option and how you can get your forklift training Texas.
Why Complete a Forklift Certification in Texas?
Large powered trucks like forklifts are in constant demand all throughout Texas in all of its major cities. From the north to the south, you can find job opportunities in a wide array of industries and workplaces. But even though there is a demand for forklift operators, it is crucial to a job seekers' future to complete forklift training Texas. You see, employers are simply not willing to risk their workplace and other employees, since the majority of forklift accidents are caused by operator error. OSHA also issues costly fines to all employers who put untrained workers behind the wheel. In order to qualify for top jobs in any city in Texas, you must first receive your Texas forklift certification. FLC will show you how to get your forklift license in Texas. It's easier than you think – and also more affordable for you or your employer!
What Jobs Are Available for Workers with Texas Forklift Training?
One of the best things about getting a Texas forklift certification, besides the fact that it's a recession-proof career, is that workers have a wide variety of jobs in different workplaces and environments to choose from. Some of the basic types of forklift positions include forklift operator, dock worker, warehouse worker, warehouse manager, and forklift mechanic. Some of the companies that hire forklift operators in Texas include Bedrock Stone and Design, McCoy's Building Supply, Goodman Manufacturing Company, FedEx Genco, Falcon Technologies, and the Dallas/Fort Worth International Airport, San Antonio International Airport, and George Bush Intercontinental Airport.
Texas typically enjoys a low state tax rate, which is a catalyst for healthy economic activity. With our Texas forklift certification packages, you can use your skills and safety knowledge to land a forklift job with great pay and benefits, all over the state!
No matter if you want to work inside, outside, by the water, or for special events, forklift training Texas can help you get to your dream job.
What Are OSHA's Requirements for Texas Forklift Certification?
OSHA has set strict rules for forklift training Texas to help reduce the number of forklift accidents that occur every year. If you want to keep your workplace safe and prevent accidents that can cause injuries, fatalities, and equipment damage, you need to follow all of OSHA's regulations for Texas forklift training.
Here's OSHA's forklift certification standards:
Employers must ensure operators are competent to operate forklifts safely following the successful completion of training
Only qualified Trainers can guide employees through forklift training
Training must cover how to operate the types of forklifts used in the workplace, how to perform inspections, how to notify employers of any needed repairs, and how to avoid hazards
Training must teach truck-related and workplace-related topics
Forklift training Texas must include formal written instruction, practical training, and an evaluation to reward workers with their Texas forklift certification
Where Can I Get My Texas Forklift Certification?
As soon as you're ready to complete your Texas forklift certification, head on over to ForkliftCertification.com. Our online program is one of the fastest, most convenient, and most affordable courses available. In only about one hour, students will learn how to operate forklifts, inspect the equipment, avoid hazards, be compliant with OSHA standards, and receive their certification card.
From any device with an internet connection and for only $299 for complete access to all forklift trainings, you can be trained and certified to operate three main types of forklifts.
Our Training Kit covers:
Warehouse forklifts, Classes 1, 4, 5
Pallet Jacks and Order Pickers, Classes 2, 3
Rough Terrain Forklifts, Class 7
Renewals free for life
Skip the travel to an offsite training facility, avoid paying for workers' time off, and don't waste of working hours to get your employees their Texas forklift certification. Choose ForkliftCertification.com and be completely OSHA-compliant in one afternoon, all in your own workplace.
Don't wait to start a new career in Texas. Sign up with ForkliftCertification.com today and complete your forklift training Texas!
Our Texas forklift certification training is ideal for individual employees. Plus, they're an affordable training tool for employers. With a 100% pass rate, secure online access, and the most up-to-date OSHA training content available anywhere, we'll show you how to get your forklift license in Texas – faster and more affordable than ever!
Thanks for visiting FLC. We look forward to becoming your Texas forklift certification partner!