The most trusted online resource for OSHA forklift certification and training since 2002
Questions? Call us! (888) 278-8896
Get Texas Forklift Certification Today
(Updated July 2020)
Not sure how to get your employees their forklift licenses in Texas? No worries – ForkliftCertification.com shows you how. Our OSHA forklift training courses give you all information and content you need to get your Texas forklift certification test with ease.
Employers are responsible for forklift certification in Texas. It's required by OSHA, and ForkliftCertification.com offers the best Texas forklift certification. Sign up today with us, and forget about your training worries. With our forklift certification in Texas, it's never been more affordable – or easy – to become OSHA compliant.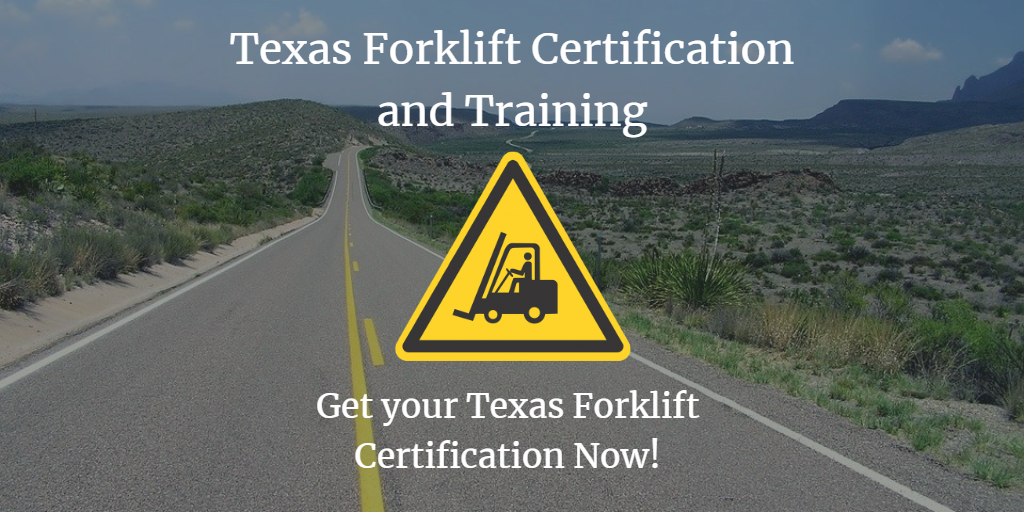 Why choose FLC for your Texas forklift certification?
100% OSHA compliance
We know OSHA inside and out – it's reflected in our training and certification content!
Free renewal training for all of your forklift operators
Affordable prices
And more
Big city life, including Dallas, San Antonio, Austin, and more. Rugged western landscapes. Metro living. Country charm. You name it, Texas has it. The state is a hot spot for a fun and interesting life. It's no wonder people say "everything's big in Texas" because, with such a wide variety of entertainment options, recreational activities, geographical terrain, and job opportunities, you can find just about anything you could ever ask for in the great state of Texas.
TEXAS FORKLIFT CERTIFICATION COURSE PRICES
Get your Texas forklift certification today with FLC. Here's a summary of our certification and safety courses.
If you need help with forklift certification in Texas, we have the training courses you need to meet compliance standards. Our training is affordable, effective, and 100% compliant. Sign up today and experience the different with ForkliftCertification.com!

WHY COMPLETE A FORKLIFT CERTIFICATION IN TEXAS?
Large powered trucks like forklifts are in constant demand all throughout Texas in all of its major cities. Employers need to provide forklift certification in Texas for all employees since the majority of forklift accidents are caused by operator error. OSHA also issues costly fines to all employers who put untrained workers behind the wheel. A Texas forklift certification goes a long way, for both employers and employees.
ForkliftCertification.com will show you how to get your forklift license in Texas. It's easier than you think
– and also more affordable for employers!
WHAT ARE OSHA'S REQUIREMENTS FOR TEXAS FORKLIFT CERTIFICATION?
OSHA has set strict rules for forklift certification in Texas to help reduce the number of forklift accidents that occur every year. If you want to keep your workplace safe and prevent accidents that can cause injuries, fatalities, and equipment damage, you need to follow all of OSHA's regulations for Texas forklift training.
Here are OSHA's forklift certification standards:
✓ Employers must ensure operators are competent to operate forklifts safely following the successful completion of training. This is included with our forklift certification in Texas.
✓ Only qualified Trainers can guide employees through forklift training
✓ Forklift certification in Texas must cover how to operate the types of forklifts used in the workplace, how to perform inspections, how to notify employers of any needed repairs, and how to avoid hazards
✓ Training must teach truck-related and workplace-related topics. Our training covers crucial concepts and more with forklift certification in Texas.
✓ Forklift certification in Texas must include formal written instruction, practical training, and evaluation to qualify workers and ensure they're able to operator powered industrial trucks safely.
WHERE CAN I GET MY TEXAS FORKLIFT CERTIFICATION?
As soon as you're ready to complete your forklift certification in Texas, head on over to ForkliftCertification.com. Our online program is one of the fastest, most convenient, and most affordable courses available. In only about one hour, students will learn how to operate forklifts, inspect the equipment, avoid hazards, be compliant with OSHA standards, and receive their certification card.
Plus, our forklift certification in Texas includes a handy USB drive packed with useful information, including training tips, OSHA regulations, and much more! ForkliftCertification.com is the only source you need for forklift certification in Texas!
From any device with an internet connection and for only $299 for complete access to all forklift trainings, you can be trained and certified to operate three main types of forklifts.
Our Texas forklift certification Training Kit covers:
✓ Warehouse forklifts, Classes 1, 4, 5
✓ Pallet Jacks and Order Pickers, Classes 2,
✓ Rough Terrain Forklifts, Class 7
✓ Renewals free for life
We also have our Train a Trainer course, Bundle Package and online certification available through our sister training company, CertifyMe.net.
Skip the travel to an offsite training facility, avoid paying for workers' time off, and don't waste of working hours to get your employees their Texas forklift certification. Choose ForkliftCertification.com and be completely OSHA-compliant in one afternoon, all in your own workplace.

SIGN UP WITH FORKLIFTCERTIFICATION.COM TODAY AND COMPLETE YOUR FORKLIFT TRAINING TEXAS!
Our Texas forklift certification is an affordable training tool for employers. With a 100% pass rate, secure online access, and the most up-to-date OSHA training content available anywhere, we'll show you how to get your forklift license in Texas – faster and more affordable than ever! If you have any questions about forklift certification in Texas, or you'd like to find out more on our OSHA compliant training packages, give us call at (888) 278-8896. Sign up today and ensure your company is covered – you can't afford non-compliance!
Thanks for visiting ForkliftCertification.com. We look forward to becoming your Texas forklift certification partner! Get started today with your forklift certification in Texas – it's the best thing you can do for employee safety and total OSHA compliance!