The most trusted online resource for OSHA forklift certification and training since 2002
Questions? Call us! (888) 278-8896
Five Different Types of Forklifts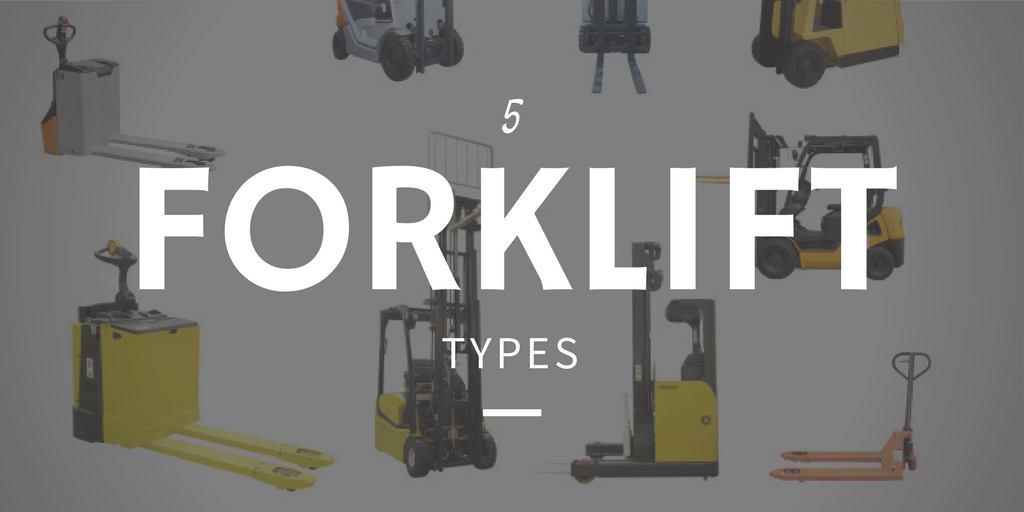 A forklift is defined as a powered industrial vehicle used to pull, push, carry, stack, lift or tier materials. Its power may be provided by either electric or combustion engines. Forklifts come in many shapes and sizes, and in a wide variety to fulfill multiple purposes. The types of forklifts include rider trucks, pallet trucks, lift trucks or fork trucks. Categories also include counterbalance, three-wheel counterbalance, reach trucks, pump trucks, powered pallet trucks, side loaders, and teletrucks. Excluded are vehicles used for road haulage and earth moving.
Each type of forklift truck has its own specific characteristics and its own inbuilt hazards. This is exactly why specific training for each type of forklift is so important. Different forklifts are built with different capabilities, and often, the skill set to operate them safely cannot simply be transferred.  Forklift training teaches operators how to operate each type of lift specifically, and how to avoid the hazards that come with that type.
The first step to operating all forklift types safely is to learn more about the most common types of forklifts, how they operate, and how to avoid hazards with each.
The Difference Between Electric and Internal Combustion Forklifts
Before we go into the five most common types of forklifts, we wanted to give you a primer on the differences between the two types of forklift power sources. Both electric and internal combustion forklifts come with their own pros and cons, and the decision between the two depends mostly on the project at hand. An electric forklift is a type of forklift that can lower emissions and extend the life of the forklift with fewer maintenance costs. Their main disadvantage is that they come with a higher initial cost. Internal combustion forklifts are best suited for multi-shift operations since they can easily be refueled in a matter of minutes, unlike electric forklifts that need to be charged for longer. With internal combustion forklifts, maintenance costs are higher, emissions are higher, and an excellent ventilation system needs to be present to use them indoors.
HIGH-LIFT TRUCK
A high-lift pallet truck permits a load to be elevated to a comfortable height for working. High lift forklift types are often used by the airline industry to repair and clean aircrafts, as well as other instances where heavy materials need to be lifted and transported. This type of forklift should not be pushed beyond its load limits and should always be kept from the edge when working on loading bays or ramps. They are internal combustion trucks powered by gas or diesel.
LOW-LIFT TRUCK
This type of forklift is designed to raise a load just enough to permit horizontal movement. These types of forklifts are not meant to lift and stick materials on high shelves. Both walkie low lift trucks and rider low lift trucks are powered by electricity. The load should always face uphill and trucks should be reversed down gradients.
ROUGH TERRAIN FORKLIFT (RTFL) TRUCKS
This is a Class VII forklift truck, of which there are two types: straight-mast and extended-reach. RTFLs are designed for high mobility in rough terrain areas. They are used in docks, timber yards, special events, builder's merchants and construction sites. Rough terrain forklift types were designed to offer workers a much safer way to travel with loads on uneven ground. They are much more capable of handling rocky surfaces to avoid tip overs and other serious accidents than other types of forklifts. They are powered by diesel.
STRADDLE TRUCK
These types of forklifts are used in the shipping industry and are used for moving and stacking ISO standard containers. Straddle lifts are capable of lifting up to 60 tons (equivalent to two containers) at low speeds (18-19 mph). The operator sits at the very top facing the middle so they can see both in front of them and behind them. Straddle trucks are capable of stacking containers more than 13 feet high. Straddle trucks are very large equipment but mini straddle carriers have been developed for moving containers around yards and depots.
CANTILEVER TRUCKS
This type of forklift is used for handling long goods like lumber, steel bars, pipes, tubing, etc. Cantilever racking is the ideal solution for frequent use of loading platforms, and can replace the doors of a truck to speed up loading and unloading of materials. Unlike different types of forklifts, they are constructed without front uprights that get in the way of loading and unloading. They aren't driven like other types of forklifts and are rather installed onto trucks to improve the loading and unloading process.
OSHA'S REQUIREMENTS FOR FORKLIFT TRAINING
According to OSHA, employers are responsible for ensuring all forklift operators have received forklift training and are able to drive forklifts safely. Employers also must provide forklift training to workers, at no cost to them, for the different forklifts used in the workplace, and this training must include formal written instruction, practical training, and a skills evaluation.
Training must cover both truck-related and workplace-related topics, to ensure operators are receiving a comprehensive education about the different types of forklifts, work environments, and the various hazards associated with driving forklifts.
Truck-related topics include:
Operating instructions, warnings, and precautions
The differences between the forklift and automobile
Truck controls and instrumentation
Engine or motor operation
Steering and maneuvering
Operator visibility
Vehicle capacity and stability
Fork attachments
Inspections and maintenance needs
Refueling and charging of the batteries
Operating limitations
Workplace-related topics include:
Surface conditions
Composition of loads
Load stability
Load stacking and unstacking
Working around pedestrians
Driving in hazardous locations
Maneuvering ramps and slopes
Operating in closed environments
Other potentially harmful environments
OSHA also requires that operators refresh their training and renew their certifications at least every three years, or as soon as an accident occurs involving a forklift, an operator is caught performing unsafe acts, the type of forklift changes, or a condition in the workplace changes.
THE BENEFITS OF ONLINE FORKLIFT TRAINING FOR ALL TYPES OF FORKLIFTS
If you think you need an expensive, in-person class for learning all forklift types effectively, think again! You or your employees can learn how to drive the different forklifts you use in your workplace and be completely compliant with all OSHA standards with the online courses from ForkliftCertification.com.
As important as forklift training is, and complying with OSHA's requirements, training doesn't have to be costly, time-consuming, or inconvenient. With FLC, it's fast, simple, and affordable! All you need to do as an employer is register your business on our website, and have your workers create their own log in account. They'll have complete access to all training modules, from any device with an internet connection, and will be able to work at their own pace.
With the online forklift training from FLC, you'll also be able to enjoy the following benefits:
Skip the travel to an offsite training facility
Save money by not paying for in-person, classroom instruction
Allow your employees to train on their own time
Pay once for a done-for-you program that can be used as many times as you need it
Get all of your OSHA-required three-year renewals for free
Don't pay for time-off or travel compensation for your employees in training
Maintain the productivity in your workplace with online training and boost your bottom line with better-equipped operators who understand all the different types of forklifts
GET FORKLIFT CERTIFICATION FROM FLC FOR ALL TYPES OF FORKLIFTS
No matter what type of forklift your company uses for its daily operations, it is imperative that your workers receive quality forklift certification. A comprehensive program that is compliant with OSHA standards will offer education on each of the different types of forklifts so your employees are totally prepared to recognize and avoid hazards that lead to accidents every day on worksites.
The online forklift certification program costs only $299 for the entire training package, only takes about one hour to complete, and can be accessed 24/7 on any device with the internet.
No more time and money wasted on expensive in-class courses; ForkliftCertification.com is your one-stop shop for quality forklift certification and free 3-year forklift renewals.
The Training Kit teaches workers everything they need to know to operate all forklift types safely, how to perform equipment inspections, how to assess the environment for hazards, and how to prevent accidents. The most common accidents that can cause forklift-related injuries and fatalities are tip-overs, collisions, and workers being struck by falling objects. Forklift training is the most effective way to prevent these accidents and keep your workplace safe.
We cover the following types of different forklifts and special features in our Training Kit:
Warehouse Forklifts, Classes 1, 4, 5
Pallet Jacks and Order Pickers, Classes 2, 3
Rough Terrain Forklifts, Class 7
English and Spanish versions
Free three-year renewals
All necessary checklists, guides, and student handouts
Printable operator certification cards
Register your company, create an account, get certified today and become an expert at all the different types of forklifts!