The most trusted online resource for OSHA forklift certification and training since 2002
Questions? Call us! (888) 278-8896
Top 10 Forklift Manufacturers of 2021
The global forklift market has shown steady growth over the past decade. Forklift sales exceeded $50 billion worldwide in 2019, and they are projected to increase at a compound annual growth rate of 10.5% between 2020 and 2026. In addition, global shipments of forklifts are expected to surpass 3 million by 2026.
2021 could be a big year for forklift manufacturers, too. To understand why, let's consider factors that could help the global forklift market grow.
What Factors Will Drive the Growth of Forklift Companies Going Forward?
Forklifts are in high demand in many industries, including: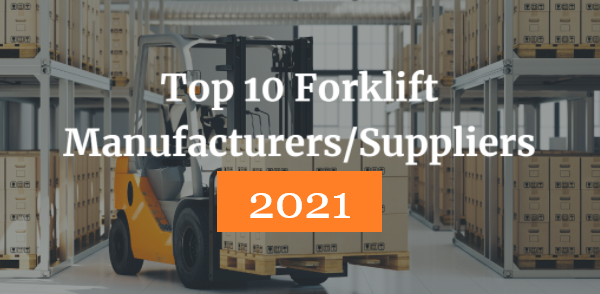 Transportation and logistics
Retail and e-commerce
Manufacturing
Food and beverage
Going forward, the top forklift brands look poised to use state-of-the-art tools and technologies to enhance their products. These brands will drive the growth of the global forklift market and ensure businesses can use their products to become more productive and efficient than ever before.
Top Forklift Manufacturers of 2021
Many changes are taking place in the forklift sector. Some manufacturers have merged. Others are bringing different technologies together under one roof to provide one-stop shopping for customers. Despite these changes, the leading forklift manufacturers list contains mostly the same players from the previous year.
1. Toyota
This should come as no surprise to anyone. Toyota has been the leading forklift manufacturer for many years. They show no signs of losing their top ranking. Known for their quality and reliability, Toyota offers electric trucks in a variety of models.
2. KION Group
Kion Group is another fixture on the top forklift manufacturer's list. It sells two brands of lift trucks: Linde and Baoli. Linde has been a leader in material handling equipment for over 150 years. It serves the North American market. Baoli sells trucks in the international market. Its products include diesel, gas, liquid propane and electric trucks.
3. Jungheinrich Group
Based in Germany, Jungheinrich offers electric forklifts and lift trucks sold in North America by more than 400 dealers. Jungheinrich's product line includes counterbalanced and lithium-ion trucks. This top forklift manufacturer also offers order pickers, turret and reach trucks, tow tractors, walkie stackers, and more.
4. Mitsubishi Logisnext
This forklift manufacturer formed as a result of the merger between Mitsubishi Nichiyu Forklift and UniCarriers Corp. It offers six brands of lift trucks: Mitsubishi Forklift Trucks, UniCarriers, Nichiyu Electric Forklift, CAT Lift Trucks, TCM, and Rocla.
5. Hyster-Yale Materials Handling (HYMP)
HYMP is the parent company of the Hyster and Yale forklift brands and consistently ranks among the leading global lift truck brands. It continues to explore ways to grow its business in Eastern Europe, Asia-Pacific, Latin America, and China.
6. Crown Equipment
Crown Equipment is a privately held company based in Ohio that specializes in electric trucks. It offers a wide range of models, including counterbalance, very narrow aisle, and reach trucks. Crown also provides order pickers, stackers and tow trucks.
7. Anhui Heli Forklift
Based in China, Anhui Heli has led the Chinese market for nearly 30 years in a row. Anhui Heli offers a mix of IC, electric, and lithium battery trucks. It also offers empty container stackers, wheel loaders, tractors, forklift attachments, and more.
8. Komatsu
Komatsu is the second-largest manufacturer in the world, with 25 plants around the globe. The company's forklift division specializes in IC pneumatic, electric riders, IC cushion, and narrow aisle forklifts.
9. Hangcha Group
Hangcha has been making forklifts for more than 50 years. It produces IC and electric trucks, including an explosion-proof model.
10. Clark Material Handling
Clark built their first "Tructractor" in 1917. More than a century later, they offer five major lines. These include LPG, gasoline, dual fuel, diesel, electric riders, and powered hand trucks.
Which Forklift Brands Prioritize Workplace Safety?
Forklift companies develop their products with safety top of mind. In doing so, they ensure businesses can purchase lifts that their workers can use to safely perform a variety of tasks.
It often helps to learn about a forklift's safety features before you purchase a lift. This enables you to evaluate the different safety features available from myriad forklift brands and select a lift that makes it easy for your workers to minimize risk.
Along with evaluating different forklift brands and their products' safety features, you should enroll your workers in a safety training program. This program goes hand-in-hand with a first-rate forklift, and over time, will help you get the most value out of your purchase.

Enroll Your Workers in the Top Forklift Safety Training Program
Choosing a top forklift manufacturer will help ensure you buy a well-made machine. That way, you can reduce accidents and stay on OSHA's good side. But, without the proper training for your forklift workers, even the best forklift can't prevent accidents.
That's where ForkliftCertification.com comes in. We're the number one online provider of forklift training and certification. In only about one hour from any device with an internet connection, operators can become trained and certified in Classes 1, 2, 3, 4, 5, and 7 forklifts.
Sign up today, so your workers can become certified forklift operators and will be 100% OSHA-compliant!